Leticia Polese - Content Marketing Manager
How to identify the right YouTube influencers to partner with
You already know all about Instagram influencers, but have you explored the marketing potential of YouTube stars? At this point, YouTube has surpassed television in popularity with more people into streaming than ever before. Online video ads get 18 times more attention than television ads, and nearly 70% of shoppers have used YouTube to help them with purchasing decisions. With another platform in your marketing strategy arsenal, you can start expanding your reach and maximize every click and view.
So how do you partner with YouTubers? What types of goals should you set as your metrics for success? Where can you start researching in order to better understand which YouTubers are right for you and your target audience?
With our comprehensive overview of YouTube influencer marketing, you can expand brand awareness, drive more sales, and increase traffic.
It's time to stop underestimating the power of a YouTube collaboration. In this piece, we'll walk you through the steps it takes to succeed – from running a report and finding YouTubers to partner with to setting that partnership up for overwhelming market influence. So grab a coffee, open up your Notepad app, and start taking some notes that will transform the way you approach YouTube advertising and marketing!
Finding the right partner
The first step in your YouTube marketing strategy needs to be running a data analysis to discover what your audiences are interested in. Who are they watching online? What types of topics do they click on most? Which YouTube star or channel keeps popping up again and again?
Dive into your audience's data, run an Audiense Insights report and pair it with your current marketing tools to get a comprehensive look at audience demographics, interests, and affinity. Reports can get very granular, even showing you where your audience gets their content, what languages they speak, and which segments are most relevant to your community.
How to run a report
Running an Insights report is easy, but there are several ways you can get the job done. Follow along with this brief tutorial to learn what you need to know about using the Audiense platform.
Let's say you're a beauty brand and you want to create a report that will guide you towards the right YouTuber for you. You have three avenues you can go down to start defining your audience, and the way in which you want to identify them: Profile Attributes, Conversations, and Uploading your Audience (from a third-party source).
What is a Profile Attributes report?

This type of report can be built on account followers, gender, location, biography keywords, and other demographic data. You could use this method if you have a starting point, or a built-out idea, of what defines your audience - you can always use the report data to inform your next report.
If you're a beauty brand, for example, you may only be targeting women between the ages of 18 and 40 who live in the United States and have makeup terminology listed in their social media bios.

This report is great if you already know what your audience looks like. If you're looking for a report that can help you find new audience vectors that may be interested in your products, we have a different method for that!
What is a Conversations report?
A Conversations report is one that will show you an audience based on their recent usage of keywords, hashtags, and URLs. You plug in topics relevant to your business and the report will show you who's talking about it, breaking down the data into a whole range of insights from demographics to psychographics and everything in between.
After you choose the appropriate keywords and URLs, Audiense will prompt you to choose a report based on the clustering of common sets of accounts that these individuals follow (Affinity Segmentation) or clustering of how individuals are connected to one another (Interconnectivity Segmentation). Affinity segmentation is useful when you're analyzing large audiences in order to create a better consumer media strategy. Interconnectivity segmentation is best for when you want to find niche segments within your audience or identify non-desired segments within your definition, like bots. It works as well for B2C as it does for B2B.
The Conversations method can be quite broad if we're not narrowing down on the terminology, but segmentation will reveal the communities driving different areas of a trend, for example. If you want to advance this, try creating a Monitoring in Audiense Connect first, and then use the audience to run a report.
What does it mean to upload your own audience?
For this type of report, you're uploading an audience based on internal tools like CRMs, mailing lists, Social Listening, Twitter IDs, loyalty card holders, and other data you've aggregated yourself. If you want to filter your audience, you can upload it into the Connect dashboard. From here, narrow down the audience with any number of filters that range from age and gender to personality traits, and even their follower count. Once built, you can select it to run a report in Insights.
In this way, you can target smaller segments of your existing audience to ensure they're seeing only the most relevant marketing strategy.
Getting started
If you're already familiar with the Audiense platform, you probably know which report style works best for your needs. But if you're a first-timer, we recommend using the Profile Attributes report to get you started.
It's report time!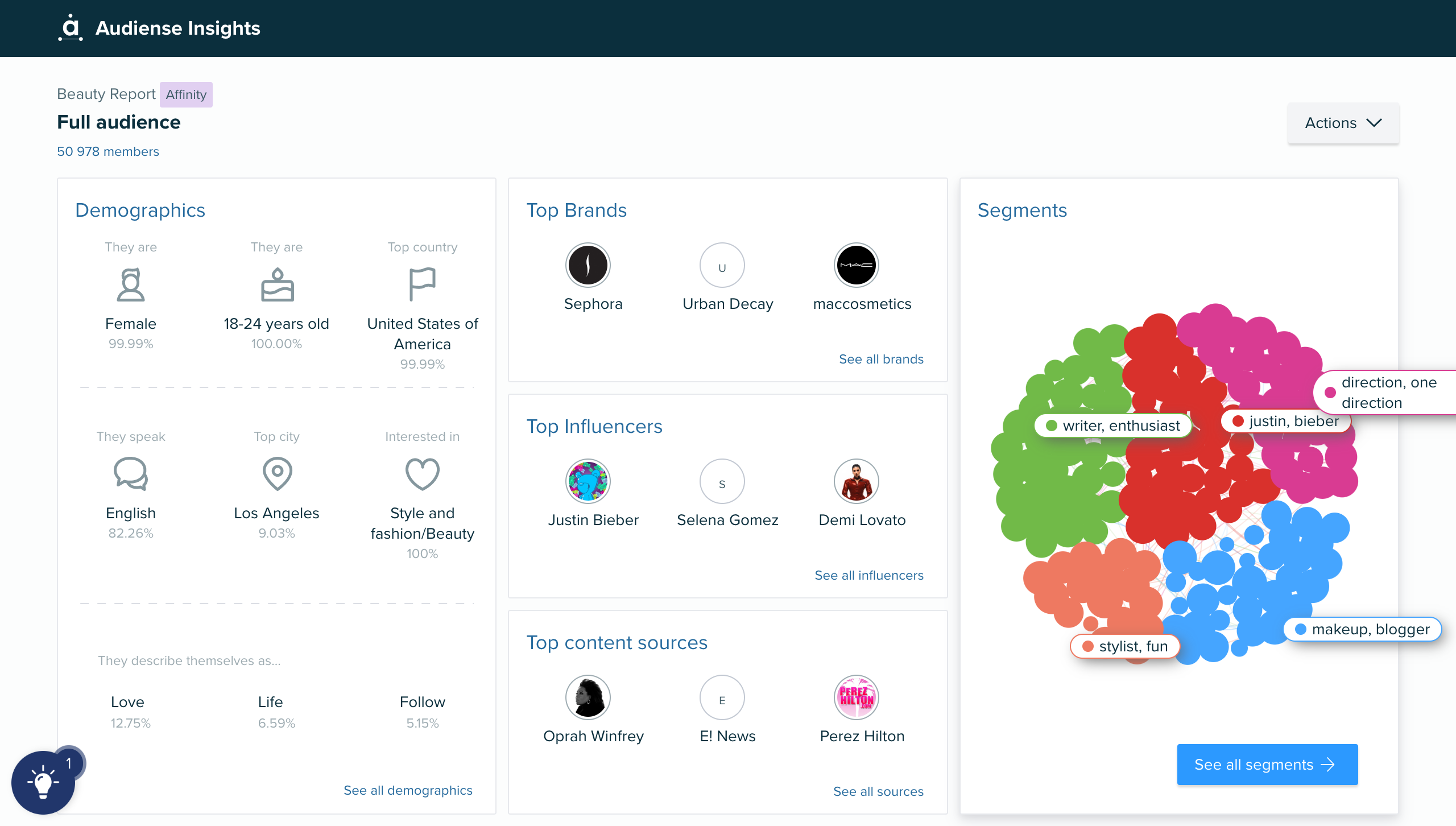 Before you start running your own report, we want to show you a sample of what you can expect. Check out this Beauty Report to see how we defined our audience with a few basics, including:
Interest in beauty
Age range (18-24)
Gender (Female)
Location (USA)
In addition to more detailed demographics, the most important part of this report is the top brands, influencers, and content sources linked to this audience. You can immediately see that partnering with Pattie Mallette or Kourtney Kardashian would reach nearly your entire demographic.
Now, unless you're a massive beauty conglomerate, you probably won't be able to collaborate with some of the influencers higher up on the list. But these days, aiming for micro and nanoinfluencers is where it's at. Studies show that people trust smaller influencers because they provide more engagement and authentic interactions than those with millions of followers.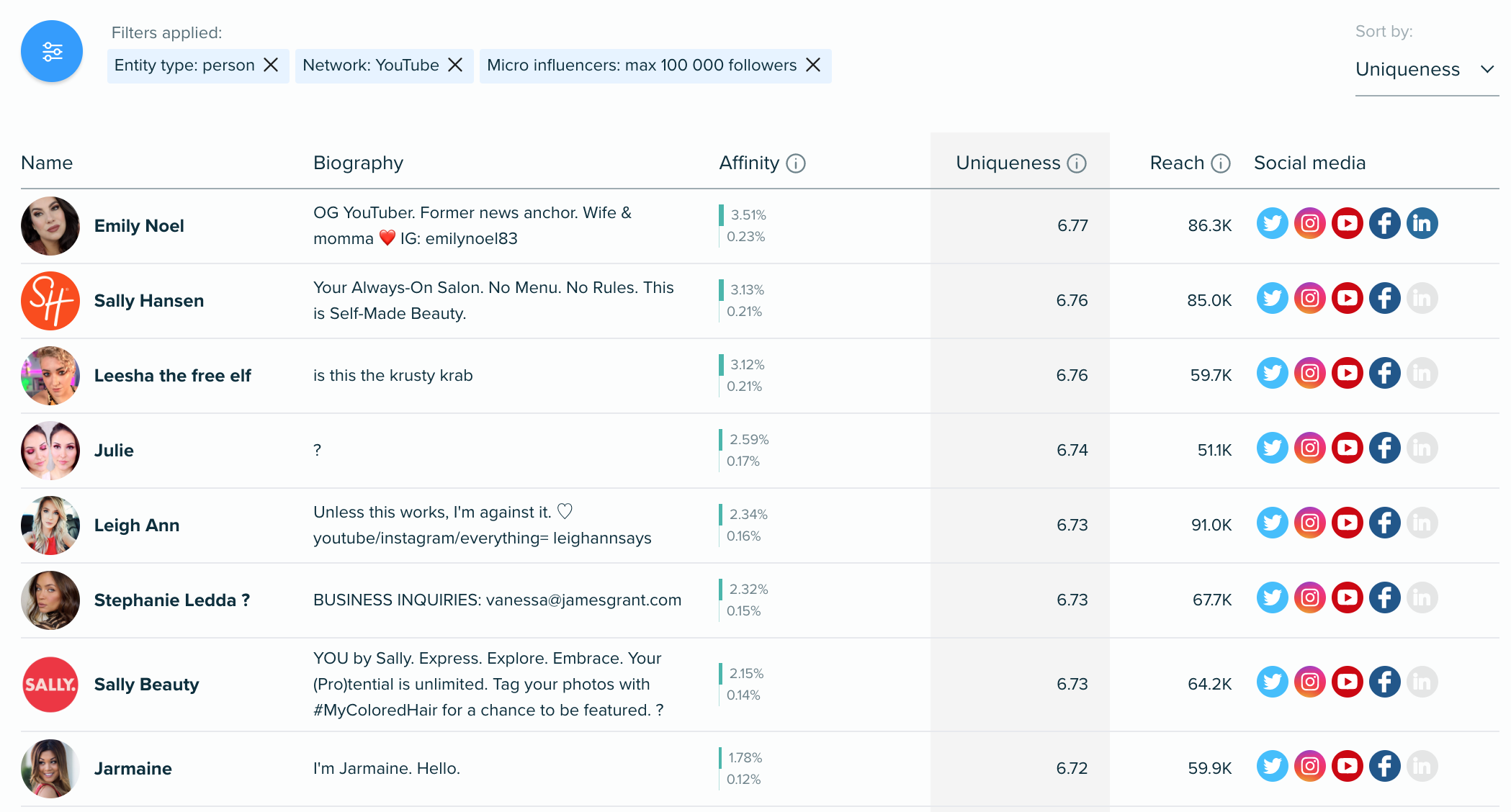 This is our list of beauty content creators on YouTube straight from the report we created. Start going through the names and see who's still active, who has a large following, and who's a good fit for your brand persona. Filter from hundreds of options down to just a few before you reach out to the YouTube influencers that will expand your audience, increase brand awareness, and generate revenue for you from their community.
Some successful YouTube partnerships
So you've found some influencers that work for your demographic and have the reach you need to make a YouTube marketing strategy work, but where do you go next? Take a look at some of these successful YouTube partnerships to learn more about the types of videos a content creator can make and why they may be an effective option for your audience.
Natalie Barbu for Asana, Skillshare, & Google Calendar
Natalie Barbu is the mind behind the influencer management tool, Rella. In addition to helping influencers through her business, she also posts behind-the-scenes content that showcases other tools and brands she uses in a day-in-the-life style blog. Her posting style is effective because she's advertising organically, introducing each service or product in an integrated way that showcases how it helps her personally.
She also uses her video titles to set expectations and ensure her audience knows exactly what they're getting when they click ahead. There's no bait and switch tactics and no ramping up the drama—just a personal, straightforward conversation about her business needs and how various tools perform to get the job done. As one of her most popular videos, she had over 7% engagement from her nano-audience.
Patricia Otegwu for Lily Silk
Patricia Otegwu is a beauty and fashion influencer that offers style and life advice through a humorous, spunky lens. She does a lot of haul-style videos where she shows her audience items sent to her for advertising purposes or items she's bought for a specific experiment or trend. As she reveals and reviews each item, watchers get what feels like real-time insight into a product – with all the bloopers and honesty that comes with live viewing.
While her video titles are a bit on the click-baity side to generate excitement and interest, she captures and maintains audience engagement by jumping right into the purpose of the video right away. Her bright energy and comedic approach to lifestyle purchases keep people watching all the way through – as evidenced by the 100K + views on many of her 20+ minute videos.
Caleb Glass for Devour Foods
Another successful YouTube influencer, Caleb Glass built his platform on comedy sketches. He now incorporates ads for a variety of smaller brands, including Devour Foods. Using the comedy sketch style to keep people engaged through storytelling, he manages to keep the ad short and sweet, making the product the star by playing on preconceived ideas about certain industries or trends and turning them around.
His content creation strategy is successful because it keeps people from getting bored. Nobody likes watching advertisements – that's how streaming platforms like Netflix became so popular. So by incorporating the ad into a slice-of-life sketch that appeals to nearly everyone, he gets a ton of viewership and engagement. For this video, 50% of his full audience of 4 million watched it and he had over 8% engagement in comments and likes.
Best practices for reaching out to a YouTuber
Once you've done the research to get your shortlist of YouTube Creators, then you need to research the creators themselves to see if their values align with your brand. Ideally, you want someone that has a similar voice as your brand persona and consistently talks about topics that would appeal to a majority of your audience. For example, you wouldn't want a junk food reviewer creating content for a brand that focuses on health and nutrition!
There are many benefits of partnering with a smaller creator to make the collaboration as authentic and transparent as possible, including:
Higher audience engagement rates
More authenticity and trust from their audiences
Access to niche communities
More cost-effective for smaller marketing budgets
More open feedback
More willing to work with smaller/newer brands
Ability to develop a longer-term relationship
Starting small also allows you more collaborative direction in the content creation process, as many micro- and nano-influencers haven't really established their brand yet.
How to reach out to a content creator
When reaching out to a YouTuber, be sure to introduce yourself and your brand. Offer plenty of context to explain what your brand is about and why your products are valuable. Make sure you mention that you've researched this YouTuber and their work, and you feel that the partnership would be beneficial for both parties. Explain the overlap of audiences between your brand and theirs. Save both parties time by being upfront about:
Goals

Budget

Expectations
Here's a template we've used before to help us ensure a positive response from YouTube influencer potentials:
"Hi [THEIR NAME],
I'm from [YOUR BRAND], and we've been following your channel for a while because you're a creator that aligns with our brand's core values and interests. We love the way you [EXAMPLES OF PROMOTION YOU LIKE] and we'd like to work with you on a future campaign.
We're currently working on a campaign for [PRODUCT/SERVICE], and we're looking for someone to do a [VIDEO STYLE – HOW TO/HAUL + REVIEW/DAILY LIFE] type video. We're currently offering [COMPENSATION], as well as [ADDITIONAL BONUS] for meeting [GOAL METRICS].
Let us know if you're interested in a collaboration!
We look forward to hearing from you.
[YOUR NAME + TITLE]"
Setting up your campaign
There are many ways your YouTube marketing campaign can take shape. Consider which one is most relevant to your products and services and best aligns with your brand values and your YouTube influencer's video style. Here are a few promotion types that could be the right fit for your next campaign:
You send the YouTuber a product to review. The most straightforward take here is an unboxing or haul video. When you include the typical packaging and materials as you would for any other customer, you make the entire experience feel more authentic and real. Give the content creator free rein to explore the product as fully as possible with various tests, closeups, and reactions.
To level up this type of video, you might ask the YouTuber to create a comparison video with a product from your top competitor. This way, you can show concrete evidence that your product is better (we hope).
Kristen McDow has a video that does a comparison video really well, showing the pros and cons of an iPhone 11 Pro Max vs a professional camera. By introducing the pain points their viewers may be experiencing, they generate even more interest in their video and the product they're pushing with a potential solution.
With an affiliate sponsorship, the creator receives a link to promote your product. They typically earn commissions as they drive sales through the link to your site, which makes this promotion style ideal for budget-strapped campaigns.
Because there is so much flexibility with affiliate promotion, YouTubers have the freedom to think up creative ways to highlight your product in a way their audience would enjoy the most. For YouTuber, Vanessa Delmuro, also known as SMLx0, the best thing for her audience is How-To videos. Because she's offering a solution to a problem that a lot of her audience may be struggling with, the entire sponsorship feels more authentic and less like an ad. This type of marketing is also the perfect opportunity for creators who write and perform sketches and utilize storytelling in their videos.
With a paid sponsorship, you simply pay the creator to promote your product or service. Sponsorships are so effective on YouTube because the creators have a close relationship with their community of viewers. They work best when they're authentic and reinforce the trust and sense of community that YouTubers have already built with their audience. A good example of this type of content comes from Nicole Concilio and her ad for Colourpop and their Nightmare Before Christmas palette. She does a combination of unboxing video and how-to video to promote the product.
For these types of sponsorships, unboxing or how-to videos work best because people always prefer to know when they're being exposed to an ad. It's more honest and transparent than a gotcha moment at the end of a video. Build trust for your brand within the YouTube influencer's community, so that even when the influencer isn't actively promoting you, the audience will associate retargeting ads and other exposure to your brand with the initial positive experience.
Proactively setting up your partnership for success
As you move forward with your YouTuber partnership, you want to give the creator plenty of material to work with, including your product's biggest value props, problems your product solves, and key points you'd like to see highlighted. Anything you can think of that makes your product look its best will help inspire the creator and give them a direction for the video.
You'll also want to clearly outline and document the budget, timelines, relevant requirements of the video content, and more. Writing everything out in a contract helps set expectations for the influencer and for yourself, mitigating surprises and delays. If you're working with an affiliate sponsorship promotion, you should include a review of the tracking and attribution to help the influencer keep an eye on sales from their video.
Finally, consider internally defining metrics and KPIs to see ROI in a way that will provide you with the data you need for decision-making in future YouTuber campaigns. Compare them to other social media marketing campaigns to explore their effectiveness.
Diving into YouTuber marketing with an effective tool at your back
After reading this YouTube marketing overview, we're confident that you also see the power of using research to save you time and money in a YouTube influencer campaign. As you delve into this new avenue for sales and engagement, consider making this part of your long-term strategy, and growing your relationship with the content creators that are most successful in promoting your brand.
YouTube marketing isn't one and done, and neither is audience research. When you get more sales, your company has the opportunity to grow and expand, reaching into new and larger markets. You'll need to consistently check in with your audience segmentation to improve and evolve your marketing strategy.
Make sure you have all the tools you need when you make Audiense one of the must-have options in your arsenal. Learn more about us when you sign up for a free trial or check out our On-Demand tutorials and webinars today!