Paz Segura - Marketing Manager
How to use social data to describe your audience personas
Identifying, segmenting and defining audiences – and customer personas – is no longer a task that should be left to the arbitrary opinion of the members of the marketing team. The social data, the technology and the most innovative practices of data analysis and interpretation, enable the creation of more precise and faithful consumer profiles.
During the different processes of identification and analysis of audiences, using social data, consumer insights and other analysis tools allow a substantial saving of resources, especially in the investment of time and money.


Identification of relevant audiences
Thanks to social data, target audiences can be defined and identified based on different criteria, depending on the needs of each brand, product or service.
For example, in addition to the sociodemographic criteria that have traditionally been taken into account to define target audiences and customer personas, a wide variety of insights is now available that helps enrich these consumer profiles: from their personality traits to the tendency to respond in one way or another to marketing campaigns.
You can also discover audiences based on interests and affinities with specific products or brands. In this example, the audience of the fans of the Wimbledon tournament in Canada and the United States have been identified.


Alternatively, it is possible to identify audiences based on conversations around a topic, or those who have engaged with certain marketing campaigns. In this case, users who have interacted with the Marks & Spencer Christmas campaign "Love Mrs Claus" have been identified.


Audiences segmentation
Data analysis systems allow audience clustering based on more innovative criteria that provide more intelligence about these audiences and their segments. Audiense Insights, for example, builds the segments not in the traditional way (based on demographic data, location, etc.) but in terms of the relationships that exist between the individuals that make up that audience. This is explained by Javier Burón, CEO of Audiense: "Our data team discovered that the clustering based on this method creates the most coherent and relevant segments, as well as identifying the most exclusive characteristics of each segment".
In the case in which the audience of sports betting houses were analyzed, we can see how the different segments have been identified with marked characteristics that differentiate them from each other: sports fans, sports bettors, football lovers, the Irish community, poker/games gamblers and online shoppers.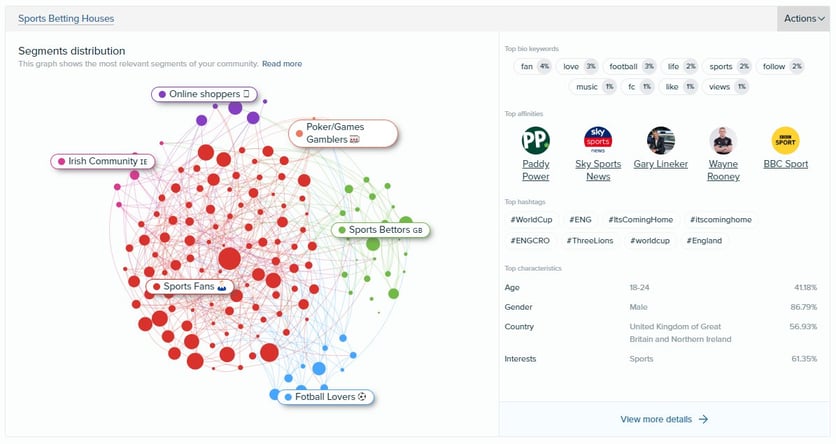 Segments and customer personas description
Once the segments and the different customer personas are identified, it is time to define them and get a clear image of how the consumer profiles differ.
The social data reflects an accurate picture of how these consumers are offering an intelligence superior to the traditional description that is based on socio-demographic aspects. The insights extracted from social data provide information in deeper dimensions that give a new understanding into buying habits, personality traits and behaviour motivations.
Let's look at an example, the analysis of the audience of a Christmas campaign by Marks & Spencer in the United Kingdom. This resulted in the identification of the following segments you can see below.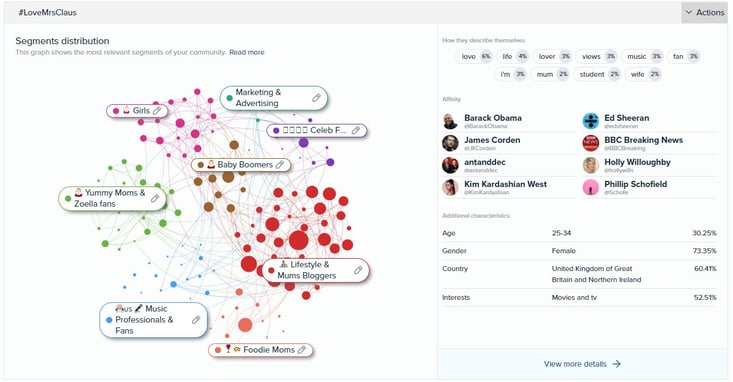 We take one of them, lifestyle & mums bloggers, to see how it is perfectly defined by the following characteristics of this profile customer persona:
Emma is between 25-35 years old and lives in London. She is a traditional, hedonistic and social. Of the big five personalities, though it is fairly evenly distributed, she is slightly favouring agreeable and neurotic. Agreeable personalities tend to relate more to sincere brands, and neurotic personalities, emotive brands. She is dutiful, particular and analytical, which explains why, though she loves shopping, she isn't a spur of the moment shopper. In fact, it is the recommendation of her friends and family which influence her purchases, though she is more likely to respond to targeted adverts and marketing campaigns than the average UK female. Her sentimentality and particularity are reasons why she is great at gift giving and everybody wants to be chosen by her for Secret Santa!

Ask your audience directly
And if you have any doubt? Who better to answer your doubts about those people than those people themselves?
Thanks to the social data analysis platforms, you can also identify the social profiles that make up each segment or customer persona profile. For example, building tailored Twitter audiences or using more efficient segmentation criteria in other platforms – such as Facebook – which can deliver messages with surveys or direct questions. This can lead to a greater understanding of these target audiences and a much more precise description, resulting in a much more personalised and efficient marketing strategy.
If you still define your audiences and customer personas in a vague and generalist way, you need to use social data to get the most accurate and detailed intelligence quickly and easily. Request your Audience Insights demo and discover the power of social data!
Photo by chuttersnap on Unsplash.