[Interview] How Benefit Cosmetics' #PoreOClock campaign trended on Twitter three times in one month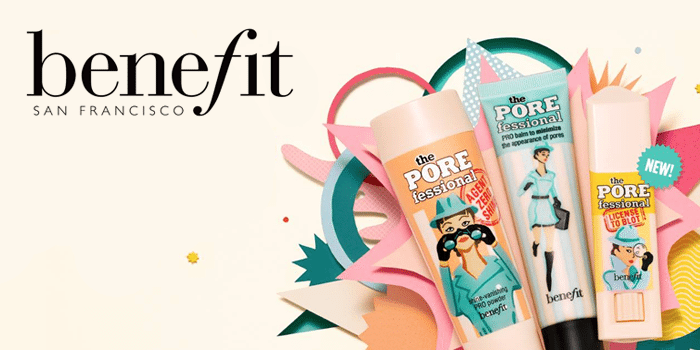 Since joining Twitter, Benefit Cosmetics have formed a huge fan base who love engaging and interacting with the brand. Whether it's a review of one of their make-up products or claiming Twitter generated coupons in-store, these #Benebabes have made it clear which make-up brand they like best. We spoke to Michelle Stoodley, Digital Manager of Benefit Cosmetics, about their social media strategy, how they're riding the wave of influencer marketing and how they've managed to make Benefit one of the most engaging accounts on Twitter.
Read on to see what makes their social media team tick, what Michelle's personal wish for social media is, and how a reactive content strategy works best for them.
What is the makeup of your social media team?
"We have a whole team dedicated specifically for social.There's myself and I've got a team of four, and we divide up the social channels and different responsibilities. With regard to Twitter, we've got someone who's dedicated to managing the day-to-day conversation to ensure we're always as engaging as possible. We also pride ourselves on 24/7 social, so we have a rota to ensure social during the evenings and weekends is covered."
How do you map out your social media strategy?
"At the start of every year, we set out the strategy but with social changing pretty much on a daily basis we try and be flexible. We have a bigger picture of things that we're working towards and then on a day-to-day basis we try and keep things fluid. Our priorities do change so we work closely with our global team to make sure that we're all on the same page."
Do you plan your Twitter content far in advance or is it more real-time?
"One of our overall strategies for all our channels, but particularly for Twitter, is relevancy. How do we make our content relevant for our girl at that particular time in her day? It's particularly important on Twitter where it's a lot more instantaneous. Everything that we post needs to be tapping into the emotions or thoughts of our communities at that time. So we don't try to plan too far ahead. We will plan our campaign and product launch content as we know what that's going to look like and how that's going to go out but everything else is constructed on a week-by-week basis.
We're pretty fluid, we don't have strict policies on who within the team can access Twitter. We all have access so if we suddenly think of something that we think would work perfectly, we can just jump in. For example, one weekend I was making an ASOS order. I went on there to buy something in particular but ended up spending far too much money on other things, and didn't end up buying what I went on the site for! So we just put out a Tweet on our Benefit page - "Just went on ASOS to buy jeans, left with six things in the basket, none of which were jeans #TheStruggleIsReal." It did incredibly well because of course, people see it and can relate to it; we know they're thinking, "Oh my God, that is so me."
We work with other brands as well, as part of our 'BeneBuddies' programme. We pair up with brands that are not necessary similar but those that are like minded and where our communities might cross over."
When did your social channels become big with your audience? When did you realise that Benefit's Twitter's page was popular?
"It's always been bubbling away for Benefit as a brand, but it's probably in the last couple of years that the importance has shifted. Our CEO is incredibly passionate about digital and he sees the opportunities with it. It's become a big priority for us and we're able to invest a lot more in it from a resource and budget point of view. And with the team growing, we've really been able to explore new things."
How does social fit into your wider marketing strategy?
"It plays a huge part! When we think of a campaign, we always think what are we doing in-store, events, digital and social, and we're all very aligned. The whole marketing team works really closely together so we make sure that everything we do is bouncing off each other's activities. So in that sense, we create a really true and creative 360 approach."
Tell me about your Pore O'Clock campaign
"We worked with 1000 Heads for this campaign to promote our much-loved POREfessional primer. We created Pore O'Clock, which plays on the fact girls often need a makeup touch up at 4pm. In 2014, we got a group of 'spy girls' together and stormed different offices at 4pm to hand out product and create lots of buzz, and that worked really well. So this year, because we had such great responses like "You need to come to our offices this time", we decided to run a Twitter campaign with a 'we can come to you' CTA; 'tweet using #poreoclock for a chance to win a visit from Benefit'. We had a heat map that showed where people in the country were Tweeting the most in real time. In the end, we went to Newcastle!
We also ran a social sampling campaign. If you Tweeted #PoreOClock, it would automatically generate a personalised coupon and Twitter users could use to claim a sample of POREfessional in-store.
We ran this campaign throughout the month of January and it was hugely successful. We got tons of engagement: 17.5k Twitter coupons were distributed, 38.8k uses of #PoreOClock and it trended three times throughout the month."
How has Twitter supported you in your various events like Curl's Best Friend?
"We use social media in two ways. The first is to drive awareness of the event and encourage people to come down. The other is to bring the event experience to those that couldn't make it. For example, for Curl's Best Friend, part of the advertising creative that came over from the global team featured a dog called Rolo with a curl in its hair, playing on our Rollerlash 'Curl'. To showcase the event in an engaging way we positioned Rolo as the fly on the wall in the bar, we took photos from a dog's point of view and did Twitter takeovers. We also went on a 'hunt' for Rolo's new BFF, asking the community to share their dog snaps for a chance to win. People love dogs so it was a huge success."
What kind of targeting are you doing with your paid social?
"All kinds. Paid social forms a big part of our marketing strategy. We have two approaches for paid social; there's an always-on approach, which is what we're doing day by day to amplify our content and then there's campaign and product launch amplification. Depending on what we're trying to achieve will depend on the targeting but it will usually focus on our core audience and their look-a-likes."
"We also work with our retail partners a fair bit and boost their content to both theirs and our audience. We had a lot of success with this approach with Boots when we launched "They're Real! Colour" and white listed some of their positive reviews; with the content not coming from us it can look more genuine. We've done similar things on Twitter with our influencers as well, those who have tried our products and positively reviewed them."
Has there been an increase in your Twitter Advertising spend as you've seen your campaign results surge?
"We've definitely invested more money in all our social channels, particularly as we have such an aggressive product launch strategy."
Do you use UGC?
"Yes, that's a huge part of our strategy, partly because we're a makeup brand but also because our community love sharing content. We actually had a lot of success with it for our Rollerlash campaign in March, and we ended up compiling a video of all our customers using our products, and it's been one of our most popular video to date."
84 percent marketers used influencer marketing this year and being a big fan of UGC content yourselves, how do you use it in your strategy?
"Influencers forms a huge part of our strategy. We have members of our team dedicated to influencer marketing, ensuring that they build relationships and look at creative ways we can work together. I think as with social, the influencer landscape is changing pretty quickly. There are the top people who've solidified their place and are doing amazingly well, and on the flip side, we're seeing a lot of up and coming people who are also really good and up for doing great things together. We work really closely with them to see how we can nurture what they're doing, and how can we be a part of their journey."
How long have you been at Benefit doing social? And have you witnessed much change since you've been there?
"A year and a half, and yes, I've definitely seen a huge change in the way we approach social. We've become more structured now, we're working a lot more closely with other teams for mutual support. We're a lot more aligned with our global team in San Francisco too, and the overall global strategy."
What are your personal feelings about where social media is headed?
"I think there definitely has been a shift in the last few years where people are seeing it as its own entity and not just an 'add-on', which is great for me and anyone that works in digital because it means that all the championing that we've done in this sector has really paid off. I think this trend will continue and more and more time and budget will be allocated to digital and social. With this will come even more innovation, creative thinking and new ways to engage and connect with customers."
And how would you personally like to see it developing. What is your wish for social media?
"I'd like to see social media in a more physical environment - how social media fits in with in-store and optimising events - I'd love to see that develop further. There's been lots of talk around augmented reality and virtual reality, and some great innovation in this space, but I don't think customers quite get it yet. I think there needs to be ways to bridge that gap until those types of technology are more part of the mainstream."
Any last words about Benefit and social?
"For us it's just about having fun and being ourselves."
Want to hear more insights and opinions from digital marketing and social media professionals at some of the world's top brands and organisations? Check out our other social media interviews in our Spotlight Series, including British Gas, Puma, NASA, Innocent Drinks, United Nations, and many more.