Rachel May Quin
Lights, camera, action: 4 key insights into superstar entertainment campaigns
Looking for entertainment? Look no further. Last Wednesday we attended the second session in the new Contagious sector spotlight series, exploring advertising creativity and innovation across a wide range of industries from automotive and entertainment to FMCG and financial services.
This time, we were focused on all thing's entertainment. From TikTok museum mastery to Fortnite virtual concerts, entertainment brands have seriously flexed their creative muscles during the pandemic. The webinar also featured exclusive bonus content in the form of David Boyle, Director of Audience Strategies, sharing his fascinating insight how audience segments can amplify your marketing efforts and help you create truly tailored campaigns.
Without further ado, here's our round-up of the key insights from the entertainment sector spotlight.
1. Doing things differently
The pandemic has been a challenging time for many brands, but none more so than entertainment. This period has been a rollercoaster, with subscription brands seeing exponential growth as people spend more time indoors, and venues that depend on getting people through the door needing to think creatively to keep reaching audiences.
A shining example of embracing the new normal comes from the Black Country Living Museum. Faced with multiple lockdowns and dwindling visitor numbers, they took to TikTok to tell the story of an English early mining community, helping them reach a whole new audience and make history in the process.
Overseen by the in-house marketing team of one, they created a series of educational and on-trend videos, with one describing the role of women in WW2 set to Ariana Grande's Positions racking up over 4 million views and firmly establishing the museum as one of the top 100 TikTok accounts of 2020, taking their relatively niche venue to over 360,000 followers globally.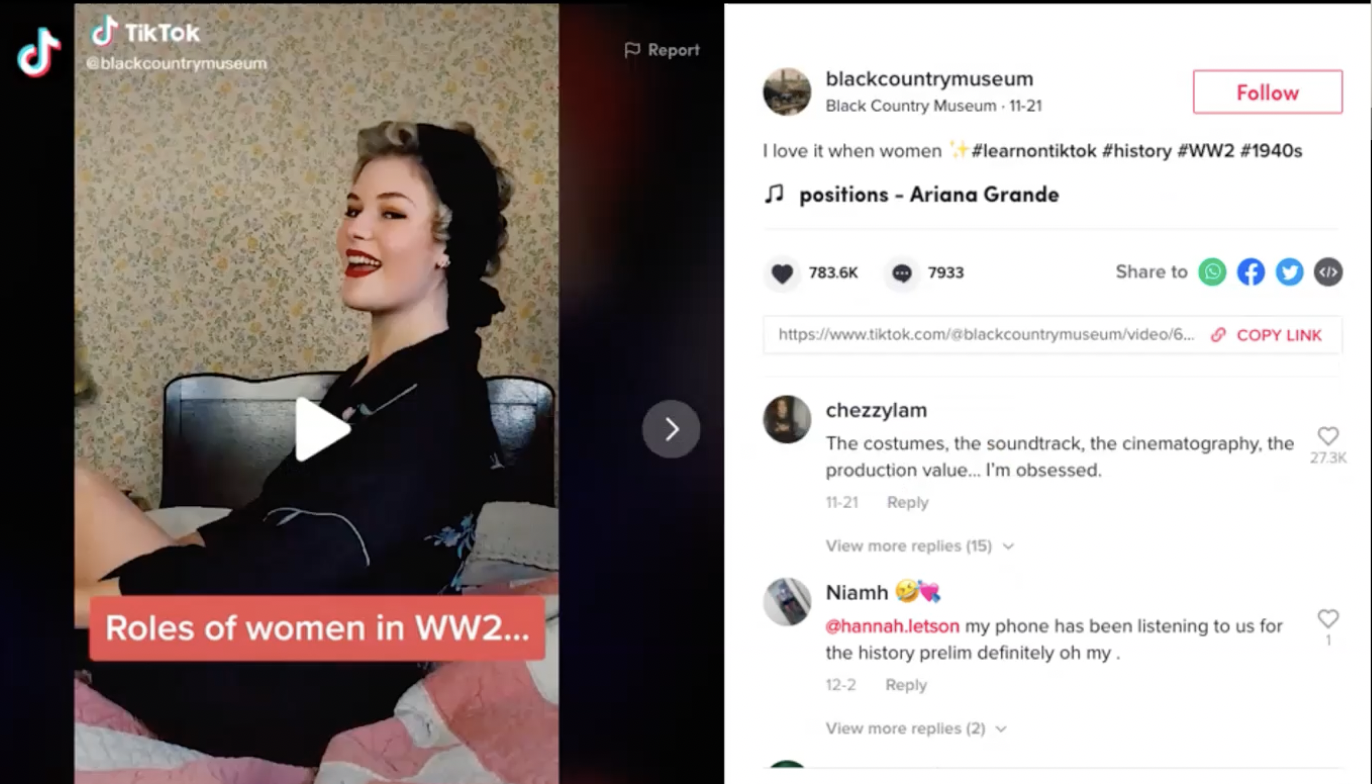 Another brilliant example comes from the Göteborg Film Festival and The Isolated Cinema. Unable to operate as usual, they decided to run an entirely digital event. To create as much noise as possible, they offered one lucky individual the chance to watch the entire programme, over the course of seven days, on a remote Swedish island. They released a spooky trailer recruiting volunteers to apply as part of their activity around the festival.
It paid off. They had over 12,000 applications and the campaign received around 800 pieces of media coverage, providing an estimated media reach of over 1 billion. Even better, they created their own micro-influencer to champion the festival, as the successful applicant kept a daily video diary of her experience on the island.
2. Creating immersive experiences
A seven-day film festival on a deserted island might not be for everybody, but entertainment brands are clearly thinking about how to create truly unforgettable moments, both online and offline. Artist Travis Scott set the bar high with his immersive virtual concert experience, Astronomical, created in partnership with Fortnite.
The three-day virtual concert series took place entirely inside the game and was billed as "a one-of-a-kind musical journey", with Scott taking the opportunity to premiere a brand-new song for fans. Overall, the event racked up over 22.7 million live views, which comes in at around 110 times more than the average Glastonbury figures, triggered a 26% increase in streaming of Scott's songs, and the artist saw a $20 million boost in merchandise sales.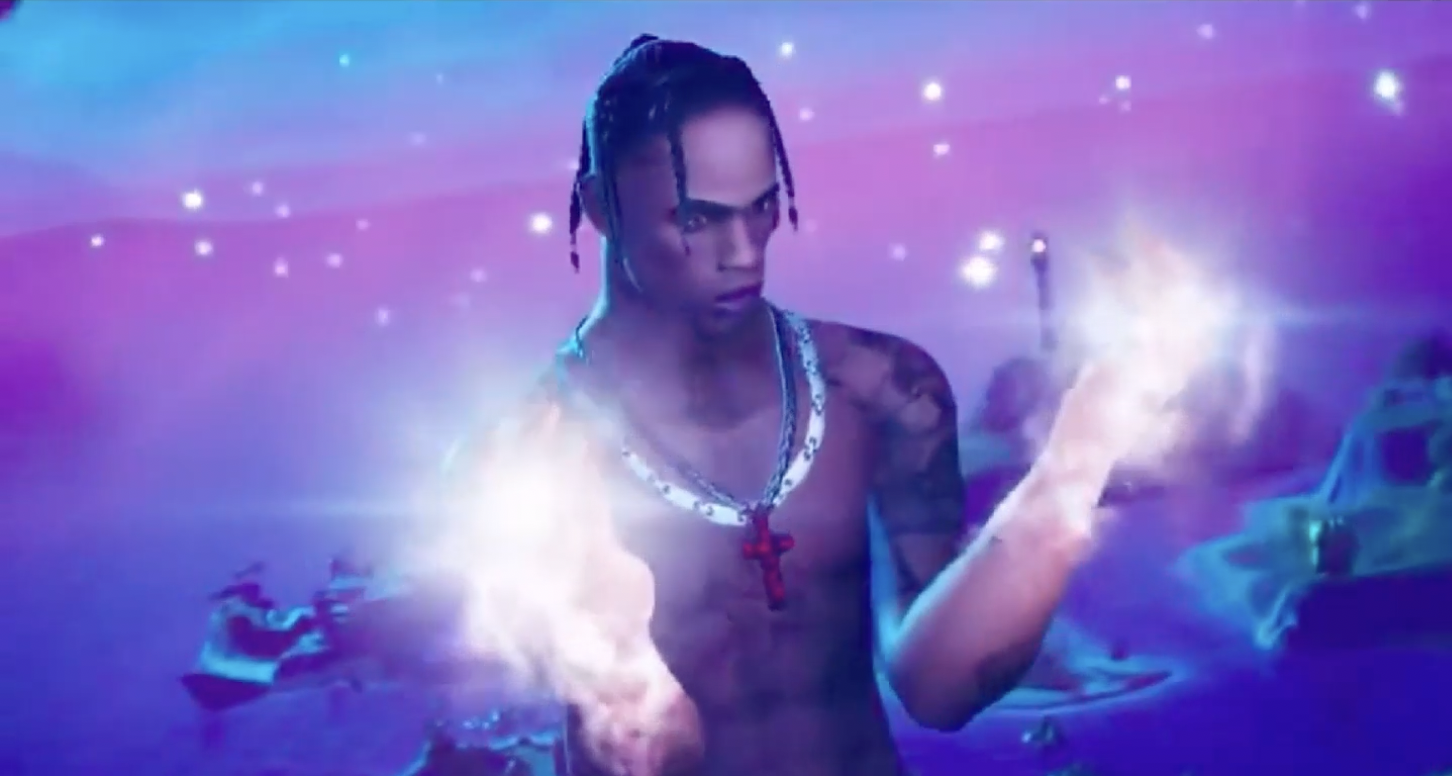 From one gaming giant to another, Xbox tool the opportunity to address loneliness amongst elderly citizens with a campaign aimed squarely at inclusivity. Beyond Generations brought together grandparents and their younger relatives to learn to play games together remotely, demonstrating how gaming can overcome social distancing barriers and help with social isolation.
Xbox documented the experiences of two families over a four-week period. They also created materials for families to send to older relatives to help them get set up, and partnered with Age UK to shed light on a larger social initiative. The campaign was received well with a 63% positive sentiment ranking on social media. Not only did Xbox raise awareness of an important issue, but they saw an opportunity in an untapped market - since the start of the pandemic 58% of people aged 65 and over have reported a dramatic increase in their use of technology. Why not buy an Xbox?
3. Using your power for good
Over in the world of TV, many brands have been spending time focusing on connecting with their viewers on a more personal level. With so many of us spending more nights in than ever before, brands have had almost unlimited access to a captive audience.
ITV used their power for good with Get Britain Talking, a mental wellness initiative designed to help Britain stay connected. The campaign was launched on Ant & Dec's Saturday Night Takeaway with presenters Ant and Dec conducting an entire celebrity interview via text, and finishing the segment by encouraging viewers to speak to the people around them.
ITV also rolled out a minute of silence across other shows, to great effect. An independent study found that over 40% of viewers were 'intensely moved' by the campaign, and 39% of people said that they had a more favourable view of ITV after seeing the TV spot. Taking the time to remind their audiences to take care of themselves and their loved ones during a particularly difficult time helped ITV appear more compassionate.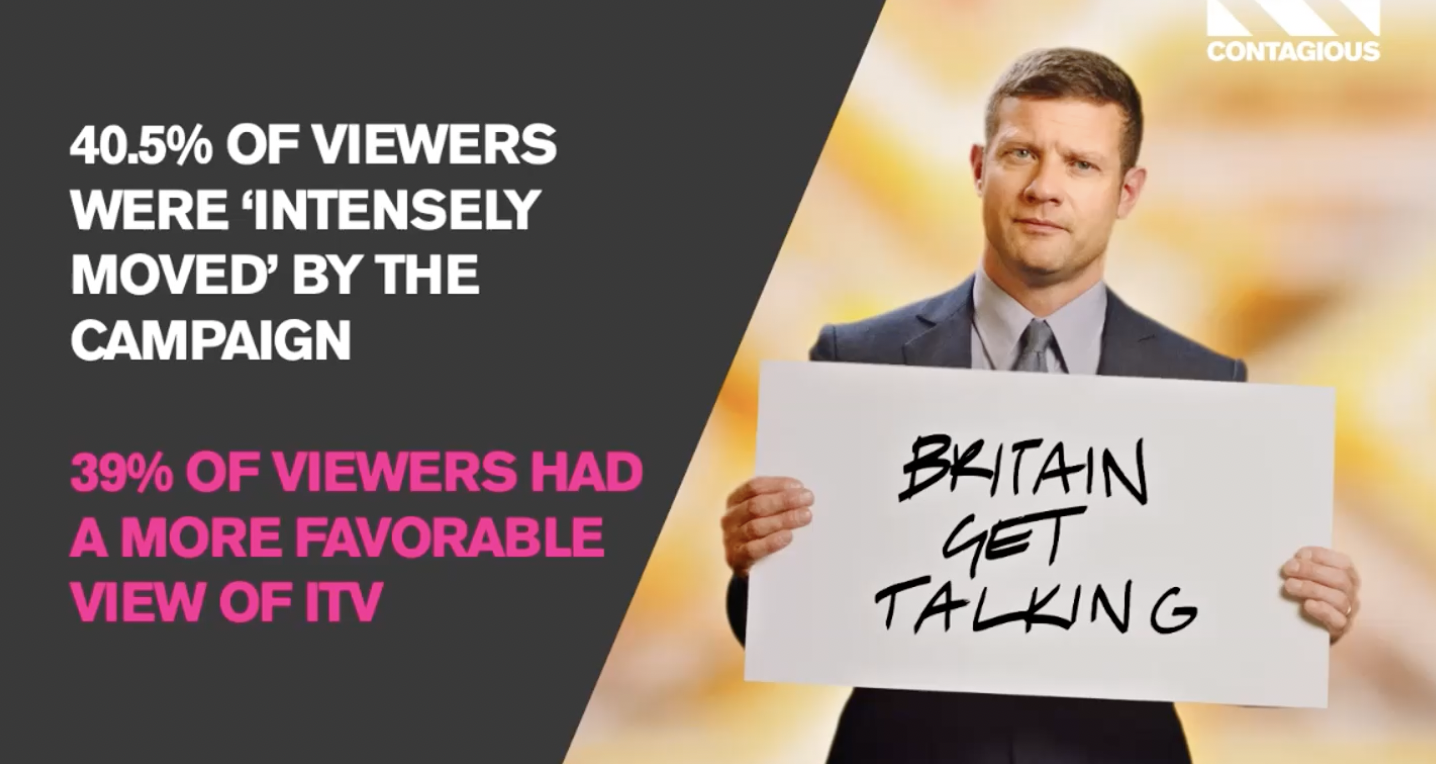 Across the sea, the premium French television channel continued to make waves. Already well-known in the ad world for humorous, tongue-in-cheek campaigns such as Biip and highly acclaimed The Bear, they also have a knack for identifying pain points and turning them into rewards... and their Waiting Wins campaign did exactly that. During the 2019 French air traffic strikes, they pounced on an opportunity to target a captive audience with their streaming service.
Using real-time data, Canal+ identified delayed flights and sent targeted messages to passengers offering them entertainment at just the right moment. Flight delayed by an hour? Excellent, you've got time for an episode of this great TV show! This strategy was a win-win for everyone involved, with 37% of delayed passengers enjoying premium entertainment and Canal+ enjoying a 180% increase in subscribers to their service.
4. Cleverly localising campaigns
Netflix are the masters of campaigns that resonate, no matter where in the world they're focusing their efforts. Two campaigns really stood out, Where's Ninong and The Censor's Cut, for their excellent targeting of local culture.
Where's Ninong involved making six completely unrelated TV series appealing to a Filipino audience at Christmas time, in one coherent campaign. They did this by hooking it around Ninong, a cultural figure associated with the Christmas season, hiding Ninong in frames of all the trailers as an Easter egg. Viewers were challenged to find him, resulting in over 6 million views and 17,000 shares on social media.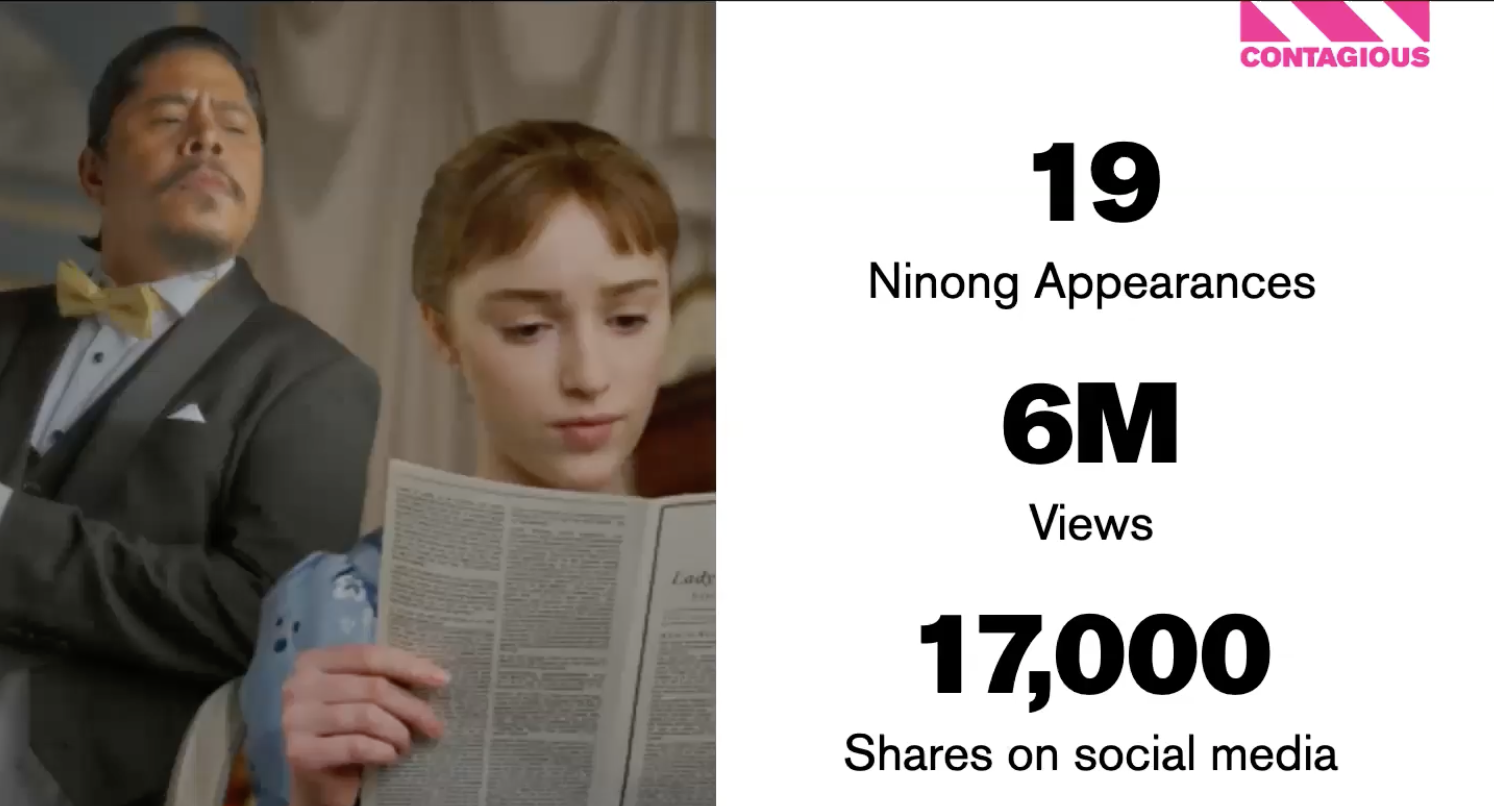 In The Censor's Cut, Netflix cheekily turned Thailand's strict censorship laws on its head with their new show, Narcos Mexico. Full of sex, drugs and violent scenes, Netflix knew they wouldn't be able to show the trailer they wanted. So instead, they blanked out all the good stuff, using Photoshop's iconic checkered background to hide all the censored content. This created an air of mystery and great excitement around the show, inspiring a raft of memes and generating 93 million impressions online.
Last but not least, a pre-pandemic moment of genius comes from French television channel 13eme Rue with the Underground Premiere activation. They made the most of commuter time to promote their new original series Trauma, carefully selecting a range of metro stations across the French capital based on station depth. The deeper people went, the more of the minutes of the first episode they could unlock.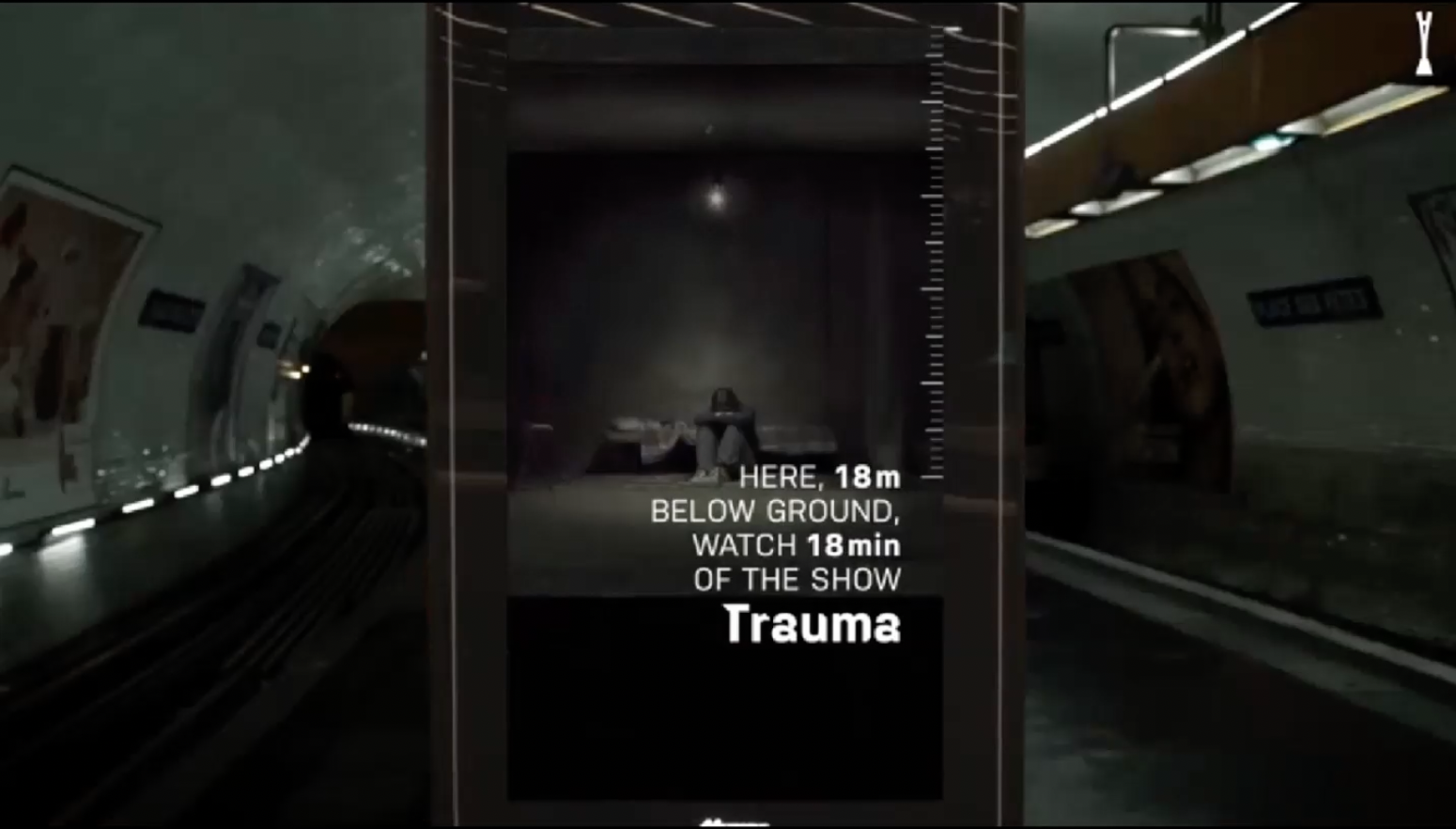 Using digital billboards across the metro system, commuters were able to unlock over 5 million minutes of the show, leading to 33 million views of the first episode and an impressive 35% increase in subscriptions to 13eme Rue. It seems giving away the first episode, combined with the cinematic setting of the Parisian underground, was more than enough to get people hooked.
Diving deeper into audience segments
It's clear from all of these campaigns that a deep understanding of your audience and what makes them tick is gold dust in planning marketing strategy. David Boyle, Director at Audience Strategies, wrapped up the session by explaining the pure magic of audience segmentation, which can provide X-ray vision into your key audiences.
To demonstrate this, we took a deep dive into the Fortnite audience on social media. Looking at them based purely on demographics as a mass, you might be forgiven for thinking your ideal audience is a politically jumbled, slightly confused mess of American sports fans. Examining the Fortnite data using Audiense, five key audiences with very different affinities emerged: Content creators, mainsteam casual gamers, sports fans, super gamers and Fortnite super gamers.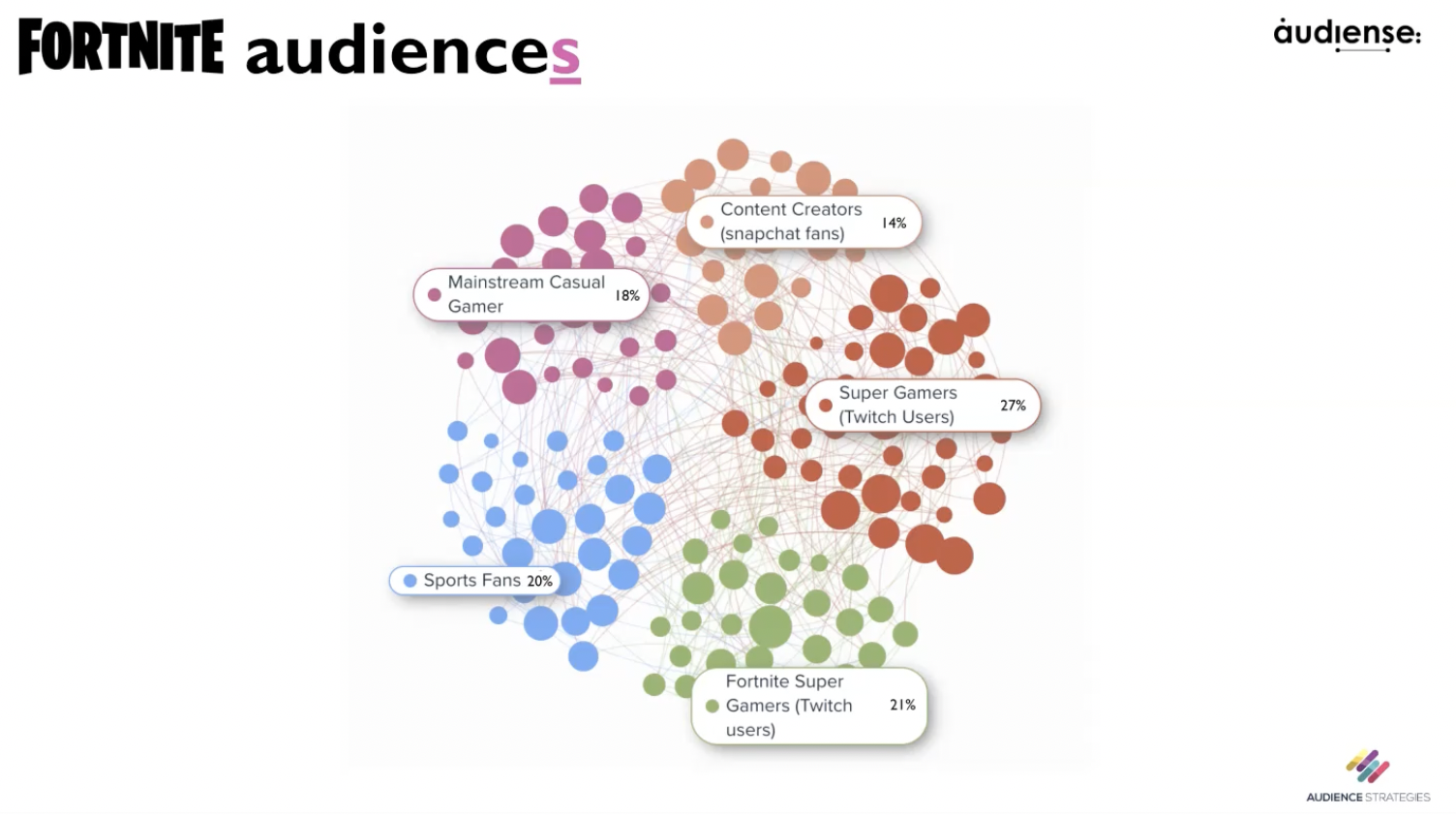 This demonstrates that by looking closely at affinities within audience segments, brands can be much more specific in defining customer segments, and understanding who they can partner with to create star-studded campaigns.
Join us for the next webinar on the 28th April when we'll be exploring innovation and creativity in the Alcohol industry. Register now.