Rachel May Quin
Kisses, love notes & poetry: 8 brands seducing customers on social media for Valentine's Day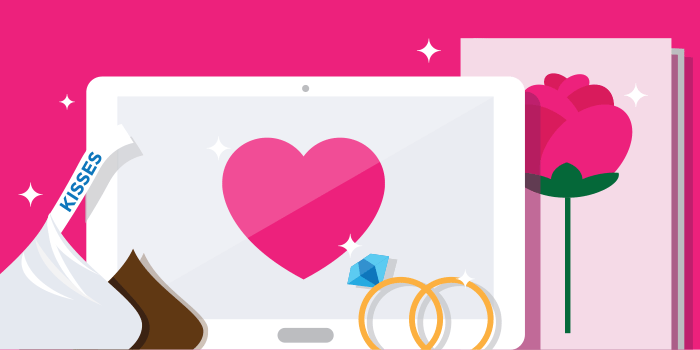 Love was in the air last weekend for couples all over the world, as Valentine's Day approached. With an estimated 91% of Americans planning to splash the cash on their significant others this year, Valentine's Day was the perfect opportunity for florists, candy-makers, and jewelers to run a successful social media campaign. Which brands ran the most loved 2015 campaigns? Here's a collection of our favorites.


Samsung
Valentine's Day and tech… it's a modern day romance. Samsung used the special day as an opportunity to play Cupid, whilst showing off their Note 4 tablet. Clever.

This year they brought back the #LoveNote campaign, which in previous years involved people submitting a special message that Samsung sent out as a physical love note. This time around, Samsung were offering to create personalized love notes with a team of illustrators, to be Tweeted to the object of your affections.


Tesco
Trolleys don't really go hand-in-hand with romance… or do they? Supermarket brand Tesco were totally ready for Valentine's this year, getting people in the spirit with some ex-rated Vines and providing witty e-card suggestions as part of their #LoveIsAllAround social media campaign.

On the big day itself, Tesco spread cheer on Twitter by Tweeting lonesome people with the ecards.


Starbucks
Here's one for all the lonely Starbucks lovers. Starbucks didn't do a full scale campaign for Valentine's Day - because let's face it, coffee is everybody's one true love - but they did post some pretty inspired romantic poetry which proved extremely popular on Twitter.


Dunkin' Donuts
Dunkin' Donuts pitched themselves as the sweet treat you needed for your sweetheart this year, with their #DDHearts Twitter campaign. To enter, Twitter users Tweeted the Dunkin' Donuts with a special message for their Valentine, using the hashtags #DDHearts and #Sweeps. They were then entered into a sweepstake for the chance to have their message iced on to a special heart-shaped donut. Dunkin' Donuts used the perfect blend of Twitter and YouTube for an exceptional Valentine's Day Twitter contest. Sweet! You can watch the videos by clicking the link in the Tweet below.



Cartier
With Valentine's Day billed as the romantic day of the year, it comes as no shock that people are more inclined to propose, making it the best time of year for jewelers to flaunt their wares. French jeweler Cartier set the tone with 'The Proposal', a six-minute short film focusing on three different couples in Paris who found a way to say 'I love you' with exquisite diamond rings.



In the build-up to Valentine's Day, they posted images from the video focusing on the different couples, and even shared where you could buy the rings yourself, with the hashtag #TheProposal.




Hershey's
With over 50% of the US population planning to buy candy for their loved ones, Hershey's Kisses are a go-to product. The most appropriately named sweet treat for this time of year, Hershey's produce more than 8 million pounds of Kisses (that's about 750,000,000 individual candies) to meet consumer demand. Phew.





Still, no need to rest on their laurels, the Hershey's Kisses Twitter account seized the moment by inviting people to 'Say It With A Kiss' on Valentine's Day. They gave tips for novelty gift ideas, such as Hershey's roses and recipe ideas involving the dinky chocolates, Hershey's were all about product placement.





Of course, for every loved-up brand Tweet, there's some excellent anti-Valentine's campaigns and posts that even Grumpy Cat would love.






McKinney
Creative agency McKinney know Valentine's Day is a rough time of year for the broken-hearted, so they put together #ShredYourEx to help you deal with the pain of romances past. All you had to do with Tweet or Instagram a picture of your ex to the @ShredYourEx handle, using the hashtag #ShredYourEx, and enjoy the sweet revenge of watching your photo be printed, then put directly into a shredder over the backdrop of a beautiful digital fire. Even better? The shredded remains of your ex are sent to a local animal shelter to keep puppies and kittens warm.


Netflix
And finally...




Which brands do you think did Valentine's Day best this year? Share them with us in the comments.