Rachel May Quin
Money talks: Uncovering who's behind the cryptocurrency online conversation
Whether or not you're ready to buy in, the crypto market continues to grow, and more people are investing. While there has recently been some turbulence in the crypto market as stock value in some trading platforms dip, according to a recent report, the market size is expected to grow to around $2.2 billion by 2026 and approximately 328,370 Bitcoin transactions are processed every day.
This growth is likely accelerated by the adoption of crypto as a payment method for several major consumer brands. The luxury goods industry in particular is at the forefront of the trend, with Gucci, TAG Heuer and Balenciaga all accepting crypto payments.
With so much buzz around crypto, we wanted to take a closer look at who is driving the conversation around cryptocurrency across the social media networks where your average consumer is spending the majority of their time: Facebook, Instagram and Twitter. We've collected a range of data on who is participating in the crypto conversation and distilled them into insights, to help marketers and brands understand how to reach them better.
The crypto audience on social media
To extract insights into the crypto audience on social media, we took a two-pronged approach to data collection and analysis. The first step involved a forensic examination of Meta data using SOPRISM, our new integration, and the second was an affinity report created in Audiense.
The Meta ecosystem is massive, consisting of Facebook, Instagram, WhatsApp and Messenger. And it's not just social, Meta's Audience Network gives marketers the power to go beyond their networks and reach third-party sites. As many marketers know from running paid advertising on the platform, Meta have made several adjustments to their interest targeting options - in an effort to prevent discrimination through targeting and prevent misuse of sensitive topics such as politics and finance. For this reason, 'crypto' and 'bitcoin' don't appear as broad criteria for us to target.
To work around this, we created a global audience of 36.5 million users - an undeniably statistically significant number based around the world - who were likely to interact with subjects related to bitcoin or cryptography. We looked at two key segments:
The first was any user engaged or associated with digital currency
The second was a more specific group of people who had been engaged or associated with EToro or Dash (two popular crypto platforms / currencies)
For our second report, we ran an audience insights report in Audiense which looked at the followers of cryptocurrency accounts or followers of crypto platforms. Examples of handles that appeared in our search query include @Bitcoin, @ethereum, @Tether_to, @Cardano, @solana, @Polkadot, @dogecoin, @0xPolygon, @Shibtoken and @trondao.
What Meta can teach you about the cryptocurrency audience
We know from platform usage reports that the users on Facebook tend to skew slightly older, and the users on Instagram tend to skew slightly younger. When we looked at our Meta report, we found a similar trend. The vast majority of the Meta crypto audience is male, accounting for about 75% of the total audience. They also tend to be quite young, with the 25- to 35-year-old audience taking up a significant share of voice, but with a decent spread of behaviour across the 25- to 54-year-old demographic overall.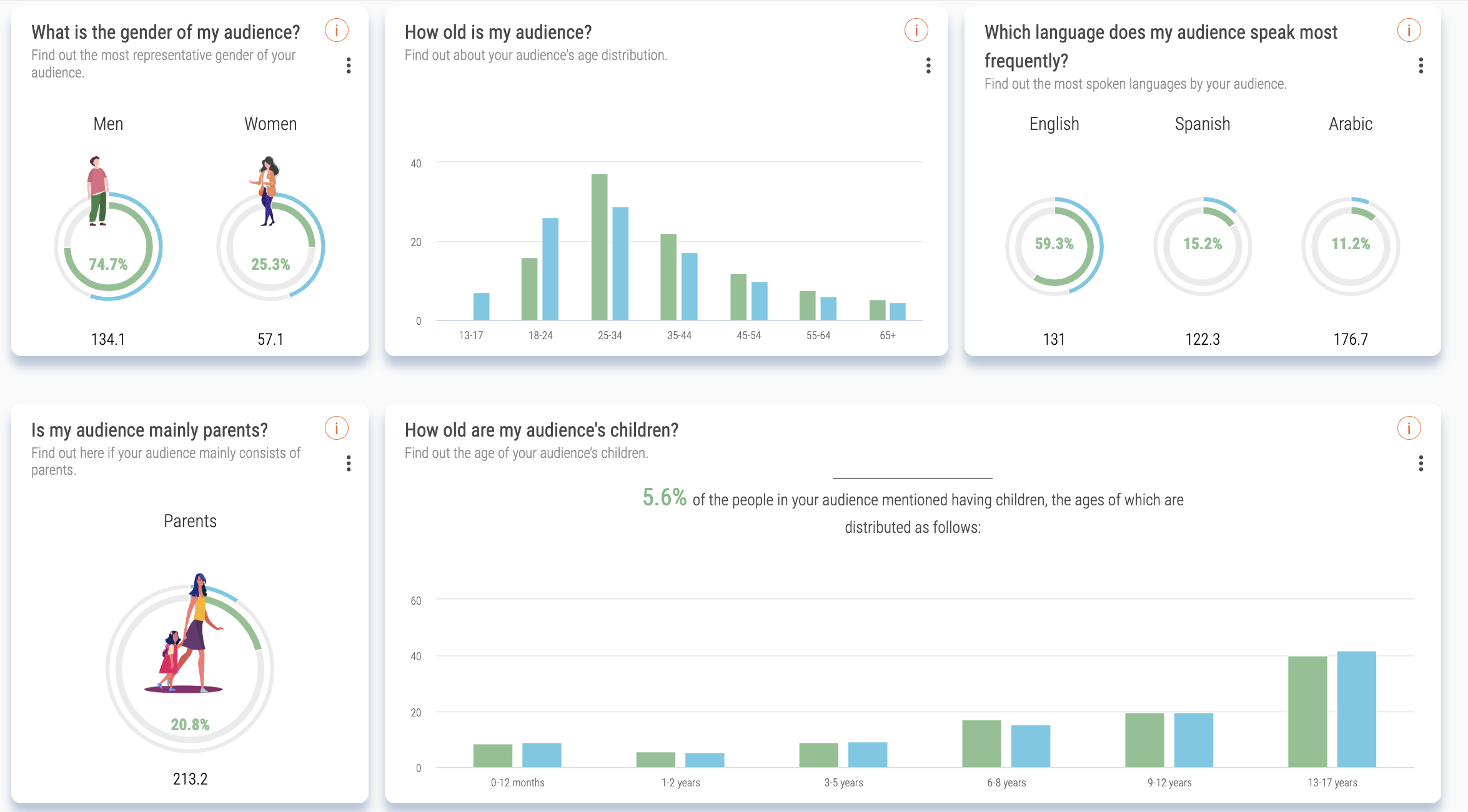 While English is the primary language, accounting for 50% of the profiles in our sample, Spanish and Arabic both account for about 25% of the audience. Looking at geographic data, Somalia, Qatar, Nigeria and Jordan are the main countries associated with the digital currencies and crypto audience, demonstrating significant interest when it comes to reaching and influencing fellow crypto enthusiasts.
Politically, they tend to skew slightly more right-wing, and they take an active interest in social issues such as law, justice, health, public transport and global security.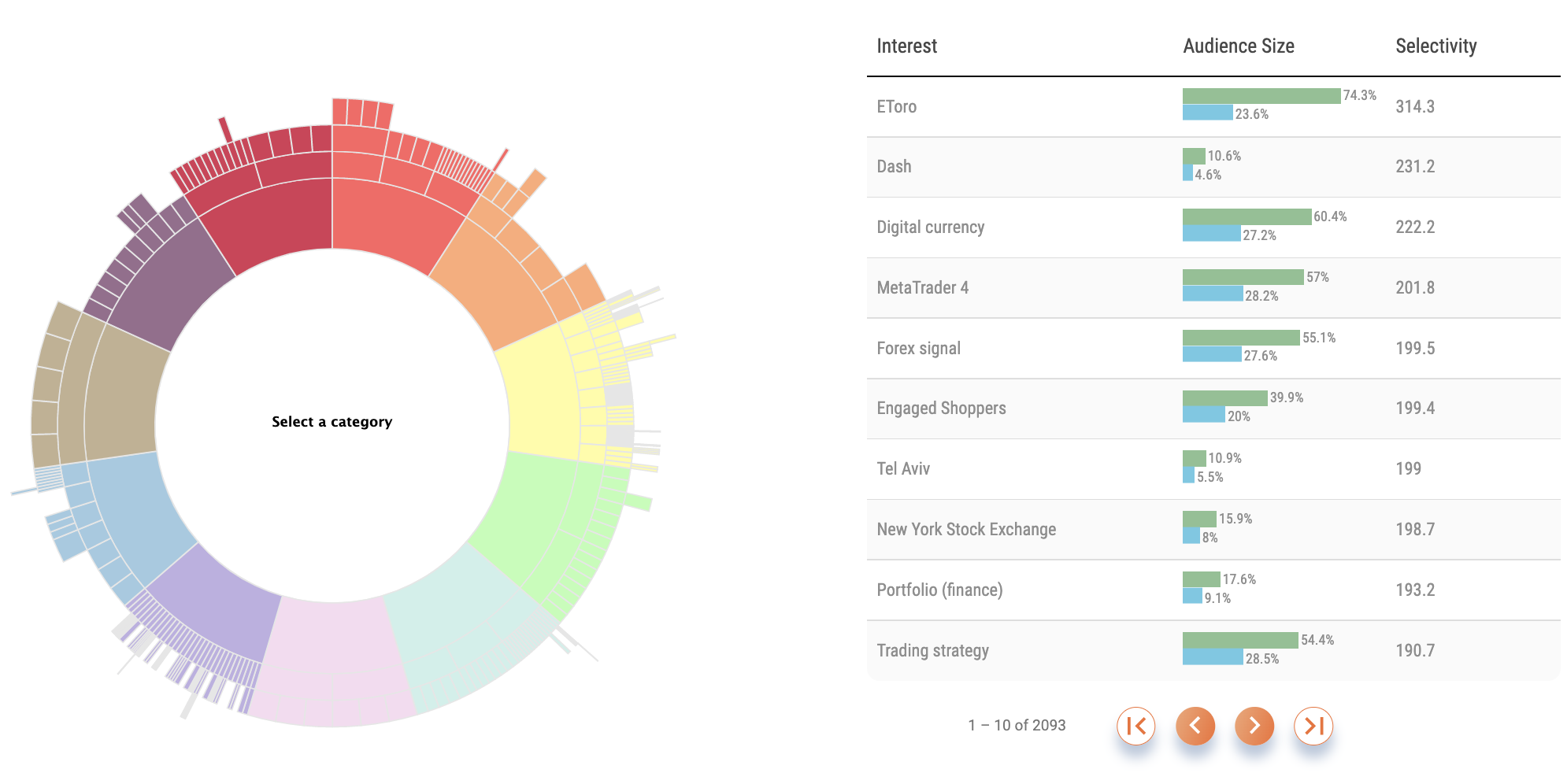 Within this audience, we were able to identify 56 individual clusters of users using SOPRISM's reporting, which allows for super specific insights and targeting. The most significant segments identified were:
Trader/Economist
The Workaholic
The Parent
The Health Conscious
The New Business Enthusiast
Some of these segments - such as Trader, Workaholics and New Business Enthusiasts - are no-brainers for an audience with an active interest in cryptocurrency. But what about the more unusual segments, parents and those with an interest in health? Let's take a deep dive into these two segments to understand what might be influencing those audiences.
Let's start with parents. 87% of US parents who are saving for a college fund say they have invested in crypto, and more than 50% of those parents believe that crypto investments will pay for at least half of their children's education. The majority of these parents invested within the last five years and they believe that crypto is a safe long-term investment for their children. For the health conscious segment, blockchain - and crypto - are being touted as the future of healthcare. According to Forbes, blockchain is set to revolutionise medical technology and put patients at the heart of operations.
What Twitter can teach you about the cryptocurrency audience
Turning our attention to our Twitter findings, the crypto audience is also predominantly made up of men, accounting for about 73% of the audience. But the overall audience definitely skews younger than Meta, with 18- to 24-year-olds making up around 40% of the overall crypto audience.
The geography of the audience also differs. On Twitter, the US, India, the UK, Turkey and Nigeria boast the chattiest crypto enthusiasts. We can see that the key cities for users tend to be where financial hubs for those territories are based: London, Hong Kong, San Francisco and New York.
In terms of political affiliations, the Twitter audience is more likely to be left-leaning in their beliefs, with key political figures such as Joe Biden, Kamala Harris and Hillary Clinton all appearing prominently in the Influencers & Brands section of the report. These crypto enthusiasts are also more likely to engage with sports, finance and travel than the general population.
We were able to break this audience of 250,000 people down into five key segments:
Crypto enthusiasts- actively participating in the conversation around crypto
Traders - actively participating in the trading of digital currencies
Sports fans - A crossover audience of people interested in crypto and sport
NFT - actively participating in the conversation around NFTs
Engineering - Primarily young men interested in crypto and engineering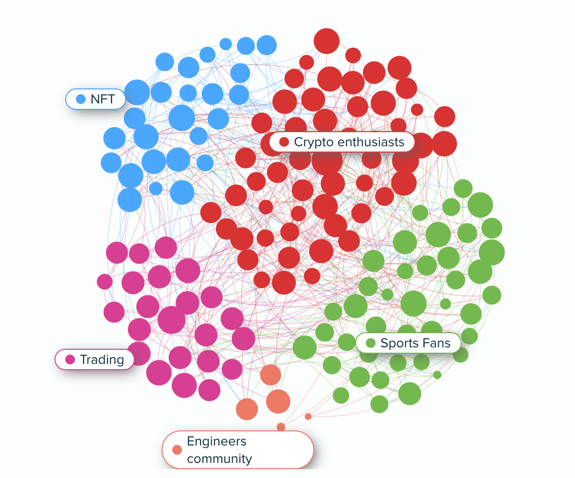 Using our IBM Watson integration, we were also able to gain some insight into the overall audience's personality traits. Here are some of the key things we know about crypto enthusiasts on Twitter:
Personality

: They are analytical, active and explosive. They are philosophical: they are open to and intrigued by new ideas and love to explore them. They are authority-challenging: they prefer to challenge authority and traditional values to help bring about positive changes. And they are assertive: they tend to speak up and take charge of situations, and they are comfortable leading groups.

Needs

: Their choices are driven by a desire for efficiency.

Values

: They consider both independence and helping others to guide a large part of what they do. They like to set their own goals to decide how to best achieve them. And they think it is important to take care of the people around them.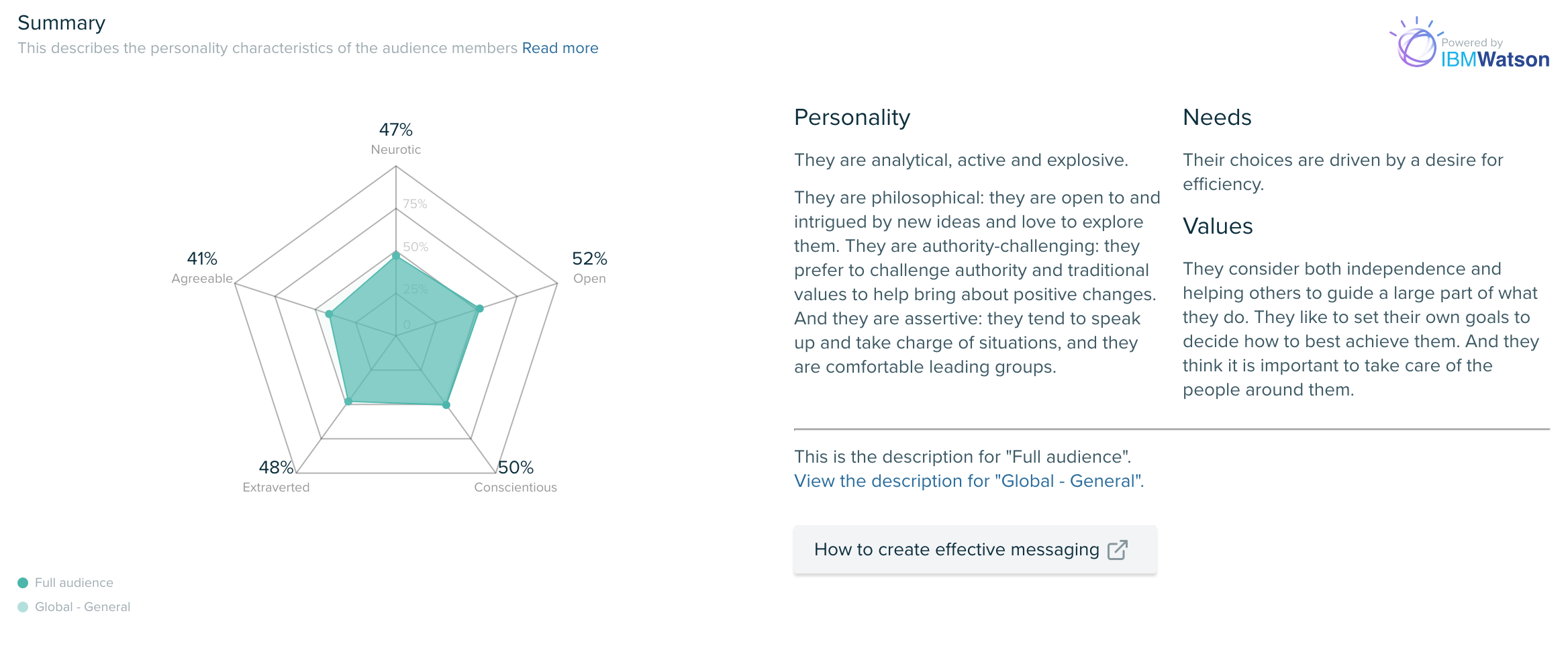 What brands can learn from the cryptocurrency audience
So, what can brands take away from this analysis? Overall, across social media channels, the crypto conversation is largely dominated by Gen Z and young millennial men. This is potentially due to the fact that younger generations are more likely to be digital natives, who have already seen widespread technological change, therefore investing in cryptocurrencies feels like less of a risk and more of a fun new adventure.
Due to the decentralised nature of crypto, the conversation is also fairly global. We're seeing widespread conversation across regions, but that said, cities that are more likely to have tech investment – such as London, San Francisco and Hong Kong – tend to have higher concentrations of crypto enthusiasts and potentially, more influence and reach.
Perhaps most importantly for brands, while most of the conversation is happening in the more 'traditional' crypto sphere, i.e. fintech companies and active crypto traders, there is an emerging market of more general consumers who have crossover interests in sport and gaming. For example, in our recent spotlight analysis on cryptocurrency and NFTs, we can see that brands and consumers alike are trying to unlock the potential of digital currencies.
Ready to take audience intelligence to the next level?
If you're trying to break into the crypto audience, or you just want to learn more about the online behaviours of your target customers, there's never been a better time to sign up. Thanks to our acquisition of SOPRISM, an extraordinary consumer insight tool, Audiense reporting just got even better.
Sampling a panel of over three billion global users, SOPRISM provides access to audiences across Facebook and Instagram, helping you unearth more detailed cultural and sociodemographic insights. Using Audiense and SOPRISM together, you'll be able to:
Tap into audiences across Facebook and Instagram
Explore brand new audience definitions that will enhance data segmentation
Access new filtering tools and reports designed to improve audience understanding
… and so much more!
It's time to deep dive into audience intelligence and create your best campaign ever. Sign up today.