Rory Hope
5 reasons why you should use Audiense for SEO
I've been talking about 'Audience-first SEO' for some time now. Most recently I was given the opportunity to talk on the BrightonSEO main stage about how you can develop SEO personas using multiple data sources, with a focus on integrating audience intelligence data with traditional keyword data.
The announcement of the Audiense and Semrush integration is an exciting step towards enabling SEOs to adopt 'audience-first SEO' strategies, whereby the target audiences are considered with as much importance as the target keywords.
I'm going to share 5 reasons why the SEO community needs to include Audiense as an integral part of their SEO technology stack, and specifically how you can use audience intelligence data to improve your SEO results.
1. Identify new keywords in Semrush using affinities from Audiense
You can identify lots of valuable new keywords by uploading relevant keyword-level influencer entities with high affinities from Audiense into Semrush.
Once you have created your audience insights report using the 'SEO competitors' or specific keywords for your target keyword themes, you can then identify the influencer entities with the highest affinity and uniqueness scores displayed in the Audiense platform.
You should combine that data with Semrush's web performance traffic data to prioritise which websites you want to analyse to uncover further relevant keywords.
Navigate to Semrush and upload the influencer entities with high affinity scores from Audiense into their domain analysis tool and select the Keyword Overview or Keyword Gap tool.
This is an immensely powerful way of using the social behavioural analysis that audience intelligence data provides to further expand out your keyword discovery for entities that are topically relevant to your important keywords.
As an example, with Remote, we would identify by analysing our "Global Payroll" keyword theme audience insights report that the following websites have high affinity scores and high web performance traffic estimates (i.e. performing well in terms of SEO and likely ranking for many important keywords we want to know about) with our target audience(s):
Deel
VelocityGlobal
ShieldGeo
The next step would be to upload their domains into Semrush's Keyword Overview or Keyword Gap tool and start to uncover many more relevant keywords for us at Remote to analyse and target.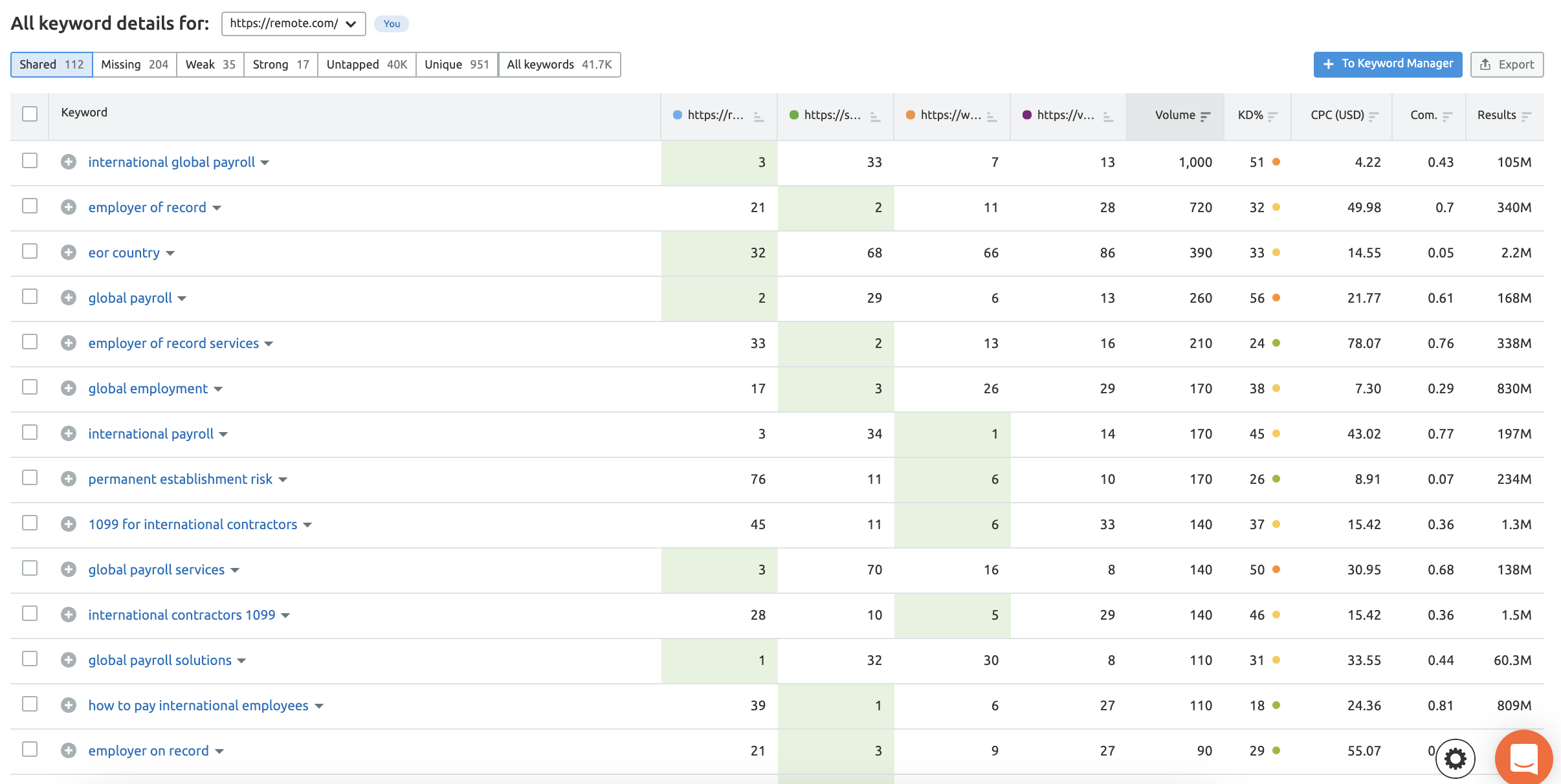 With this approach, you're adopting an 'audience-first' approach to SEO and the possibilities for discovering new keywords are heightened significantly.
2. Understand your keyword-level 'SEO Personas' with audience intelligence
First and foremost, repeat after me, keyword and backlink data does not give us, as digital marketers, enough information to understand our target audiences. We ran a survey in the SEO community and the response reinforced this fact, as the data showed:
40% struggle to deliver consistent high quality content
88% would like to

speed up link prospecting

63% say keyword data doesn't provide information into interests and behaviours of target audience
Only 16% of SEOs incorporate social media data into their SEO strategy.
Use audience intelligence platforms to better understand your 'SEO Personas' by uploading your 'SEO competitors' (those websites that rank well on search engines for target keyword topics) into an Audience Insights Report.
Let's quickly look at the process of identifying your 'SEO competitors'.
Once you have identified your target keywords, using tools such as Semrush and Google Ads Keyword Planner, you should tag them based on their theme and sub-theme (e.g. topics or intents). Then analyse the top ranking websites across all keywords tagged as the same theme or subtheme to identify your 'SEO competitors' for those keywords.
I'm the Inbound Marketing Manager at Remote, and we're on a mission to create more remote jobs in the world by allowing companies to employ employees in every country worldwide. As part of that, our target keywords themes include the topic of "Global Payroll".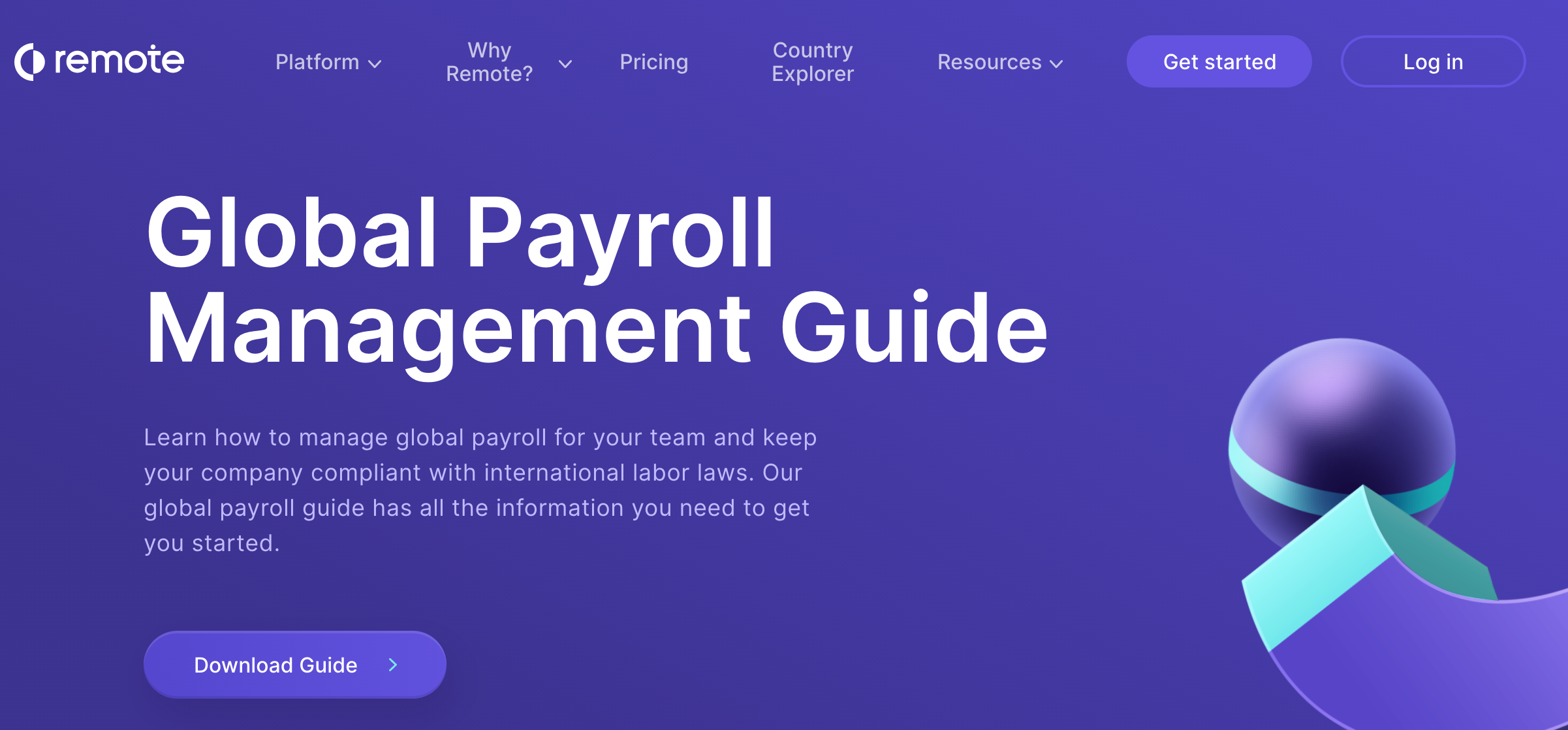 When we analyse the keyword topic of "Global Payroll', we identify the best performing websites in terms of ranking for the most tagged keywords at the lowest average rank, to include:
ADP
Workday
Remote
Cloudpay
GPM Institute
Alight

You would then upload the Twitter handles of these websites into an Audience Insights report in Audiense to identify your 'SEO personas' for the "Global Payroll" keyword topic.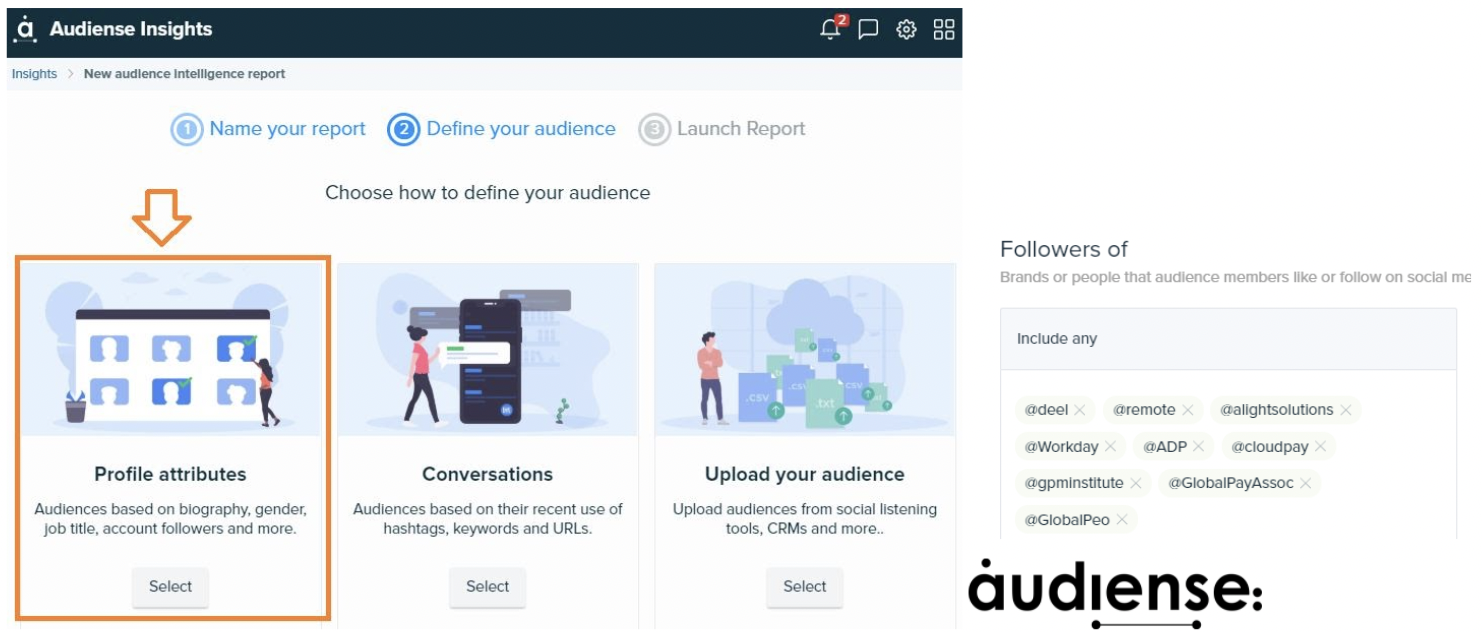 Audiense then provides us with the audience segments for "Global Payroll" and these include:
Co-founders, engineers (creators)
HR & recruitment leaders or managers
Payroll, tax (finance) leaders or managers.

As an SEO, this data is invaluable, as we wouldn't have known to produce SEO content that covers important topics or pain points that are relevant to these target personas. This enables us to focus on SEO topic modelling whilst satisfying topics relevant to our target audiences.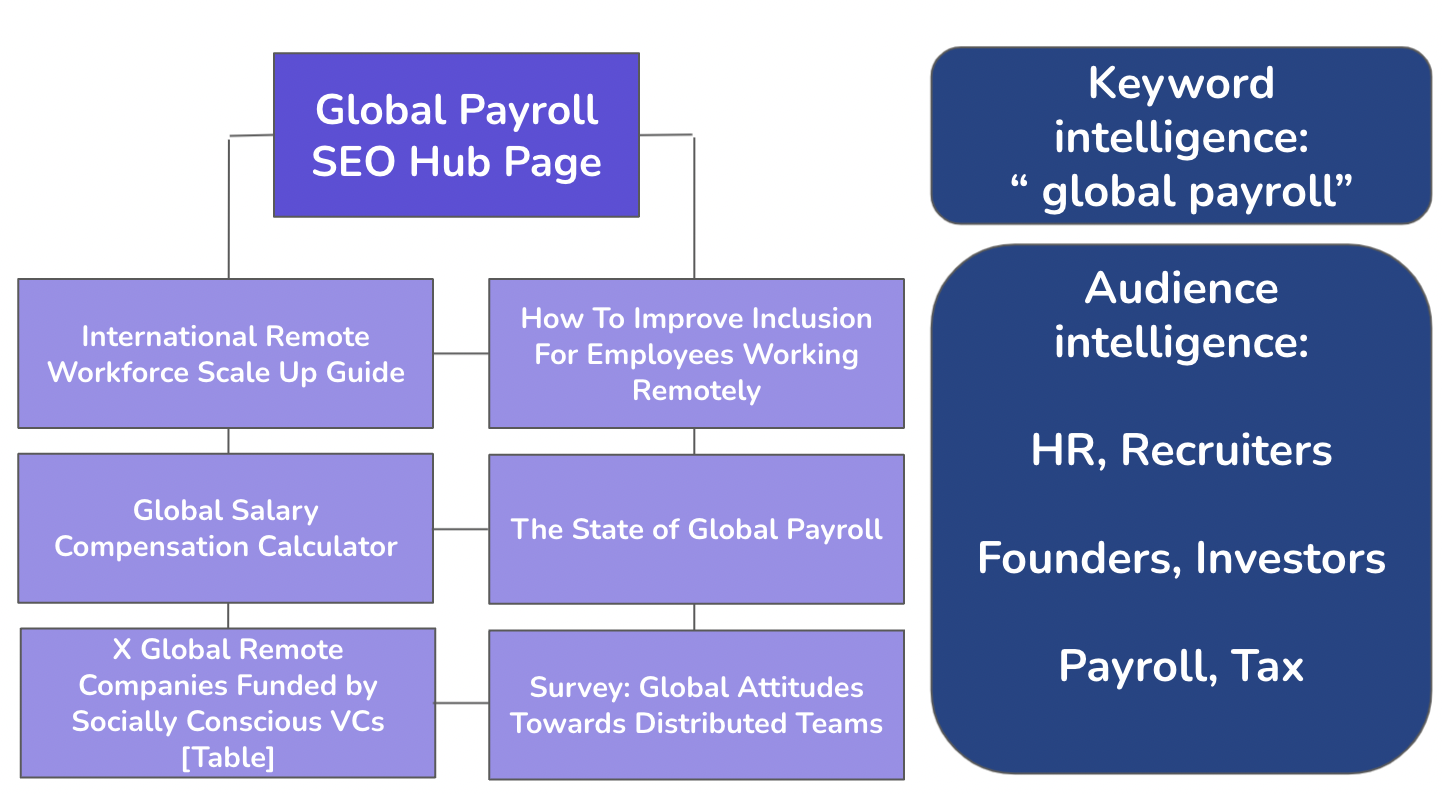 3. Improve your digital PR & backlink prospecting using affinity data
One of the most time consuming parts of SEO is prospecting link opportunities. You have to consider the relevance and authority of each potential link placement, and then figure out how you can earn those links through content marketing, digital PR, partnerships or other means.
The results of our SEO community survey demonstrated that 88% of SEOs want to speed up link prospecting. The answer? Use Audiense to create audience insights reports per keyword topic you will be targeting with SEO, find the influencer entities with the highest affinity and uniqueness scores, cross reference Semrush web performance data and you have your link prospect list.
We've gone through how you can upload SEO competitors into Audiense for each keyword topic, and you can also build these audience insights reports out using keywords too.
It literally takes 10 minutes for Audiense to identify all of the relevant influencer entities and their affinity and uniqueness scores. You can even filter these to media brands instead of people, so you can identify those influencer entities that are likely to have blogs or be publications very quickly.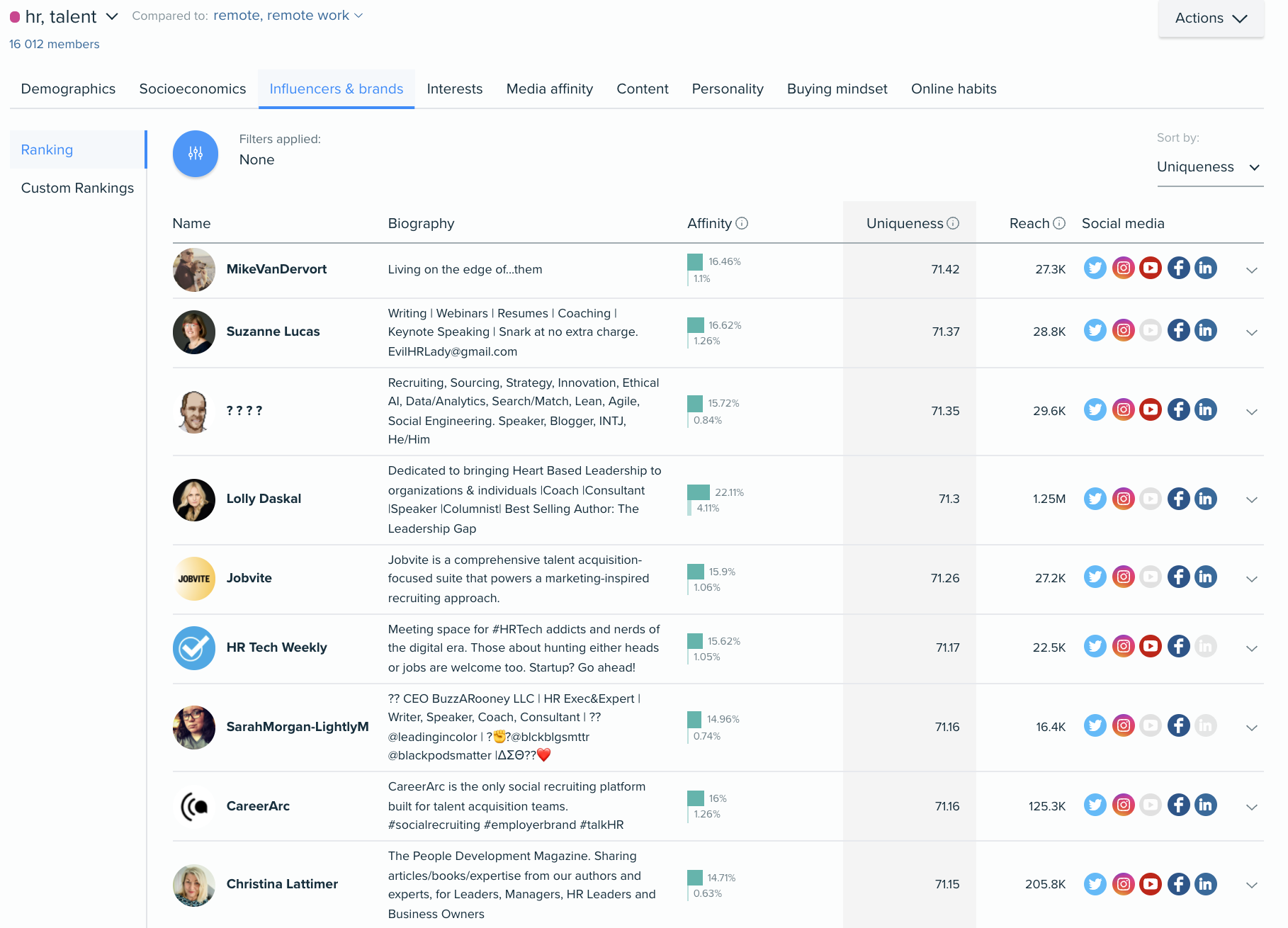 You can then review the list of influencer entities to determine which you would like to outreach to as part of your digital PR and link acquisition campaigns for SEO.
To prioritise, consider using both the affinity and uniqueness scores within Audiense for various audience segments available in the platform (e.g. Finance & Payroll or Co-Founders & Engineers for our "Global Payroll" keyword topic example) and combine this with the Semrush web performance data.
A pro tip, you should find high affinity score, medium to high uniqueness score influencer entities with the highest web performance data displayed from the Semrush integration. These will likely have authoritative websites whereby any links earnt will be powerful, and the high affinity scores with the target audience(s) of your target keyword topic signal they will also be highly relevant. Relevance is one of the most important factors when it comes to link building in SEO.
Remember, Audiense will analyse and produce all of this data for you in minutes, not days or weeks.
SEOs rejoice! We can now rely on audience intelligence technology in combination with SEO web performance data to speed up our link prospecting significantly.
4. Launch more engaging digital PR campaigns using audience insights
I have been involved in managing many digital PR campaigns for clients over the past 8 years and time and time again, I've seen how teams run out of ideas for new campaigns by only analysing backlinks and keyword data.
Audiense is a phenomenally powerful tool when combined with social listening platforms (both free and paid for) to monitor trending content topics relevant to target keywords.
Our target keyword topics at Remote include "Global Payroll" and so to build organic visibility, traffic and conversions for these keywords we need to establish digital PR campaigns that earn a steady stream of backlinks to relevant URLs on our website.
However, "Global Payroll" as a topic, let's face it, is quite dry. Unless we develop a content hub that aggregates first and/or third party data about global payroll trends and statistics, host that on a sub-folder and aggressively guest post referencing the data, then we're going to struggle to continue to produce engaging digital PR campaign ideas that earn backlinks.
By uploading the Twitter accounts of those influencer entities that Audiense has identified as having high affinity scores and medium to high uniqueness scores into a social listening tool such as Meltwater or Pulsar, or a free Twitter management tool such as Hootsuite; we can monitor the topics that are being shared by the influencers of our "Global Payroll" keyword topic's target audiences.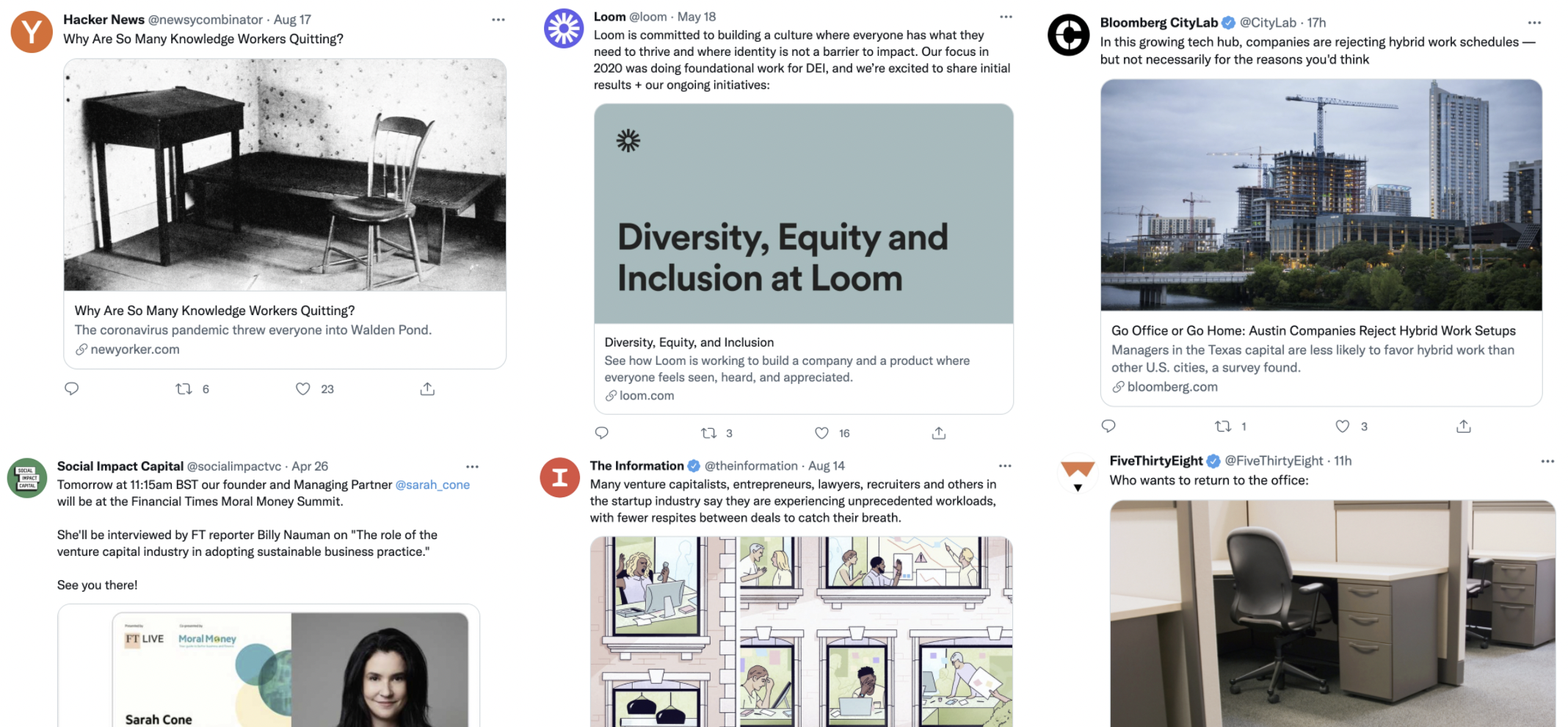 We can then come up with campaign ideas that are going to have a greater chance of being featured on relevant websites, whereby each backlink provided to Remote will yield greater value than if earning a link from a non-relevant or semi-relevant website.
Some campaign ideas to target those publication websites with high affinity and relevance scores to the target audiences of the "Global Payroll" keyword segment include:
How To Manage Remote Teams (Surveys, thought leadership quotes)
The State of Modern Global Payroll (PDF, statistics, thought leadership quotes)
Diversity in Global Companies (Surveys, interviews, statistics, creatives, thought leadership quotes)
Scaling Up Global Startups (Surveys, creatives, interviews)
These campaign ideas use themes identified by monitoring the trending content that our target audiences consume via their influencer entities, whilst ensuring they are relevant to "Global Payroll". This will mean we get opportunities to link through to our priority global payroll page that ranks for our target keywords (e.g. "global payroll").
Check out this guide I wrote on Audiense to learn more about the step-by-step process to develop an audience-first SEO strategy.
5. Hold your digital PR & SEO agencies accountable
Use Audiense's influencer affinity data to hold your digital PR & SEO agencies accountable.
Agencies that work on link acquisition projects to improve SEO performance often struggle to maintain backlink and brand mentions placements in high quality, relevant publications.
You can use Audiense's audience insights for target keyword themes to identify the influencer affinities and their associated affinity scores to your 'SEO personas' and measure how relevant any link placements or brand mentions are in terms of website to target audience alignment.
With the new Semrush integration, this is even more powerful, as you can also reference the estimated organic traffic generated by the website of the influencer entity.
This provides in-house SEOs with the data to hold their agencies accountable to social behavioural metrics from Audiense, as well as web performance traffic metrics from Semrush.