SHHHH! 12 Twitter marketing secrets for ambitious social media marketers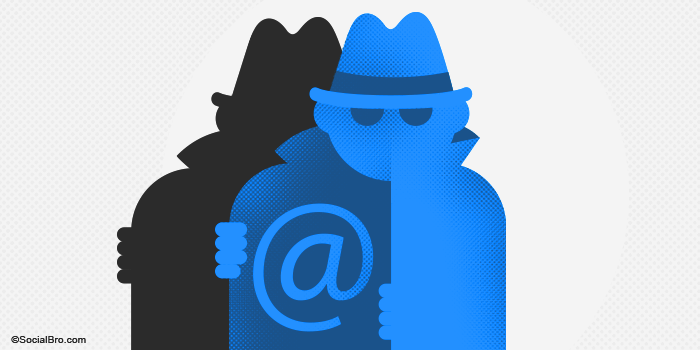 With 42% of Twitter's users following brands, it's a fertile ground of marketing opportunities. It can spread awareness of your brand, generate leads, drive traffic to your site, build a loyal customer base and much more. You may have mastered the basics by now and know your tags from your trends, but there are some next-level tricks and ideas that often get missed out. Here are a selection of our favorite top-of-the-class Twitter marketing secrets that will separate the top tier of pros from the rest. Step up your social media game with these Twitter marketing tips to get you standing out from the competition.

1. Create lead generation cards
Every tool reducing the number of steps in capturing a lead should be explored, and while links that get people to your site or landing page are great, why not get people subscribing to your mailing list with one click in Twitter? These lead generation Twitter cards will allow you to capture an email address and the Twitter account attached to it. If you like, you could follow Arby's example and use an offer to entice people to sign up. They found that the leads from Twitter had a 31% higher email open rate than other recipients of their newsletter, and a 45% higher click rate. Lead generation cards are easy to set up, and encourage visuals to attract your audience' attention. They could be used for promoted Tweets, or even pinned to the top of your feed to capture visitors to your profile.
2. Discover leads in Twitter chats
A Twitter Chat is a hotbed of people interested in a particular niche, so find one that aligns with the audience you're aiming for and join in. You're not there to sell - that's a quick way to be ignored and shunned - but you can look at who is chatting and pinpoint high quality prospects to start a relationship with. This is a perfect opportunity to connect with people via helpful comments and casual interactions. For example, a holiday company posting gorgeous pictures of a particular beach in a chat about travel, and adding a fact about the location. They're not specifically selling flights and hotel packages, but they're making a valid contribution to the chat in a manner that's relevant to their business. For more tips on taking part in Twitter chats, learn how to be the chief of them (without annoying everyone).

3. Use IFTTT to post your Instagram pictures
Unfortunately, Instagram pictures will only appear as links on Twitter. This can lower your engagement rates as your finely crafted Instagram images won't appear in peoples' timelines. Ideally, you want to avoid this as Tweets with images receive 18% more clicks, 89% more favourites, and 150% retweets. Luckily, if your Instagram content also suits Twitter and you want people to see them in their timeline with minimum fuss, you can use IFTTT (If This, Then That) to automatically upload your Instagram images to Twitter. They will then show up in people's timelines like regular images.
4. Strategically look at which hashtags to use
Hashtags can make a big difference to whether your Tweet is discovered by people outside your community or not. But if it's not a topic that's trending, it can be tough to know precisely which hashtags to include in your Tweet. A tool such as RiteTag can tell you how many times a hashtag is getting Tweeted, and from that give you an indication of how likely it is that your Tweet will be seen. You can also use Twitter's analytics platform to see how many impressions your hashtagged posts have received, which can help you to understand which hashtags are getting you seen.

5. Tag relevant profiles in images
While this may seem like a small point, did you know you can tag up to 10 people in a Tweet image? Used strategically this means you can actually tag 10 additional accounts that would have affected your character limit in the original Tweet. If you've produced a piece of content with input or examples from multiple people, this is a great way of alerting them to your post and boosts your chances of extra engagement. Alternatively, it could be used to tag relevant celebrities, competition winners, or other profiles under your brand umbrella. For help creating images, we recently compiled a list of 12 free tools to help you create stunning visual content. Here's how we've used image tagging to alert people about a Tweet which features content they were featured in.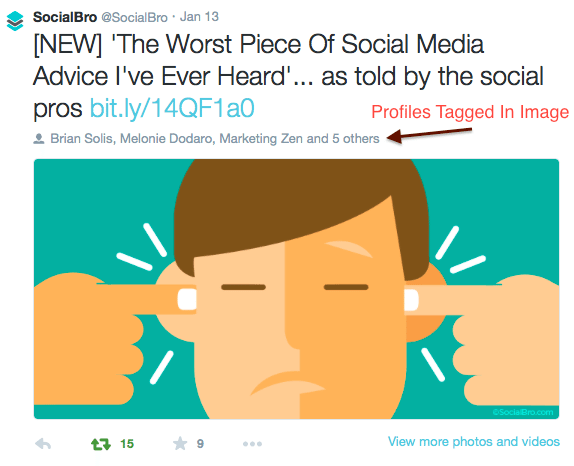 6. Create a calendar for potential real time opportunities
Twitter is the perfect platform for real time marketing, an on-point response within minutes of an event can shoot your social profile through the roof. Some events you can't plan for, but others are. On your calendar, mark out dates for major events that are relevant to your audience or culture as a whole. Either have something to produce, or be on the look out for ways to respond. To help you get you started, Twitter has produced a calendar of upcoming events to help you 'own the moment'.
An example of responding to an event in real time would be this one from KitKat. Any iPhone launch is going to generate a lot of coverage, KitKat's team were tuned in and ready to respond to the iPhone 6. When it was released and ended up bending in the pockets of some customers, KitKat produced this image in 30 minutes, which generated over 1,000 RTs in the first hour.
7. Share content more than once
Not everyone can be on Twitter at all times, and most people won't make a point of visiting your profile in case they missed something, so don't feel shy about sharing your content multiple times. On average, your second post of a piece of content will receive 86% as much engagement as the first time you Tweeted it. An added bonus of this is that you can experiment with different text or images when sharing the content and compare performance to help with your Tweeting strategy going forward. For example, we found that Tweets with URLs in the middle are 26% more likely to get retweeted than Tweets with URLs at the end. If this isn't something you've tried on a previous Tweet, give it a go now.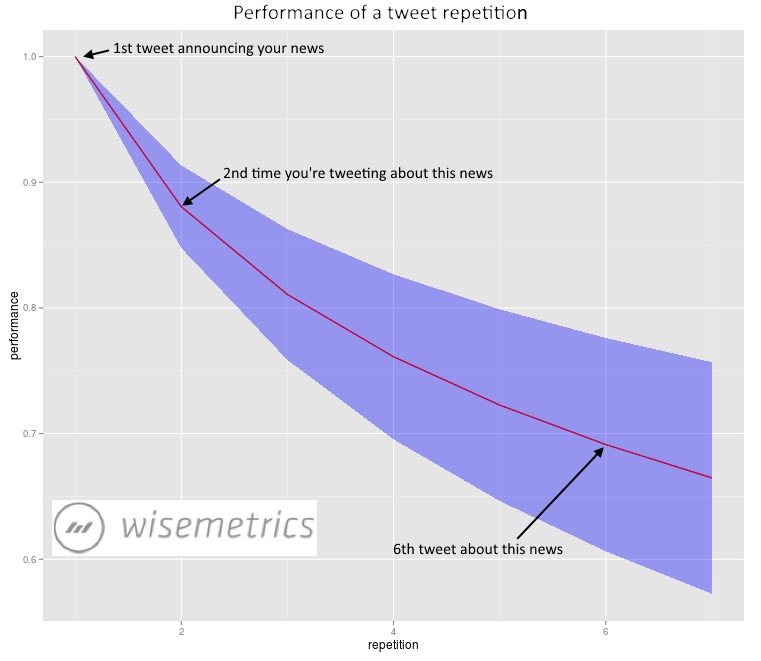 8. Tweet at optimal times for your audience
You may already know your best time to Tweet by hour, but an understanding of what your audience is likely to be doing will help too. For example, if you're a coffee chain aimed at young professionals, there is a good chance that their day will be full of meetings which generally start or finish on the hour. So Tweeting just before or after will catch people as they are waiting for their meeting to start, or as they're leaving it, perfect to get your cup on their mind. This will help to nudge your engagement rates up slightly as you adjust your posts to suit the lives of your audience. You can even use SocialBro's Best Time To Tweet tool to dig deeper into your audience, and find the best times to Tweet to specific sub-segments such as people who support a certain team, live in a particular area, or have a high number of followers.

9. Use rich media to help crowdsource content
Asking for user generated content on Twitter is a good start, but it can be taken further by using rich media to encourage people to give opinions, make suggestions, and engage with your campaigns. For example, in 2014 @AdidasNEOlabel wanted to crowdsource ideas for a fashion show they were running that would connect with their target audience of 14-19 year olds and drive sales of their upcoming range. They used Twitter cards to vote between which outfits would be used in the show, Vines of the event throughout the day, and used Twitter video showing people how they could get involved. This helped to create over a billion impressions for their NEO campaign, as well as a peak engagement rate of 18.4%.
10. Import email leads into a Twitter list
If you've worked hard to build up an email list, why not see if you can strengthen the connection on Twitter? With an email integration tool, you can match contacts in your email database with their corresponding Twitter accounts. You can then keep up with these warm leads on Twitter, strengthening the relationship you have built with them.

11. Optimize your profile for getting discovered
Having a heavily RT'd post or receiving a ton of shares is great, but don't forget there will be people who may find your profile of their own accord. For these people you need to ensure that you're both easy to find, and it's clear what you do when people arrive there. Have a cover photo that ties into your latest campaign, include your website link, and have a pinned post that gets across a key message or link. You also want to think about your bio, as this will help you appear in searches on Twitter. While you want to have a standout, unique bio, it's no good if it doesn't help anyone discover your profile. Make sure you weave in key industry terms so that people can easily find you. If you're just starting a campaign, then it may be worth looking at ways you can optimize your whole social presence.

12. Add commentary to shared content
If you're sharing content on Twitter, try to fit in a point related to the article or flag up an important section of the piece. This will go a long way to helping your brand establish a name in the industry and be seen as a thought leader. shows your company is staffed by people clued up about the industry they're in, helping to establish brand trust. Alternatively, if the piece of content was authored by a particular influencer in your field, you can tag them in the post or ask a follow-up question. This is great if you want to connect with them and their community as it helps to create a natural relationship.

These were some of our favorite Twitter marketing secrets, although they're not so secret now that we've told you. Use them to build a stronger Twitter presence with a smarter strategy. What are some of your own Twitter marketing tips which a lot of people aren't aware of?