Josephine Durney - Product Marketer & Relationship Manager
5 smart ways you can use audience data to own the Twitter marketing game
For many, it seems impossible to get a lot of engagement on branded Twitter accounts. But that doesn't have to be the case. In fact, there are many brands killing it on Twitter today.
Take Chipotle, for example.
Most of their tweets, like this one below, usually have hundreds and thousands of likes and retweets.
Pretending like idc so my delivery gets here quicker

— Chipotle (@ChipotleTweets) January 11, 2022
How do they manage to achieve such engagement and presence on Twitter? Better still, how can you accomplish similar results for your brand's Twitter account?
A key ingredient to their success is that they know who their audience is, and they use that information to create content that resonates with that audience.
With over 322.4 million users, Twitter offers you the same opportunity to reach and engage with your audience, increase brand awareness, and ultimately drive more sales.
You probably already have a Twitter marketing strategy but can't quite place why it's not working.
To create a rock-solid Twitter strategy that'll help you build a better brand, grow your online presence, and give you a distinct competitive advantage, you need a thorough understanding of your audience, which is where audience data comes in.
Without it, you'll be shooting in the dark.
So, whether you want to impress the C-suite, investors, or just be proud of yourself this year, grab a pen, take notes, and let's explore how to build a killer Twitter marketing strategy using audience data.
The key to a great Twitter marketing strategy is great audience personas and data
Most guides on creating a Twitter marketing strategy would say you should start by auditing your account — which isn't a bad suggestion.
However, auditing your Twitter account, or doing anything else for that matter, should come only after you've laid the groundwork by creating audience personas.
Unfortunately, many brands think building a persona is all about knowing your target audience's age groups, where they live, or how much they earn.
Audience personas go deeper than demographics or assumptions alone.
Instead, your persona should be built on data to understand who truly makes up your audience.
You'll need to use data to uncover demand, understand their brand affinities, what they're thinking about, and how best to reach them.
Using data, you'd be able to answer questions like:
What is my audience writing about?
What topics are top of their minds?
What are specific audience groups talking about or sharing?
Who are the people influencing my audience?
Data also helps you understand audience behavior and gives you insight into how to interact with them at various touch points on their buyer's journey. Considering that audiences evolve, data can assist you in identifying common patterns or changes within your audience.
You can use a professional insight tool like Audiense Insights to find tangible data about your audience.
For instance, here's a look into the top segments of Chipotle's audience.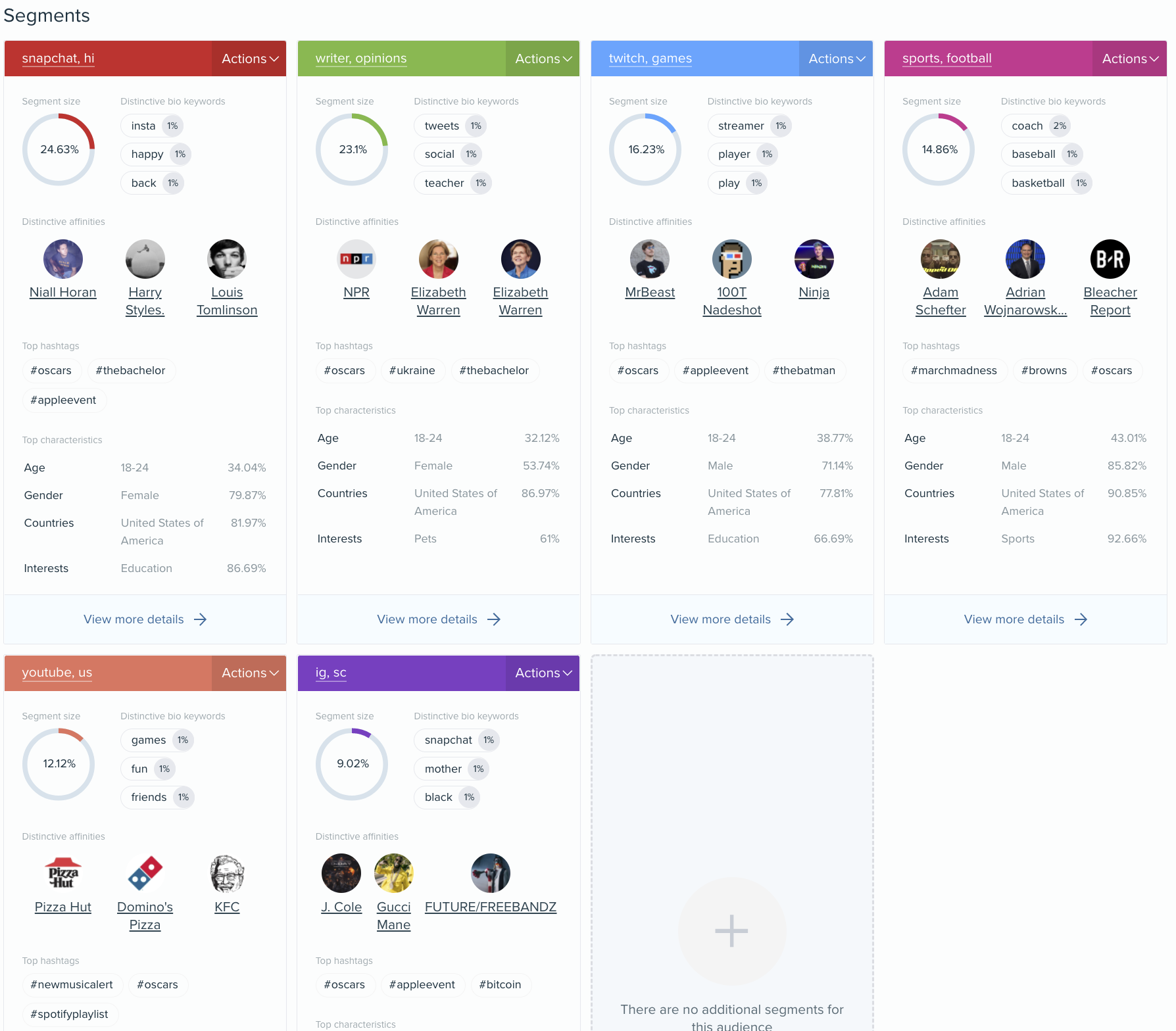 Each of these segments is broken down into the audience's interests, personality, buying mindset, and influencers.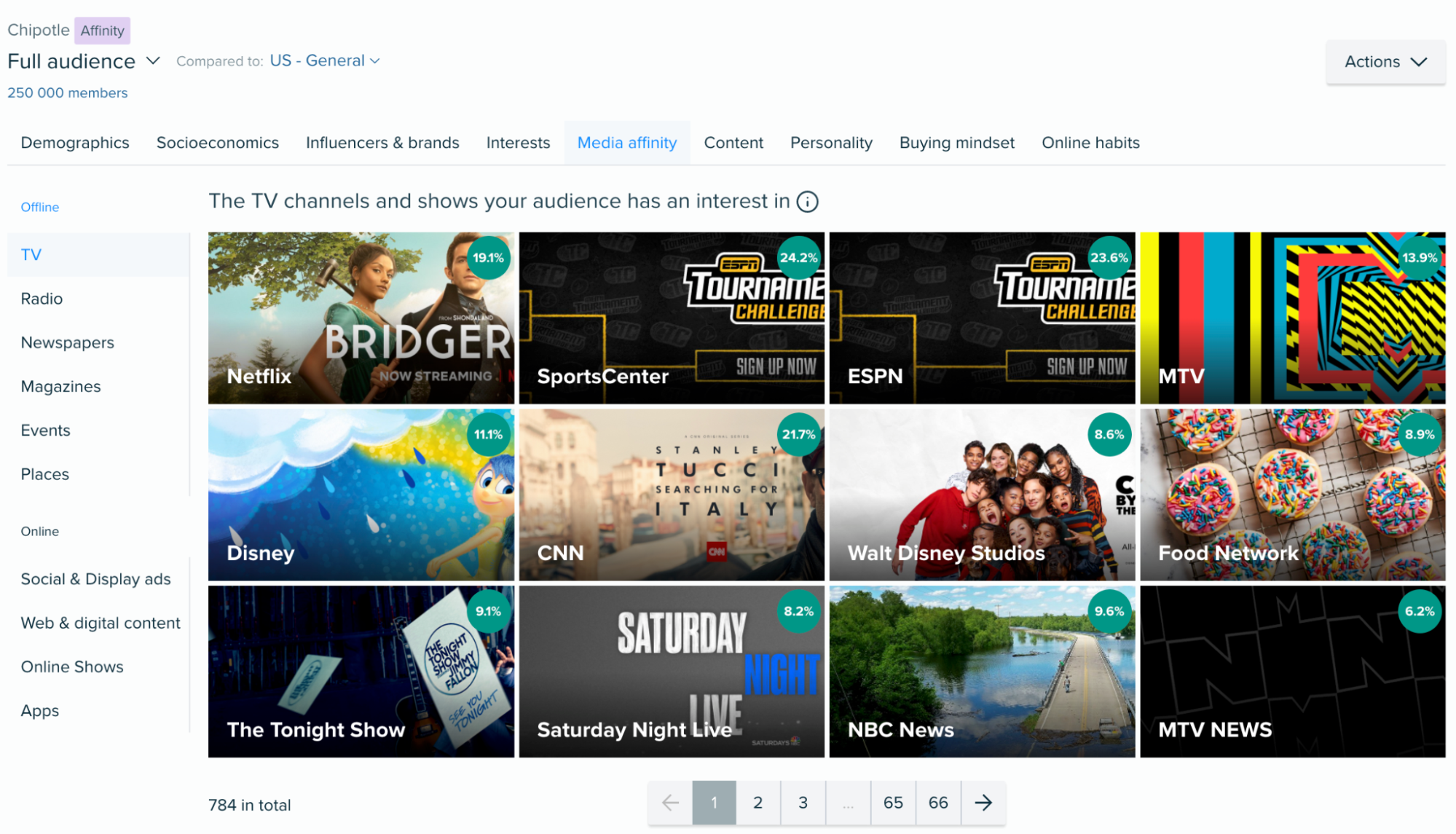 Speaking of audience influencers…
Dive deeper into your audience to discover who influences the people you are trying to reach
Humans are usually influenced by the people around them. However, with the internet making the world a global village, people are now influenced by the type of content they consume online — giving rise to Twitter influencers.
The exciting thing about these influencers is that they don't even have to be celebrities or public figures. Instead, most influencers are simple content creators who create a specific kind of content that attracts and engages a specific audience.
Audience data can help you quickly identify micro and nano influencers who have engaged communities to help you find your audience's interests.
For instance, Chipotle has a core audience segment with micro and macro influencers like @pokimanelol, @Ninja, and @Nadeshot, targeting gamers.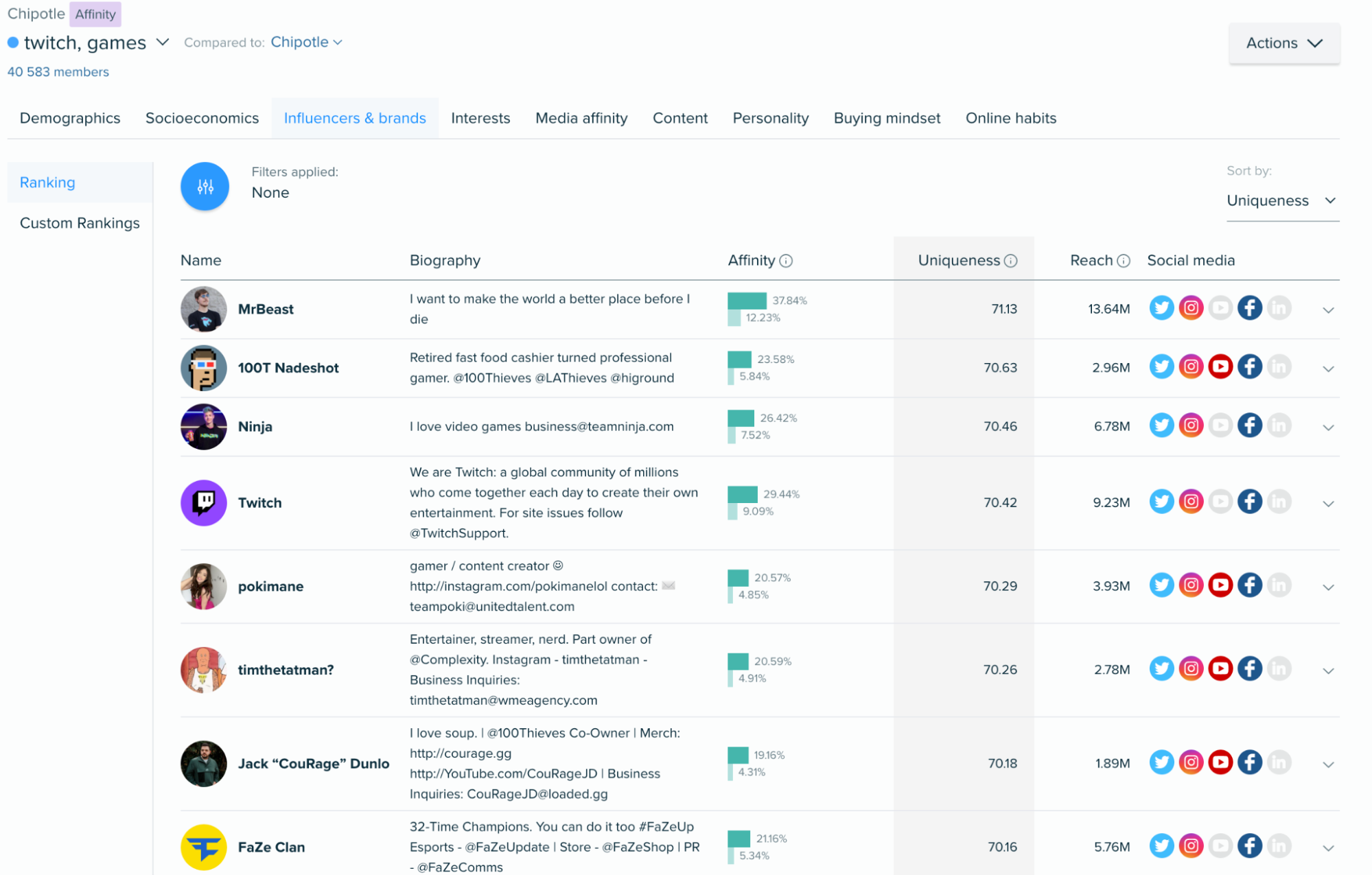 Once you've identified these influencers, you can build partnerships with them and be part of the conversations they have to understand what resonates with your audience.
Identifying these influencers also helps brands make better decisions around influencer marketing campaigns. In addition, brands can also use data to analyze the audience that engages with these influencers to create tailored Twitter Ads.
Just how powerful can identifying your audience's influencers be? Well, so powerful enough that it helped SMASH, a non-profit organization, raise over $1 million.
One of the most significant factors that helped the SMASH team surpass their fundraising goal was using audience intelligence to identify key influencers within their audience.
Using Audiense, the team knew who to reach out to. Next, they engaged directly with their audience, which resulted in over $500K donated directly from Twitter after only three days.
SMASH's example undoubtedly shows that by identifying and targeting your audience's influencers on Twitter, you can reach new audiences you otherwise would have thought were impossible.
How to use audience data to build mutually beneficial partnerships on Twitter
Partnering with other brands is an excellent way to increase your reach and even generate more sales. However, the partnership would only be successful if you work with a brand your audience already likes or engages with.
Here's how you too can use audience data to find and build mutually beneficial partnerships on Twitter.
Step 1: Think about your goals
Before using audience insights to find potential partners, you need to first think about your goals and what you want to accomplish with the partnership.
Is it more brand awareness? More sales? Increased credibility? Or something else?
With your goals in mind, you can then move on to the next step.
Step 2: Find potential partners
At this stage, you want to identify whose content your audience consumes to know what brands or events they're interested in.
For instance, when IBM was looking for sporting and entertainment events they could partner with to create buzz and boost affinity, they had to use audience insights from Audiense.
By analyzing its audience, IBM uncovered keywords, hashtags, and mentions that drove social conversations on Twitter. This, in turn, helped them find out that their audience preferred in-person events over virtual ones — leading them to sponsor only in-person events.
Data-driven content creation opportunities using audience data
As a brand looking to grow on Twitter, you cannot always rely on partnerships. Most of the time, you'll have to create your content.
Here's how to create better content and find more content creation opportunities using audience data.
Step 1: Figure out what your audience is talking about/what they care about
Many brands often wing content creation and assume their audience will take whatever they give them. However, with the plethora of choices available to people today (even within a single platform like Twitter), it's far too easy for them to jump ship and start engaging with brands that create the type of content they want.
As such, it's crucial, if you want to win on Twitter, to find out what your audience is talking about or what they care about.
Without data, it'd be challenging to create content that drives your audience to take action or even engage at all.
With data, you'd be able to tell what type of content is popular among your audience. Is it text-only tweets? Meme tweets? Video tweets? A mix of all three?
You can also use data to know what time zone most of your Twitter followers are in, so you can tweet at the time when they'll be most active to give your tweets the best chances to garner engagement.
Step 2: Find out who influences your audience (media, print, people, etc.)
Just as important as finding content opportunities through data, you can also use data to find out who influences your audience.
Data can help you uncover the popular influencers that literally everyone follows and the ones that are a little bit away from the limelight but still influence an audience's behavior.
With an audience analytics tool, you can quickly analyze your target audience to find out the people, media, and magazines that influence them.
For instance, the people influencing the Fashion Week A/W 2022 include Zendaya and members of GOT7, a South Korean boy band, among many others.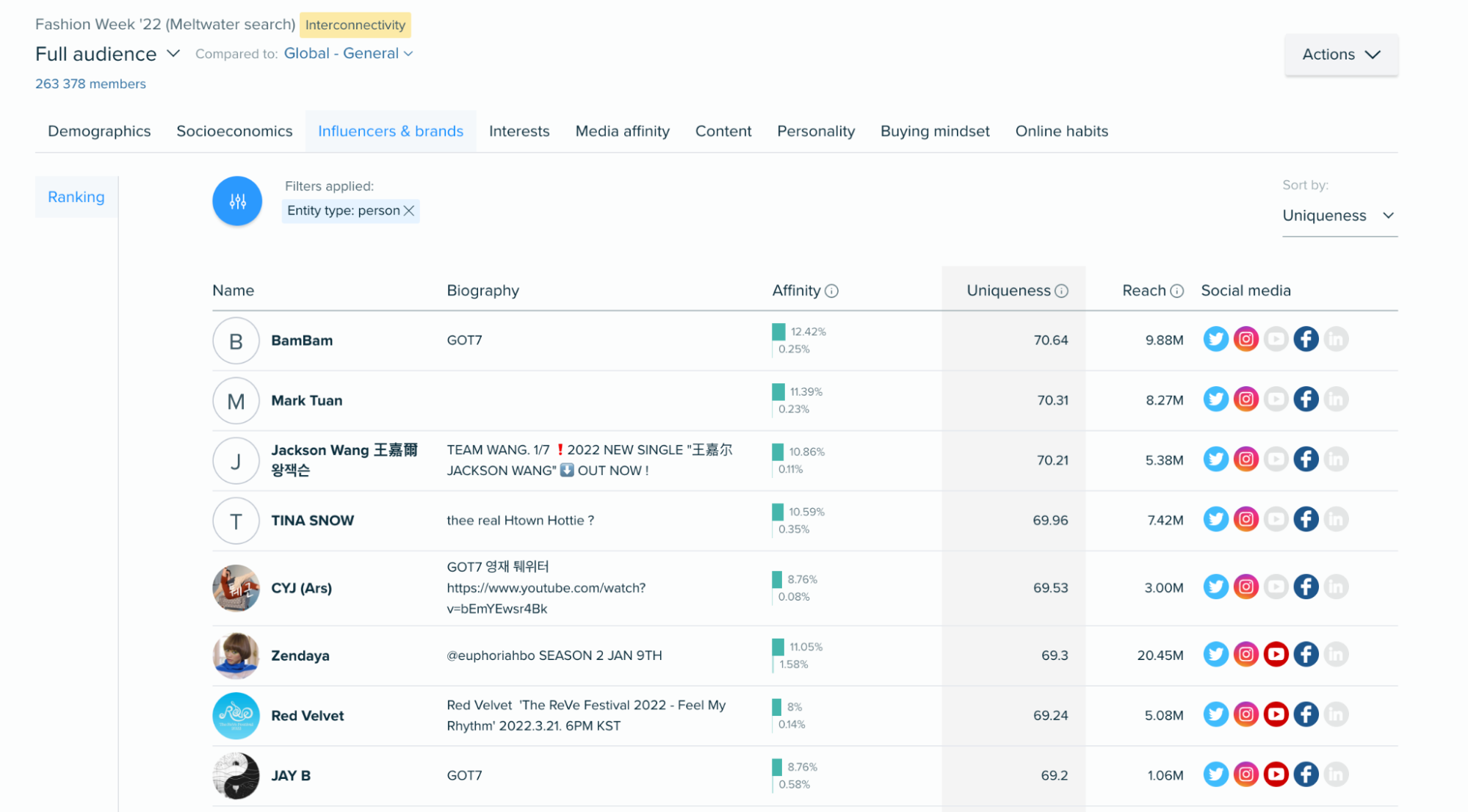 Netflix, Mnet, and Korean stations like M Countdown and GMMTV appear to be the most influential media for this audience.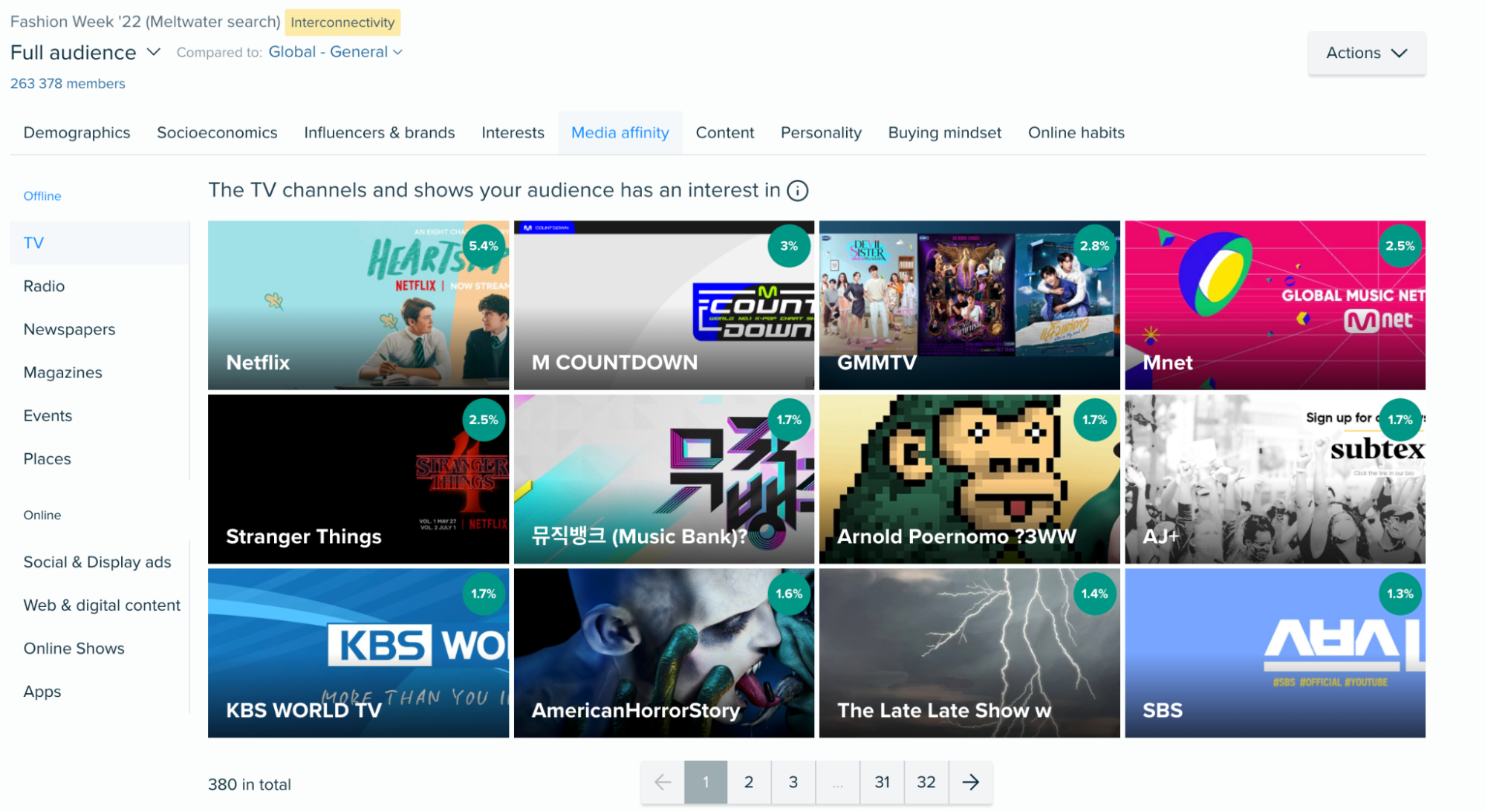 Ordinarily, not many would have thought that the Fashion Week would be heavily influenced by Korean media — and that's exactly why you need to analyze your target audience.
Uncovering these influencers can give brands ideas on who to partner with to build awareness and generate more revenue.
Step 3: Use deep segmentation to find the high-value opportunities your competitors are not taking advantage of and how to create content
In the highly competitive online space, where many things are fighting for your audience's attention, you must make yourself and the content you create unique.
You need to go deep where everyone else is scratching the surface to make yourself stand out. When it comes to your Twitter strategy, this means going deep into segmentation to find opportunities your competitors are missing.
Deep segmentation allows you to find patterns that type different segments of your audience together. For instance, it could be that you find out that segments of your audience all enjoy binging on specific shows on Netflix.
This knowledge can help you create messaging that references that show instead of creating blanket tweets that don't really resonate.
The effectiveness of segmentation can be seen in this MAPFRE & ConvoSphere case study.
Using Audiense, MAPFRE was able to identify six different segments within its audience. They found what these audience segments do online, their interests, and their personality.
This segmentation eventually helped MAPFRE create ads that had higher engagements with lower costs.
How to run killer Twitter ads backed by audience data
As much as you might love to only create organic content, you sometimes need to run ads.
However, considering that the big ads players like Google and Facebook care more about the highest bids than the quality of an ad, it can get really expensive quickly.
A great alternative to these platforms is Twitter. However, because running ads on Twitter is not as popular, it's not always easy to execute it right.
We're about to show how to create ads that perform on Twitter using Audiense.
Create tailored audiences
Many shy away from using Twitter's ad platform because it's often difficult to provide the correct input criteria to make your ads work. However, all that trouble goes away with Audiense.
Audiense has the best Twitter-tailored audiences product in the industry that allows you to create one of three types of audiences.
Static audiences: These are based on your audience's profile and criteria such as location, follower ratio, bio, verified status, and so on. You'll have to manually add or remove users from this audience.
Dynamic audiences: These are based on behaviorial signals or triggers such as the accounts the user likes, retweets, DMs, mentions, follows, or unfollows. Unlike static audiences, users in this audience are automatically added depending on the triggers you choose.
Periodic audiences: These are similar to static audiences, expect that in this case, users are automatically added on weekly basis based on your criterial selection.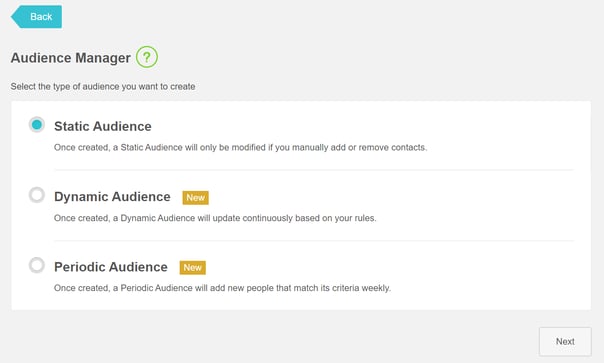 This guide contains more information about how to use Audiense to create tailored audiences for your ads.
Matching emails to social profiles
To further improve your ad's quality and its targeting, you can upload your email list to Audiense to find matching social media profiles.
Doing so will help you find audiences who are clearly interested in your brand since they were already on your email list.
Determining valuable audience segments
Once you've got all the possible segments you can target with your ads, it's now time to filter them. Realistically, these segments would not like the same thing, so you would be wasting valuable resources if you tried to reach them all with the same ad.
Instead, find the audience segments that are important to your campaign and target your ads to these ones.
For instance, Relevance, a digital marketing agency, was faced with the challenge of marketing to ultra- and high-net-worth individuals (U&HNWIs) for a yacht company.
Relevance had to use Audiense Insights and its Targeting Pack feature to determine how audiences would respond to different ads.
The results?
Eye-opening insights that showed Relevance what type of content they needed to create and the tone of voice they had to use. They were also able to tell what audience they needed to present with ads and the ones that needed organic content.
Learn how to gain a competitive edge by conducting competitor analysis using Audiense
Your Twitter marketing strategy isn't complete without competitor analysis.
You need the analysis to gauge your performance against your competitors to identify opportunities for improvement.
How to conduct competitor analysis
Identify your top competitors
You might think you know who your top competitors are; however, you might be surprised by what the data reveals.
So instead of guessing or making assumptions, use Audiense to find out who really you're up against. Remember, you can't win when you don't know the enemy.
Track basic metrics
Found who you're up against? It's time to check how well you measure up.
Tracking your metrics and comparing them against your competitors will help you identify any gaps in your strategy and identify what you need to do to catch up.
The account comparison feature on Audiense can help you compare up to three different accounts to measure differences.
Analyze their audience
You can also find out who your competitors' audiences are and how they intersect with your audience using Audiense Intersection Report. This feature lets you identify untapped audience segments and gain insights on how to better target specific segments.
Study their content
While you never want to copy your competitors, it's also essential to examine their content to find out what works, especially because you're trying to reach the same audience.
Do they post more videos than text? Do they link their websites in their tweets? What content type is getting the most engagement?
Finding the answers to these questions will help you know how to create content that works for your brand and even discover gaps that might give you an advantage.
Final Thoughts
Winning on Twitter might not be easy, but it's often worth it. With people always on the lookout for more content, positioning your brand to create content that your audience wants is a sure way to increase brand awareness and authority. With said authority comes more sales.
With a ton of features like audience segmentation, Targeting Pack, and chatbot integrations, you wouldn't find any other tool designed to make Twitter marketing work for you. Sign up for free today to start enjoying all that Audiense has to offer.