How to smash customer expectations with Twitter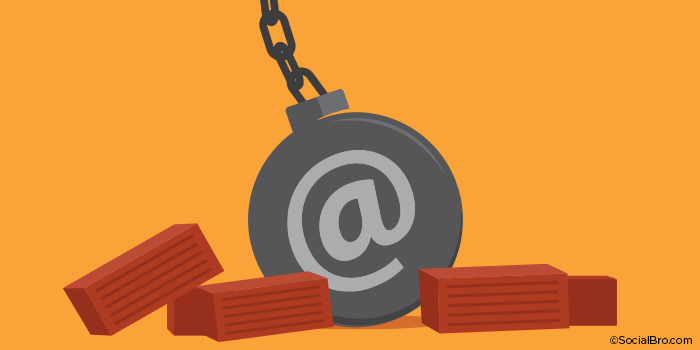 How you communicate with potential customers online is key, given the multitude of conversations happening at any given moment. If the wrong content reaches the wrong person, at the wrong time, through the wrong channel, you could end up losing a lot of customers to your competitors. But how do you ensure the relevancy, timeliness and context of your content on Twitter?
An event we were recently at covered some key areas on what the customer expects from their online communication with a brand.
"The modern customer expects:

Communication When They Want It
Communication Tailored To Channel They're Using
An Awareness Of Their Context
An Awareness Of Previous Conversations
Engagement That Drives Emotional Connection"

Tom Head, Director, Lab | Digital Agency (Speaking at Hatch Live, April 2015)
The question that has to be asked is, how can Twitter help to achieve your goals with these aims?

Communication when they want it
A recent survey indicated that 53% of customers who ask a brand a question on Twitter expect an answer within 60 minutes. Even at large brands, a well organised team can respond to thousands of queries in a matter of minutes. If you're constantly inundated with a high volume of queries and are unable to deliver that level of response, it is worth considering outsourcing your daily social media management or expanding your team.
Although, if the number of questions and engagements you receive on a daily basis is manageable, an organised Twitter team will still be able to reply very quickly providing you have a flowchart of certain FAQs or a Twitter guidebook.
If investing in paid social media, it's important to ensure that your media buying team is completely in tune with your social media team, to make sure that you have enough manpower to quickly respond to all the positive buzz generated from your Twitter Ad campaigns.

Communication tailored to channel they're using
Copy and pasting bland corporate statements to customers will not please your customers or get you the best out of Twitter. As a general rule of thumb, a less formal tone will coincide with consumers' expectations of the channel. With frequent one-to-one engagements, you even have the ability to adjust your tone of voice to the person you're speaking to, therefore improving the overall customer experience. Argos tailored their communication in a perfect manner, in this witty reply to a customer:
@BadManBugti Safe badman, we gettin sum more PS4 tings in wivin da next week y'get me. Soz bout da attitude, probz avin a bad day yo.

LD

— Argos Helpers (@ArgosHelpers) March 8, 2014

Aware of their context
Active interaction with a brand on Twitter causes our brains to respond very highly in areas of personal relevance. So making the most of this personal relevance is a key factor in one-to-one communication with a customer. With Twitter being an open platform, there's no excuse to not be able to draw up previous interactions with a customer using your CRM tool plugged into your account, or even Twitter's search bar.

Aware of previous conversation
Using an email integration tool for social media, you can find people on Twitter by their email address if it is already in your database. By linking up your email marketing with your Twitter marketing campaigns, you can track customers that respond to particular campaigns, segment them, and add them to a Tailored Audience when creating a Twitter Ad campaign. Using this insight, you're following up on interactions these people have already had with your brand, and ensures the Promoted Tweets appearing in their Twitter timelines are highly relevant, based on previous interaction rather than guesswork.
You can also do similar Tailored Audience campaigns to those who have previously Tweeted your brand, used a hashtag of yours, or retweeted a specific Tweet. This is important, 10% of people end up following a brand after participating in a campaign. By targeting them with your communications you are ensuring you don't lose that other 90% of your hard-earned potential fans.
Twitter's Ads retargeting function also means that you can deliver Promoted Tweets to potential customers who visited a specific page on your site. Using this you can set up Twitter Ads campaigns for some of your most popular products to help drive e-commerce based on previous online interactions.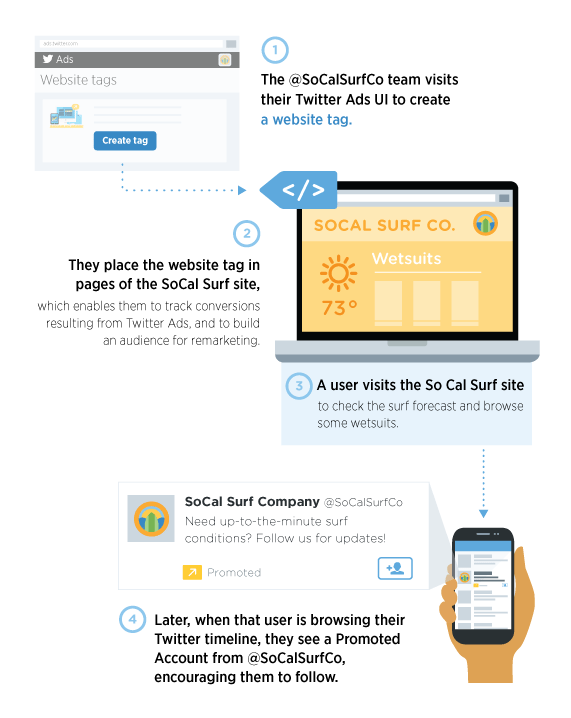 [Source]

Driving emotional connection
Neuroscientists discovered customers that actively engaged with brands on Twitter experienced a 75% higher level of emotional intensity, compared to the act of visiting a brand's website. Twitter makes it easy for personalised experiences and interactions to be tailored to individual customers, giving them a greater loyalty and connection to the brand.
"We're in the experience economy right now. Brands that are building memorable experiences around their offering are the ones that will win. Delivering personally tailored content that's appropriate to your brand, such as video, can help to prime emotive states within your potential customers that are ultimately conducive to purchase."

Tom Head, Director, Lab | Digital Agency
A brand that has honed in on all these areas and perfected them will be delivering an unbeatable level of communication to consumers via Twitter, helping to smooth the process of helping and converting customers. Who do you think has the best Twitter communication with their customers?