Céline Geeurickx
Game-changing sports sponsorships for your brand
Sports sponsorship is one of the most effective marketing strategies for brand exposure. Depending on the sport, it allows you to reach a very wide and diverse audience. Take the Premier League for example, it had a record-breaking number of viewers this year during its opening weekend - just think about the level of brand exposure it got for its sponsors.
In fact, soccer is the number one watched sport in the world today. As such, it brings hundreds of sponsors, many of whom are willing to spend tens of millions per year on their sponsorship deals.
EA Sports FC, Budweiser, Nike, and Oracle are some of the biggest Premier League sponsors - some are related to the game itself, and others like Oracle aren't, but they are still finding brand synergy with their audiences.
The best way to uncover whether there is synergy between your brand and a sports team or league, or in other words the best way to make sure you're getting the most out of the sponsorship deal - is to look at the data. What is the level of interest each sports audience has in your brand or brand category?
To demonstrate how one would figure this out, we've used the audience intelligence tool SOPRISM to analyze the audiences behind the top two teams in the Premier League: Real Madrid and Liverpool, and which types of sponsorships make the most sense based on each of their audiences.
The first step to analyzing any sports sponsorship is to look at the audiences behind the sport/ sports team - and determine if they really are your target audience.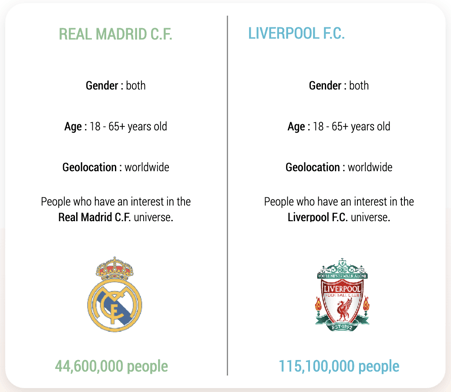 On paper, these two audiences seem very broad - Real Madrid has an audience size of 44 million people and Liverpool has over 115 million fans. When we closer look, we can see the real similarities and differences between these two audiences: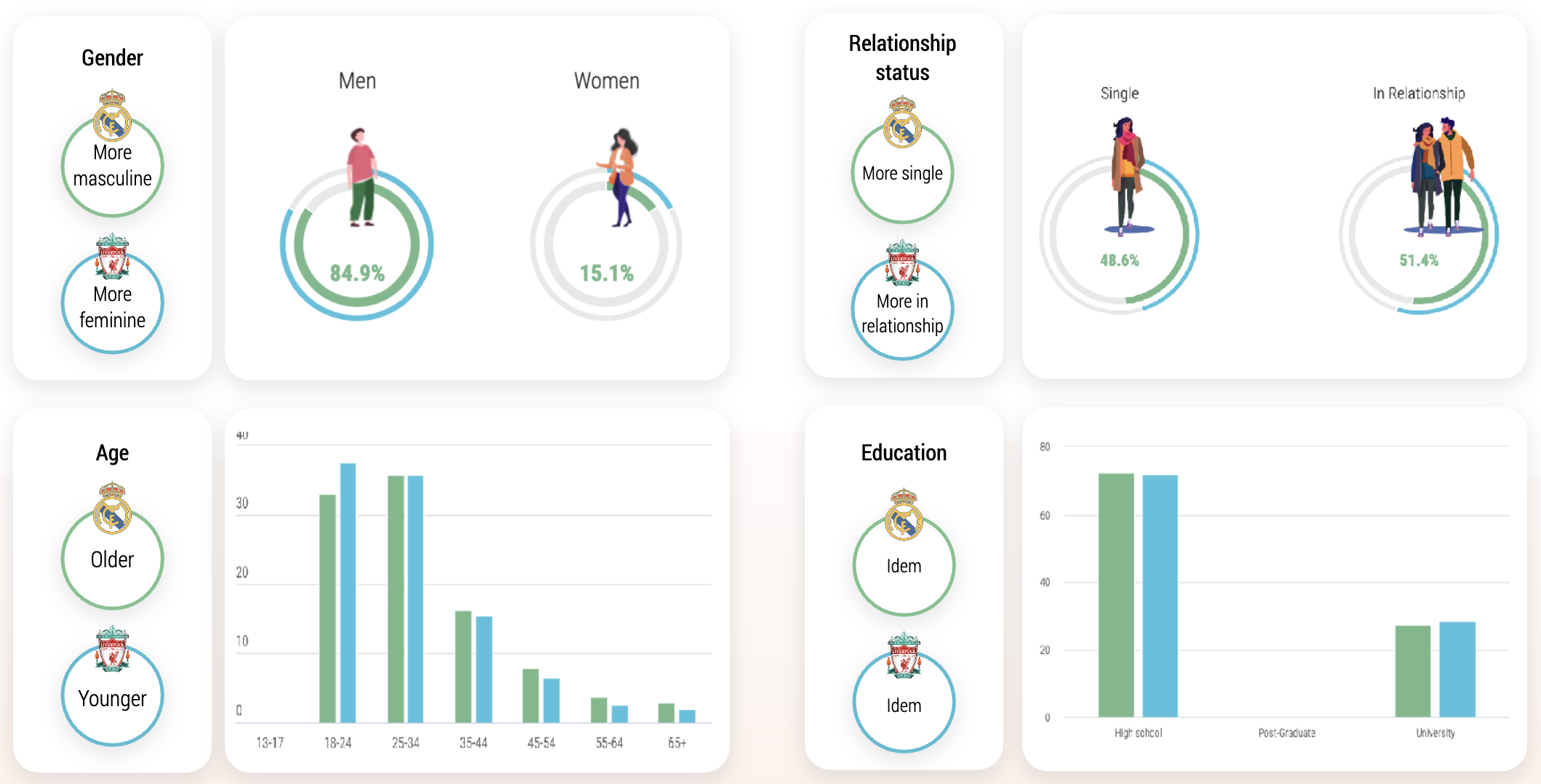 Both audiences are primary male age 18-34, but Liverpool has more female fans than Real Madrid, and it is also slightly younger in age
Real Madrid's audience is made up of more single viewers, where as Liverpool has more fans who are in a relationship
Both audiences are primarily high school educated, and more Liverpool fans have attended University
The geolocation of fans is also very useful. Real Madrid is a Spanish soccer club, but its fan base spans across the globe. It would be smart for brands looking to sponsor Real Madrid, to look at the top countries where their fans exist. For example, if you were trying to reach audiences in the Philippines or Nigeria for example, it would be wise to sponsor Real Madrid. Likewise, if you were trying to gain more audiences in The UK or the US, Liverpool would be the way to go, based on where their fanbase is located: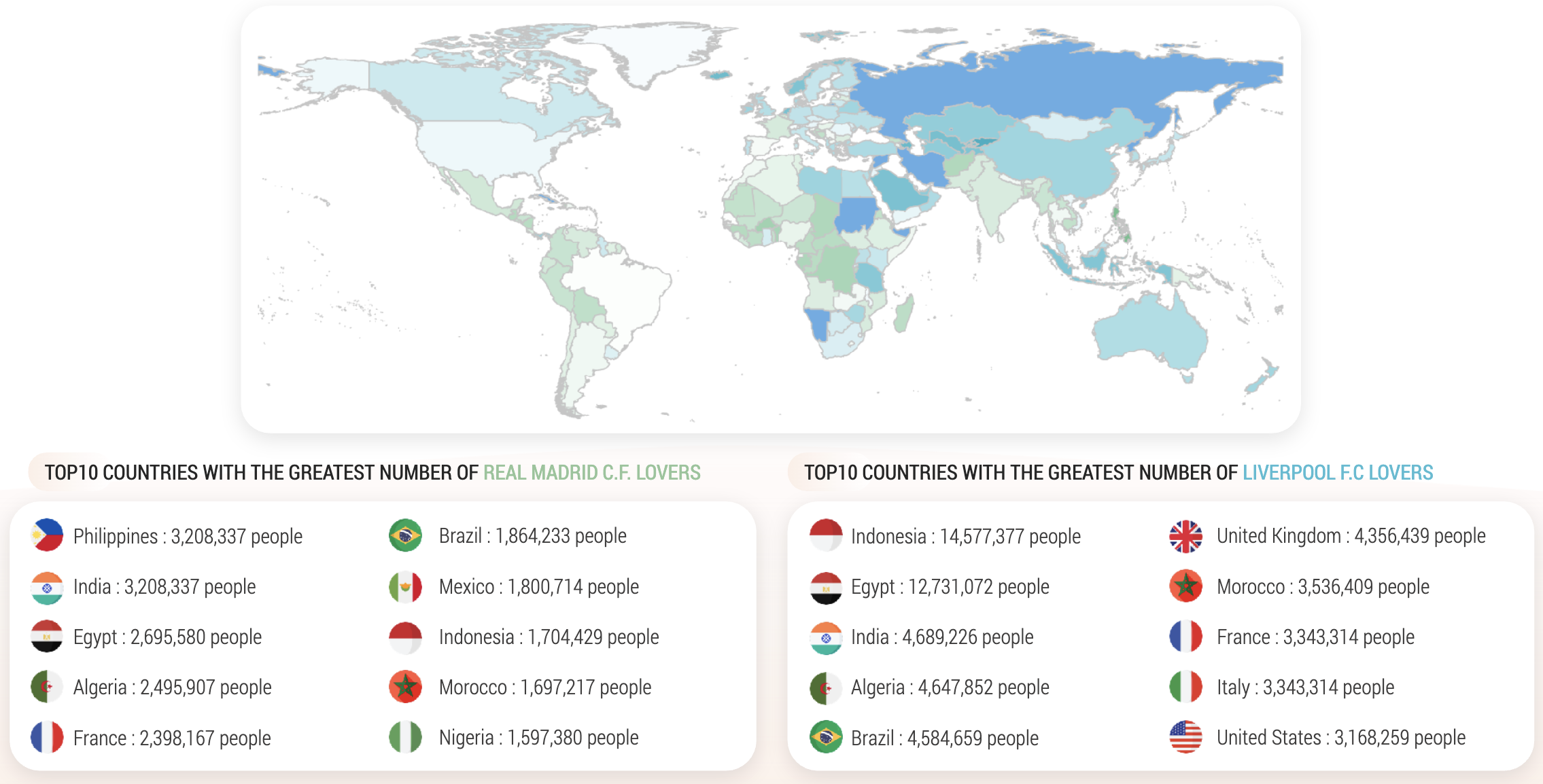 When evaluating a sports sponsorship opportunity, demographic and geographic data is useful, but interest data is the most telling.
Below is a profile of a Real Madrid fan, highlighting their top brands, interests, soccer clubs, and players: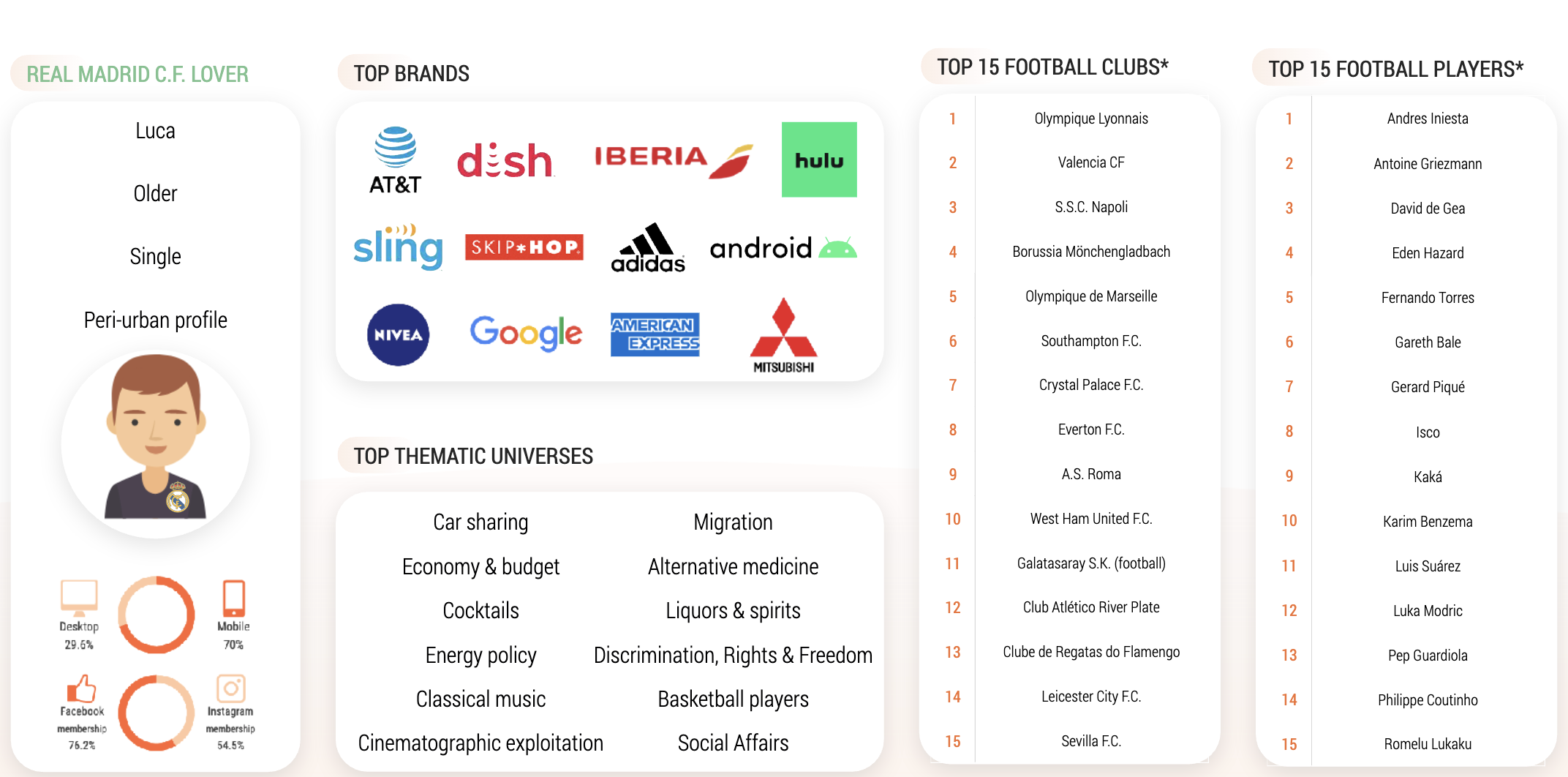 Brands like AT&T, Hulu, Nivea, and American Express would all benefit from a Real Madrid sponsorship, as it's audience already has a high affinity/ interest in them.
As would brands that fall under the categories of their top interests: car sharing, cocktail and alternative medicine brands.
Similarly, below is a profile of a Liverpool fan, highlighting the same data points: It's important to note that although the global audience is predominantly masculine, here is a female profile that emerges when we segment the full audience.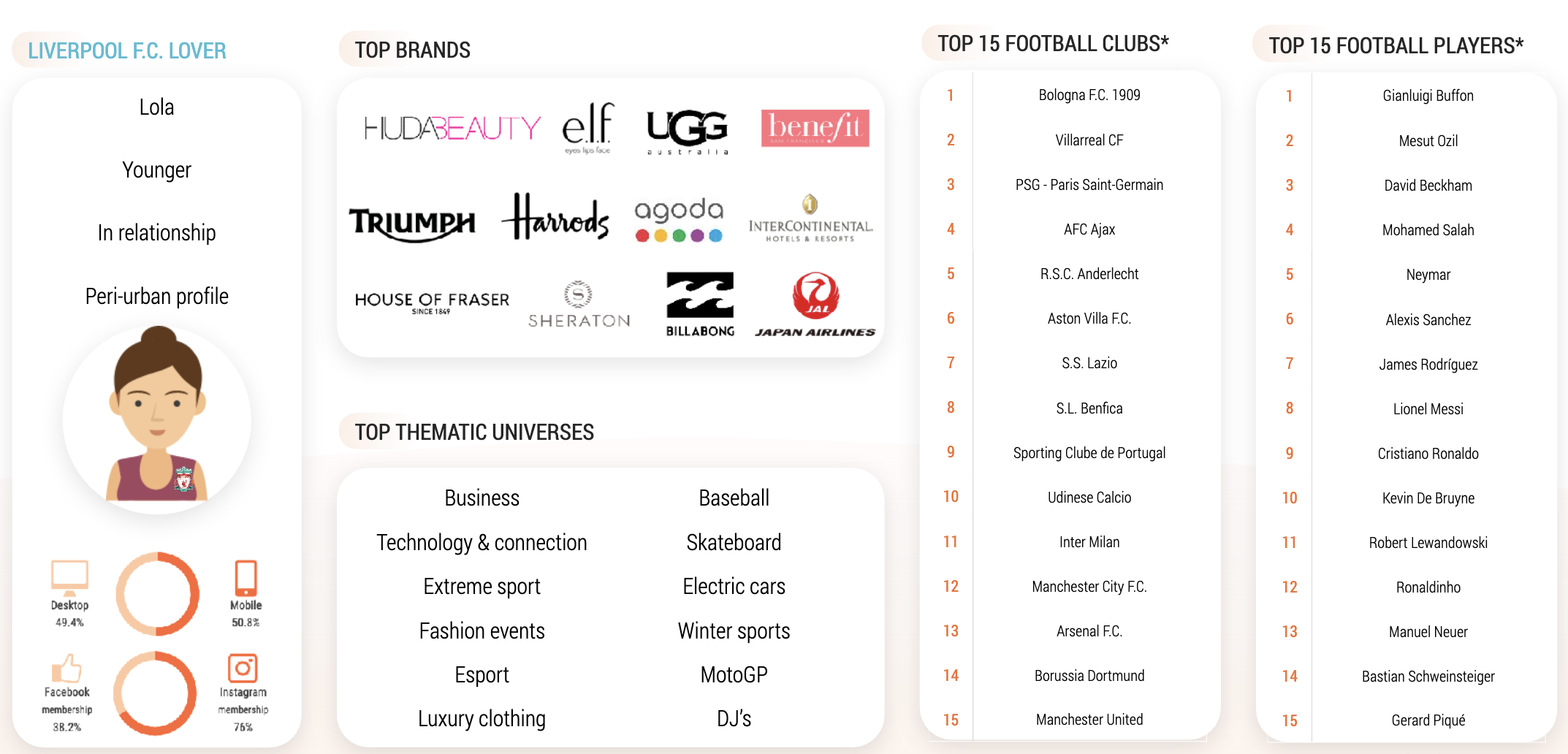 Their top brands include HudaBeauty, e.l.f., UGG, and Benefit. These are not as obvious top picks as soccer sponsorship brands, but they resonate with this audience. That's why audience intelligence tools are so exciting - they surface insights you might not expect but still lead to valuable findings.
Top interest categories for this group include business, technology, fashion events, ESports, and other sports like Baseball and Skateboarding.
But this is just one profile, let's use SOPRISM to go a level deeper, and surface the top 8 most dominant audiences for each team.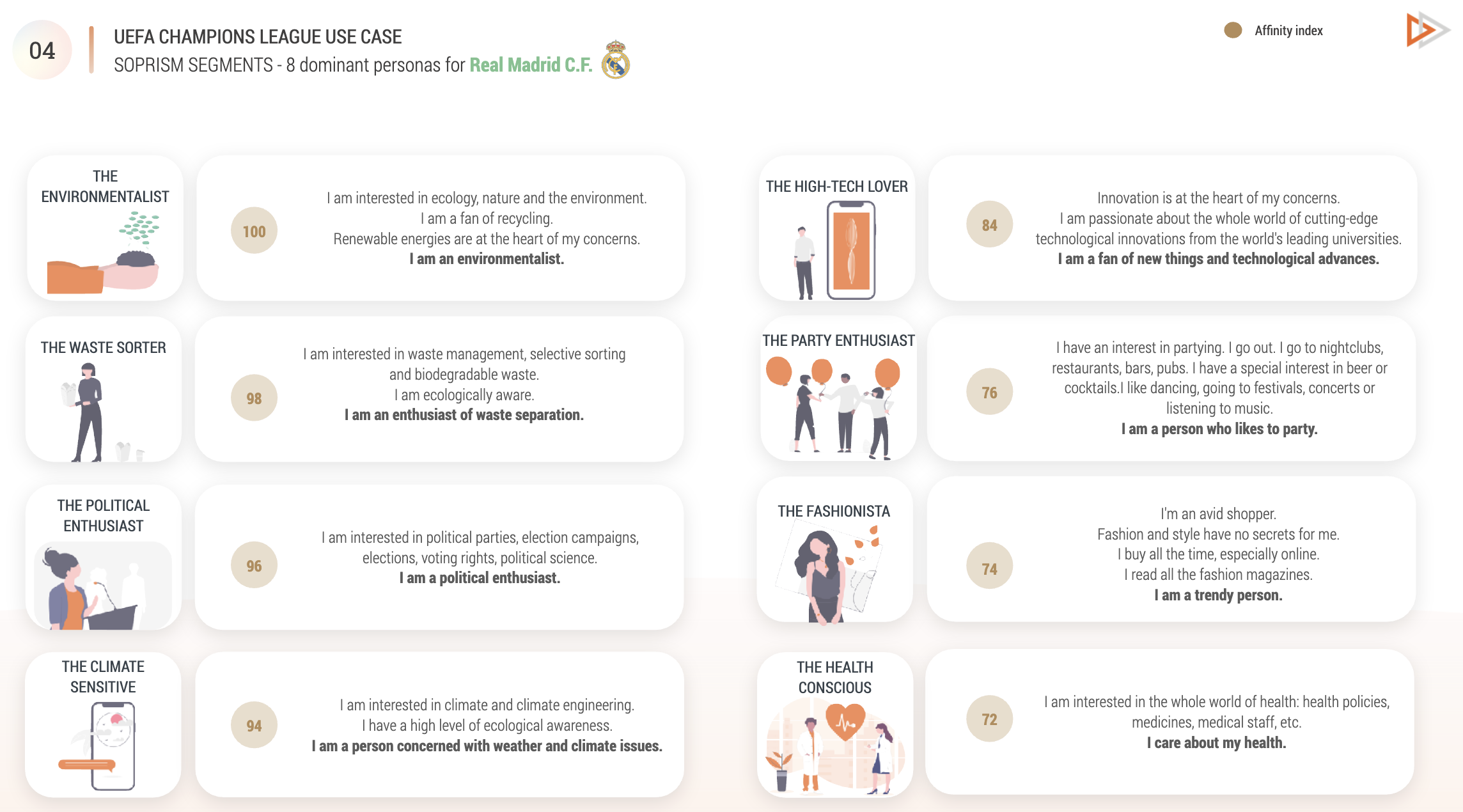 In Real Madrid's audience, we see audience groups like the environmentalists, the partiers, the trendsetters etc. Maybe some of these groups you have yet to capture in your own brand's audience, and in that case, it further validates a sponsorship deal. Alternatively, what you might find is that none of these audiences look like the ones you care about serving, and in that case, maybe this isn't the right team or league for your brand.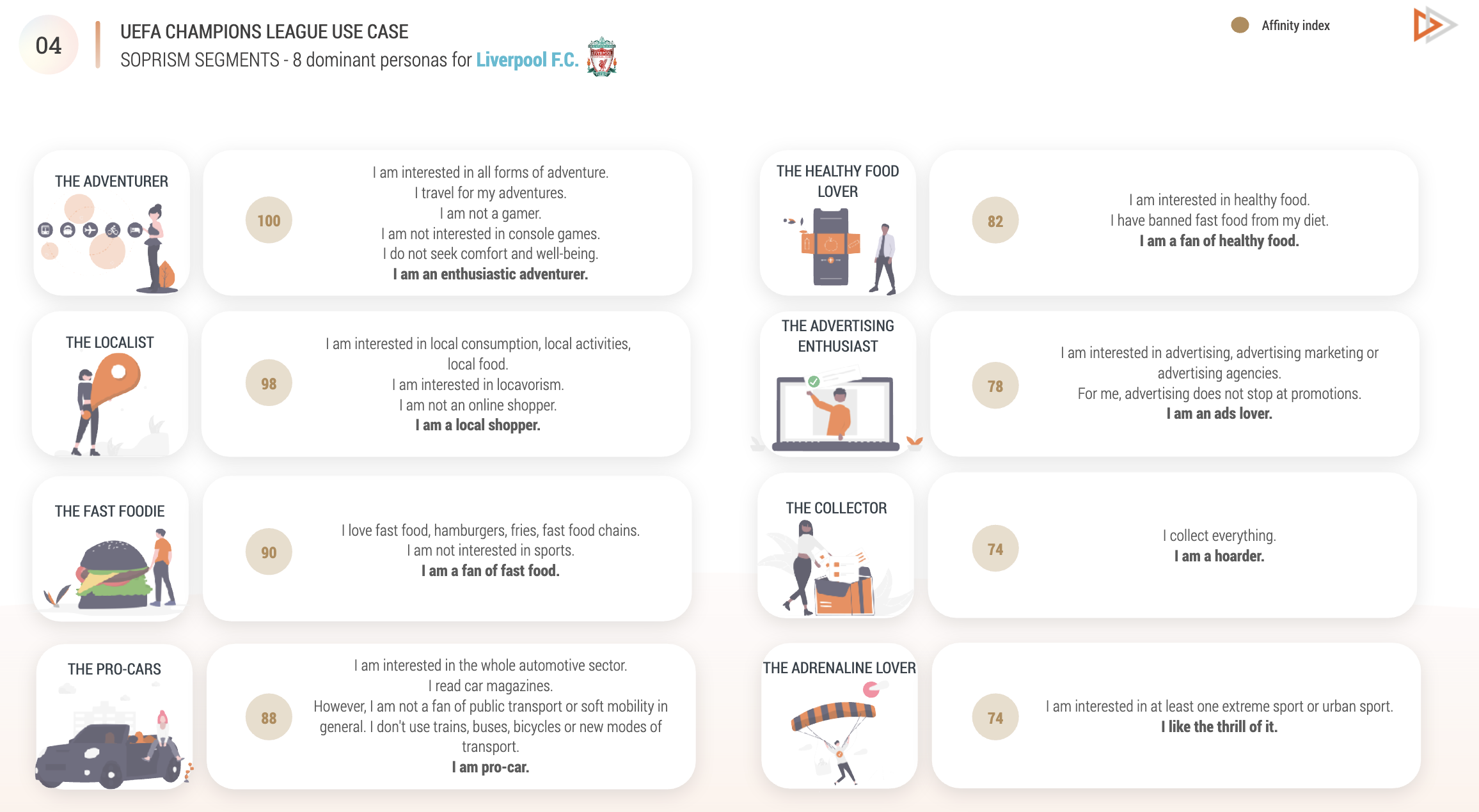 The same goes for Liverpool, whose most dominant audience profiles include "The Adventurer" who is not a gamer and has no interest in console games, or "The Localist" who has no interest in online shopping. If your brand is one that is of no interest to this audience's biggest segments of consumers - then maybe this team isn't for you, and the sponsorship doesn't make sense.
Interest data is a great indicator of whether a sponsorship deal makes sense - but benchmarking your brand directly against an audience leaves no room for interpretation.
Using SOPRISM we can see exactly how relevant a brand is with each team's audience. For example Addidas and Nivea are very strong brand sponsors for The Real Madrid audience, but they don't hold as much weight with the Liverpool audience.

It would be more valuable for brands like Expedia and Carlsberg to sponsor the Liverpool team.

If you're curious which sport or team sponsorship deal is the best value for your brand, sign up for SOPRISM. To view the full deck of detailed sponsorship insights, for the Real Madrid and Liverpool audiences, click here.