Leticia Polese - Content Marketing Manager
In The Spotlight: Taco Bell's social media strategy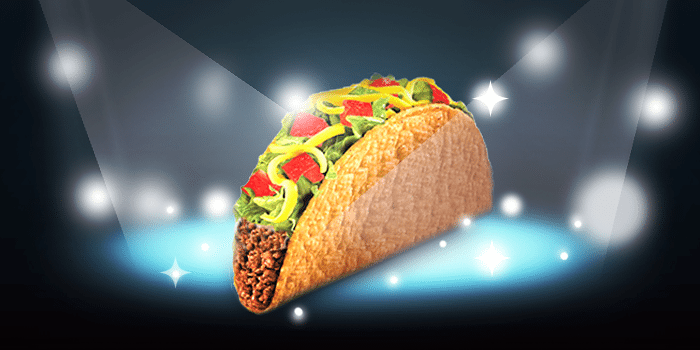 Mexican food and social media may not seem like the most natural of bedfellows, but, in recent years, Mexican fast food restaurant brand Taco Bell has dedicated time, energy and resources to developing the popularity of its social media channels, with impressive results. In 2013, Taco Bell ranked as No. 1 on DigitalCoCo's Restaurant Social Media Index, trumping key competitors such as Wendy's, McDonalds and Starbucks.
Back in 2007, realising the growing importance of social platforms, Taco Bell's Marketing Managers decided to take their first steps into the world of social media. In those early days, however, like many other brands, Taco Bell initially treated social merely as an announcement board for company news and to amplify the reach of its other media campaigns.
In a recent interview with CMO.com, Taco Bell's Head of Social Media, Nick Tran, explained:
"We were taking content and commercials from other channels and repurposing them for social media."
Today, by contrast, Taco Bell creates (and curates from UGC - user generated content) content specifically for social media and tailors each post to the particular social platform being used.
Between 2007 and 2012, Taco Bell gradually clocked up 7 million Facebook follows largely through organic growth. Taco Bell also manages accounts on several other social platforms including YouTube, Instagram, Vine, Snapchat, Pintrest, Tumblr and keeps a close eye on emerging social platforms.
Life inside 'The Fishbowl'
Taco Bell has revamped its approach to social media by creating a "Center for Social Excellence" as the base of its social media operations at company headquarters in Irvine, California. As well as employing a core social media team, the Centre is also a place for employees from different business units to sit down together to discuss what's trending online at any given moment. This cross-functional team gathers in a specially created social listening facility, known as 'The Fishbowl', where public conversations on any given subject can be tracked in real-time.
Taco Bell's social media think tank also reviews the performance of previous social activity and sets publishing plans for the weeks and months ahead. A content calendar is maintained which incorporates a mix of created and curated posts, while leaving enough flexibility to capitalise on spur-of-the-moment real-time activity as the need arises.
Taco Bell has succeeded with social by skillfully balancing a mix of paid, owned, and earned media.
"There's a place for paid social media advertising," Nick Tran told CMO.com. "If you have a paid, owned, and earned strategy where the three are working in conjunction with one another, then paid can be a great kick-start to the organic growth of a campaign. You need all three working together as a whole for amplification and reach."
Social media is now firmly embedded as a core element with Taco Bell's wider marketing strategy, with individuals spanning PR, operations, product, and marketing all now playing a role in shaping the brand's social activity. What's more, social media is helping Taco Bell's bottom line, with recent year-on-year sales growth outpacing its market rivals, according to AdAge.
Here are just a few ways of how Taco Bell is spicing up its social media activity...
Engaging from the day one...
While rewarding followers with incentives such as coupons and discounts is not a new idea, Taco Bell has been extremely shrewd in how it has employed this tactic. Aware of building customer anticipation for the launch of its new Cool Ranch Doritos Locos Tacos, Taco Bell offered its loyal social fans an opportunity to taste the new tacos one day prior to the national launch.
The offer generated 20,000 responses, including nearly 4,000 shares, and ultimately led to the most-successful product launch in the company's 50-year history selling 100 million units in its the first 10 weeks.
Mix it up!
Nick Tran says "You can break down the type of content we share into three categories: The first is anything Taco Bell creates internally. The other type of content we share is whatever we co-create. This is when we collaborate with influencers and give them the tools to create their own content. The last is content curation, which is basically us amplifying interesting content from our social community."
Taco Bell cleverly repurposes a lot of user generated content on its own channels, which deepens the engagement with its followers and they actively utilises fans to help promote the brand.
For example, when Taco Bell wished to transition from its long-standing slogan "Think Outside The Bun" to its new tagline "Live Mas", it rolled out a "Live Mas to Win Mas" contest, asking its fans to submit photos that illustrated how they "Live Mas" with the Dorito Locos Tacos. Responses included pictures of followers skydiving with the tacos while others created Dorito Locos fan art.
The secret recipe...
"The main difference in strategy now vs. before is that what we are doing today in social media is real-time, and we listen and engage all the time," Nick Tran told CMO.com
The capabilities of Taco Bell's Fishbowl social media listening facility proved valuable during the launch of its Cool Ranch Doritos Tacos Locos in March, 2013. When Taco Bell's social media monitoring uncovered that some of its most loyal fans were being shut out of the pre-launch promotion, its team moved quickly to avoid a PR backfire. Taco Bell was able to respond in real-time, address frustrated consumers directly and create solutions that kept everyone happy.
Likewise, Taco Bell's close monitoring of its social channels means that it can quickly spot and respond to name-checks in the posts of other individuals or brands. For example, when mens' fragrance brand Old Spice posted a light-hearted tweet involving Taco Bell, it wasted no time in replying with a zinger of its own.

Appeal to the senses!
Research by Adobe suggests that video content now makes up more than three-quarters of viral social media posts, making smart use of video a crucial component of any brand's social media strategy.
Taco Bell regularly posts bite-sized content on platforms such as Vine and Instagram and longer-form content on YouTube and VEVO. In support of its ongoing "Feed the Beat" program, which has supported more than 600 up-and-coming music artists on tour since 2006, Taco Bell created and released a one-hour documentary film, 'Hello Everywhere', following two of the program's bands at last year's SXSW festival. The film was distributed via the dedicated feedthebeat.com web site and also through social media, generating more than half-a-million views.
In an example of successfully utilising user-generated content, Taco Bell challenged YouTubers to create unique videos to introduce the name of the latest Doritos Locos Tacos flavor, Fiery, in August of last year, leading to more than 65 videos being created and shared by social followers.
By recognising the potential of social media to attract, engage and retain customers and then utilise followers as valuable brand-ambassadors, Taco Bell has developed a tasty recipe for social media success.