Jackie Davies
Stanley tumblers: how to build off the momentum of a viral product
The Stanley "Quencher" tumbler is undoubtedly one of 2023's top viral products—so far. This 40-ounce tumbler keeps water icy cold for approximately 11 hours, and it's sold out almost everywhere.
As you might expect, Stanley is thrilled with the cup's enormous popularity. So, what does Stanley attribute its success to? Influencer marketing.
Although this may be your first time hearing about this wildly popular tumbler (thank you, TikTok), this isn't the first time they've gone viral. Back in 2017, influencer Ashlee LeSueur and her team featured the "Quencher" on "The Buy Guide" her eCommerce blog/Instagram account.
In an interview with the New York Times, LeSueur noted, "Every time we linked it, it would sell out so quickly. We got so many pictures from teachers who all have them in their classrooms and from nurses' stations with cups overflowing in different colors, and we knew we were onto something."
But then Stanley decided to discontinue the "Quencher" back in 2019. Devastated, LeSueur and her team set out to contact someone at the business to persuade them to bring it back.
Her team ultimately got in touch with a member of the Stanley PR staff using their personal Instagram account. They collaborated closely with the business over the following few months to use influencer marketing to promote the cup. The Buy Guide had started selling tumblers through its website, and it sold out within the first five days.
The Buy Guide team then advised Stanley to work on its site, create an affiliate platform, and introduce the product to an army of influencers who would sell it to their followers.
The order was fulfilled in November 2019 and, soon after, The Buy Guide started selling the tumblers. They sold out within five days, according to the founders. Since then, the popularity of the cup has skyrocketed — thanks to influencer marketing via Instagram and Tik Tok.
So, what is the next step for brands like Stanley, whose products have gone viral? How can they build future campaigns to keep the momentum going?
Here are four ways to capitalise on the momentum of a viral product.
1. Understand the people behind the product
Stanley had been carrying the tumbler for quite some time before it gained any traction. The reason being was, Stanley had yet to find its niche for the product — women who saw it as an everyday item instead of a camping item (Stanley's core audience).
The faster you can capture an audience when it emerges, the better! When you can segment your audience into smaller more niche communities, you start to understand the entire makeup of your audience, and the beauty is, it isn't always what you would expect.
The easiest way to do this is by using an audience segmentation tool like Affinio, who was recently acquired by Audiense.
With Affinio, we were able to capture three unique clusters of the Stanley tumbler fans: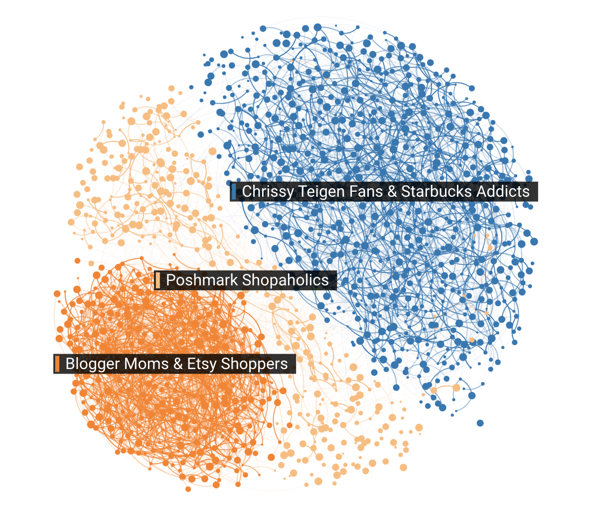 From the audience analysis conducted using Affinio, here is what we've learned about the Stanley Tumbler audience as a whole, using their top interests to conclude these insights:
This audience breaks out into three unique groups of consumers; Chrissy Teigen Fans & Starbucks Addicts, Poshmark Shopaholics, and Blogger Moms & Etsy Shoppers. Explore the full audience report here.
25% of this audience are aged 18 to 24, 50% are aged 25 to 34, and 15% are aged 35 to 44 years old.
They use words like mom, reader, sports fan, wife, teacher, college alum, blogger traveler, foodie, marketer, deal hunter, Twitch gamer, vintage shopper, YouTuber, Amazon shopper, and Poshmark customer.
They are Starbucks drinkers who shop at Target.
They are also big fans of Ulta Beauty, Etsy, Kate Spade, Crocs, and Old Navy.
They are Netflix and Disney+ subscribers.
They enjoy watching Hallmark movies, Ru Paul's Drag Race, Queer Eye, and Grey's Anatomy.
They look up to celebrities like Chrissy Teigen, Michelle Obama, Miley Cyrus, and Selen Gomez.
They're listening to artists like Taylor Swift and Rihanna.
Chipotle and Chick-fil-A are their top fast-food choices.
Click here to explore the full audience report.
2. Connect with your audience
Now that you've collected your core consumers, get them further engaged. These superfans are your original supporters and they are the perfect group to keep in contact with.
Enrich your Affinio audience list with emails and create an email marketing campaign.
A great idea would be to reach out to this list with promotions and future product launches. But don't stop there! Create an e-letter that asks them to post on social with their Stanley Tumbler in exchange for a Stanley gift card.
This allows you to reward your superfans and capture their social audiences in the process.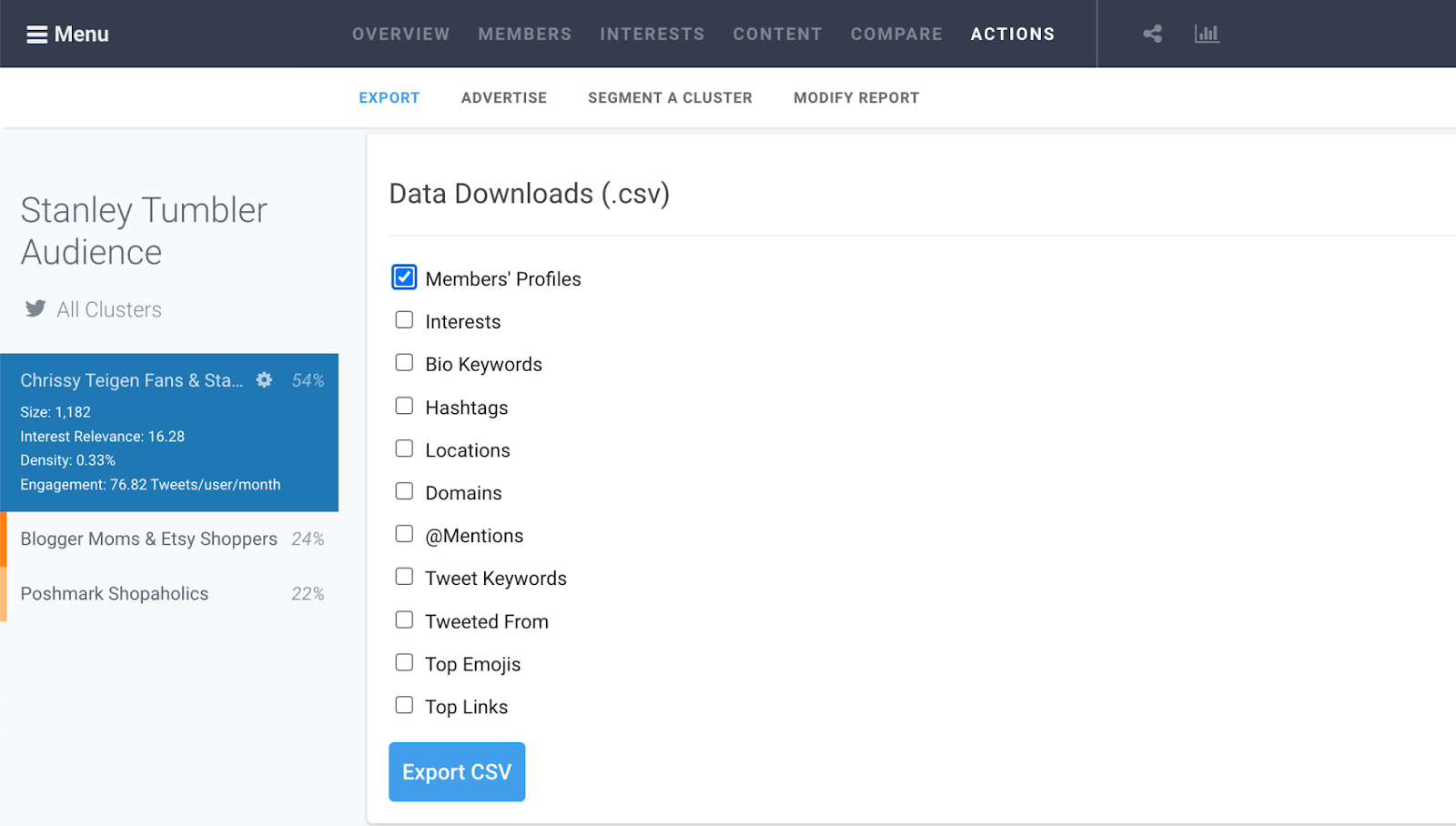 *The above screenshot shows how easy it is to explore audience lists from Affinio to then be matched with emails using an audience enrichment tool like ExactBuyer.
3. Create a loo-alike audience campaign
Lookalike targeting allows you to target people who look and behave like your current audience. It functions by combining sophisticated lookalike modeling techniques with machine learning algorithms, using the audience data you choose.
In this case, you can also use Affinio to find up to 1M Twitter users with closely matched interests to those in your original Stanley Tumbler Audience. Then we'll upload the list directly into Twitter's Tailored Audiences platform for you to run ads against.
Think of this technique as just expanding your original audience of fans to run ads against, and ultimately gain more customers. Running a lookalike campaign can expand your brand's overall reach, and increase the click-thru-rate and conversion rate of your ads.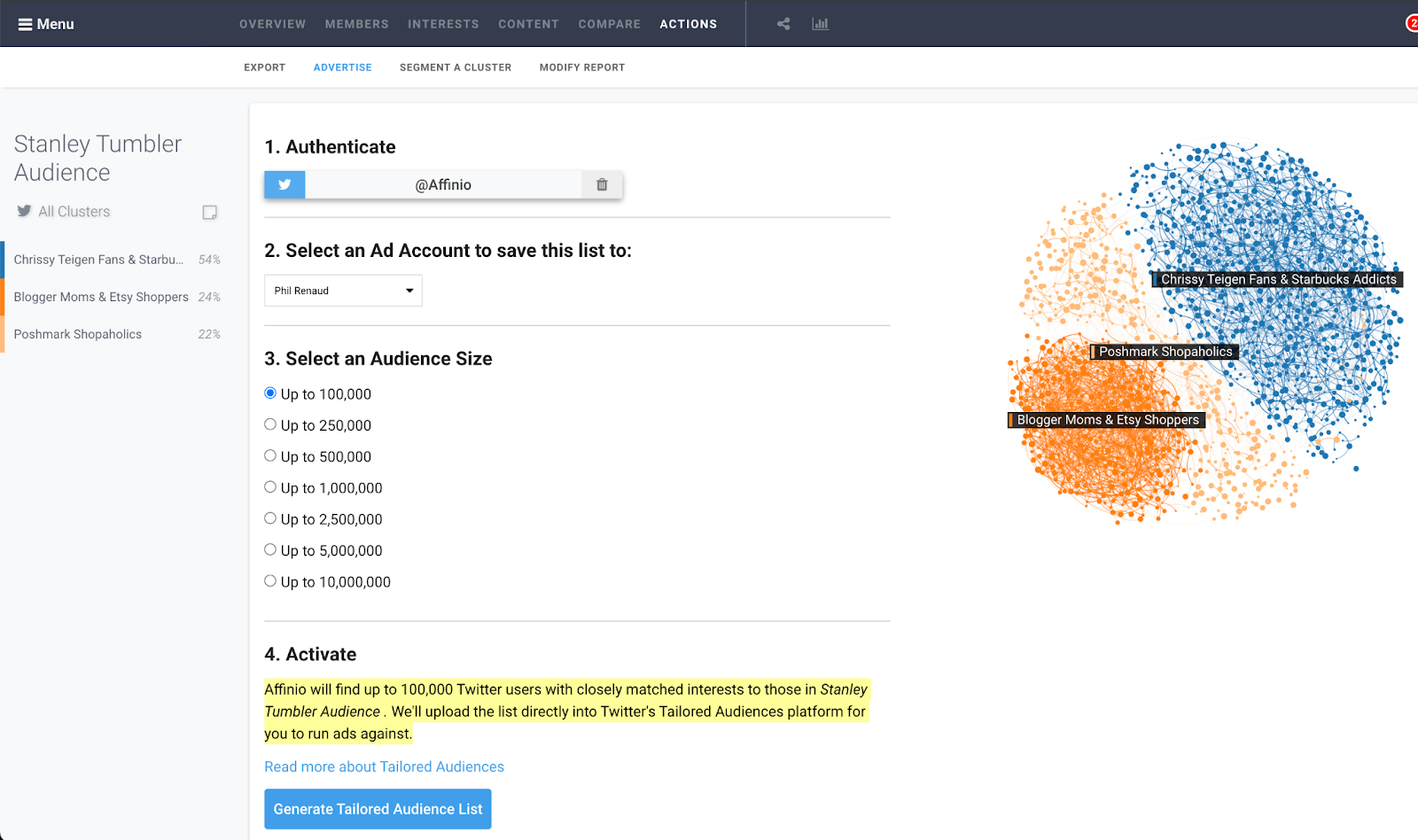 4. Work with top macro and micro influencers
Now that you've connected with your original consumers, their owned audiences, and people that look and act like them, go a step further.
Identify the top influencers for this audience to further expand your reach.
Create a list of micro and macro influencers, depending on your campaign budget.
For the higher end, use an audience intelligence tool to instantly uncover Macro influencers with high audience relevance scores.
For this group of Stanley Tumbler fans, social influencers like Chrissy Teigen, Jeffree Star, or JoJo Siwa would make great brand ambassadors.
These influencers can all be backed by data to prove why you should be working with them: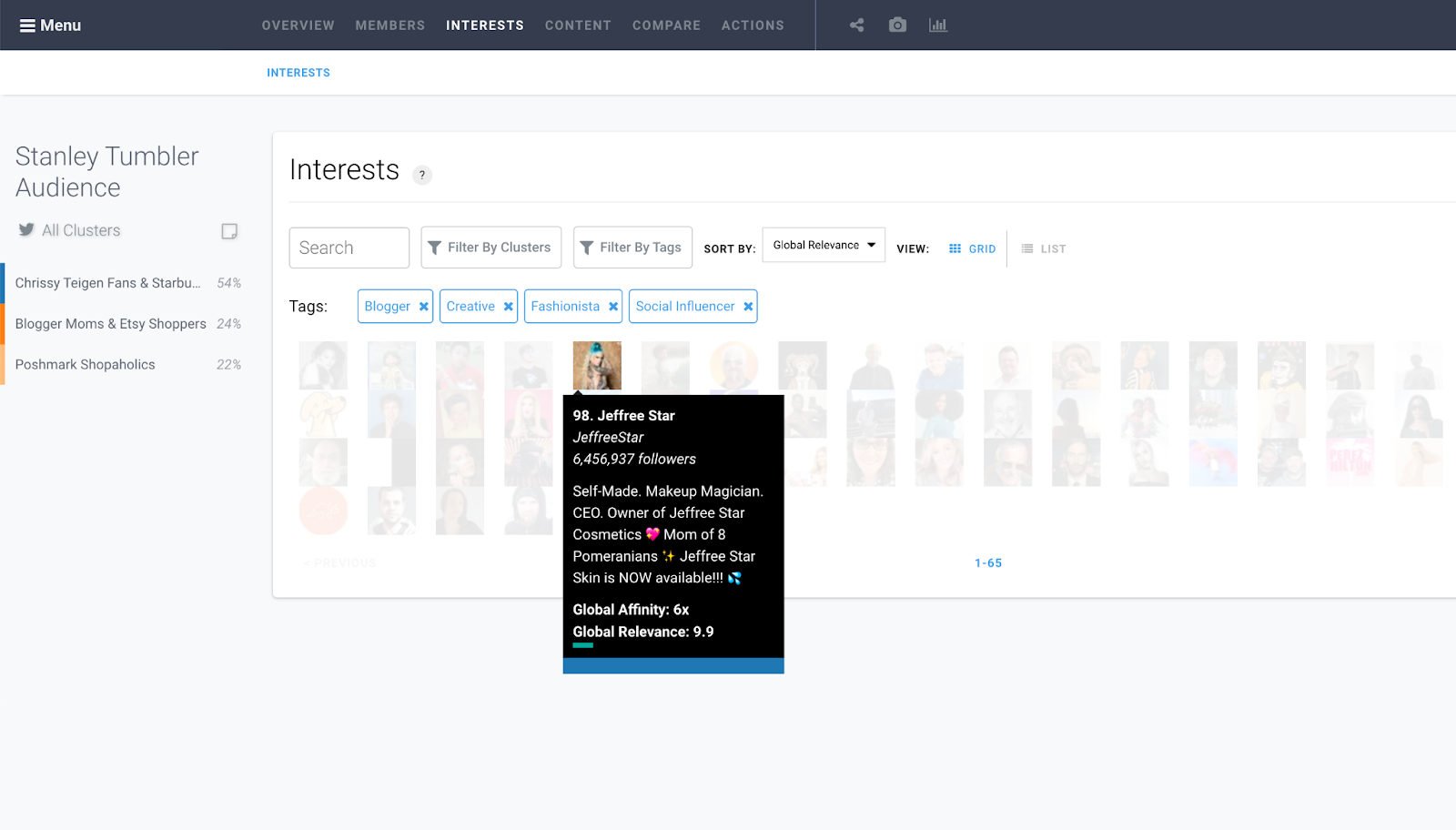 For a smaller budget, choose a micro-influencer. Affinio and Audiense rank them in order of how unique they are to your audience. Travel Blogger, "Jeana Travels," Food Blogger, "Stephanie Manley," or Mom Blogger, "Mom Foodie," would all make perfect smaller-scale influencers to reach your target audience.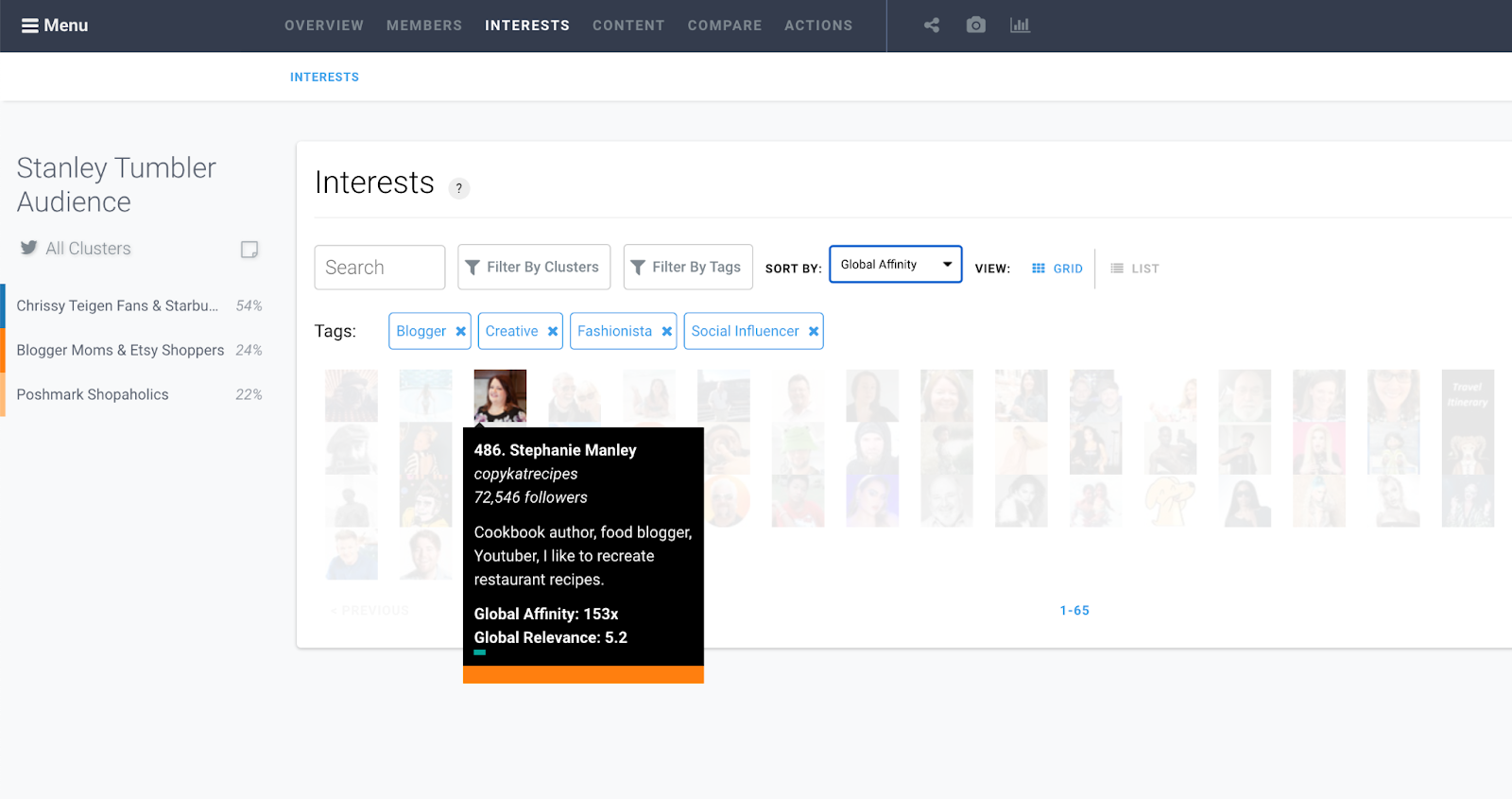 When your product goes viral, keep the momentum going by using these four easy steps — all guaranteed to expand your reach and gain new customers. If you're interested in working with Audiense to understand the audience behind your next viral product — and find more like them — sign up for free!