Rachel May Quin
[SURVEY] 4 crucial things marketers need from their audience research strategy
Ask any marketer what a typical day looks like and we'll be able to reel off a list longer than your arm. Social media scheduling, briefing creative and agencies, creating that newsletter, producing a deck for the sales team. Marketers juggle a lot of priorities and we're expected to deliver across all our campaigns… and then some.
We wanted to get a better understanding of how marketers are using audience insight, so we've conducted a survey in partnership with Katelyn Bourgoin, to understand how marketers across industries feel about their current audience research methods and how they could do it better.
We spoke to marketers just like you, across agency and freelance professionals to in-house teams, to understand your pain points and your data-driven goals! We've crunched the data and pulled together the four key takeaways, let's dig in…
1. Knowledge at your fingertips
When planning any campaign, the foundation you lay will support the entire process. It was abundantly clear from our survey that marketing professionals know how important it is to define a target audience, and define it early, if you want to get real results from your activity and contribute to the bottom line.
But despite this knowledge, audiences continue to be something of a mystery. 40% of marketers told us when they started their current role, the existing team did not know the audience they were trying to reach, and a further 5% said they thought they knew, but they were completely wrong. This stops marketers from hitting the ground running, as they go back to basics to gather intel that should already be in place, or risk not getting results.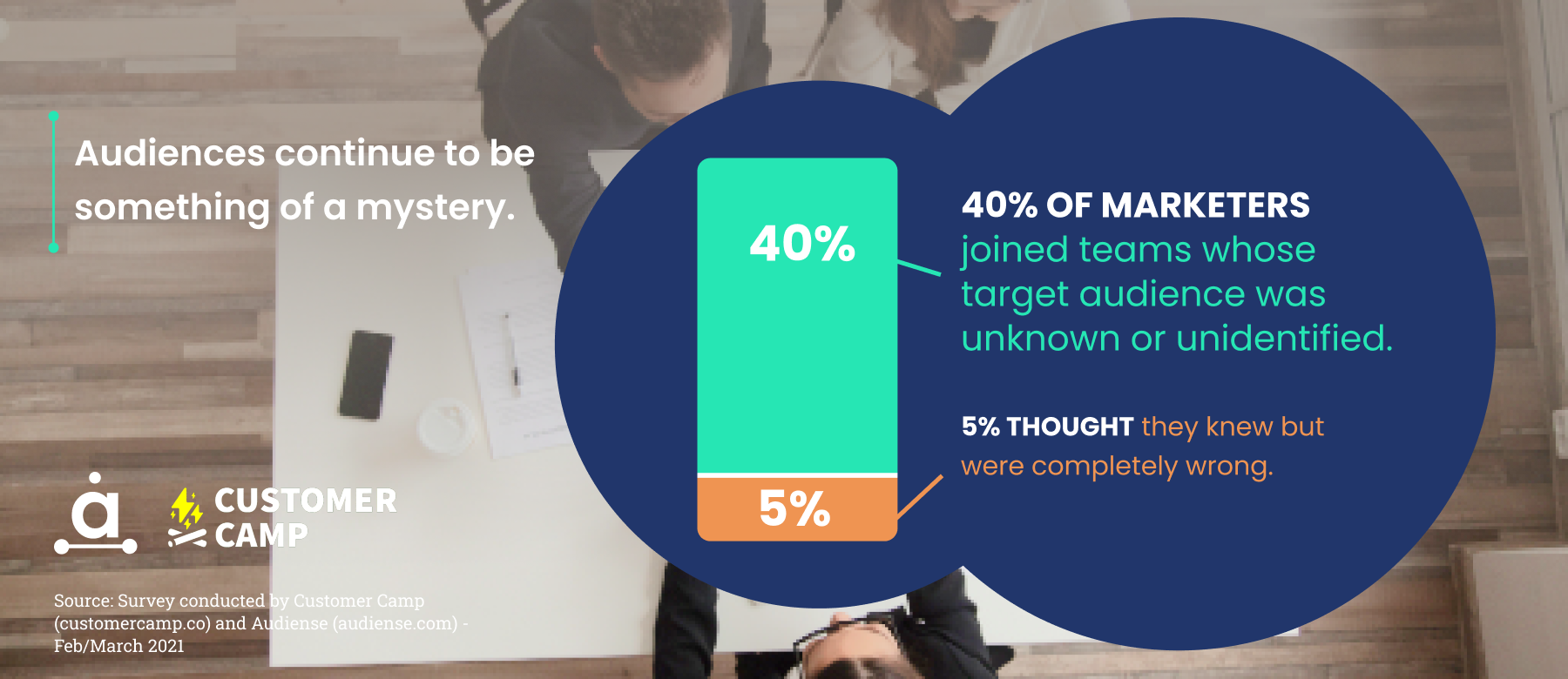 Clearly, research is a necessity to provide all the information you need on your target audience, directly at your fingertips. Audience intelligence enables marketers to be smarter in the early stages of planning and prioritise which channels and activities will have the most impact on their intended audience. The challenge for many teams is identifying the most efficient tool to help them get this insight.
2. A need for speed
Unsurprisingly, many marketers we spoke to are under pressure. Our campaigns need to be harder, better, and faster than ever before, with multiple touchpoints and pitch-perfect messaging to convert leads. Marketers know the value of audience research, but a significant number reported that a major pain point is finding the time.
The general feeling amongst those surveyed is that traditional research methods such as focus groups and interviews are too demanding, sample sizes are too narrow, and generally, there just aren't enough hours in the day to delve too closely into audience research. This pain is compounded by 85% of marketers feeling like they don't have enough information to effectively reach their audience.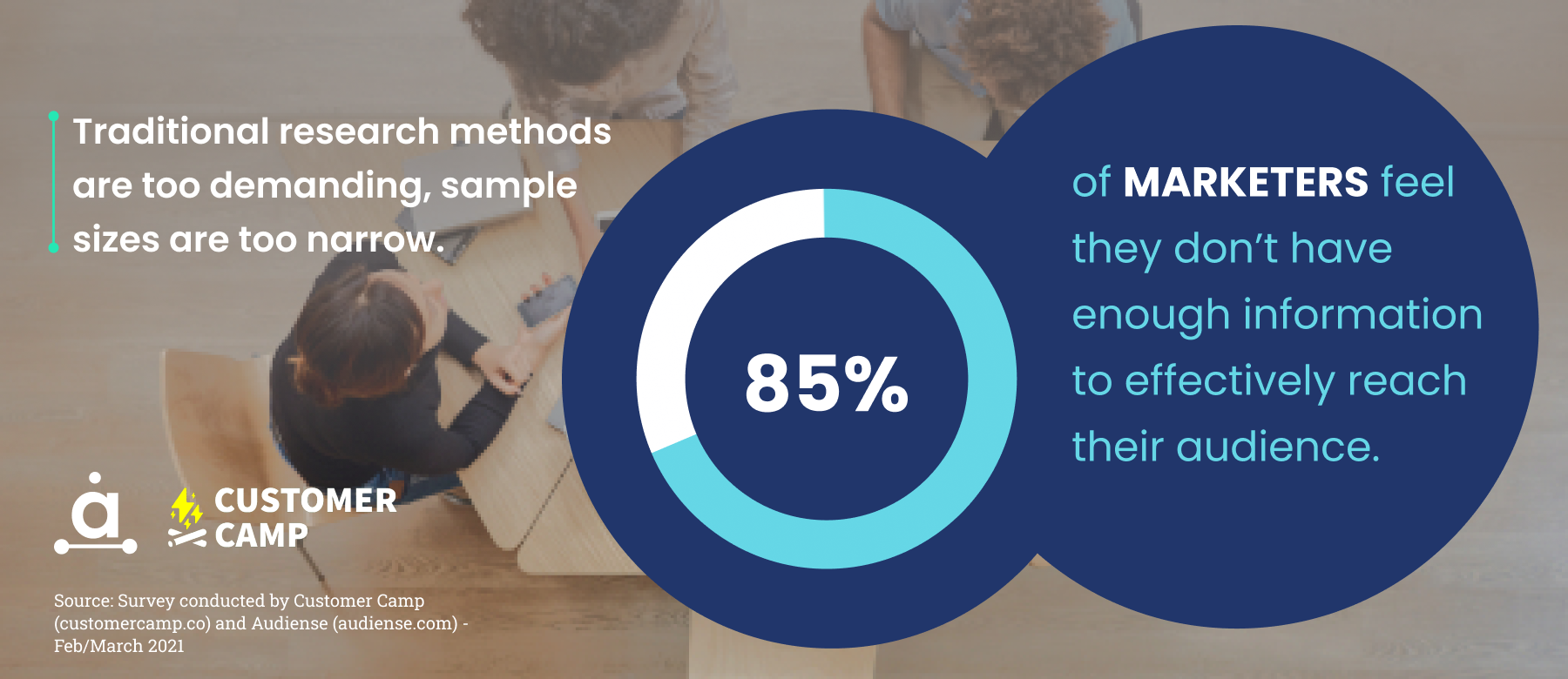 With so many competing priorities demanding our attention, it's normal to assume audience research is a luxury you simply can't afford, especially when faced with tight budgets. But here's the thing. Investing time in audience research can lead to huge savings in the long run, by optimising your marketing efforts through data-driven, focused audience targeting.
3. A reliable process
Most of the time, effective audience research comes down to the processes you have in place, and process differed wildly across different types of marketers! Freelance and agency marketers are 91% more likely to have a research process in place than their in-house counterparts.
But even then, only 47% of freelancers and agency marketers say their process is documented and repeatable and that figure falls to 33% for in-house teams. Why reinvent the wheel every time you need to conduct audience research?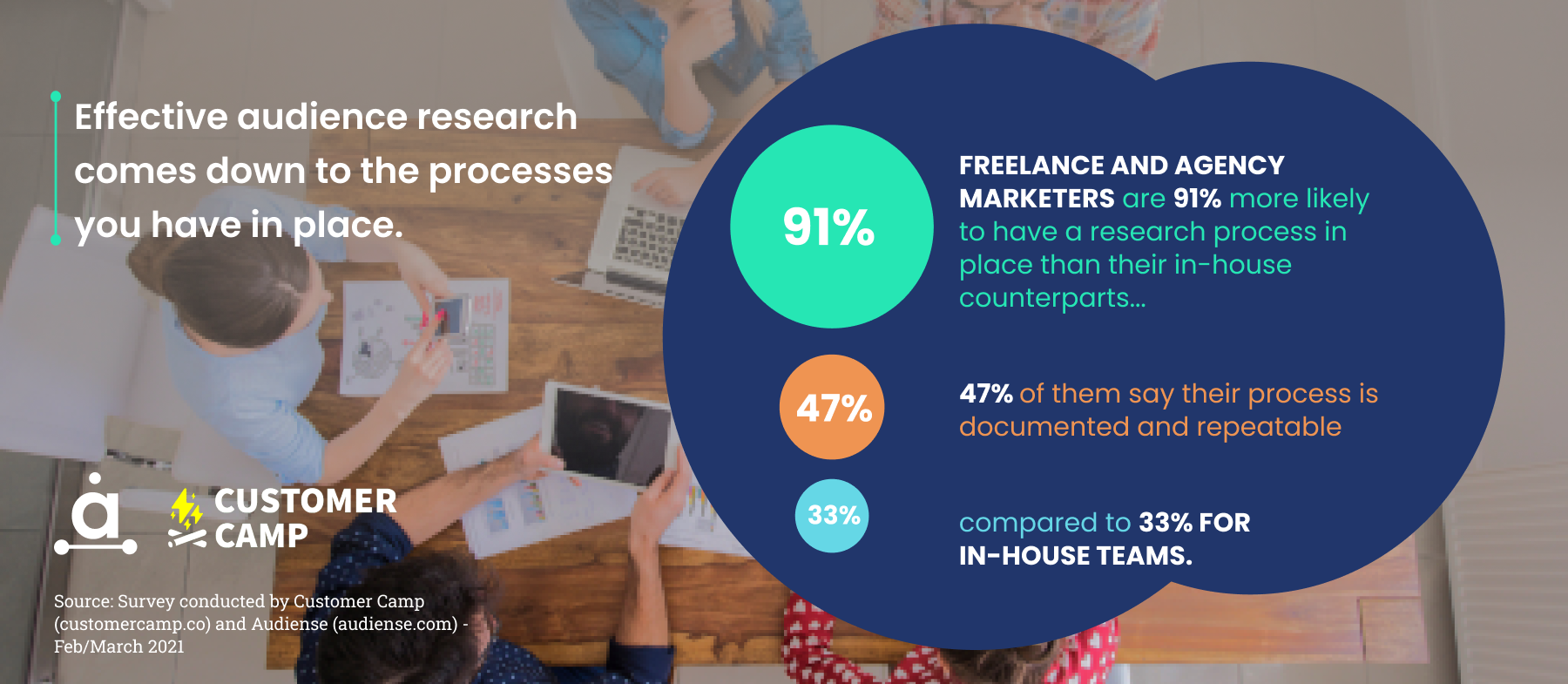 It's interesting to note that many in-house teams - across brand, product, and other departments - all have their own methods of collecting and processing audience data. Marketers are desperate to bring together all that incredible internal knowledge into one single view, to ensure everybody in the business is singing from the same hymn sheet and streamline their data capture process.
4. Data, deconstructed
Data alone doesn't give you all the answers, it's part of a wider process. A significant proportion of those surveyed reported that the data itself is a challenge, with many claiming it's ambiguous, it takes too long to digest, and it's often fragmented across several tools.
We know we need to spend time connecting the dots for data to create truly useful audience insights, and marketers are collecting it, and the fact is, many marketing teams just don't have capacity to do it in-house. Spending time trawling the data on analytics dashboards2 is not a great use of anybody's time.
But with the right tools in place, understanding the data could unlock new growth opportunities, with 23% of marketers saying that they would like to offer audience research as a service to their clients. And that's before we consider how many freelance and agency marketing professionals offer audience intelligence as part of the package - imagine how much time you could save if you could quickly gather and interpret data?
So, what's next?
It's time to leave the audience intelligence dark age. It's clear from many of the responses from marketers that there is a desire for accurate, informative, actionable data all in one place. We see you, we hear you, and we want to help you make audience research easier so you can focus on connecting with customers.
Identifying and collating all your audiences in one place, whether for in-house purposes or an external client, empowers you to gain a deeper understanding of who you're talking to and develop highly targeted, impactful marketing campaigns that can be implemented at speed… without blowing your budget! Try Audiense Insights for free.
---
Audiense has partnered with Best Buyer Persona to learn how marketing teams and agencies use buyer personas. We bring you a short new survey to uncover the answers and all we need from you is 3 minutes and for you to click on the image below.