Oliver Thyra
The impact of audience intelligence on ecommerce
If you look at successful ecommerce businesses, you will likely find many similarities between them. One of these similarities, which we're going to focus on today, is the ability to identify the target audience and satisfy their needs well.
Identifying the target audience is one of the most crucial aspects of a successful ecommerce marketing strategy. Without knowing who your target audience is, you'll be simply broadcasting messages into the whole universe, hoping to drive engagement & sales.
If you look at ultra-successful ecommerce businesses like Amazon, Alibaba, Walmart, etc., you'll notice that they not only understand their target audience well, they surpass their expectations to a great extent. This is what separates ultra-successful ecommerce brands from the rest.
That said, if you want to accomplish similar results for your ecommerce business, you need to invest in audience intelligence.
What is audience intelligence?
Audience intelligence helps to learn more about a business's target audience and extract invaluable insights. These insights can help you plan marketing strategies based on rich, real-time data that ultimately improve the sales performance of your business.
In simple words, it gives businesses the 'exact' information they need to reach out & engage them successfully through marketing campaigns. Not only that but audience intelligence even helps to narrow down the target audience based on various parameters that have a direct impact on sales.
Why is audience intelligence important?
Ever since the internet brought consumers closer to brands, the way they interact with them online has completely changed. Today, consumers expect a more personalized customer experience.
According to a Salesforce study, 89% of online shoppers choose ecommerce companies that understand their needs well, while 56% of them expect only personalized messages from brands.
And audience intelligence can help to build a complete picture of the target audience and competitors, and even discover new audiences that you might not have noticed before. Because of this, audience intelligence has become an essential part of the marketing strategy for ecommerce businesses. By leveraging audience intelligence, you can:
Find niche audiences that are most relevant to your ecommerce business
See how your target audience engages with your top competitors
Understand how your target audience perceives your ecommerce brand
Segment your existing audience
Identify potential brand advocates
The bottom line is, audience intelligence helps you to better prepare to target your audience and stay ahead of your competitors.
Impact of audience intelligence on ecommerce
Let's talk about the different ways audience intelligence can impact your ecommerce business.
Data-driven marketing plan
Positioning your ecommerce business as a trustworthy brand in the market can be a difficult task. It requires you to come up with specialized marketing strategies that enhance your brand image in the eyes of your target audience.
Audience intelligence provides you with insights that are vital for coming up with a marketing plan to take your business in the right direction. It adds more value to your market research, which you can use to improve your marketing strategy.
After all, you cannot forge a successful marketing strategy without understanding your target audience well and that is where audience intelligence shines the most.
Attracts more customers
Audience intelligence allows you to use real-time as well as historical data to engage existing customers and attract new ones to your ecommerce store.
You can analyze a customer's behavior while they are browsing your ecommerce store along with their past behavior. Doing so can help to figure out their likelihood of making a purchase.
And once you have that insight, together with the audience insights, you can plan a marketing & sales strategy that helps you retain your current customers while attracting new ones.
Audience intelligence gives you all the information you need to engage with your target audience on a personal level and attract their interests more effectively.
Better consumer insights
Audience intelligence generates critical, unstructured data that ultimately uncovers key consumer insights. For example, you can learn about which shipping methods your target audience likes and prefers. Based on this, you can make appropriate adjustments in your order fulfillment process and improve customer satisfaction.
Apart from that, insights obtained from audience intelligence also help you find many unresolved issues that the majority of your customers face. Once you've identified such issues, you can customize your offerings that better fulfill the needs of your current as well as prospective customers.
Increases customer retention
Customer retention is one of the most important factors that help to determine the success of a business. And audience intelligence can help you to discover insightful information that helps to increase customer retention rate in your ecommerce business.
For example, audience intelligence helps you understand what drives your customers to make that purchase, and what influenced them. Based on this, you can form a strategy that makes sure their demands are fulfilled.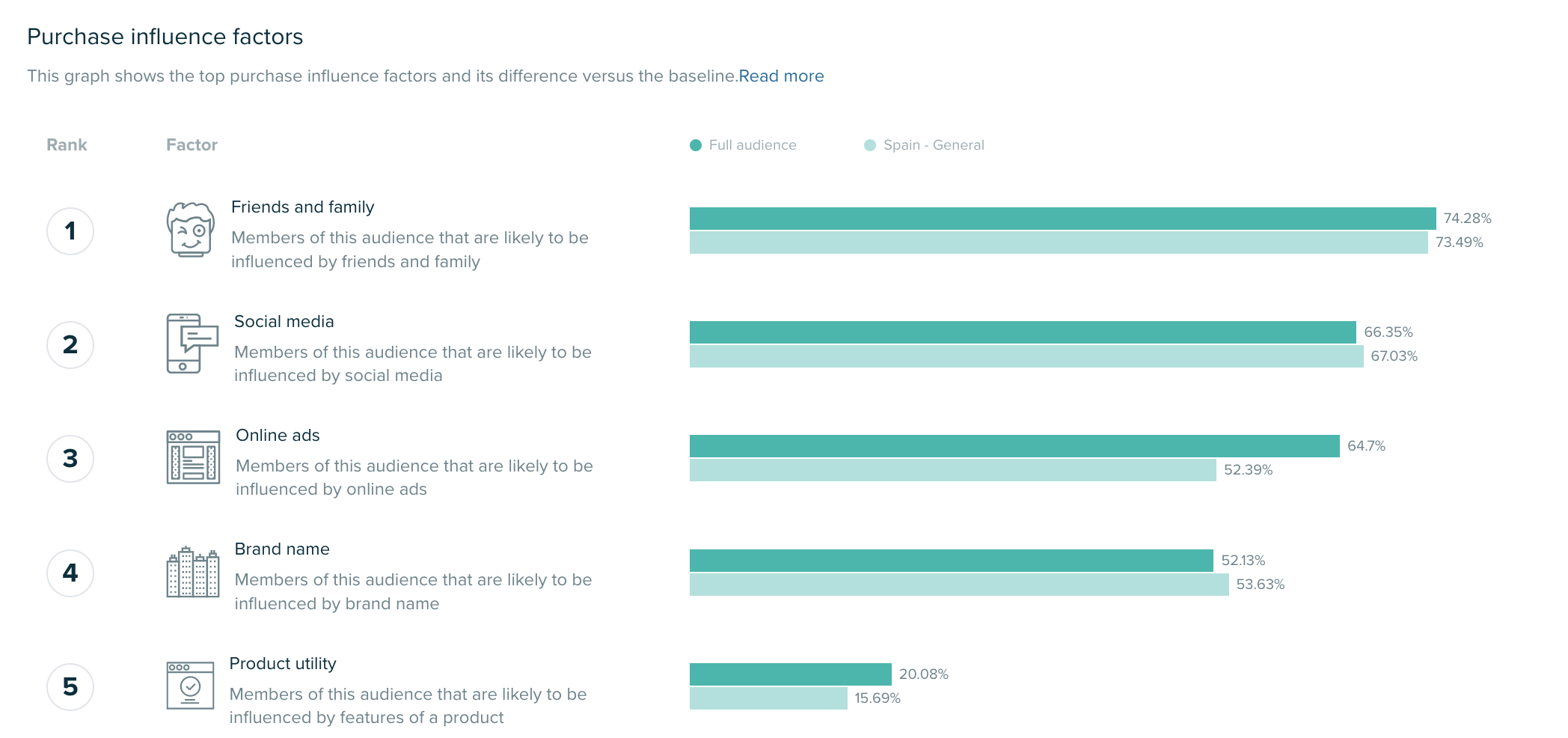 Boosts overall profitability
The primary goal of audience intelligence is to understand the behavior & needs of your target audience. But there is an additional benefit as well — it also helps in improving the overall productivity of your business.
You see, audience intelligence helps to gain better actionable insights. This, in turn, helps to reduce resource wastage on low-performing marketing strategies and improves overall productivity. As a result, the overall profitability improves.
Simply put, businesses that use audience intelligence have more chances of increasing their productivity, leading to a surge in sales.
Wrapping up
Currently, audience intelligence is one of the most crucial factors that determine the success of an ecommerce business. It allows you to collect & analyze target audience data and extract actionable insights from it.
Once you know what your target audience truly wants and/or needs, you can finally start speaking their lingo, and capture their attention & establish credibility.
All in all, investing in audience intelligence and analysis software can most certainly help to achieve your business goals, so it is undoubtedly worth investing in.