Céline Geeurickx
The luxury watch industry: 5 key insights
The luxury watch industry, now worth $48.38 billion dollars in the US, continues to grow year after year. Yet it is still dominated by a small group of the same players, all known for their top-quality designs and premium price tags.

With such a short list of brands owning the market, the competition is fierce. There is a lot of potential for these brands to grow their e-commerce sales, but it requires them to spend more on advertising through social media.

The more they spend on social ads, the more important it is for them to have rich audience insights that help them tailor their campaigns, and ensure they aren't wasting ad spend.

In light of this, we've used SOPRISM to surface insights on the audiences of the following luxury watch brands: Rolex, Omega, Cartier, Blancpain, I.W.C. Shaffhaussen, Longines, Patek Phillipe, Tag Heuer, Audemars Piguet, Vacheron Constantin, Breitling, and Jaeger LeCoultre.

Here are the key insights we found when analyzing the data:

1. In terms of popularity and social following, Omega leads the charge with over 203 million fans on Facebook and Instagram. Blancpain comes in last with 29 million fans. This tells us two things, Omega has a huge opportunity to advertise to large-scale audiences on social, and Blancpain needs to carve out its niche in order to make sure its ad spend isn't wasted.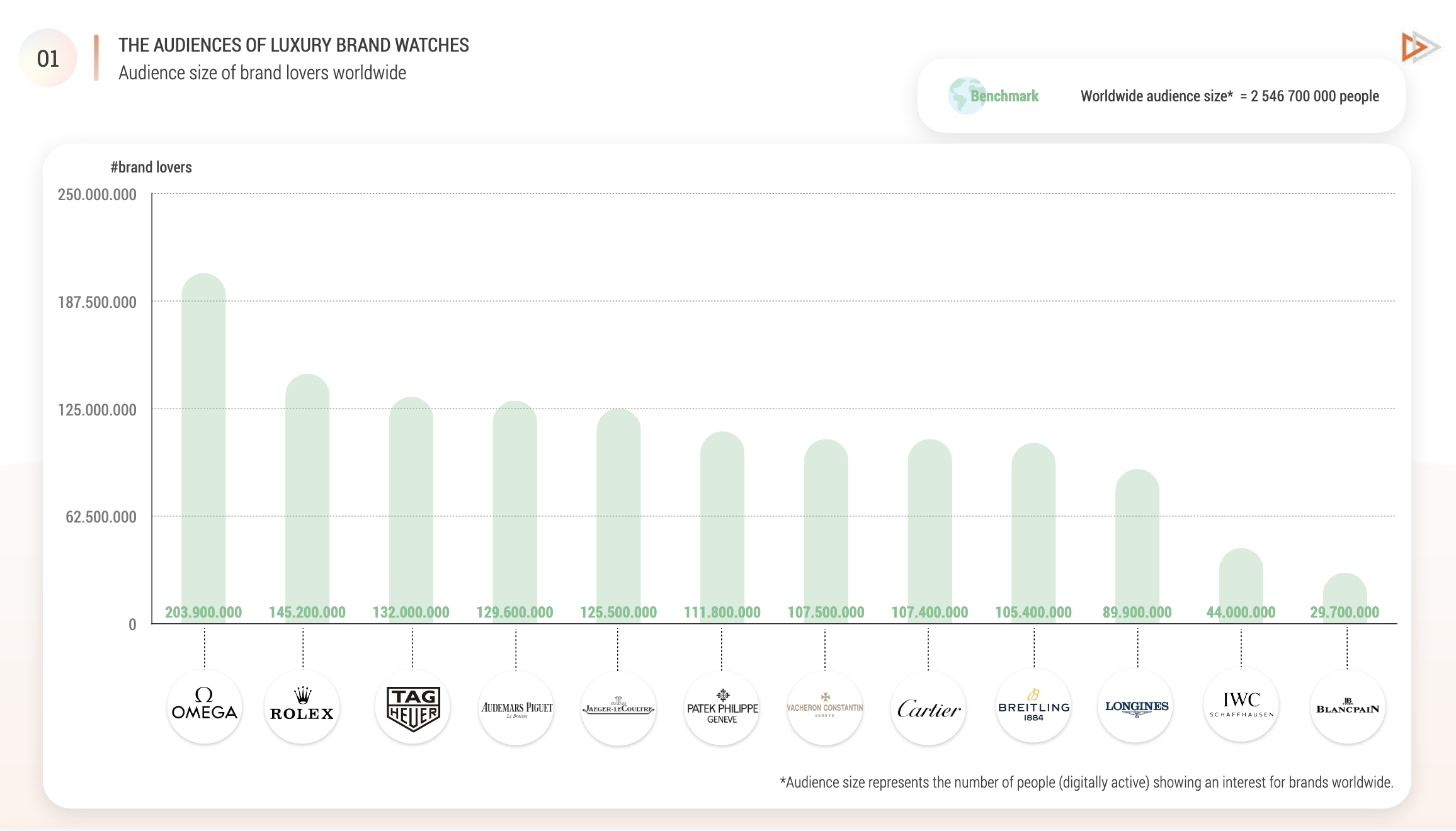 2. The only Luxury watch brand that resonates more with women consumers than men, is Cartier. Their audience is 56% women, 43% men. The watch brand whose audience has the highest majority of men vs. women is IWC.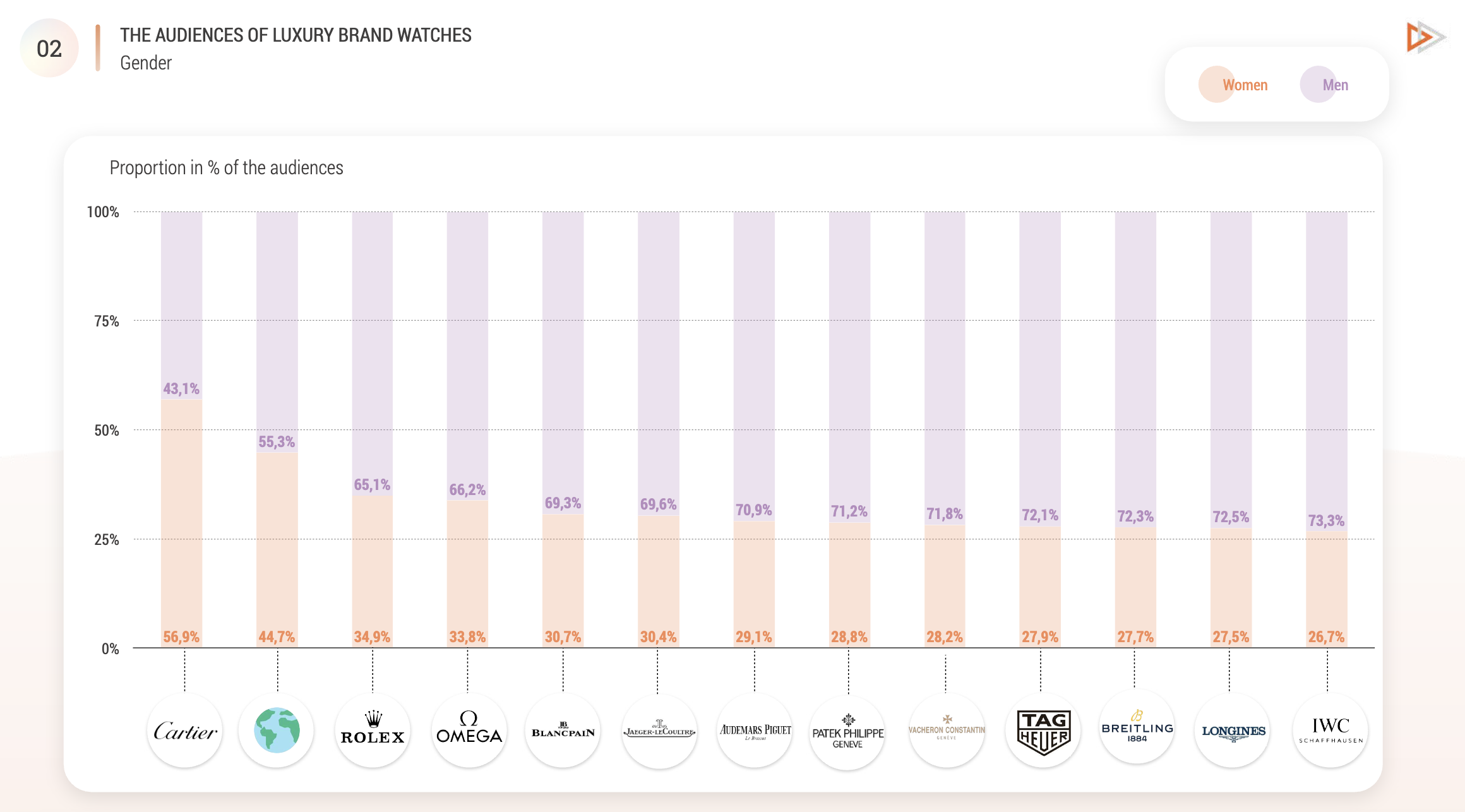 This poses an opportunity for both brands - Cartier could take a page out of IWC's book and copy their ads targeted at men, and IWC (and all the other brands listed) could take inspiration from Cartier's campaigns tailored to women.
3. Patek Philippe has the biggest presence in the European markets, Cartier is the leader in the North American and South American markets, and Omega ranks as the top brand in the Central American and African markets. IWC is the most popular watch brand in the Asian market.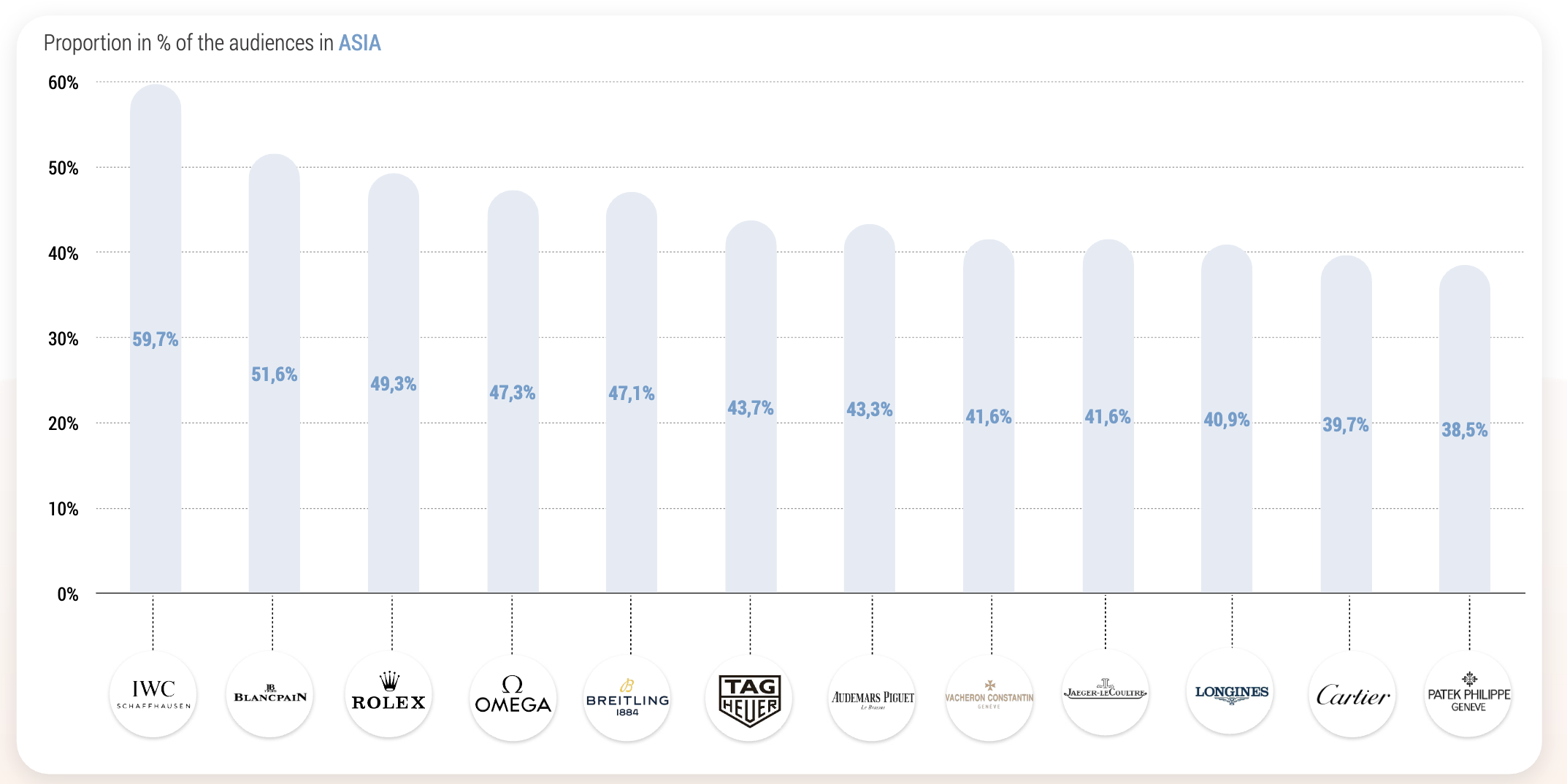 In terms of revenue, China is the leading market for luxury watches. Luxury watch brands that want to have a larger presence in this market, should emulate IWC Schaffhausen's strategy:
4. Omega and Patek Phillipe have the greatest audience overlap, meaning the competition between these brands is high.
Omega watches start at a lower price point, and Patek holds more prestige. Audiences may start with an Omega watch, and then later on buy a more expensive Patek. Either way, both brands should be advertising to their competitor's audience, as there is such a high overlap between them.
5. The sports of the highest interest, among luxury watch brand consumers, are not surprisingly skiing, golf, tennis, and horseback riding - these sports are more expensive to participate in so they go hand in hand with audiences who buy luxury watches.
It's important for luxury brands to know which sports though, they should invest the most money in, and which sports sponsorships don't make sense for their audience at all.
Formula One for example is a profitable sponsorship opportunity for all watch brands except Cartier.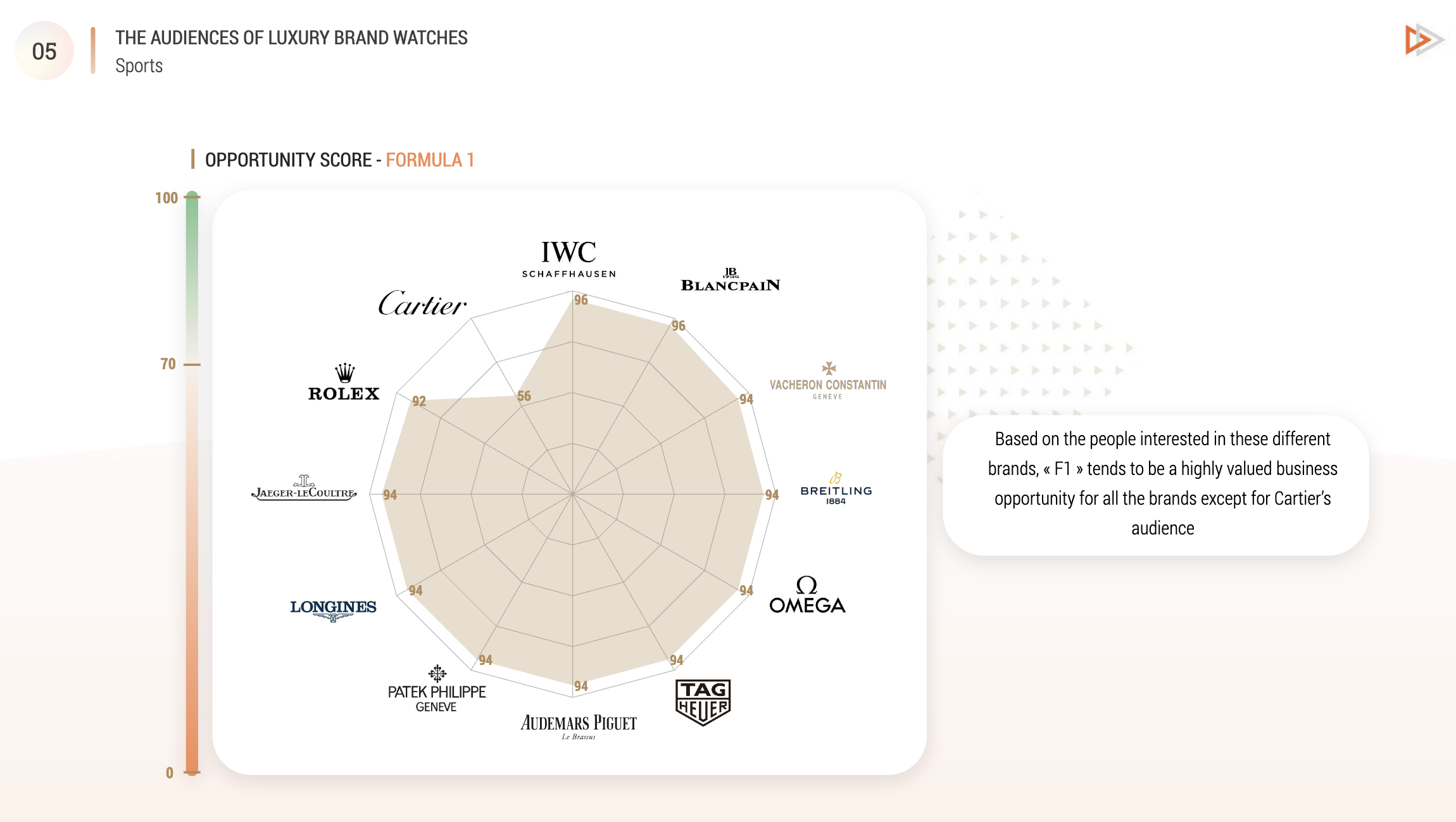 6. Professional athletes in golf, tennis, F1, and DJs have the most influence over this luxury watch audience, way more so than actors and actresses.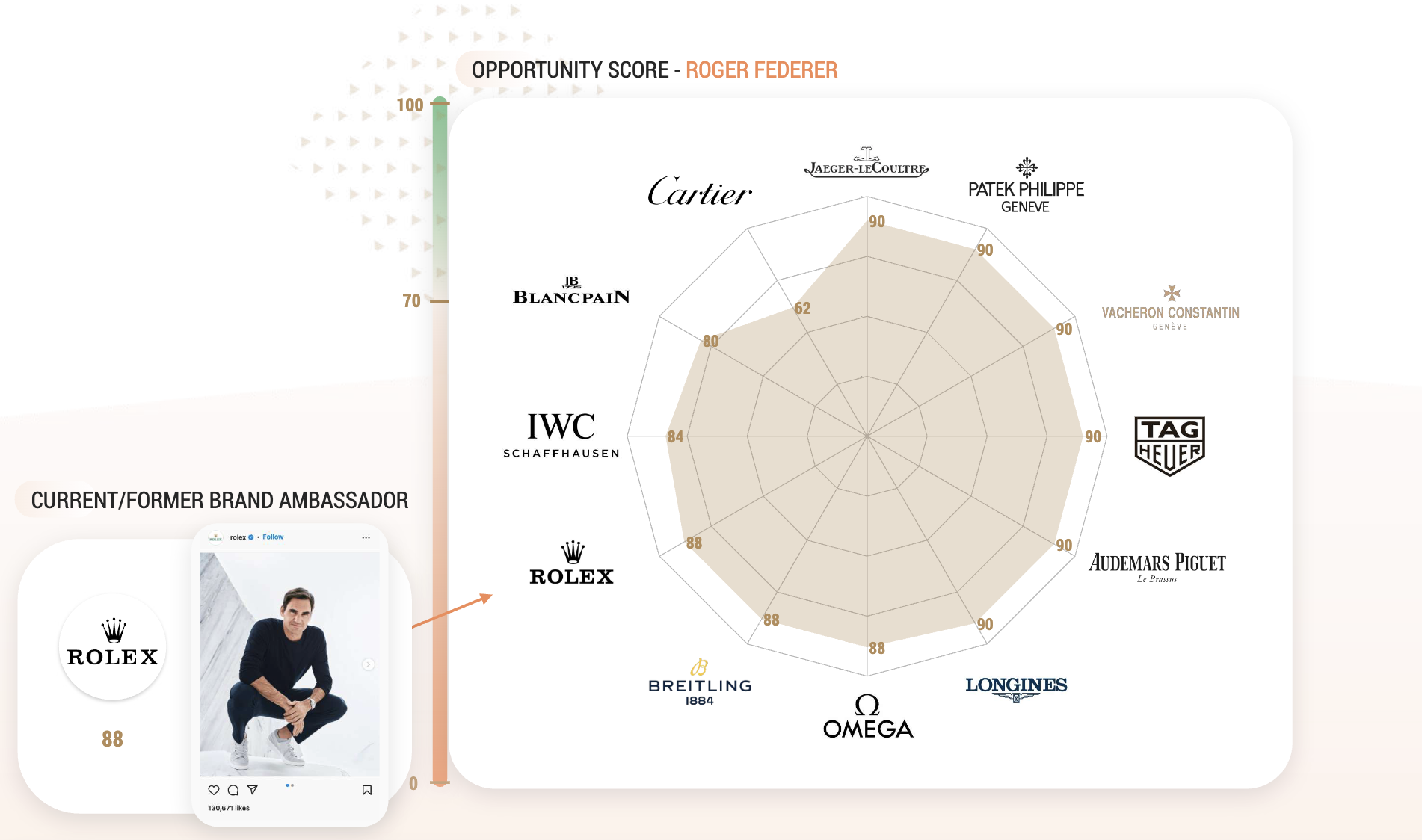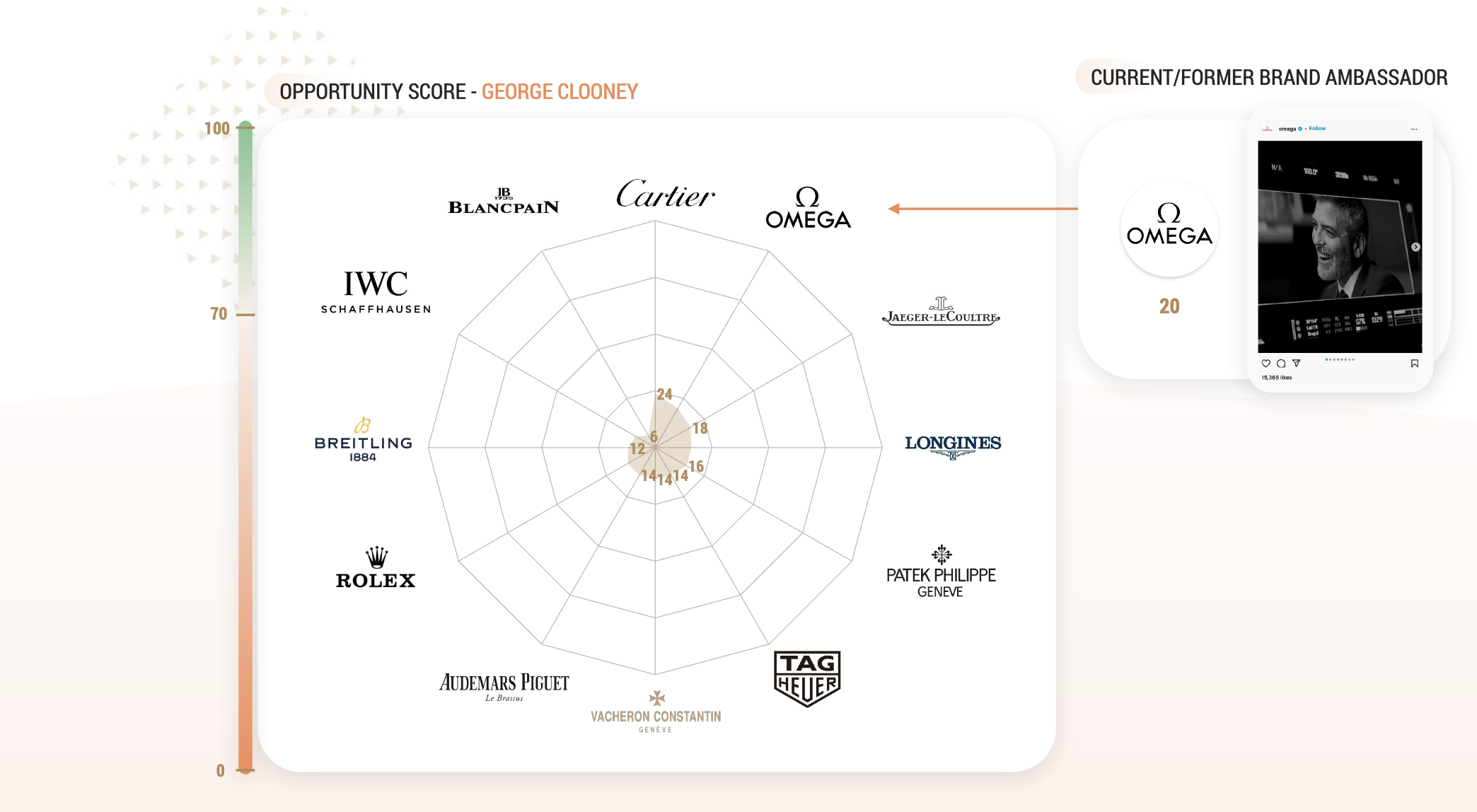 This isn't the case for every luxury goods category, like luxury fashion brands that regularly choose actresses and actors as brand ambassadors over athletes. In both cases though, brands should be using digital intelligence platforms like SOPRISM to take a data-backed approach to finding the best fit influencers for their brand.
View the full breadth of Luxury Watch insights here.