Javier Burón - CEO & Co-Founder
Tomorrowland: Conquering the EDM world through influencer marketing
According to Festival Insights, the music festival industry was valued at more than 2.3 billion euros and is expected to double by 20201. There is a growing trend of music tourism whereby festival goers choose to travel abroad to attend such events also contributing to the annual turnover.
Forbes identified that the electronic dance music market, has grown by 54% between 2013 to 20162 highlighting the clear value this genre has brought to the music industry in recent years. The 2016 International Music Summit Report also drew similar conclusions, recognizing that EDM was the only music genre to show significant growth in terms of Internet searches since 20093. In the US alone EDM related events have experienced significant annual growth falling in line with the findings detailed above. As popularity for EDM events grow so do ticket prices. Surprisingly, even though ticket prices for Tomorrowland have increased by 12% since 2012 the event managed to sell out in 40 minutes flat!
With a rise in popularity the curiosity of understanding who the people behind these statistics are also grows. We thought it was only to right to give you some answers and so we went ahead and analyzed the global audience* of the most recent Tomorrowland event in effort to uncover consumer insights actionable by industry professionals.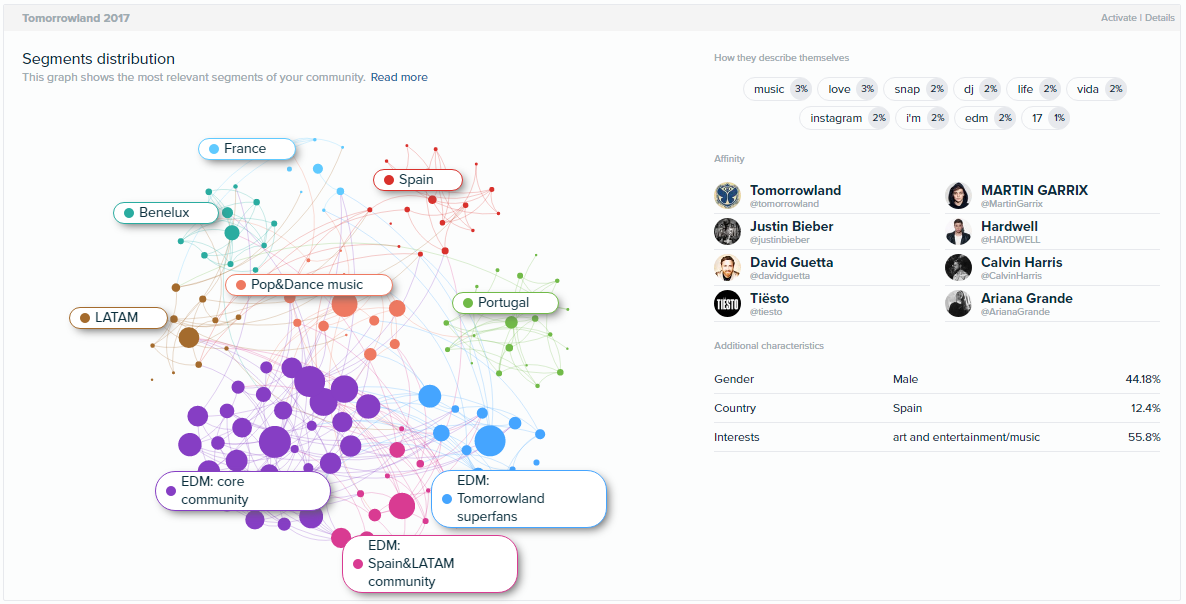 Upon first glance we were able to point out that 5 of the 8 users with the highest affinity to this audience are famous EDM DJs. Interestingly, 12% of the total audience is from Spain. This corroborates the findings of IMS in 2016: where by it identified 33% of the Spanish population had attended at least one music festival in the last 3 years3.
The segments defined within the 2017 Tomorrowland audience feature a large group of EDM enthusiasts, formed of three sub-segments: Tomorrowland super-fans, the Spanish-speaking community and the EDM core community. A series of Geographically defined segments were also uncovered specifically France, Spain, Portugal, Benelux and Latam. The final segment was determined as fans of Pop & Dance music.
Below we are able to see the defined segments in greater detail including users with a greater affinity and uniqueness within each segment. In the segment of "EDM Tomorrowland superfans" 15% of that community is able to speak Japanese! Which is not completely strange as one of last years Tomorrowland's UNITE parties took place in Japan.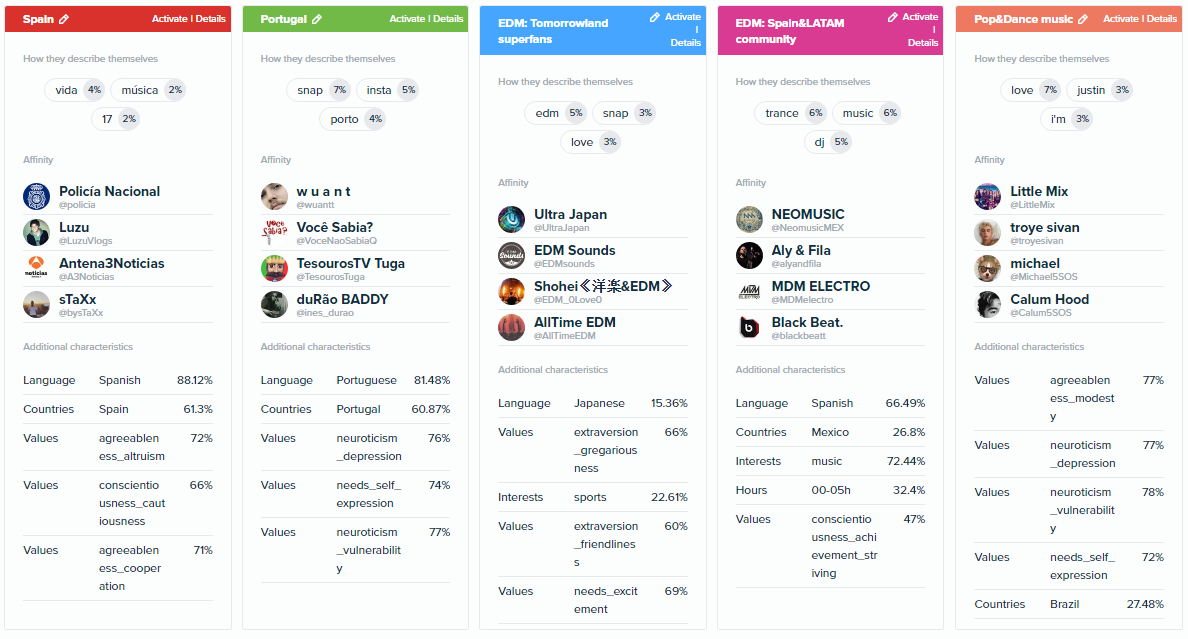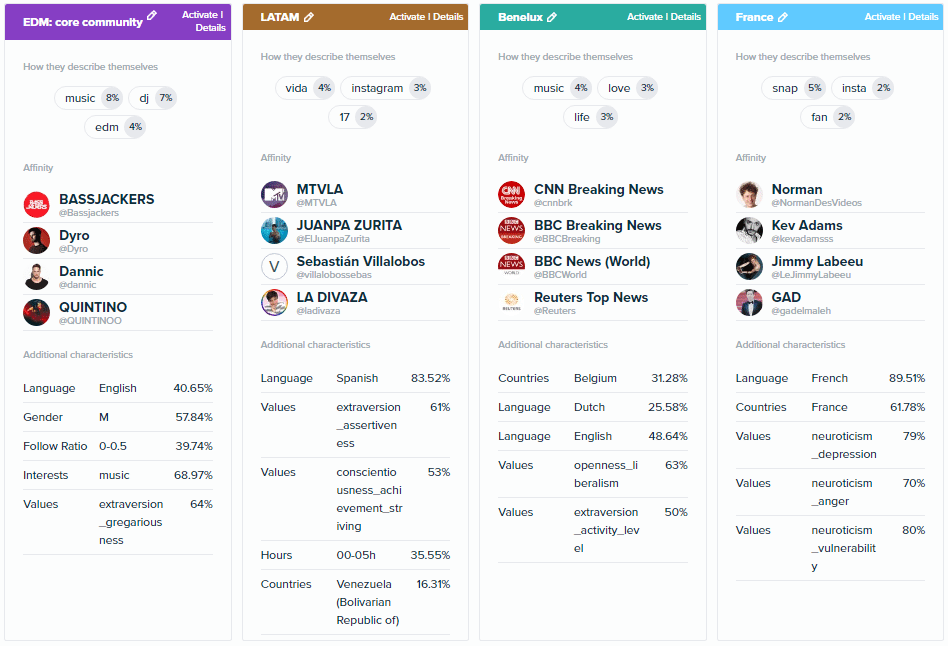 Having broken down the larger audience the next phase is to action those findings. Through the power of influencer marketing brand expansion is well within reach. Carefully curated influencers have the ability to help brands penetrate new communities and / or even increase brand awareness. However it essential to choose the RIGHT influencers for your brand. Here at Audiense we differentiate between three types of influencers taking into account brand needs, budget and a host of other factors.
In the event that Tomorrowland decided to look for a new UNITE party location based on the findings, Portugal would be a good option as we have seen, it has a clear affinity to the event. It's geographical positioning is ideal as it would also appeal to the Spanish demographic who also have a significant contribution to the global Tomorrowland conversation.
The forces behind Tomorrowland don't have to stop following the data there as we are also able to identify the relevant influencers (macro and micro) within the Portuguese demographic that could attract maximum exposure. Based on the data Tomorrowland could be looking at a huge success by collaborating with the macro-influencers listed below creating the ideal line-up for a perfect UNITE party.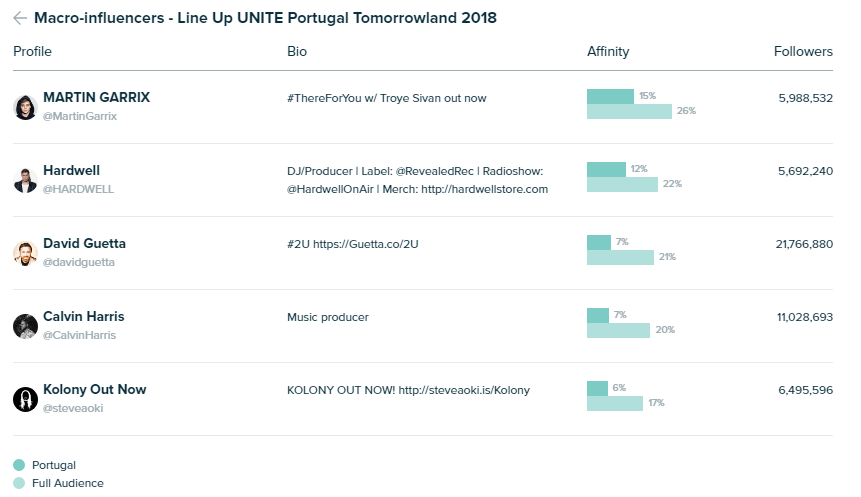 Having identified the ideal line up based on macro-influencers Tomorrowland's organisers can take their strategic decision making a step forward by identifying the most relevant micro-influencers to partner with in terms of effective event promotion. Our advice would be to prioritise these influencers based on their affinity as demonstrated below:

Handy Tip!
When considering how to select the right influencers brands must taken into consideration a range of factors based on data such as:
Affinity to the audience
Uniqueness to the audience
How their personality aligns
Their activity levels
The growth trend in their mentions
Their involvement in the conversation
Sense checking the fit
If you are interested in viewing the full Insights Report on the Tomorrowland 2017 audience, you can sign up to a free Audiense Insights account.
* The analyzed audience participated in the Twitter conversation about Tomorrowland (Monitored terms: Tomorrowland, @ Tomorrowland, # Tomorrowland. Monitoring period: from 07/20/2017 to 07/31/2017) resulting in a total of 534,480 users who generated a 770,720 total tweets.
References: