[Interview] Tweets with wings: How Red Bull's branded content flew them to 35,000,000 followers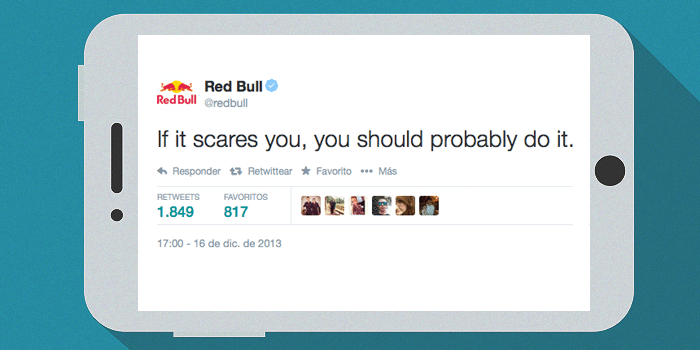 With 35,000,000 winged followers across 150+ profiles, Red Bull's Twitter presence is flying sky high. The growth of this global community has been driven by a brand built on white-knuckle, edge-of-the-seat shareable content that made international headlines. Their videos, events, and projects stretch way outside the realms of traditional advertising and push the boundaries of what's possible in the realm of brand marketing. The hub that is responsible for organizing much of their content output - and who we'll be speaking to today - is the Red Bull Media House, which first opened in Salzburg, Austria in 2007, with an office in the US opening the following year.
You might not be able to incorporate sky dives and rock festivals into your marketing, but there are other principles that you could apply. We've spoken exclusively to the team behind one of the most ambitious content marketing strategies on the planet to see where Twitter fits into their master plan and key lessons you can take away from their stellar strategy!



The brand is what makes them fly
Despite Red Bull selling 3.4 billion dollars of energy drink in the US alone last year, there's very little mention of drinks on Red Bull's pages. Instead, there's an aviary of content and on-brand inspirational messages. The sales figures combined with the, largely sales-free, social strategy highlight the importance of getting your brand's message across on social media. Gaining a deep understanding of your audience's wider interests will help you create content that builds a highly appealing brand and inevitably increases audience engagement.
"You can get a feel for how much drink selling we do simply by looking at the Red Bull Twitter account. The focus isn't on selling, it's first and foremost about engaging and inspiring audiences with information that's relevant to their lifestyles, from sports to music and culture." - Red Bull Media House


Red Bull content does not get approved if it does not fit, and enhance, the brand. If it's not giving their audience wings, they're giving it a miss. This ensures that everything they put out will be relevant to a significant section of their target audience. They select the content to create and share by ensuring it adheres to their key brand principles.
"Two typical keystones are inspiration and relevancy. Red Bull Media House and the partner companies it serves are dynamic organizations with a commitment to inspiring their audiences with content that is relevant to their lifestyles."
A whole flock of accounts to give content its own nest
"There are about 150+ Twitter accounts across Red Bull and Red Bull Media House's diverse initiatives. To best serve our projects and the real-time nature of Twitter, accounts have been created to accommodate and focus on different things: global initiatives, local events, areas of interest or events that Red Bull supports or owns, and so on."
By separating their social strategy into many accounts, they can actually Tweet more! This is because the hyper-specialist profiles can focus on the products and topics that matter to specific segments of their wider audience. Engaging with these niche areas of your audience might be harder to achieve with less relevant posts. By creating this relationship the audience will hopefully be more receptive when you have a wider campaign that you feel they would be interested in.
"Red Bull Media House always works toward ensuring that each account has a unique content plan and tone of voice, but when a project is meaningful to audiences across accounts, Red Bull Media House maximizes distribution and awareness by coordinating the sharing of information. For example, new feature film release from Red Bull Media House, "On Any Sunday – The Next Chapter" has been highlighted on Red Bull Media House-produced global accounts such as @rbmhfilms, @redbull, @RedBulletinUSA, @redbullmotors and others, not to mention local and partner platforms."
Cross team collaboration allows you to soar together
Strong integrated marketing strategies rely on everyone being on the same page. It's no good pushing yourself as an IN YO' FACE edgy brand on YouTube if your Twitter and Facebook pages have more of a relaxed country club vibe to them. Regular internal communication and a clear strategy that is understood by everyone on the team are the key principles of their fluid multi-platform presence.
"It wouldn't be effective to try to create an outstanding Twitter presence in a vacuum. We work very closely across multiple Red Bull Media House departments, from the communications team to the group that maintains the content portfolio. If we're creating a Twitter campaign for a partner company rather than for our own Red Bull Media House content, we of course work hand-in-hand with teams from that company as well. Sharing ideas and information is crucial."
Integrate your profile with wider campaigns
If you want the rest of your profile to glide with ease through the social sky, why keep certain prominent features of your profile permanently grounded? Things like your bio, pinned Tweet, and cover picture can be easily changed and do not always need to be static. For their recent documentary, Jamaica Better Know, the UK Red Bull profile changed its' bio and cover picture to focus on the premiere. This provides every visitor to the profile with insight into what your latest campaign is about.
Create content that has long legs, as well as wings
The biggest social media reaction the brand has seen so far was from their record-breaking Red Bull Stratos jump. The initial jump had over 8 million people watching the live stream on YouTube, but the Twitter feed kept flying long after Felix had landed. The key takeaway here is how they've continued to use this video content in ongoing campaigns to reinforce their brand message.
Not only did they continuously produce engaging content surrounding the campaign event, which providing fans insight into every aspect of the mission, as well as interviews with the many people involved, but they also used the campaign to integrate other areas within their company. For example, one of the Tweets from the Red Bull Stratos account was a music video of the jump featuring a remix of a Twin Atlantic track, who are a prominent artist on Red Bull Records. This allows them to show off a separate area of their brand and give exposure to the band, who are another revenue stream.


Pulling off campaigns the size of Red Bull's may be way out of the question for many of us at the moment, but they had to start somewhere. By looking at the various methods they used to succeed, you can begin to build a brand that becomes synonymous with the lifestyle of your target audience.
Want to learn more from leading industry professionals? Check out our social media interviews to hear exclusive insights from marketers at brands such as NASA, O2, FIFA, The United Nations, River Island, and more.