Josephine Durney - Product Marketer & Relationship Manager
What can I do with Audiense Connect, a.k.a. Twitter Marketing plan?
You've got a shiny new Audiense subscription to Twitter Marketing! Waheyyy! Or, you're thinking about it but want to learn a little more first. Either way, let me introduce you to what you can do with the Twitter Marketing plan, otherwise known as the Connect platform, in full access.
First, you still have access to the Insights dashboard, where you can continue to create your free reports (here's a whole guide on making use of those!). Connect is a fantastic tool in itself, and pairs amazingly with full access Audiense Insights.
If you're looking for the swiss army knife of tools, great for pre-campaign, campaign activation, and post-campaign, this is it. Connect is the #1 Twitter Marketing Platform with rich audience insights that provides you with:
Best Twitter Tailored Audiences product in the industry

Static audiences based on profile & behavioural data
Top Engager-type audiences
Dynamic based on signals and behaviours
Rule Builder: notify you/add to list when an action happens

Search All Twitter: the window to the full Twitter user base, that you can filter & dice to identify and organize the best people to engage with
DM Broadcast Chatbot
Email Matching to Social Profiles: Upload a list (e.g. newsletter opt-ins) and turn into social profiles to interact with
Reports, including Intersection report (shows unique Audience and % overlap with users/competitors)
Monitor Hashtags/Keywords: with full data access (since 2006)
You have the toolset, but who's your team, and how does this work in action?
Community Managers: Engage with a clean dashboard of users, based on likes, retweets and mentions of your account
PR & Comms: find journalists and VIP followers in your audience or your competition
Social Ads: you don't all have the Coca Cola budget, but you can still impact those difficult, niche, valuable audiences you dream about
Chatbots: deliver your content straight to DMs, not everyone will see every tweet
All set? Let's jump in.
Creating tailored audiences (the best product in the industry)
If you've already used Twitter Ads (without Audiense), you'll know that their input criteria is still a bit vague, generic, and likely to be spending your budget on audiences which weren't your target in the first place. Then, Audiense comes in! With our tailored audiences you can refine your criteria as niche as you like, selecting the most relevant users, and even determine the audience size before activation (and can budget more accordingly!).
There are three types of tailored audiences: Static, Dynamic, and Periodic. Here's the user-guide article with step-by-steps, but let me tell you what makes this so powerful.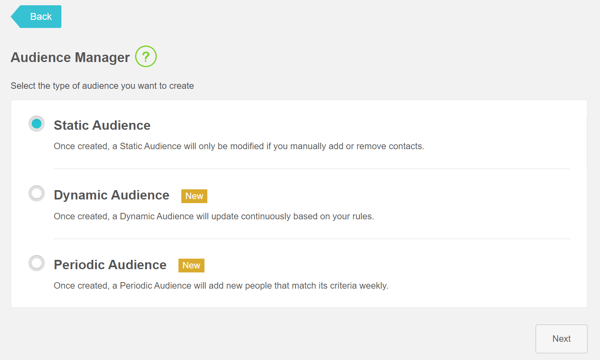 Static audiences based on profile & behavioural data
Let's say you're running a campaign to promote your new video-game launch. It's specific to Playstation users, for example, and perhaps you want to get this in front of game reviewers and game-streaming viewers, on-top of that, your ad copy includes a discount code to help track the customer journey from this channel. You get it, you have a task!
So you create a static audience in Connect, along the lines of: including followers of @playstation and it's associated accounts, followers of the game development company, followers of video-game reviewers relevant to your target audience, users with 'youtube', 'youtuber', 'streaming' or 'streamer' or the name of streaming platforms in their bio, interest: games, using combinations of AND / OR in your recipe. Essentially, you're building this audience to become as niche and defined as you'd like it to be, and then once generated you'll have a collection of these precisely matched individuals. You could then activate this audience via 'Connect with Twitter Ads' and promote to them directly. You could do this process until you have a few well-defined groups, if that is your strategy.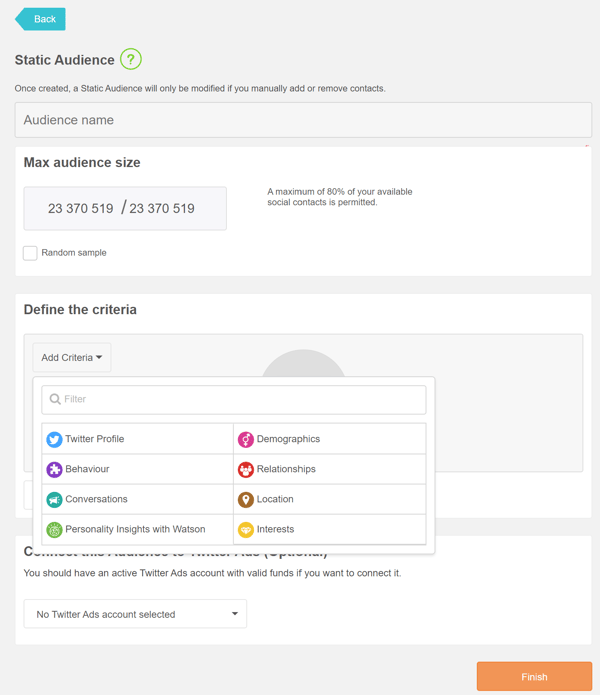 There is a lot of criteria to explore, including personality traits, top engagers of your accounts, active/recent tweeters and much more.
Once you've created the audience, it will appear in your dashboard, under Twitter Audiences, from there you can view all the members as individuals (and I'll come back to this in a bit more detail), or connect them with your Twitter ads account.
Dynamic audiences based on signals/behaviours, and to target buying mindsets
A dynamic audience is one that continuously populates based on triggers related to an authenticated or 3rd party account in your dashboard. This is a great way to find users that are actively engaging. You can combine this with the other criteria (as seen in static audiences) too. For example, 'mentions this account' AND has over 1000 followers, and just like that, you're building an audience of engaged nano-influencers sharing your name with their following base.
Another example is 'likes a tweet from this account' AND follows this account: (3rd party source), competitor account. This way, you could see prospective customers positively engaging with your content, but also have an affinity with a competitor. So, you might want to sway to more competitive ads that outline differences or star features of your service to target this audience. This doesn't require machine learning, or sentiment analysis, it's straight-forward positive engagement!
The action you take next is up to you. You could engage directly with this audience, and reach out to them via DM, or engage in their conversations (particularly if they're mentioning you already!). You could decide to connect this audience to Twitter ads and promote a campaign to them, such as new products to an existing loyal customer base, knowing that they fit an active/engaging criteria already. Or take it further...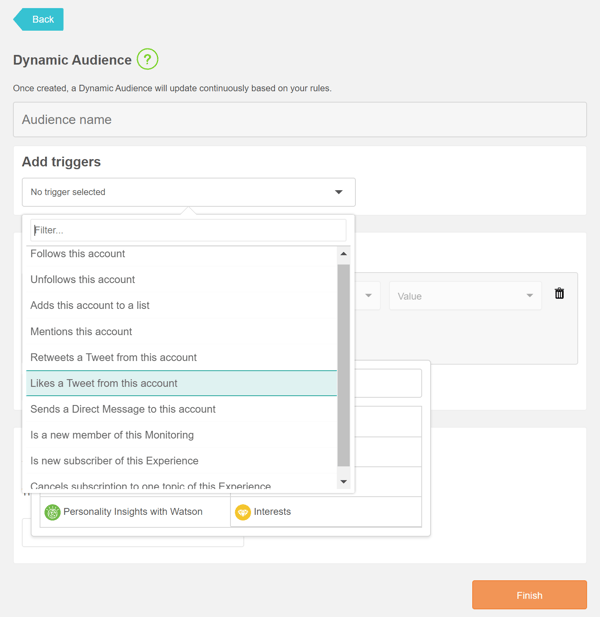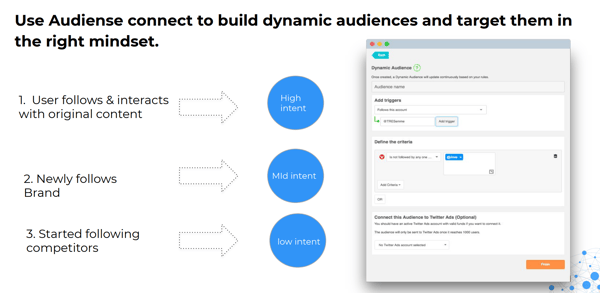 Rule Builder: notify you/add to list when an action happens
In the Engagement menu of Connect, you will find the 'rule builder' and this works in a similar way to a dynamic or periodic audience, but with a slight difference.
As you choose the action, then criteria (all the standard input as mentioned in the next section), you can then choose for the matching profiles to be added to a list (so will constantly update), add a tag to their profile (make them easily searchable in the dashboard), or notify you via email (just a reminder for when you haven't been in the platform to check!). It's a handy function, particularly for creating groups or particular types of users that you want to take some extra care with, or save to use for later.

Search All Twitter: identify and organize the best people to engage
Ad platforms can be a great way to reach audiences, but in some cases, you want to create an individually picked list, or you want to follow trending content creators to engage in their conversations. Whatever the reason, if you're looking to identify and organize within Twitter, Connect has your back. These aren't sample audiences, these are everyone that matches your criteria, so prepare to drill down!
In your Connect dashboard, you can browse: the entire user base with 'Discover Twitter Users' or a Twitter audience (your own community, 3rd party community, any tailored audience you've built or imported).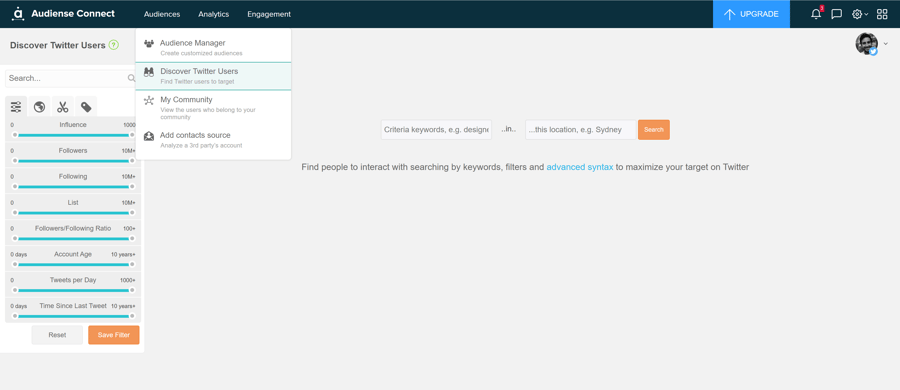 In this example, I wanted to browse our own @AudienseCo following and search for user bios containing 'journalist' which brought back over 700 profiles. Then I can use the filters to create smaller groups and select whichever ones I want and then add to them to a new audience in the Connect dashboard, or even a previous existing audience I have made, export them, or any other action available, including follow/unfollow. E.g. bio includes 'journalist' and location is UK, add to audience, and then change the location to USA and add to audience.
A different approach might simply be to identify a valuable audience, such as most influential followers to network more closely with them, these might even be people you want to consider collaborating with to produce content.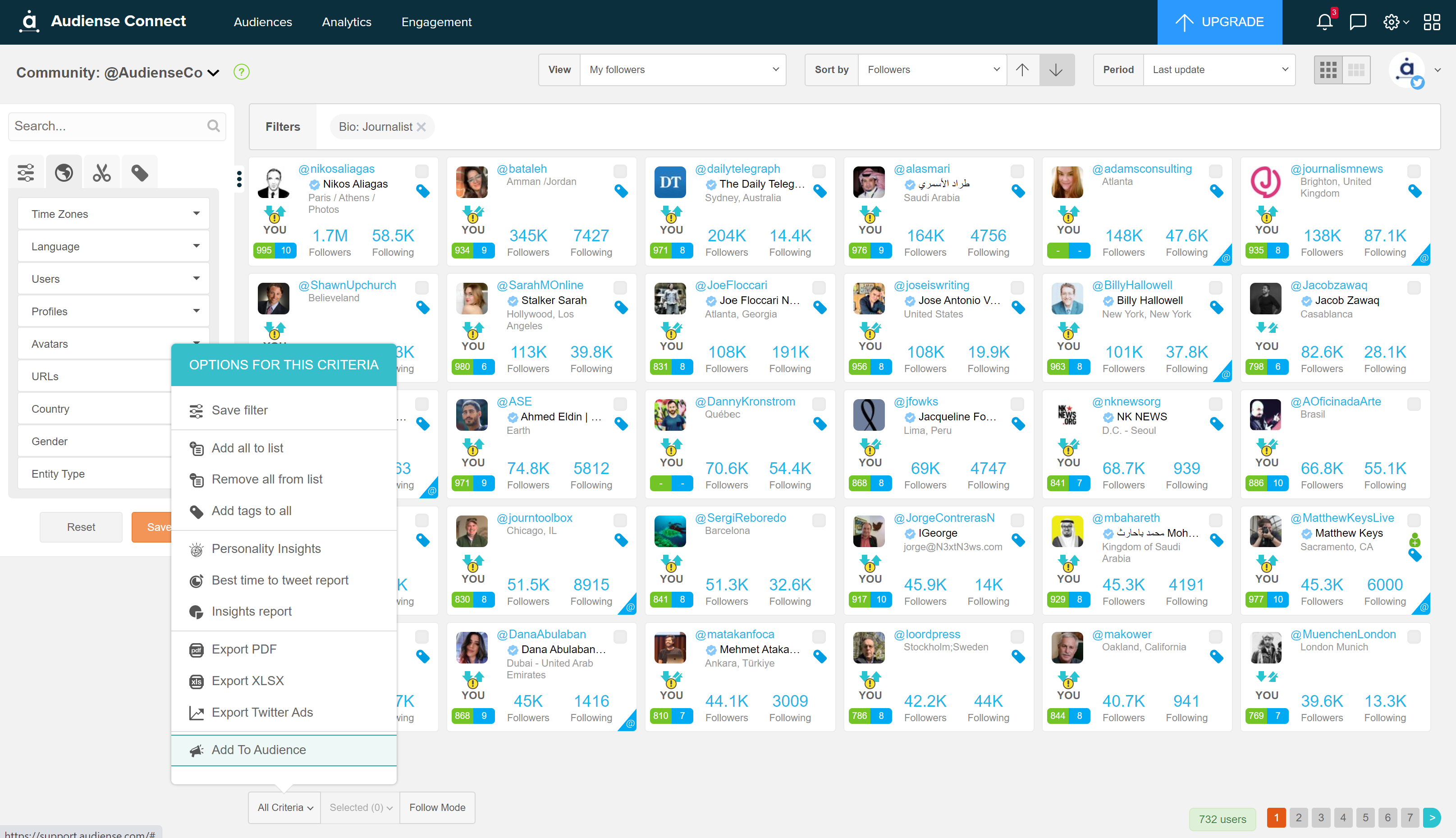 If I want to dig a little further, I'll switch to the detailed view, and take a closer look at the complete content of their bio, before deciding my next action. In some industries, such as pharmaceutical, gambling, or alcohol, it's important that your message is going to the right people, so if you need a high level of human curation to ensure nothing slips through the net, we have it at your fingertips.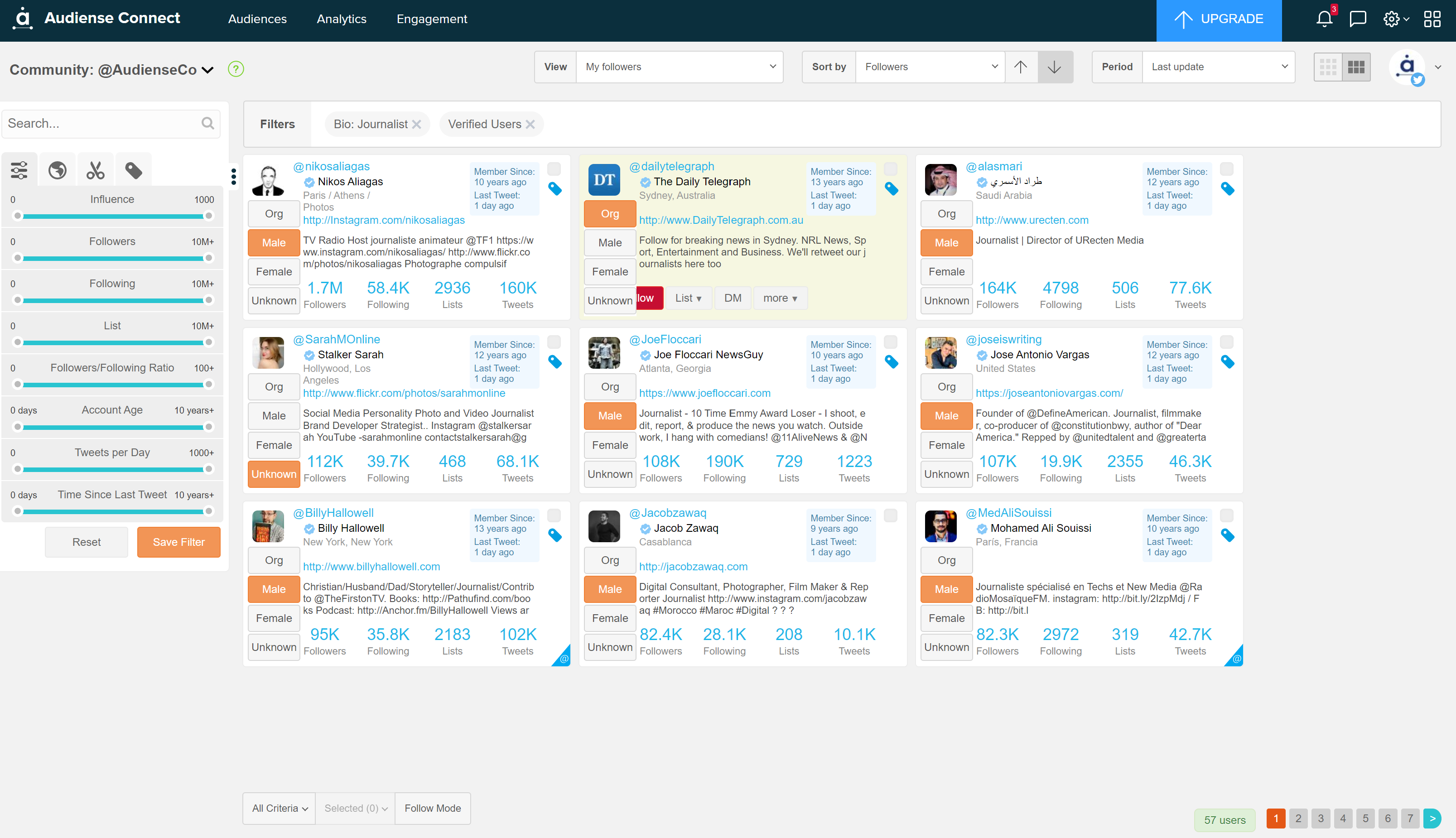 3rd party sources
I've already mentioned them before this point, so you know they're worth using! 3rd party sources allow you to have an easy view of particular accounts' audiences, and you even can build dynamic audiences based on triggers relating to their account!
This is great for poaching audiences from similar or competitor accounts, for getting more out of partnerships, for diving into influencers' audiences and scouring their network (top engagers/mentions their account). If you need help setting this up, here's the guide!
In the Connect dashboard, click into the top half of the icon for the 3rd party account, and you'll find a dashboard with some insights such as their follower graph. You'll also find a word cloud of top bio keywords their followers have, which can inspire you to build an audience with similar or matching bios, and start building a type of look-a-like audience. Click on the follower count, the bottom half, and it will take you directly to the community board view.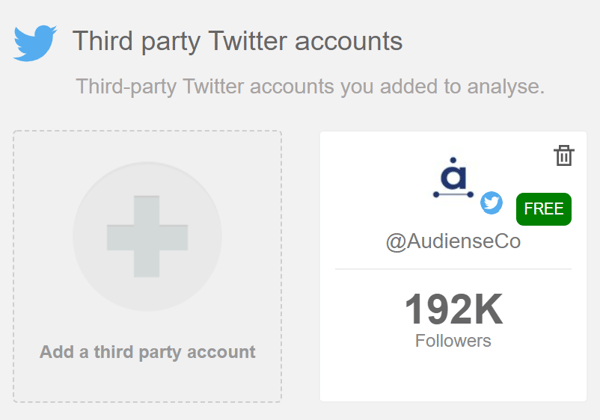 DM Broadcast Chatbot
You have one of these ready to use in your account! Find it in the Engagement tab.
The social feed can be incredibly busy, and your usual posting might not get the visibility or attention you hoped. We've all heard of the 'algorithm' but do you know the percentage of your followers that actually see your posts?
A DM broadcast chatbot allows your followers to opt-in to receive updates directly to their inbox. Using your chatbot, you can choose which topics or posts will be fed through to inboxes and voila! Your content is directed straight to your audience.
Here's our user guide for more info.

Email Matching to Social Profiles
This is a quick point, but worth a mention.
If you have an email list, for example, this could be newsletter opt-ins or attendees of a webinar or event, you can upload them into Audiense and via a third party partner we can find their matching social profiles so that you're able to reach out to them, follow them, add them to an ads audience, or perform your next action.
If you want the details of how it works, here they are.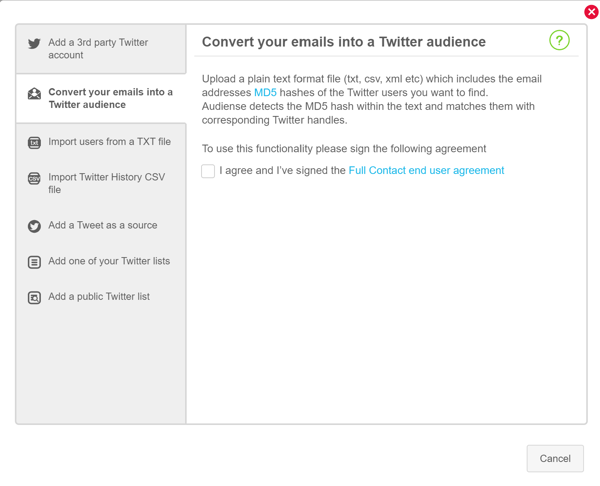 Reporting/Analytics
Ask yourself, how much do you use the analytics tab in Connect? Two of my favourite tools here are Monitoring, and Reports.
Reports
The reports available are different to what you would find in the Insights dashboard. About half of them operate based on authenticated Twitter accounts in your dashboard, the other half can be on any account. Reports include: Profile Performance; Follower Intelligence; Following Intelligence; Content Optimisation; Audience Intersection; Affinity; Comparison of Activity; and Comparison Table.
For example, the intersection report can be used to intersect any accounts' followers/following, any source (including audiences you've built), and any audience behind a monitoring report. An intersection report shows you the percentage of unique audience members to each account, and their overlap. This is a great tool for getting an idea of how you compare to competitors, or even how much of a potential audience could be exposed to you through a partnership or collaboration.
When you've selected a report from the dropdown, click on the thumbnail image to get a further explanation of what each report can do. Don't forget to check out the user-guide section for Analytics, if you need any extra help on setting it up!

Monitoring
Another area to explore, Monitoring, opens up an amazing starter level of social listening. With Audiense, you have the full stream of data and content since 2006 at your fingertips.
I prefer using the advanced manager to help me select the criteria I want to input, it could be something as simple as hashtags or keywords that people are using, or I could narrow it down to content in reply to a particular tweet, I might want to select content based on geolocation too, and then some profile information such as what their bio contains, and then the data range I want content taken from.
I can then view the report with a whole host of valuable information from other popular hashtags and keywords, to most tweeted tweets and links, most mentioned accounts, and of course the tweets and users themselves. If you want to, you can 'add to an audience' to have the users to view and use in ways mentioned earlier in this article!
Monitoring is great for checking in on your own engagement and campaigns, but similarly to much of Audiense, you can use this to explore anything or anyone else on Twitter, such as an inspiring campaign you would like to replicate, or a conversation topic you want to follow and engage with online.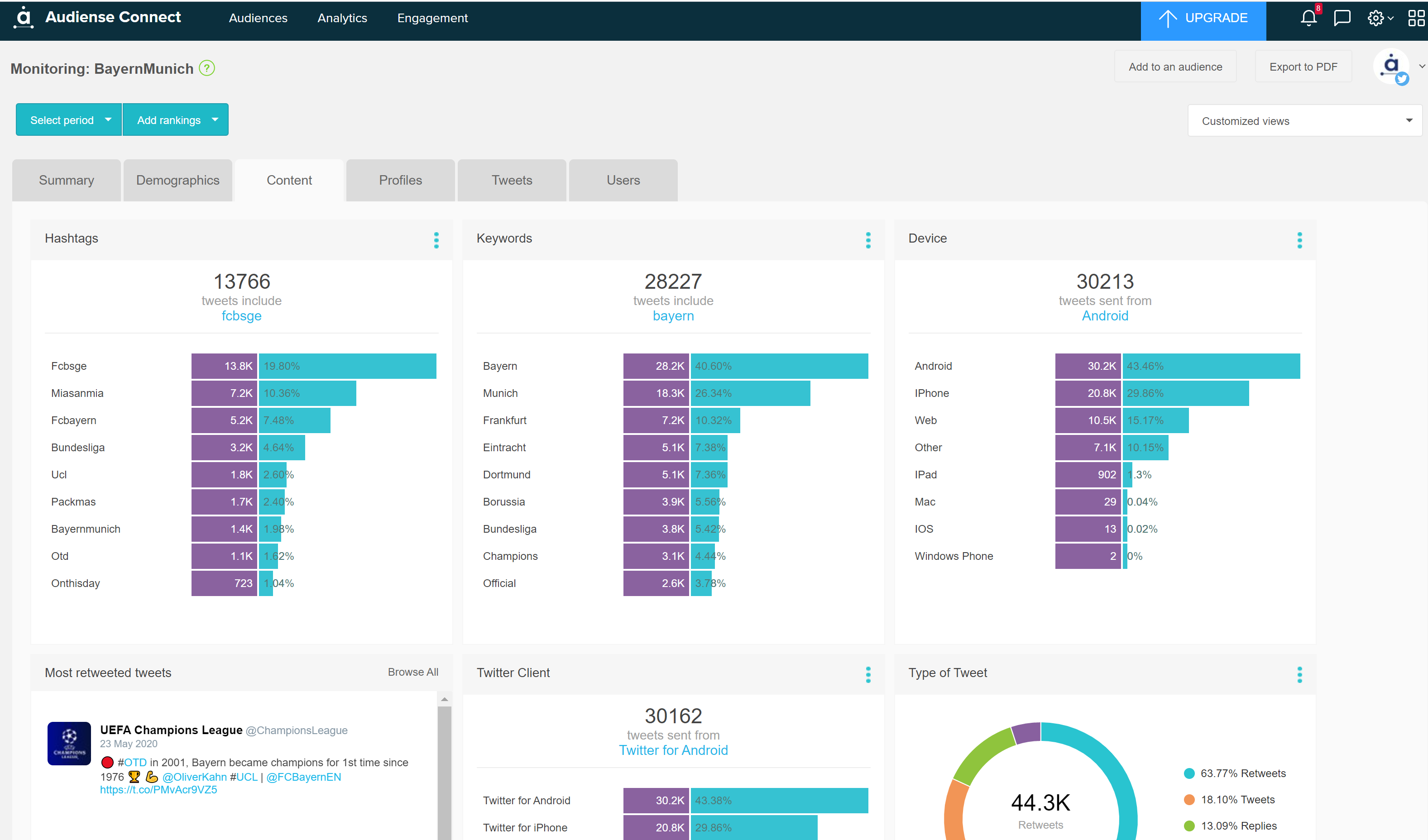 Continue to explore the other tools within the Analytics menu, as this will provide you with lots of custom insights to help you grow your following and maximise engagement, all based on your own Twitter account and activity.
We've covered a lot of ground today! If you're new to Twitter Marketing, I'm sure you'll have learnt a lot and are ready to try much of this for yourself! If you're a bit more accustomed to the platform, perhaps you'll have found some inspiration to combine a few of the tools and take your work to the next level.