Leticia Polese - Content Marketing Manager
What is a brand ambassador and what do they do?
We live in the brand era. With the number of businesses growing by the day, consumers are increasingly turning to company values as the key differentiator for making purchase decisions. In turn, these businesses need to use digital marketing strategies and the profiles of influencers and brand ambassadors to stand apart.
According to a consumer research study by IBM, nearly 45% of consumers report making purchase decisions based on alignment between a brand's purpose and their own. That number is growing, particularly among millennials and Gen Z who now have the moniker of the purpose-driven consumer.
This means companies across retail, finance, electronics, and countless other industries must lean more heavily on their branding to drive sales. In particular, they'll need to establish a clear connection between their company identities and the values shared with their distinct audience segments.
Supplementing traditional branding efforts by leveraging the profile of a well-known or influential person is an increasingly popular way for companies to make their brand, values, and purpose more accessible to consumers.
This is achieved through the actions of a brand ambassador. In this post, we'll take a deep dive into all things brand ambassador, including some of the most relevant topics, like:
With this information in hand, you're one step closer to adopting the systems and tools you need to launch a successful brand ambassador program.
Let's get started.
What is a brand ambassador?
A brand ambassador is a person who leverages their own status to represent a company's products or services in a positive light. Brand ambassadors can elevate the reputation and appeal of companies in a variety of ways—from involvement in marketing campaigns to attendance at high-profile events to direct consumer interactions on the brand's behalf.
While in practice brand ambassadors function as a tangible representation of a company's identity, the ultimate goal of a brand ambassador is simple—to drive sales for the company.
Depending on the company in question, this might be accomplished through a number of mediating factors, including increases in the following:
Brand awareness
Product demand
Customer engagement
Brand credibility
Customer Loyalty and retention
Audience size
The best part is—there are no fixed qualifications for a brand ambassador. They could have the cache of an A-list celebrity or the niche following of a micro influencer. As long as there is alignment between the values of the brand ambassador, company, and target audience, then success is possible.
Now let's take a look at some of the common tasks accomplished by brand ambassadors.
What exactly does a brand ambassador do?
Establishing and solidifying a lasting relationship between two individuals is complex, and the process is no less difficult when it's between a company and their audience. Brand ambassadors help initiate, maintain, and even repair relationships between companies and their various consumer segments.
One of the key benefits of brand ambassadors is that they help extend a company's marketing capabilities beyond the standard content shared on social media, websites, email, search engines, ad networks, and publications. Ambassadors become an extension of your marketing department, one that can leverage their unique audience and voice to improve a company's brand and drive sales.
Here are some of the ways brand ambassadors can improve results for the companies they partner with:
Attend major events or shows as a representative of the brand to influence potential customers and partners.
Create unique blog, video, and social media posts showcasing themselves alongside the brand's products or services.
Offer product demonstrations or samples to new audiences.
Expand the brand's reach to a larger audience and increase awareness through influencer-style marketing campaigns.
Collaborate with other ambassadors and influencers to create cross-promotional content that impacts multiple consumer segments simultaneously.
Host in-person events or meet-ups to strengthen customer relationships and build community.
Provide their social followers with special promotions for product and service discounts.
Now that you have a better idea of the specific tasks brand ambassadors perform, let's take a look at three high-profile examples of successful brand ambassador campaigns.
3 examples of successful brand ambassador campaigns
1) Brad Pitt X De'Longhi
Brad Pitt's reputation as a stylish, sophisticated and quality-oriented individual makes him a great ambassador for high-end coffee maker brand DeLonghi.

His near-universal appeal as an A-list celebrity allows DeLonghi to piggyback on his image, and influence a much wider range of consumer segments. It helped kickstart the coffee brand's rapid expansion within the UK market to increase sales and capitalize on an industry boom.

Pitt's reputation as a socially conscious figure also aligns well with DeLonghi's commitment to manufacturing practices that are both ethical and sustainable. This is key because consumers are increasingly prioritizing brands that make an effort to reduce their environmental impact.
2) Serena Williams X Michelob Ultra
Low-calorie, low-carb beer brand Michelob Ultra has found the perfect ambassador for their health-conscious consumer segments in Serena Williams. In addition to her widespread popularity, the multi-time Grand Slam winner embodies a number of qualities and values beneficial to a brand offering a health-conscious beverage option:
The benefits of a healthy and active lifestyle
Drive to compete and succeed at the highest level
The importance of giving back to your community
Global icon with a diverse fan base
Her previous campaigns with Michelob have garnered success, and she brought even more positive publicity to the brand in a halftime ad for Super Bowl LVII.
Williams's reputation as a successful and accomplished athlete who is dedicated to fitness and wellness perfectly aligns with Michelob Ultra's brand values and target audience, making her an ideal brand ambassador for the beverage company.
3) Khaby Lame X Hugo Boss
Not every successful brand ambassador needs the luxury appeal of a Hollywood A-lister or the pedigree of a multi-time world champion athlete. Sometimes a brand simply strikes gold by latching onto rising stars from the most prominent social platforms.
TikTok star Khaby Lame provides the perfect example of this phenomenon.
Though Khaby is now one of the most prominent TikTokers out there, he is not a celebrity in the traditional sense. He is known for his viral TikTok series making fun of the "hacks" shared by others on the platform, with each video punctuated by his iconic shrug.
As his follower count skyrocketed, Khaby began to get sponsorship offers from multiple prominent brands, including luxury clothing brand Hugo Boss. The TikTok star was recently part of a massive, multi-ambassador fashion week campaign that netted Hugo Boss over 4 billion impressions over a 4-day span.
What's the difference between a brand ambassador and a marketing influencer?
Brand ambassadors share a number of characteristics with another popular role—the marketing influencer.
Both brand ambassadors and marketing influencers leverage their social capital reach, recognition, and the resonance of a business's brand, ultimately working to convert new customers. They can also both work in essentially any B2B and B2C industry. And both roles perform their services across a number of different digital marketing channels.
Another key similarity between brand ambassadors and marketing influencers is that a deep understanding of audience alignment is necessary for companies to successfully identify and pitch them.
However, there are some key differences between the two positions, particularly when it comes to contracts and the scope of services provided.
Brand ambassadors are typically chosen by the company or brand, and are usually paid for their work. They are usually recognizable figures like athletes, celebrities, public figures, or people with massive social profiles. Brand ambassadors operate like an employee of the company, or they at least have a formal contractual agreement with the company that outlines exactly which services they will perform, the length of the partnership, and how they will be paid.
On the other hand, a marketing influencer is typically an individual who has a sizable following on specific social channels or with specific industries. They are actively engaged with their audience, and they are able to influence the purchasing decisions of their followers. Marketing influencers are not always tied to a specific brand or company, and they often work with multiple brands at once. There are usually fewer contractual obligations for influencers, which allows them to perform on-off, short-term, or ongoing services for brands.
Additionally, brand ambassadors are almost always well-known figures with large audience followings. Influencers, on the other hand, run on a spectrum from celebrity-level fame to micro influencers with just a few thousand followers.
For more clarity on the differences between these two roles, let's take a look at the core functions of a marketing influencer.
The core functions of a marketing influencer
Marketing influencers, in general, provide a more targeted approach to improving brand conversions. These individuals typically have a large social media audience, thanks to their focus on a specific niche—whether its fashion, personal fitness, or esports. This segmented focus enables these influencers to drive the purchasing decisions of their followers by featuring specific products or brands in their content.
Here are a few of the core functions marketing influencers perform for the brands they partner with:
Increase the reach of partner brands by exposing them to a larger audience.
Lend partner brands more credibility by endorsing products as a trusted third party and niche expert.
Create unique, engaging content that promotes a product or brand and resonates with their followers.
Strengthen relationships and boost overall engagement with the brand's followers by responding to comments and direct messages.
Feature a brand's products or services as trendy and up-and-coming to pique audience interest.
Provide an additional layer of

insights and analytics

on the behavior of audience segments that overlap with the sponsoring brand.
Drive product and service sales by providing followers with access to exclusive promotions.
Provide feedback and suggestions on the products they promote to help brands identify areas for improvement.
Although they are most often associated with promotion of B2C and D2C brands, influencers can have a major impact for brands that sell to other businesses as well.
How to find a brand ambassador for your company
Now that you know more about how brand ambassadors operate, the improvements they can bring to your marketing operations, and the differences between them and marketing influencers, it's time to focus on finding the right ambassador to partner with your company.
How can you find brand ambassadors for your company?
With the number of potential brand ambassadors across pop culture, athletics, business, and social media, developing a strategy for finding your ideal brand ambassador can be overwhelming.
Ultimately, the most important focus for a company when looking for a brand ambassador is to ensure that the individual aligns with the company's target audience, values, and overall brand message.
Below are some of the methods companies can use to find potential brand ambassadors to partner with, including:
Social media
Platforms like Instagram, TikTok, and YouTube are great places for preliminary identification of potential brand ambassadors. Companies can quickly identify individuals with a sizable following, and then assess whether their messaging style, audience, and values align with those of the brand.
Influencer marketing platforms
Influencer marketing platforms like AspireIQ, Influencer.co, and Upfluence are other great resources for discovering potential brand ambassadors. These platforms allow companies to search for influencers based on specific criteria such as location, niche, and audience size.
Because influencers have experience leveraging their personal brand and audience for the benefit of another brand, they can transition more easily to the role of a full-time ambassador.
Talent agencies
Many influencers and celebrities work with talent agencies, which companies can contact to get in touch with potential brand ambassadors.
Trade shows and events
Trade shows, conferences, and other events are a great way to find potential brand ambassadors with both domain-specific experience and alignment with the company's audience and brand.
Publicity
Companies can also look for individuals with a prominent public image in the news, and approach them if their brand is in good standing and aligns with the company's.
Employee and brand referrals
Companies can also turn to their employees and ask them what prominent profiles they follow closely that align with the company's values, target audience, and brand.
They can also reach out to other brands and partners that already have sponsorships and ask for referrals if there is alignment between values.
Social listening and audience analysis
One of the best ways to find potential influencers is by tapping directly into the behavior and affinities of your brand's different consumer segments using social listening and audience analysis tools.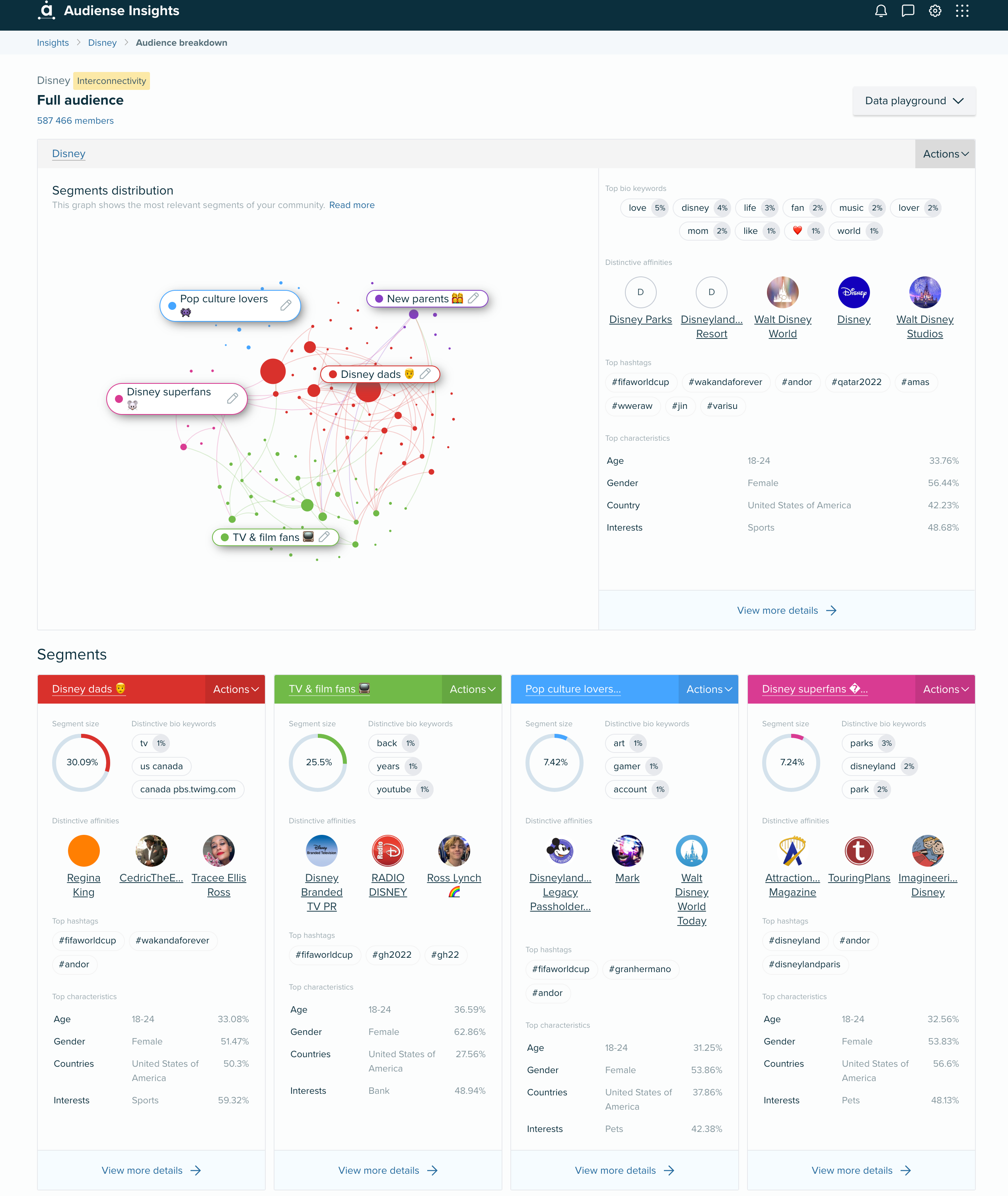 These allow you to aggregate social media behavior across platforms like Twitter, Facebook, and Instagram to identify the profiles that resonate across different niche user bases. With this information, you can develop a shortlist of potential brand ambassadors that have demonstrated an interest in both the individual and your brand.
Another key avenue for discovering and connecting with potential brand ambassadors is brand ambassador programs.
What is a brand ambassador program?
Brand ambassador programs are structured systems implemented by a company to engage prominent individuals and get them to leverage their personal brand to promote the products, services, or brand of the company.
These programs are designed to increase brand awareness, generate leads, and ultimately drive sales. They also make it easy to onboard new ambassadors and set them up for a successful partnership with the company.
Potential brand ambassadors are selected based on their alignment with the company's values, target audience, and overall brand message, and they are typically paid or compensated for their efforts in promoting the company's brand.
Here are some of the main functions performed by a structured brand ambassador program:
Outreach and recruitment of potential brand ambassadors
Training them on the products or services, and the company's values, mission, and vision
Providing them with resources and tools they need to successfully promote the brand
Tracking and measuring their brand ambassador performance
Providing incentives and rewards for their efforts
Brand ambassador programs can be used in various ways, from large, company-wide initiatives to targeted marketing campaigns for specific products and services. These programs fit in easily with the rest of your company's overall marketing strategy, and can scale as necessary.
What to look for in a brand ambassador
It can be tempting to swing for the fences and try to find a brand ambassador with the largest audience possible, but this isn't necessarily the best approach.
According to a 2022 report by Collabstr, brands are spending $174 per piece of sponsored user-generated content (UGC), and partnering with the highest-profile ambassadors and influencers can drive up the cost even further.
In light of this, brands need to take a more strategic, insights-based approach to selecting their sponsorship partners. Here are some of the questions you can ask to evaluate whether someone will make a good brand ambassador for your brand:
Does the individual's brand align with the values and mission of your company, and can they effectively communicate these values to others
Does the individual's audience match your ideal customer profile (ICP) in terms of demographics, interests, purchasing habits, and other important characteristics?
Will the individual be genuine and authentic in their representation of your brand, or are they promoting solely for financial gain?
Does the individual have a high level of engagement with their followers? How active are they across social media and other interactive marketing channels?
Is the individual relevant to the industry or market of the brand, and do they have knowledge of the product or service?
Does the individual have a large enough following, level of distinction in the industry, or the overall celebrity to influence the purchasing decisions of their followers?
Does the individual have the professionalism and good standing to represent the brand in a positive light?
Will the individual be responsive to communication and willing to work with the brand on campaigns, events, and promotions?
Is the individual able to demonstrate how they would represent the brand and what kind of content they would create?
Can the individual be flexible and adaptable to changes, as campaigns and strategies may evolve over time?
While there are many criteria you can use in the selection of a brand ambassador, the decision should ultimately come down to a few key questions:
Do their values align with those of the brand?
Can they reach and engage with the target audience?
How effectively can they promote the brand?
Social listening and consumer segmentation tools can help you answer these key questions, and any of the questions in this article, by revealing the affinities of your company's audience and how closely they overlap with those of your potential brand ambassador's audience.
Armed with this information, you can then focus on how you'll bring the ambassador onboard.
Bringing a brand ambassador onboard
Once you've identified your shortlist of preferred brand ambassadors, it's time to bring them onboard.
How to ask someone to be a brand ambassador
Asking someone to be a brand ambassador requires an approach that blends clarity, professionalism, and excitement.
Companies need to demonstrate why the collaboration between the two brands make sense, how it will elevate the brands of both parties, and why it's an exciting endeavor for everyone involved. The best way to do this is by applying analytical insights with a convincing and compelling proposal pitch.
Here are some steps you can follow:
Research the candidate

: Using your marketing tools and tactics, dive into the individual's background, interests, and online presence to ensure that they align with your brand's values and target audience.

Personalize an outreach message

: Carefully craft your outreach message to the ambassador in question, and make sure to personalize the message, using data to explain how their specific interests and values align with those of your brand.

Provide your brand guidelines

: Provide candidates with information about your brand, products, and services. Explain their role as ambassador and your expectations.

Outline the benefits of a partnership

: Provide details about the benefits of being a brand ambassador, from compensation to increased exposure to exclusive networking opportunities.

Provide next steps

: Include next steps for potential brand ambassadors to follow if they are interested in finalizing a partnership with your brand.

Show enthusiasm

: Show enthusiasm and passion for both your brand and the work of the potential ambassador. Express your excitement at the prospect of working together.
Although this is an exciting time for your company, It's crucial you remember that not every potential brand ambassador will be interested in a partnership—and that's okay!
Treat the outreach process the same as you would for sales initiatives, being respectful of their decision, and using their feedback to refine your process.
Who pays a brand ambassador?
The company or brand who the brand ambassador is representing is typically responsible for compensation and payment. The compensation for brand ambassadors can vary. It can be in cash, product, or a combination of both.
As for the compensation structure itself, there are a number of different options for how companies pay their brand ambassadors:
Commission

: Some companies pay brand ambassadors on a commission basis, meaning that they will receive a percentage of any sales generated as a result of their efforts.

Flat Rate

: Some companies pay their brand ambassadors a flat rate, either per post, per event, or per campaign.

Salary

: Brand ambassadors can be brought onboard and paid a salary as a full-time employee of the company.
In addition to these traditional payment methods, many brand ambassadors are also offered discounts on products or services and other perks, like free access to events, or product samples.
Because companies and brands will have different policies and agreements with their brand ambassadors, it's important to discuss and agree on the compensation during the development of the contact or binding agreement.
What is a brand ambassador contract or agreement?
Brand ambassador contracts are agreements between a company and an individual, outlining the terms and conditions of their strategic partnership. These legal documents typically include the following details:
Duration: Specifies how long the partnership between the company and brand ambassador lasts, from a few months to a multi-year deal.
Compensation: Specifies the compensation arrangement for the brand ambassador, from flat fee to commission-based to hybrid payment models.
Duties and Responsibilities: Specifies the duties and responsibilities of the brand ambassador role, such as attending events, creating content, and creating promotional posts on social media.
Exclusivity agreement: Specifies whether the brand ambassador can or can't promote other brands during the agreement period.
Termination: Specifies the conditions under which the partnership can be terminated, such as breach of contract or non-performance.
Non-disclosure: Prohibits the brand ambassador from sharing confidential information about the brand.
Intellectual property: Specifies who owns the rights to any content created by the brand ambassador, such as images, videos, and written materials.
It's important to note that the terms and conditions of a brand ambassador contract can vary depending on the company or brand, and the specific agreement reached between the parties. It's always recommended to consult with a lawyer to help you review and understand the terms of the contract before signing it.
How Audiense can help with your brand ambassador strategy
Now that you know what a brand ambassador is, how they can improve your company image and drive sales, and the process for finding and bringing them onboard, you're ready to take the critical first step:
Evaluating your own audience to determine a list of potential candidates.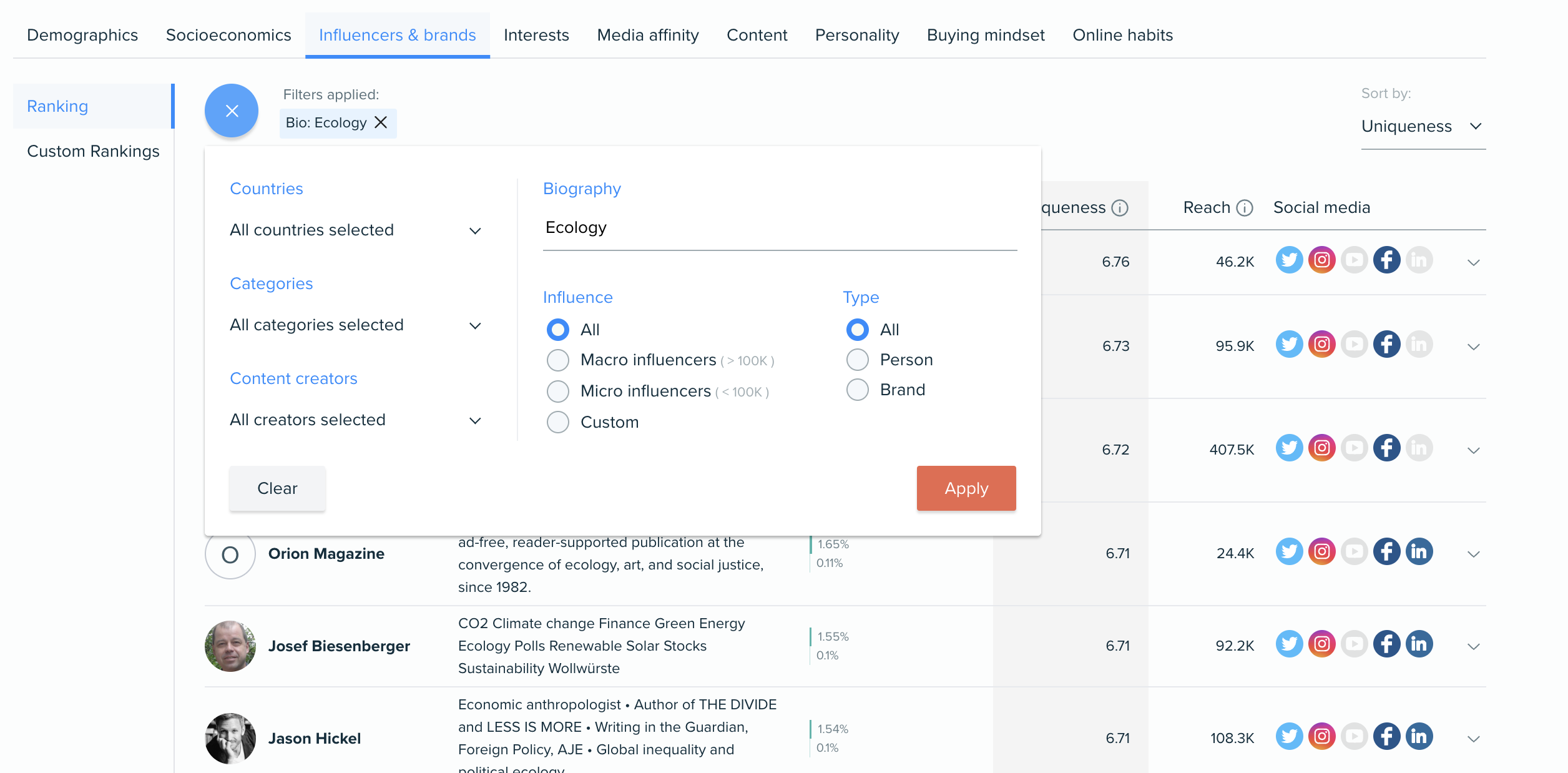 To make your research process more efficient and effective, you need a social listening and audience analysis tool—one that tells you which prominent figure(s) resonate across all your consumer segments. Audiense Insights is the perfect tool for the job, giving you deep insights into the media affinities and behavioral data of your audience as they engage across Twitter, Facebook, and Instagram.
Start using Audiense today and build your next brand ambassador campaign on a solid foundation of consumer insights.