Leticia Polese - Content Marketing Manager
Which brands did it best this Christmas? A selection of our favourite social media campaigns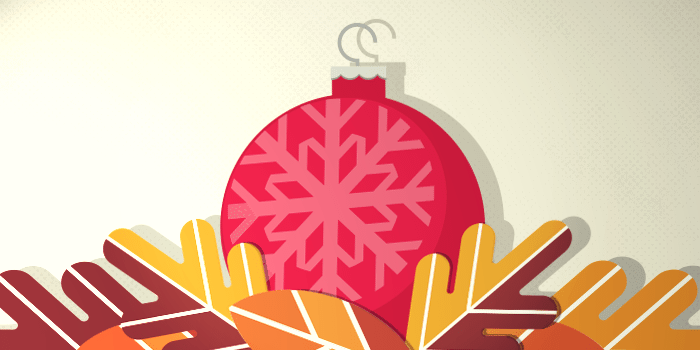 Christmas is the most important time of the year for retailers and the pressure's on to grab a share of the £72.7 billion that will be spent in the UK between mid November and the end of December (forecasted data from CRC). Competition for the best Christmas advertising is fierce but those brands which incorporate social media into their campaigns are likely to have the advantage over those who choose to restrict their advertising to more traditional channels.
Social media brings people together, something which is especially important at this time of the year with people loving to share their Christmas experiences with others. Hashtags are a great way to encourage user involvement and interaction with your brand as well as massively increasing your reach and spreading your message. The more people who see your tweets and start building up a relationship with your brand, the more people you have considering you when they start their Christmas shopping. Hashtags also bring the benefit of keeping people talking about your brand once the TV advert is off viewers' screens enabling you to stay in the spotlight in the run up to Christmas.
Here we have listed a few of our favourite Christmas advertising campaigns from companies which have used social media effectively.
Nokia
Nokia has been promoting the use of its hashtag #HolidayRealness encouraging users to tweet how they celebrate Christmas in their own ways.
The following video is part of a mini series Nokia has created showing real people celebrating the Christmas period in their own styles and finishes with "share your #HolidayRealness":
Users have been tweeting memories and photos to share how they like to spend the holidays with their communities and Nokia has also created customisable Christmas cards on its site for users to share on Twitter and Facebook. These creative uses of social media have of course increased their engagement and reach.
Okay fans, we want to hear your #HolidayRealness stories! Share what makes the holidays real to you, and we might make it happen. :) Go go!
— Nokia USA (@NokiaUS) December 11, 2013
Harvey Nichols
Harvey Nichols has taken a different approach to advertising this Christmas by creating a viral video showing people buying their families presents from the retailer's "Sorry I spent it on myself gift collection" featuring everything from toothpicks to paper clips leaving them with more money to spend on extravagant presents for themselves. The advert finishes with "a little something for them; a bigger something for you".
Taking a humorous approach to advertising has definitely worked in Harvey Nichols' favour as the hashtag #Spentitonmyself was trending for two days after the advert was released in the UK.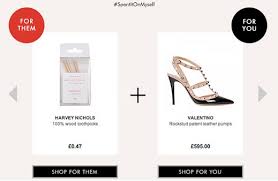 Coca Cola
Coca Cola has used social media in a different way to other brands this Christmas by creating a "Christmas sweater generator" where people can design their own Christmas jumper and enter into a competition to win the finished product. To enter the competition you have to post your jumper to Twitter or Facebook and encourage your community/ friends to vote for your sweater or to enter themselves by creating their own jumper.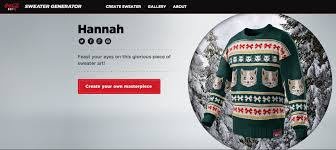 Red Letter Days
Red Letter Days possibly saw the best results in terms of quantity of mentions as their hashtag #12daysofjones was trending for a number of days. Twitter users were encouraged to visit the Red Letter Days Christmas tree, where they had the chance to win a different prize every day from the 1st of December. The star prize (Boutique Escape with Dinner for Two) was kept a secret and users were asked to tweet their favourite Christmas experience using the hashtag #RLDstar to reveal the prize.
Follow @RedLetterDaysUK for a chance to win this & tweet me you've followed using #12DaysofJones http://t.co/XBc9Ubamy8
— Peter Jones (@dragonjones) December 6, 2013
Argos
Argos is another brand that integrated a hashtag into its traditional Christmas marketing campaign. "#giftsforsanta" was used in a TV advert where the Argos aliens are deciding what would be the perfect gift for Santa and Twitter users were encouraged to tweet their own choices using the hashtag.
Argos also created an incentive for users to Tweet with their hashtag by offering the chance to win a trip to New York. This tactic increased mentions of the brand to almost 5000.
Tweet @ArgosAliens your #GiftForSanta suggestions now for your chance to win a trip to New York. Comp closes 21:10 http://t.co/rqFU8gTcY1
— Argos (@Argos_Online) November 16, 2013
Marks & Spencer
Marks & Spencer's television advert based on "Alice in Wonderland" and "The Wizard of Oz" definitely has to be one of our favourites. Featuring Rosie Huntington-Whiteley, David Gandy and Helena Bonham-Carter the advert makes viewers feel as though they are watching a short film rather than an advert.
To support the television ad, Marks & Spencer has also used social media to encourage user interaction with their brand and drive traffic to their website. Their #petswithsparkle competition encouraged Twitter users to send in festive photos of their pets and received ten thousand entries and their #adventguess competition sent users to their website by tweeting clues about one of their products which viewers had to guess to win.
Marks & Spencer has kept the tone fun and festive rather than tweeting promotions or information about their products and Twitter users are loving it.
Missed today's advent clue? Here it is again - guess with #AdventGuess by 5pm for your chance to win: "A bedset you'll really hold DEER".
— M&S (@marksandspencer) December 8, 2013
These are just a selection of our favourites that demonstrate the power of social media especially at this festive time of year as well as providing some inspiration for future marketing campaigns. If you're looking for inspiration for a Christmas campaign, then here are 8 easy and affordable social ideas for the holiday season.