Leanne Cochrane
Why #DiedSuddenly won't die out, part 2: The global faces of movie viewership
In part 1 of this series, Cyabra outlined the growing discussion around the "Died Suddenly" movie released in late 2022. This film focuses on sudden unexpected deaths and their purported connection to Covid-19 vaccinations. With the help of Cyabra to identify the inauthentic versus authentic profiles behind the conversation, Affinio has uncovered the segments comprising the movie's post-release discussion. As with any movie - documentary or not - the reviews and conversation will come in many shapes and sizes.
Affinio segmentation automates the audience insight process to bring deeper understanding to any conversation. The process is based solely on finding common following patterns among a defined or supplied audience so as to take an affinity-first approach to understanding them.
Now, let's explore what makes the #DiedSuddenly audiences tick.
Fake it till you make it
Among the 416 inauthentic profiles studied, 3 key clusters formed: Conservative Voices, Conspiracy Theories and Brazilian Politics.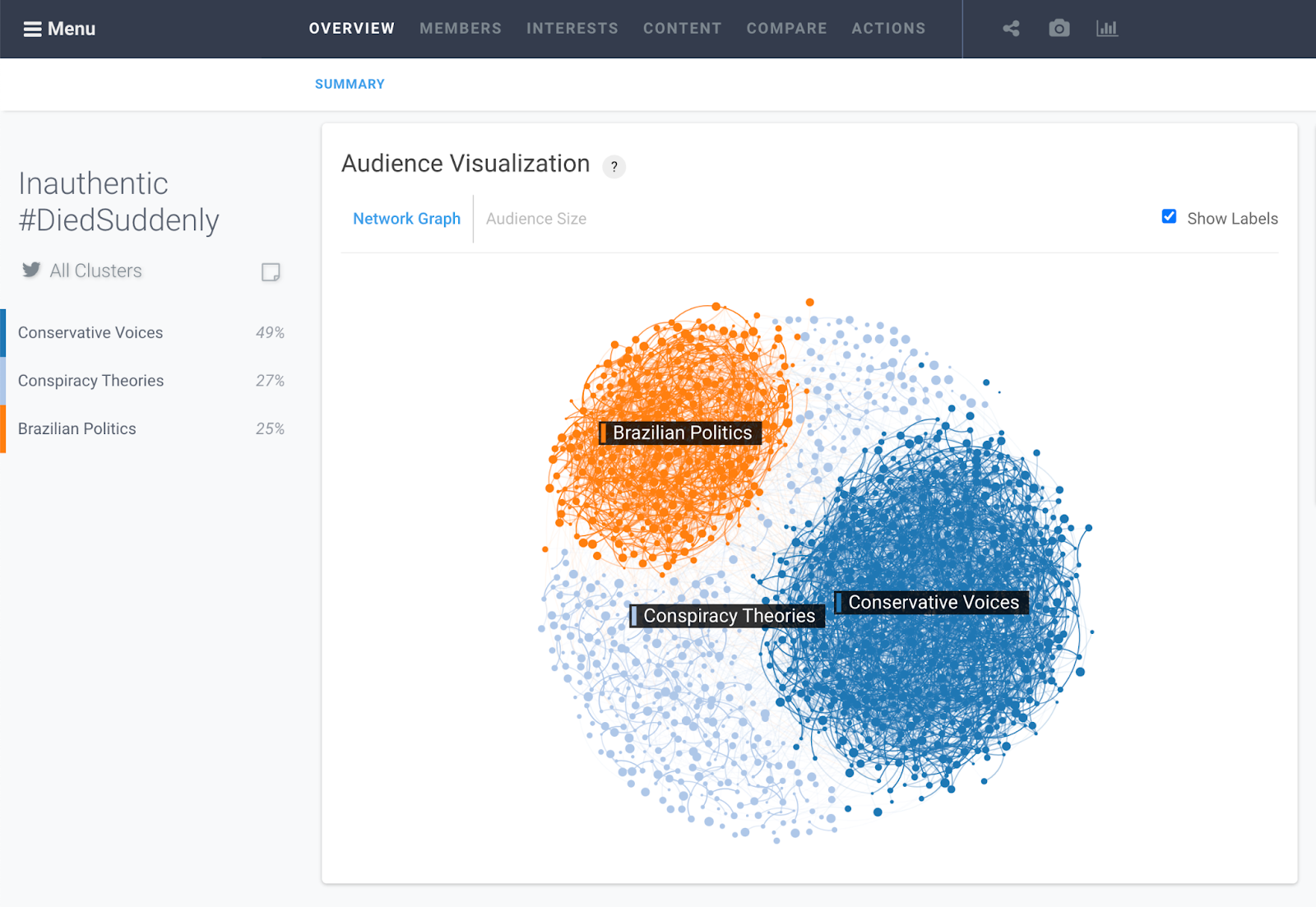 Although Conservative Voices exist across both the authentic and inauthentic audiences, they represent entirely half of this inauthentic group. These activists are advocating against child trafficking with a focus on the recent #balenciagagate scandal. Their lead influencer, Lauren Boebert, is a US politician known for having a strong online presence and advocating heavily for hard-right politics and universal gun rights.
Just like with other trending hashtags, profiles can often be seen jumping on the bandwagon to promote other, potentially unrelated agendas. That could be the case, in part, with the Brazilian Politics cluster where governmental unrest seems to lead their content interests, including coverage of the protests against reported election corruption (#SOSFFAA). The top influencer for this cluster is Guilherme Fiuza, a controversial Brazilian journalist who is known for his stance against vaccines.
Unsurprisingly, a general Conspiracy Theories cluster emerged. This group is voicing its views on everything from vaccines to #cbdc (Central Bank Digital Currency, and perceptions around state control) and #wef (World Economic Forum, and perceptions of invasive policy). The top influencer for this group is Dr. Aseem Malhotra, a cardiologist who is a known vaccine critic.
Would the real viewers please stand up
Among the #DiedSuddenly crowd who Cyabra identified as authentic, Affinio studied 3,981 profiles who formed 5 interest-based clusters: American Conservatives, Brits for Human Rights, Canadian Freedom Seekers, Dutch Politics and Unmasked.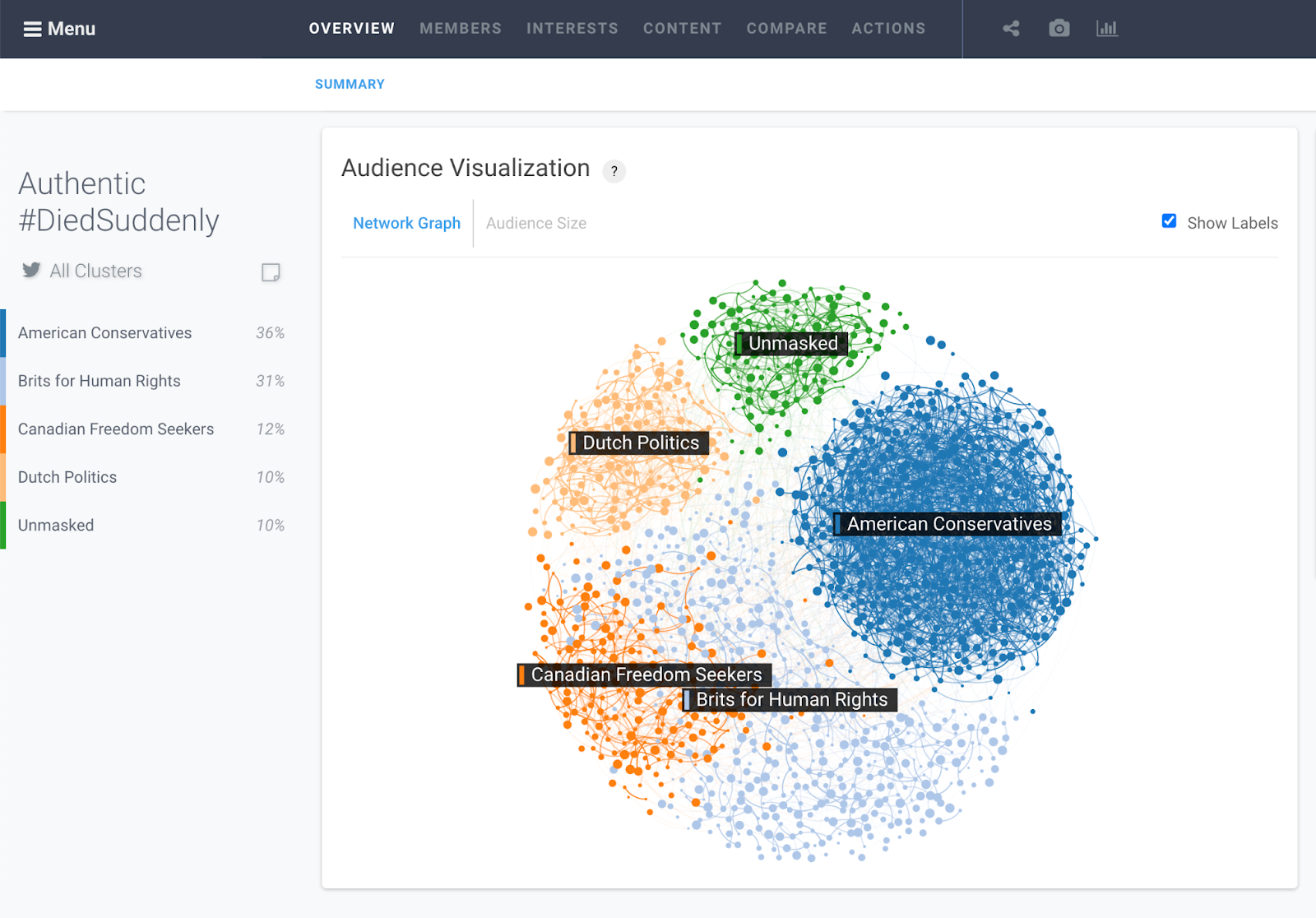 The American Conservatives segment represents just over one-third of the audience and is characterized by discussions that include election democracy and free speech. Their top influencer is James Wood, the American actor.
Brits for Human Rights represent a localized group in the UK whose concerns span various topics from vaccinations to #balenciaga, #ukraine, and #climatescam. Interestingly, they are most influenced by Dr. Aseem Malhotra, the same cardiologist who resonates with the inauthentic Conspiracy Theories cluster.
Canadian Freedom Seekers are primarily focused on the Emergencies Act inquiry in the aftermath of the Canadian Freedom Convoy. This segment is influenced by Theo Fleury, a former NHL player and self-described "lover of freedom".
Dutch Politics is a segment focused on government policies, including what is happening with the anti-globalist movement and #nexit (Dutch withdrawal from the European Union). Some members of this group are clearly seeking self-amplification via follow-back tactics through the use of the hashtag #terugvolgvrijdag ('Follow-back Friday'). They seem most geographically concentrated in the Netherlands and Brazil. Their most relevant common interest is the media outlet BLCKBX (@blckbxnews).
Unmasked is a segment that spans geographies, but definitely includes members from France. This group is ready to throw away their masks, gravitating towards the #jeneporteraipluslemasque hashtag. They are most interested in Verity France, an organization that supports those with side effects or difficulties following vaccinations against COVID.
Parsing out trends between real and fake stakeholders can be tricky - especially where commonalities can exist in geographic concentration, influencers, hashtags, and causes. Interestingly, both the inauthentic and authentic movie audiences showed cases of using the misspelled #DiedSuddendly hashtag in tweets. Every cluster across both audiences showed Project Veritas as its most relevant cause. And the associated movie handle itself, @DiedSuddenly_ , was not found among the top 1000 interests for any of the clusters in either audience.
Book a call with our team at Affinio to learn how you can gain more clarity on your stakeholder voices.