Michael Brito
3 reasons why audience intelligence should be a priority
The struggle is real. 40% of CMOS and marketing leaders say that driving growth is one of their top challenges for 2019, according to Deloitte. The same study showed that 14% struggle with delivering content that breaks through the clutter and 11% struggle with providing marketing ROI.
And it makes sense why "data analysis" is the number one skill CMOs are looking for when hiring new talent, according to Prophet.
These data points are related.
So how does audience intelligence play into this? In my experience, using data to inform programs and campaigns almost always deliver higher value. That's a given. Audience intelligence is just one of many insights to do this, although I would say it's the most important.
Here are 3 reasons why you should invest some of your marketing budget in an depth audience analysis and study of the audience you are trying to reach.
1. The death of focus groups
Ok, well not really but it's a great headline. Previous CEO of Saatchi & Saatchi, Kevin Roberts once said, "If you want to understand how a lion hunts, don't go to the zoo. Go to the jungle."
And it makes sense.
Focus groups are representative of your audience in captivity. They know that they are being watched and studied, and just the process of asking them questions creates bias.
On the other hand, the actions (or in-action) on social media represent their behavior in their natural habitat. Its more than just "social listening". It's building an identifiable audience and studying their behavior––interests and characteristics that make the audience unique, their reading and sharing habits and the topics that are top of mind, in real-time.
These insights are extremely useful in creating data-driven stories and content that break through the clutter and provide a measurable ROI.
2. Real persona development
For years, I have seen presentations with persona slides created from hope and intuition. I've come across downloadable templates that many use and recycle year after year. Sadly, the information within these personas rarely change.
At some point, graduating into the real world is important. And there's no better way to do that than do use audience data to inform a marketing persona. See below for an example of a photographer persona taken from real data.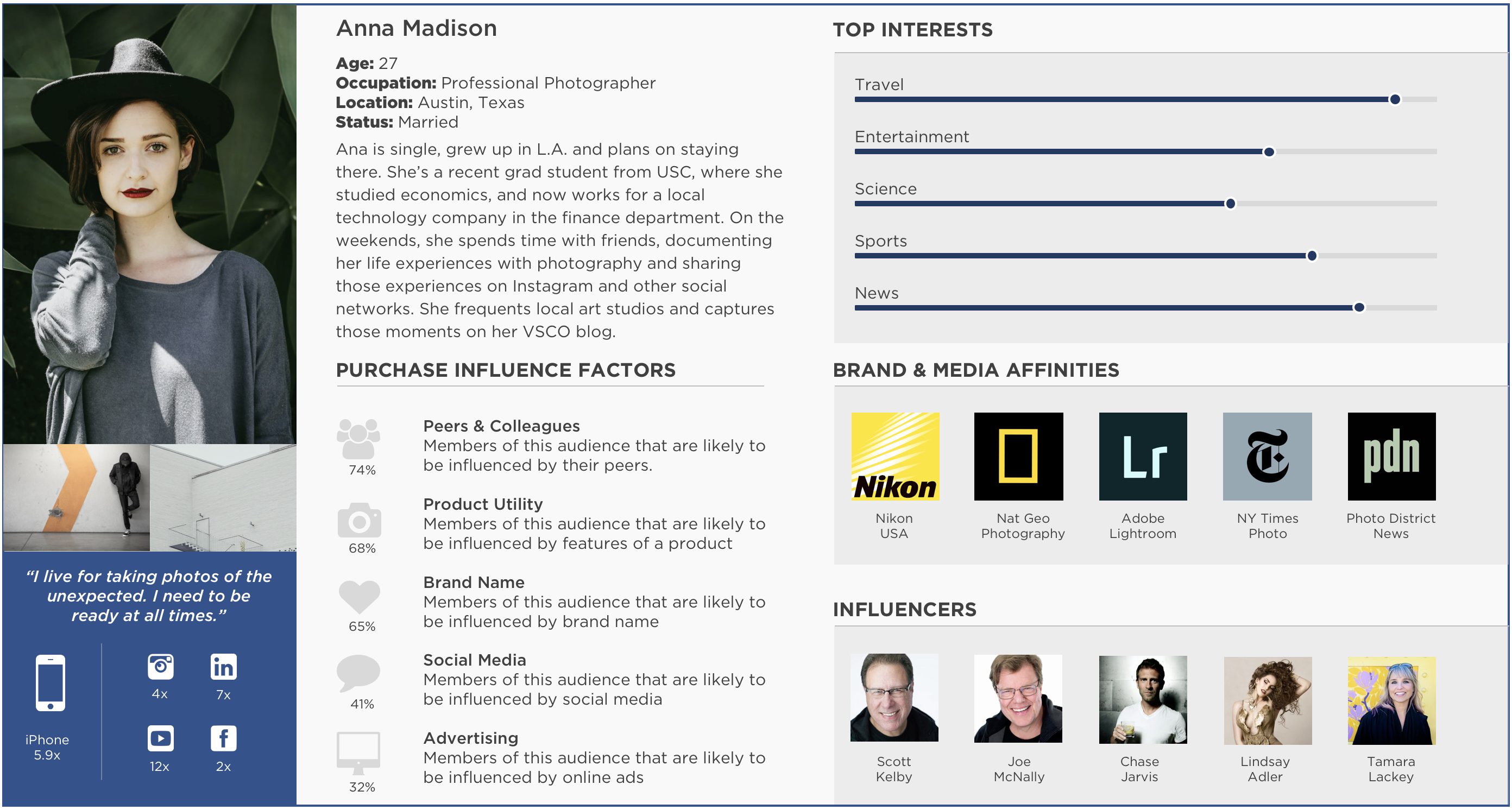 The data informing the top interests, brand affinities, influencers and even social channel penetration is 100% real data based on a panel of over 7K self-identified professional photographers. This is what a persona should look like in 2020.
3. Audience data is actionable
Not all data is actionable, unfortunately. But if you know what to look for, you can use audience data in near real-time to inform marketing and communications programs:
Audience conversations: The conversations that an audience is having in social can inform narratives, campaigns, and ongoing programs. In real-time, it can inform the headline of a blog post or byline, or social content. How? Well, I am oversimplifying this, but smart marketers should attempt to mimic the vernacular of their customers in order to stay relevant for 2 reasons–people relate to people like themselves (language included) and search behavior often resembles the words used in conversation.
Traditional media (media relations): If you know that your audience prefers to read and share content from Fortune more so than the WSJ, it would make sense to prioritize your media relations strategy accordingly.
Influencers: Audiences leave digital breadcrumbs all across the internet–who they follow, what they say, who they retweet. So, it's not hard to find those individuals that can influence your audience. This is why it's important to start with the audience when building influencer marketing programs.
Sponsorships: Understanding the brand affinities that your audience has can inform future media buys, sponsorships or partnerships.
All data is important. Web analytics can provide insights on how certain web pages are performing by looking at Site Content, Unique Visitors, Abandon Rate, etc. Performance media (search/display) can help identify and measure conversations/conversation rates, and drive sales. Social listening data can provide direction insights on conversation, sentiment and larger trends. And, survey data can help answer specific questions.
Audience data, as mentioned, is probably the most important data you can have. It puts you in the same environment, the same mindset, and same playing field as your customers. It takes you from the zoo, straight to the jungle.
Just as important as the data is the platform you choose to collect it from. Here's a curated list of audience intelligence platforms that I have ranked from 1 to 10, based on usability, UI, cleanliness of the data and level of insights.