Rachel May Quin
How NFTs are changing the game for sports brands & athletes
Sport and NFTs, a match made in heaven? If the number of sports brands and athletes getting into the game are anything to go by, it seems like NFTs are the hottest thing since the last New Balance sneaker drop.
The world has undergone a seismic shift and so has your average consumer. Within sport, change is being driven by the Gen Z audience, as they innovate the way we engage with our favorite brands, platforms, and each other. According to a recent report into sport fans:
Consumers spend 32% of their TV time using TV-connected devices, leading to a dramatic rise in the number of platforms emerging for sport content

Among the general population, multi-screen viewing activities such as checking email and online gaming has increased by 5%, but among Gen Z this doubles to 10%

52% of esports fans and 39% of sports fans are aware of crypto tokens, which is significantly higher than the general population… most interestingly though, 24% of these fans have also expressed an interest in NFTs

Sport fans have a higher level of trust in influencers, so much so that 26% of fans say they consider athletes a great way of connecting with brands and sponsors
If you're not down with the lingo, NFT stands for non-fungible token. An NFT allows you to buy and sell unique digital items and record who owns them using the blockchain. They're often associated with photos, videos, audio and items in video games.
They're also fast becoming an effective way of engaging with fans and they're worth serious cash. For example, the NBA's Top Shot (which we'll get to a little later) made $219 million in February 2021. The one constant that the sport industry needs to remain fixed on to ensure sustainability and growth is the consumer. So how exactly are sports brands using NFTs to put consumers at the heart of their strategy?
In this blog, we'll examine the latest and greatest in the world of sport NFTs, both apparel and athletes, to show you who is getting it right and how they're tapping into their fan bases effectively. P.S. Don't forget to bookmark this and share it with your friends.
Who are the key players in the NFT conversation?
Before we kick off our conversation around which brands and athletes are winning the NFT game, let's spend some time understanding who the key players are in driving the interest and conversation. We ran a report specifically examining sport apparel & NFT fans, which gave us a clearer picture of your average sport and NFT crossover audience.
To date, the audience is over 90% men and skews very young, with nearly 45% of the audience being aged between 18 and 24 years old. As the Nielsen report suggested, Gen Z are busy innovating in the sport sector.
Unsurprisingly, 93% of the audience are passionate about sport, and 60% of them are based in the US. Looking at their online profiles, this audience self-identifies as 'sports' and 'fan'. It's also worth noting that many of them feature 'basketball' in their profile, suggesting a strong crossover between NFTs and that particular sport.
If you've read a few of these spotlight pieces, we probably don't need to remind you that your audience is not a monolith. Audience intelligence is our entire playbook, so let's break this massive sport audience into some distinct segments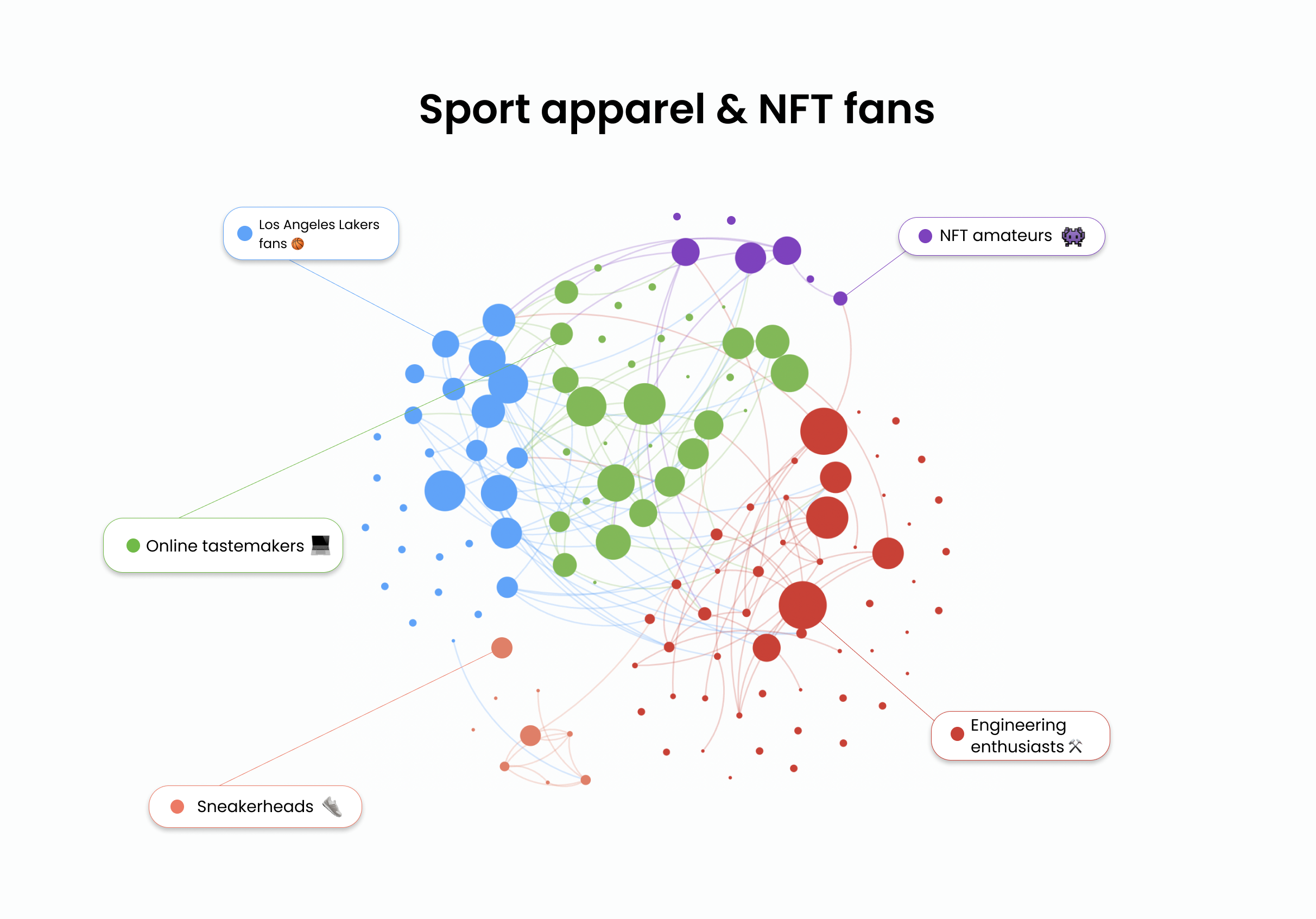 Engineering enthusiasts 🛠
Our first segment comprises of what we call engineers, an audience that primarily consists of young men, aged between 18 and 24. Top cities for this segment include LA, Toronto, Chicago, Miami and London.

This audience are, naturally, hugely interested in sport. But which sport? Basketball, soccer/football, and baseball all rank highly. The NBA Top Shot Twitter account is the most influential account for this segment, with NBA and Lebron James close behind.

Most interesting about this audience is the media they're influenced by – social media and digital advertising are more important to them than your standard consumer, with WhatsApp and Telegram ranking as two of their top social networks.
Online tastemakers 💻
We all know that influencers are an increasingly important part of every marketer's strategy, but it's fascinating to see that a defined influencer segment pops up among our sport fans which consists of many, many writers.

Top five influencers for this segment include Sam Amick (NBA Writer), Howard Beck (Sports Illustrated), Alex Kennedy (CCO at Basketball News), Chris Mannix (Sports Illustrated, amongst others) and Jason Concepcion (Crooked Media)

But it's not just mainstream media influencing this audience, with a number of podcasts and talk shows appearing in top media interests for this audience.

It's well worth paying attention to personality types for this segment, with our report showing that this segment's choices are 'driven by a desire for prestige'; this strongly suggests that online tastemakers are hugely important in the sport industry.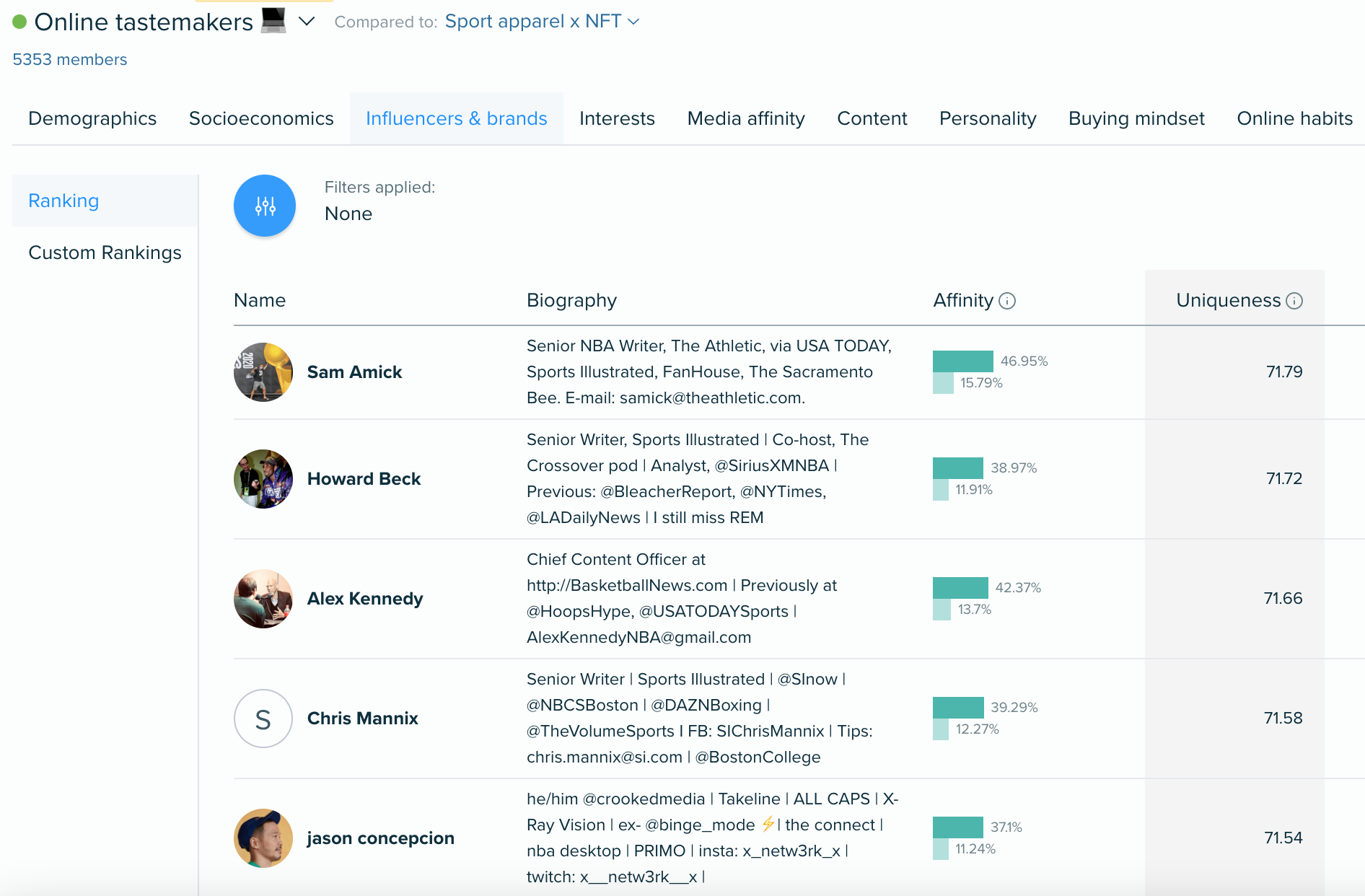 Los Angeles Lakers fans 🏀
Every sports team has its diehard fans, but Los Angeles Lakers fans are driving the most conversation! Lake Show, the name of both the fan zine and the nickname for the Los Angeles Lakers NBA franchise, featured prominently in our audience segments. Basketball was the third top keyword in the bios of this segment.

Online habits are an important way of reaching your segments and for Lake Show fans, more creative social platforms come to the fore: Twitch, Discord, YouTube, Reddit and Snapchat all appear as their most popular platforms.

This audience is also significantly more likely to be online in the early hours of the morning, with 30% of this segment browsing between midnight and 5am. This presents an interesting opportunity for advertisers that want to make the most of their ad spend, you could trial dayparting at this more engaged time of day.
Sneakerheads 👟
When it comes to what's hot, sneakerheads are leading the way, so we weren't surprised to see a dedicated segment among the full sports audience!

With a whopping 85% of this audience based in the US and 70% aged between 18 and 34, this audience is committed to following their favorite brands and snapping up the latest designs.

Multiple fashion brands appear in the influencer and brand tab, including 24/7 fashion brand DTLR, sneaker-insider news site SOLELINKS, and retailers such as ShopNiceKicks.com, ShoePalace.com, and atmos USA. It's also worth noting that while these people are willing to drop $$$ on the latest release, they're also following accounts that provide deals, discounts and affiliate links.

When it comes to making buying decisions, they're 92% likely to be influenced by brand names and 40% likely to be influenced by social media.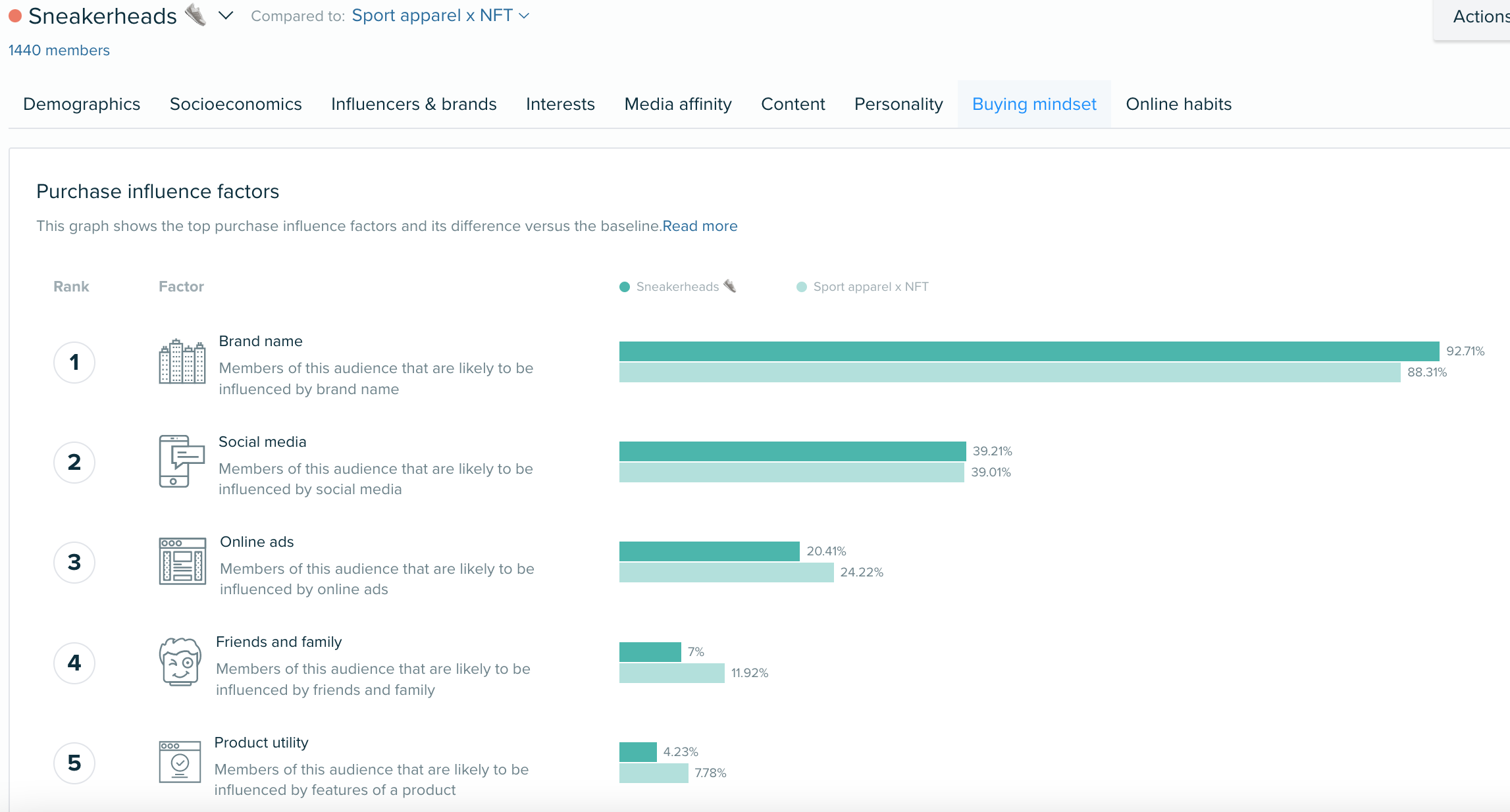 NFT amateurs 👾
Last but most certainly not least, we have our NFT amateur segment, full of people that provide the perfect crossover between NFT connoisseurs and sports fans – NFT, sports, crypto and fan all appear as top keywords for this segment.

Bored Ape Yacht Club, Pranksy and OpenSea all appear in top influencers and brands, representing that strong NFT interest, and if you take a dive into what kind of content this audience segment share with each other online, pictures, GIFs and video are the top three media formats.

This segment is much less likely to be influenced by social media and digital advertising than your standard consumer, but they are 2.3x more likely to spend time on Discord and 1.6x more likely to be browsing Medium.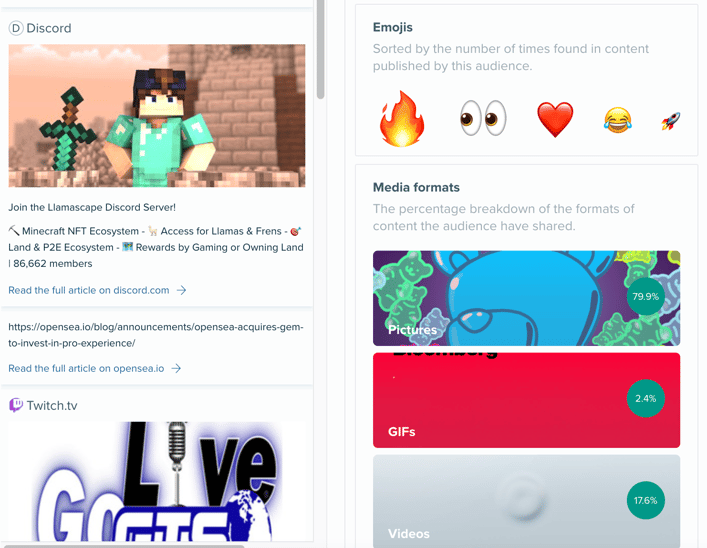 Which sport brands are switching up the game with NFTs?
We've invested our time in examining the sports and NFT crossover audience, now let's get to the good stuff – brands that are absolutely killing it.
NBA Top Shot
The NBA are far and away the most engaged brand dabbling in NFTs. An honorable mention has to go to the NBA Top Shot, which acted as a gentle introduction for many sports fans into the virtual world of NFTs. As of March 2021, 800,000 Top Shot accounts were registered and $500 million worth of NFTs had been sold through the platform.
According to The Verge, fan Jesse Schwarz set an official NBA Top Shot record by buying the most expensive NFT on the platform, a $208,000 clip of a famous LeBron James dunk.
The NBA are offering fans the chance to buy what they're calling Moments – which essentially function as trading cards for grown-ups. NBA fans can buy packs of Moments which feature video clips of specific plays, as well as stats about the game the Moment came from, and the players featured.
NBA Top Shot taps into two factors that drive this audience: their love of the sport and their love of collectibles. Sticker books may be a thing of the past, but NFTs collectible cards are forever (sort of, we don't really know yet).
It brings an air of gamification and exclusivity to the USA's second favorite sport and gives fans a new way to interact with the brand, their favorite players, and each other. The Community section of the website speaks to this, with Top Shot collectors ranked and searchable, alongside their Discord and Twitter profiles to carry on the conversation.
Adidas Into The Metaverse
From much loved sporting leagues to much loved sporting apparel, brands like Adidas wasted no time making their way into the metaverse. Quite literally. In December 2021, they launched their Into The Metaverse NFT collection, of which all 30,000 NFTs sold out within a matter of hours which earned the brand approximately $22 million in sales.Adidas Into The Metaverse.
They kicked off the excitement with a tweet on 16th December, announcing their official partners – Bored Ape Yacht Club, Punks Comics, and GMoney (a pseudonymous crypto enthusiast) – and launching their official app.
It wasn't just digital goodies up from grabs. A purchase of their limited edition Into The Metaverse NFT was also linked to exclusive physical merch such as the hoodie and tracksuit worn by Adidas' Bored Ape NFT, and yet-to-be-announced digital experiences. They also played on their audience's preferred social networks, launching a dedicated Discord channel for collectors to chat and connect.
With Adidas claiming that is just the beginning of their venture into NFTs, it will be interesting to see how they play on the hardcore enthusiasm of the sneakerhead audience to build on rarity, exclusivity, and community.
Modrić's NFT Collection
It's not just retail brands cashing in on NFTs, athletes are also helping themselves to a piece of the action. A notable example of this comes from Luka Modrić, hailed as one of the best midfielders of his generation. Since making his debut on the pitch, he's been a winner of five domestic league titles, three domestic cup titles, a runner-up medal at the FIFA World Cup, and named the world's best men's player in 2018.
Working with Dutch animation studio Visual Lab, Modrić created a collection of four collectibles, including two virtual shirts that can be worn in metaverse spaces such as Sandbox by the lucky owners. With an opening bid of $5,000 on his Submerse NFT, we're unsure how many people have snapped up the deal, but it's an interesting way for sports players to take ownership of their own celebrity and tap into super fans.
We also saw this example from Julian Edelman (though admittedly, it was announced on April Fool's Day), who created comic inspired NFTs of his classic moments on the football field. Created with creative agency and studio Superdigital, these NFTs are peak creativity. According to founder of Assaf Swissa: "It seems like everyone famous might get into the NFT game… the more that people who have large influence are making NFTs, the more we are going to see a creative cultural shift."
How can brands take home the NFT trophy?
We're seeing lots of creative examples of NFTs in the sports industry, but how can you get in on the action and importantly, promote it well? We've compiled some top tips from these campaigns to ensure you make the most of NFTs in marketing.
Understand what makes your customers tick – While you might believe there's a market among your customers for NFTs, you need to put time and consideration into what it is about your NFTs that will drive them suitably wild. Is it collectability? Is it the desire to own a piece of their favorite team or player? Is it limited edition merchandise? Bear these factors in mind as you make plans.

Pay attention to the individual preferences of your segments – Understand how, where and when they're consuming content to help you construct an effective strategy to promote your NFTs. If you build it, they may not necessarily come. Make sure you're talking about it in the right places and bringing the right people on-board to spread that all-important word-of-mouth.

Play on your brand prestige – Brands have power. Whether you're a sports brand, a luxury designer, or a much-loved retailer, if you've got prestige and heritage, you're more likely to attract brand loyalty from your customers. Wherever possible, use your brand to leverage any NFTs you create and nurture your fans throughout the process, through things like dedicated channels, communities, or a simple newsletter.
If you want to uncover opportunities to work with influencers and reach new audiences, the data is out there. It's just a matter of taking a deep dive. With tools like Audiense, conducting in-depth audience analysis and discovering actionable takeaways is possible for brands that want to approach their marketing strategy with confidence.