Tara Twyman - Product Marketing Manager
[Product Update] Audiense Insights DSP integration: connecting addressable audiences
In the last decade, the ability for marketers to learn about their customers' behaviours and mindset has increased manifold, and yet, despite the booming insights industry, many marketers still feel that there is a disconnect between insight and action.
This is where Audiense's DSP integration through partners comes into play; together we offer a powerful combination of social data and the ability to make that data actionable, allowing marketers and brands to push their advertising directly to addressable audiences without the use of cookies or device IDs.
Updated privacy regulations such as GDPR and data deprecation, such as web browsers dropping support for third-party cookies, have resulted in the means of gathering audience intelligence data going up in smoke for many agencies. Many are looking to social data to fill that gap.
Our DSP integration will allow Audiense users to migrate audiences & communities across multiple channels (Facebook, Twitter, Instagram, Spotify, Open Web, etc), or directly push data segments for activity into DSPs such as Google DV360, TheTradeDesk, avocet, xandr, ROKU, MediaMath and more.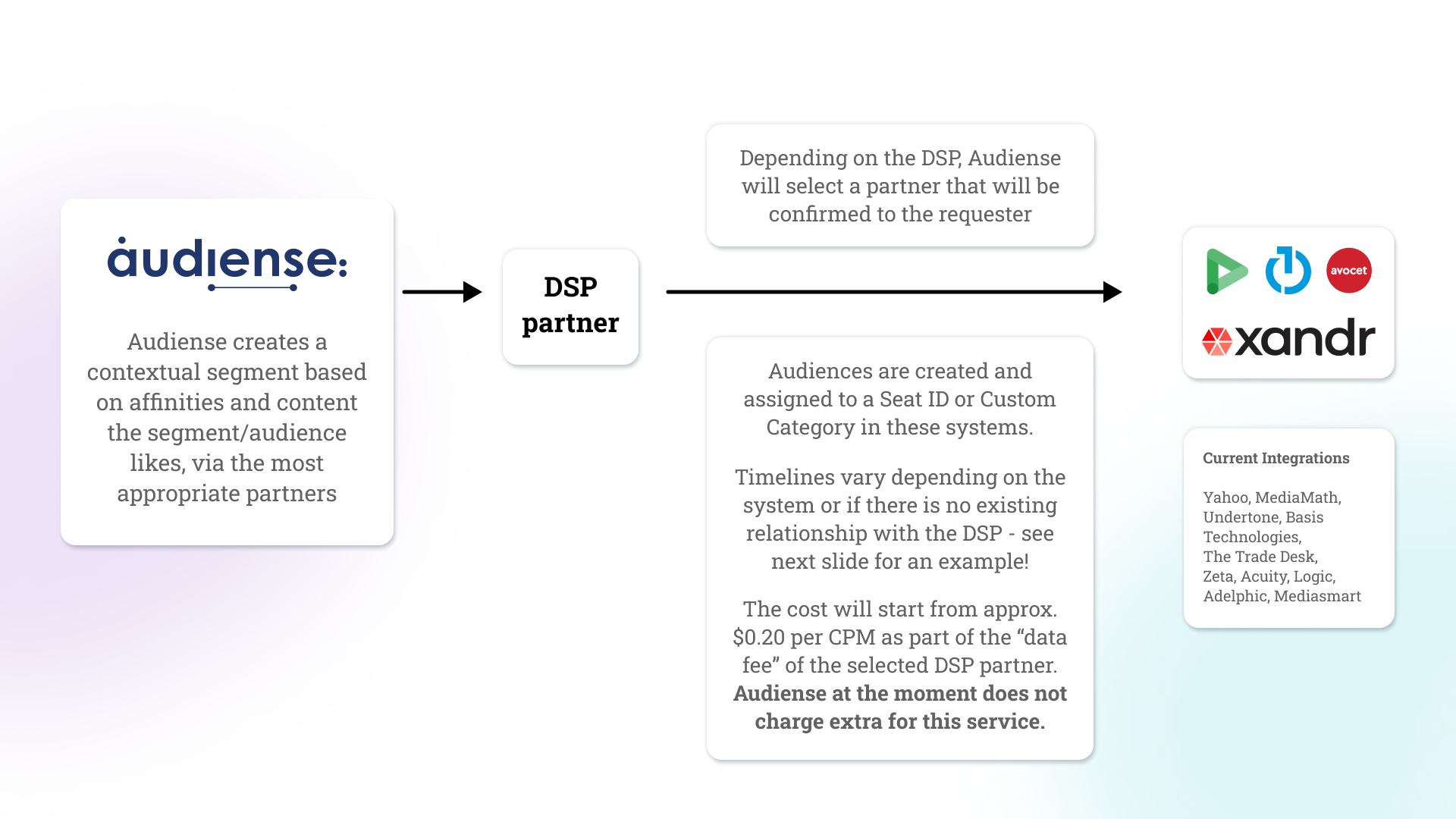 We are really excited to extend this functionality to all of our platform users. This is a crucial service at a critical time in the market. With cookies and 3rd party data dying out, we want to be able to support our brands and agencies by replacing the knowledge from these old, inferior data sets with DSP integrations.
Let's take a look at the steps to make this happen!
Step 1: In order to request segments, you need to head over to the Media affinity tab in your Insights report. Click on Social & Display Ads on the left menu (Online media) to then request the DSP Integration.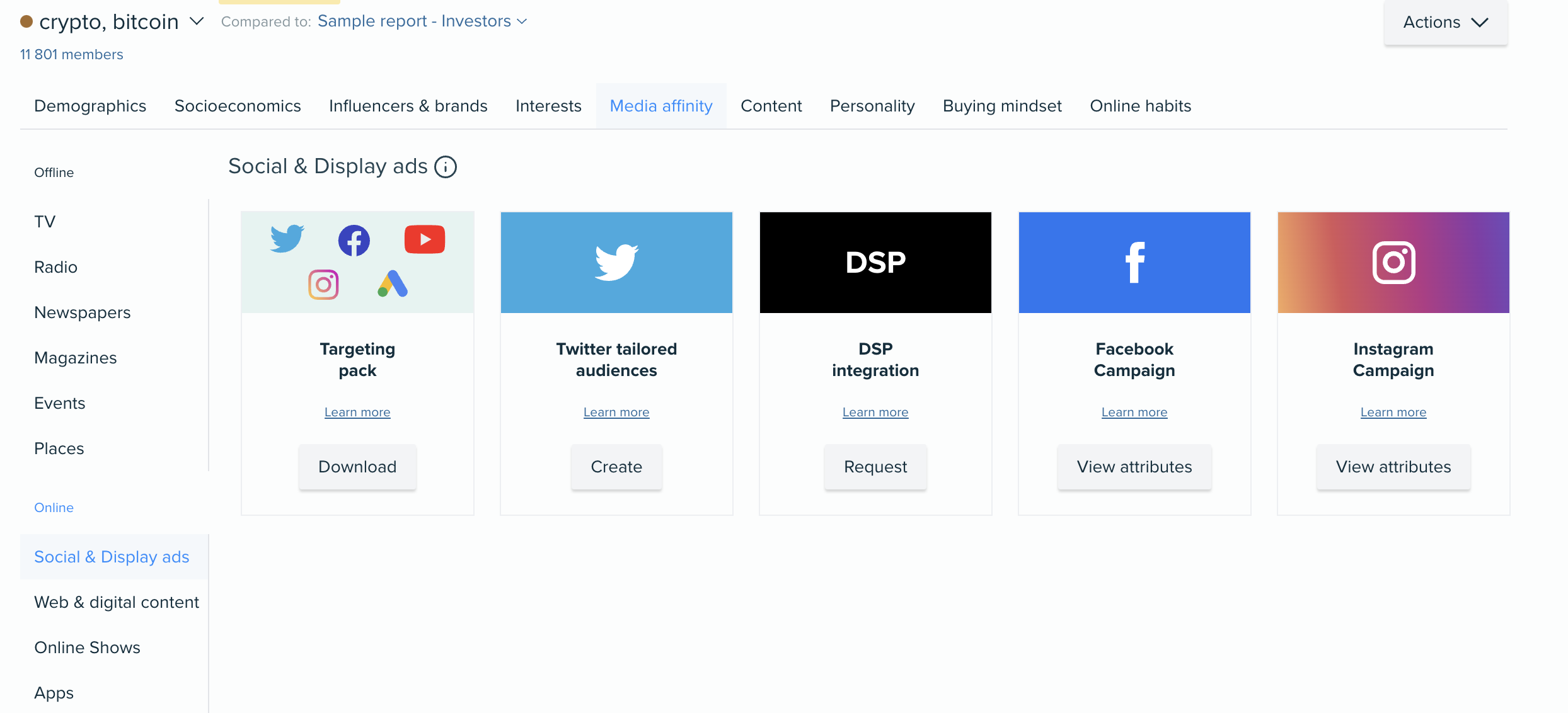 Step 2: This will take you to a Typeform to include initial details for our team to process, such as DSP of choice, your Seat ID, campaign dates, etc…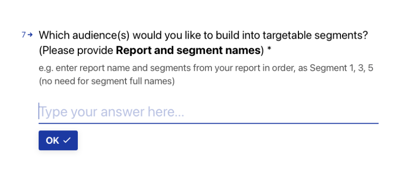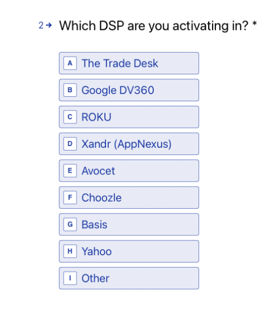 Step 3: Audiense professional services team will process your request to include your segment/s to create the addressable audience, including lookalikes. Just before doing this step, if we need to confirm any other details our team will get in touch, so make sure to include your email, and answer all the questions on the brief.
Step 4: Your audience will be sent to the selected DSP where it will either assign a Deal ID or Custom Category (using keywords and URLs the audience have liked content from). Depending on the DSP, this can take anything from 3-7 days, however in some circumstances where there is no relationship with a DSP, this could take between 7-14 days.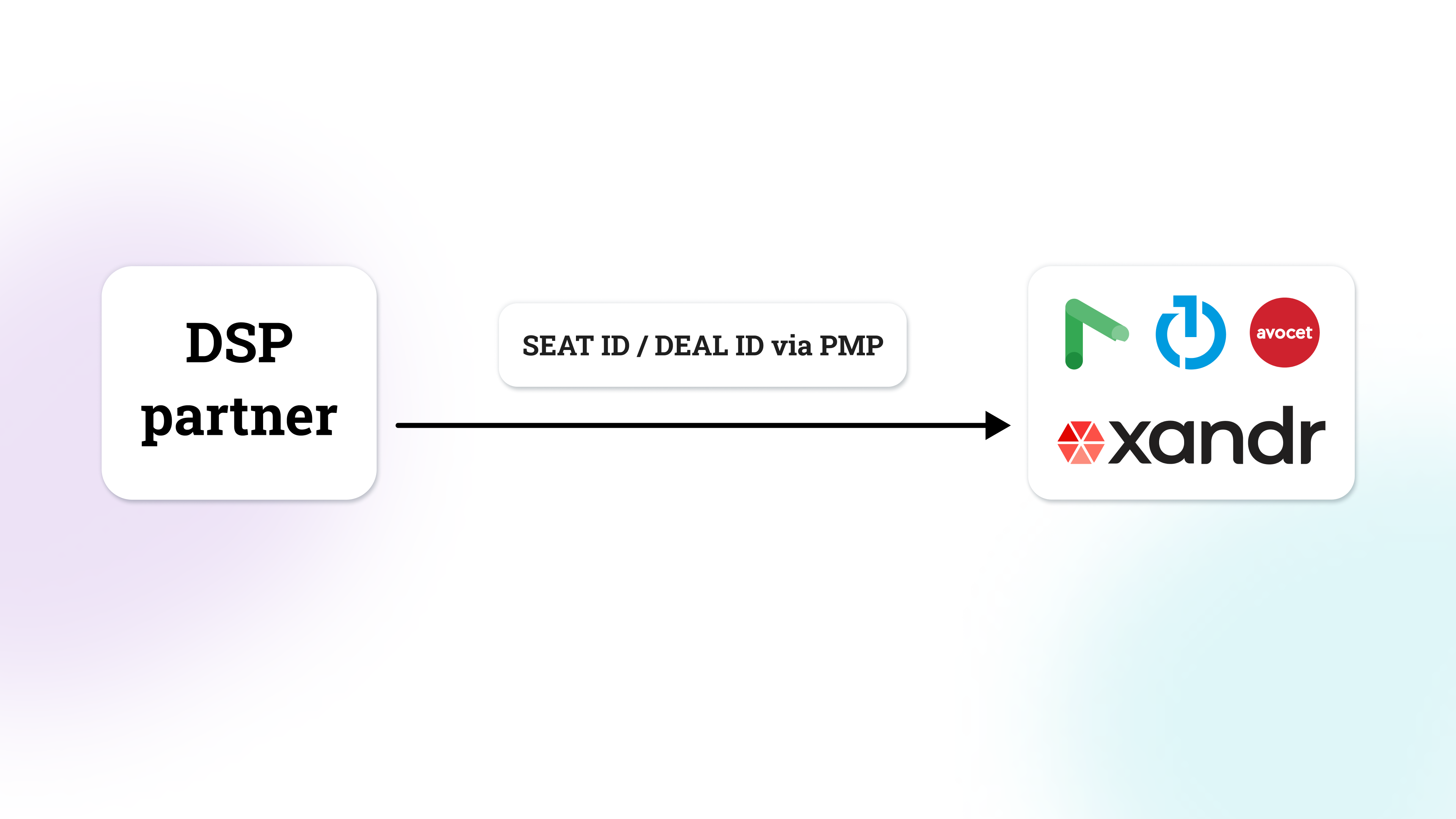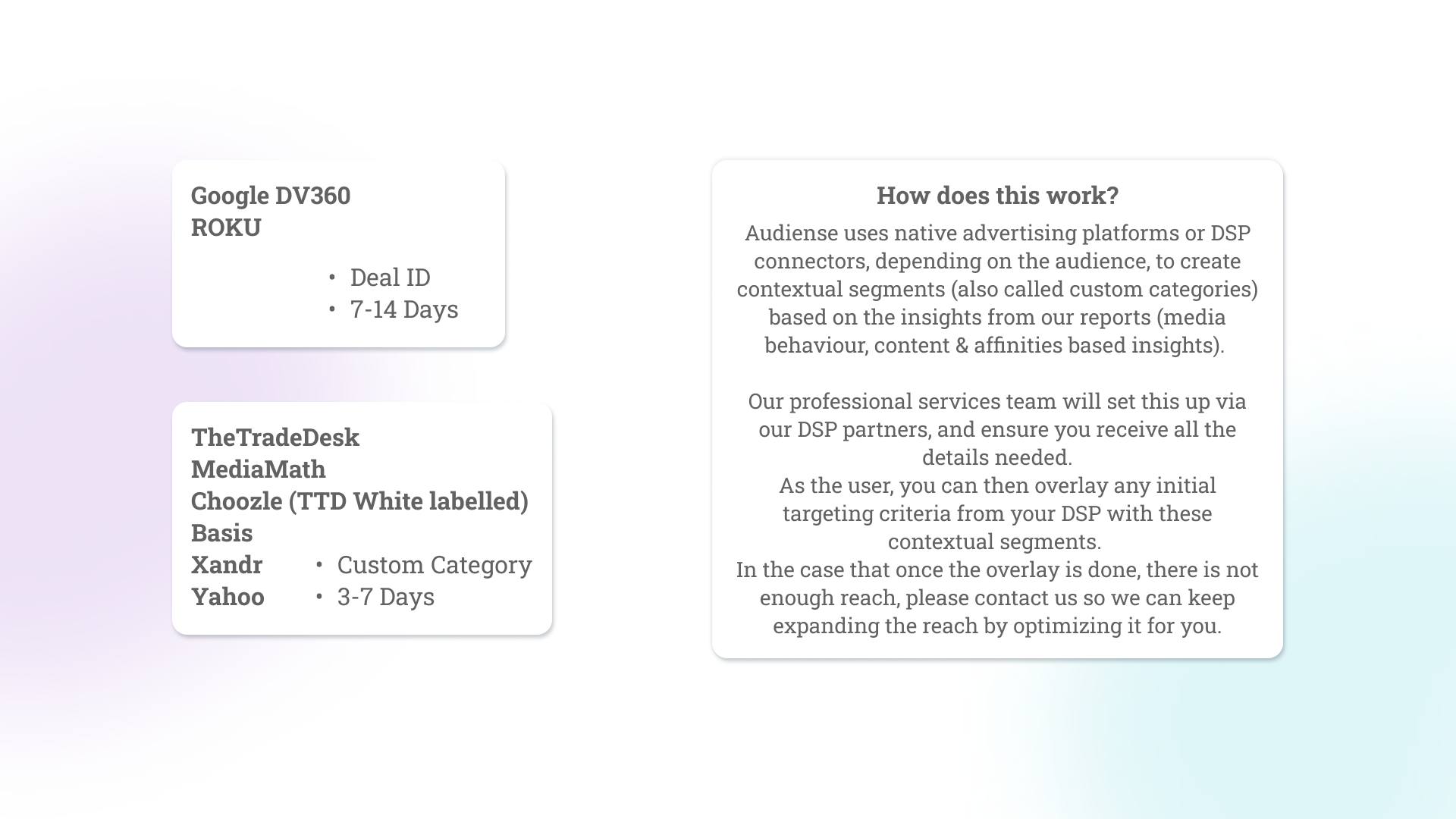 What is the cost? This functionality has no extra cost to your current Audiense subscription. However, our ask is that you commit to testing the resulting audience with a healthy budget so that we continue improving the product.
As it happens with other 3rd-party audience segments available in your DSP/DMP, the cost (aka "data fee" or "data cost") is set in CPM (Cost Per Mille) and ranges depending on the Audience. Typically, you can expect a cost starting from $0.20 per CPM from your DSP.
To understand more about how it works, you can read the following articles where Google refers to it as a data fee.
That's it! You want to have a go at it?
Option 1: Send us an email to help@audiense.com
Option 2: Jump into the platform and request it, following the steps above!
Please share your experience and feedback via productfeedback@audiense.com.