Rachel May Quin
Finding purpose: How Ben & Jerry's, Patagonia & Peloton are using brand activism to build lifelong loyalty
It's the season of giving! At this time of year, brands come out in force to show us their values in the form of a Christmas TV advertisement. For example, British retailer John Lewis used their 2022 Christmas TV spot to raise awareness for children in care, with an ad created in partnership with Action for Children and Who Cares? Scotland.
This Christmas, we're dedicating our final 2022 spotlight blog to shine a light on brands with a purpose. While many brands put their focus on customer engagement, social activism is close to the hearts of many consumers, and brands that are able to deliver authentic, purposeful campaigns are more likely to enjoy customer relationships that last a lifetime. Here's why having purpose matters for your brand:
It's very easy to confuse brand activism with social media activism. Social media activism is often led by individuals or communities in digital spaces and is contained to one channel, whereas brand activism takes a more holistic approach to making a positive impact through your operations, your marketing, and of course, your social channels.
Brand activism done well can be a game-changer for you and your customers. It can build awareness, provide a competitive advantage, and engage customers in a whole new way. In this blog, we'll explore how Ben & Jerry's, Patagonia and Peloton are using brand activism to build lifelong customer loyalty – and accelerate their growth.
What does the activism audience look like online?
There are dozens of good causes that brands can champion, from diversity and inclusion to climate change. To help us explore the opportunities for brand activism, we focused the scope of our research on gender activism, building an interconnectivity report based on a number of hashtags related to equality, women's rights and the gender pay gap.
Looking broadly at our activism audience, we can see that women account for more than half the total audience size. In terms of age, 50% of the audience is made up on women aged 18 to 34 years old, but we also see 16% of the audience is made up of women aged 35 to 44, and a further 15% is 45 to 54. Our data shows that women's activism is a global conversation spread across the US, UK, India, Australia, Canada and Japan. That said, English over indexes in terms of language spoken, accounting for 65% of the total audience.
Let's drill a bit deeper into the holistic audience, who are they influenced by? When you take a look at the influencers and brands tab for the full audience of 165,000 people, we can see Kamala Harris, Joe Biden, UN and the UN Women account, and the World Health Organization all appearing prominently. Clearly, politics and healthcare are of great interest to this audience, and they're engaged with key figures and news outlets, including the BBC, The New York Times and The Washington Post.
But as our regular readers know, your audience is not a monolith. This report gave us plenty of interesting segments to explore, but for the sake of brevity, we've focused on the top three segments. If you're interested, you can view the full report here.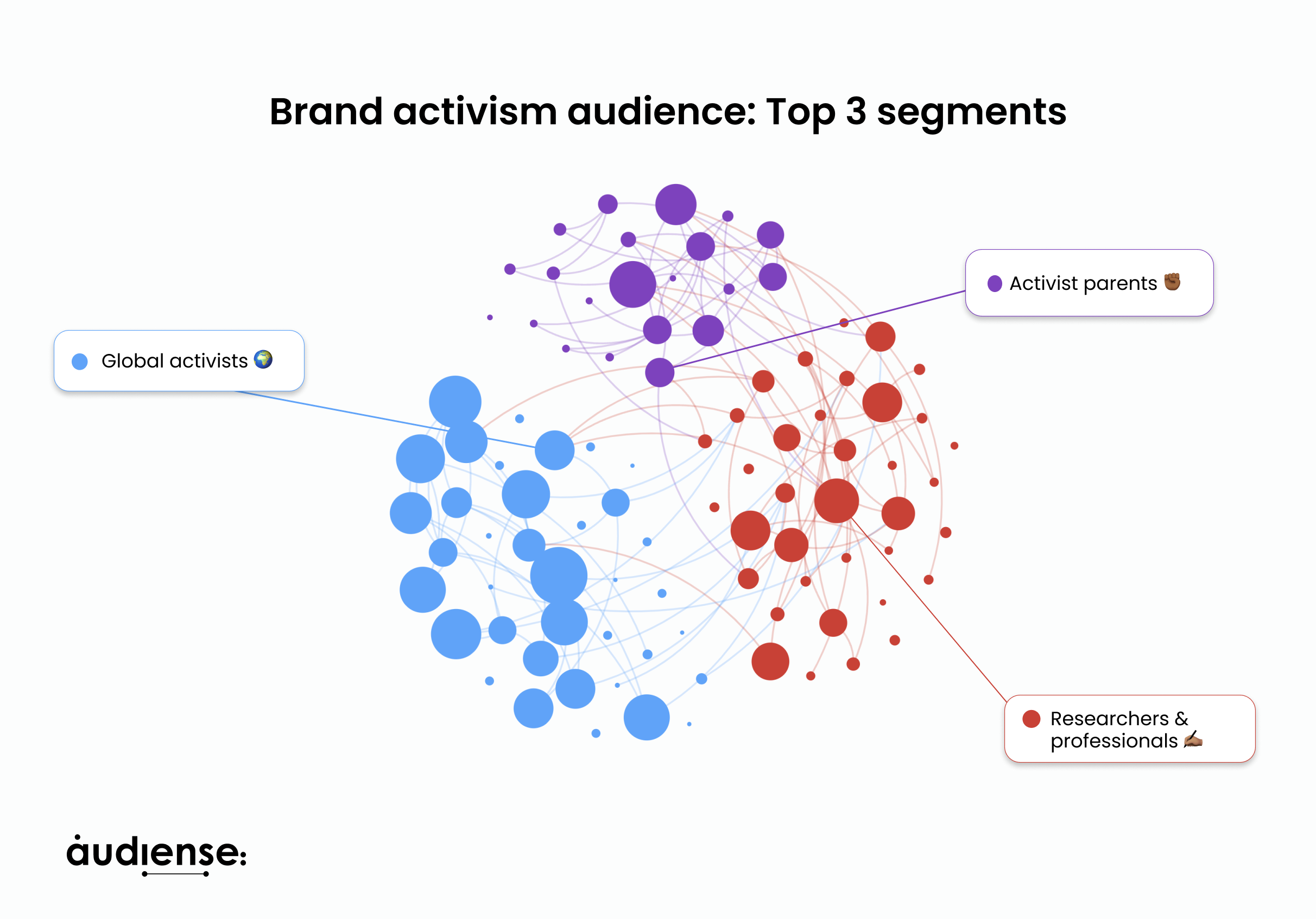 Global activists 🌍
Activism includes everyone and this rings true in our global activism segment, which makes up an impressive 23% of our total segments. We've named this segment for its international audience, with many African countries such as Kenya, Nigeria, South Africa and Uganda appearing alongside the US, Pakistan, UK and Switzerland.
Within this segment, there is a tremendous focus on human rights, social justice and supporting developing countries, particularly when it comes to driving societal change. Top hashtags for this audience include #cop27, #climateaction and #whatshappeninginmyanmar.
If we take a look at top influencers and brands for this segment, we see a number of prominent human rights and aid organisations including UN Development, World Bank, UNFPA, USAID, UNICEF and World Food Programme. It's clear that for our global activist segment, activism isn't just about raising awareness, it's about playing an active role in fundraising and legislative change.
Which media channels are most likely to resonate? Given that much of this segment are based in African countries, channels such as BBC News Africa, CNN Africa, Citizen TV Kenya and Al Jazeera all appear as popular media channels. We also see Reuters Africa, Guardian Environment, Forbes Women and Newsweek in media affinities.
Last but not least, where are they spending time? Our global activists are 2.6 times more likely to use WhatsApp and 2.1 times more likely to use TikTok than the general population, showing that staying in contact with friends and causes, and consuming video content are two key activities for them.
Researchers & professionals ✍🏽
This segment is unique in that a high proportion of its audience are educated to postgraduate level, with Dr appearing in many profile names. Around 20% of this segment are educated to a college level and popular bio keywords include 'views', 'research', 'social' and 'women'; suggesting this audience are engaging in academic discussion about various societal issues online.
This audience is also fairly international, and its people are spread across a variety of major European cities including London, Brussels, Paris and Dublin. While English accounts for 70% of the conversation, Spanish, German and French all appear as spoken languages for this particular segment.
Looking to influencers and brands, while aid organisations do feature, we also see the influence of politics and legislation. Horizon Europe, a research account, appears in the number one spot, followed by several European research accounts and political accounts such as POLITICO Europe, UK Labour leader Keir Starmer, and several British MPs and campaigners.
The interests of this audience also provide some interesting nuggets. Business and industrial appears as the top interest for this segment, closely followed by science, travel, and technology. Within the business and industrial category, energy appears highly, suggesting that the current cost-of-living crisis is shaping the conversation.
When it comes to purchase influencers, this segment is all about trusted recommendations. They're more likely to seek guidance from friends and family than they are to trust social media activity, brands interested in reaching them should bear this in mind when creating campaigns.
Activist parents ✊🏾
Our activist parents' segment is the perfect blend of young and old, as people come together to discuss and support social justice issues. Most prominently for this audience, the keywords 'blm' and 'resist' appear in around 7% of social media profiles and a further 6% feature the word 'mom'.
The demographics of this segment also suggest big potential for reaching a variety of consumers. 18- to 24-year-olds make up 25% of this audience, but interesting, 45- to 54-year-olds account for a further 20%. When it comes to fighting for equality and championing diversity, there is clearly no age barrier! We can also see that women are particularly vocal in this segment, making up 63% of the total size (compared to the average baseline of 54%).
Given that the

BLM movement

was refuelled in 2020 by the death of George Floyd, it's not surprising that 86% of this segment is based in the US! LA, Washington, Chicago, New York and San Francisco all appear as the top cities for this segment, suggesting that much of this audience is US-focused.
In addition to their support of societal causes, we can also see that this segment are hugely passionate about pets! 61% of the segment are sharing and engaging with content about pets and animals, and animal welfare features as another area of interest.
Looking at purchase influencers, much like our researchers and professional segment, friends and family recommendations hold the most sway. But unlike our previous segment, this audience is much less likely to be swayed by brand name. Social media and online ads are the key to unlocking this audience.
How Ben & Jerry's, Patagonia & Peloton are making brand activism a core part of their marketing strategy
Given everything we've learned about the activist audiences, how can brands create authentic campaigns that demonstrate their commitment to societal issues and connect with their customers? We've got some great examples from across industries. Let's see how Ben & Jerry's, Patagonia and Peloton are making brand activism a key part of their strategy to attract and retain lifelong customers.
Peloton
Fitness brand Peloton have faced a rough ride over the last 12 months as they feel the impact of people getting back to their favourite gyms and work-out classes. But what Peloton do exceptionally well is bring brand activism into their content in authentic ways.
We move together. Embrace the discomfort that sparks growth and change. On Wednesday, we will ride and breathe united in two special classes supporting the Black community.

Add the tag #BlackLivesMatter to your profile, and you are invited to wear black in solidarity. pic.twitter.com/5yHetRRZXU

— Peloton (@onepeloton) June 1, 2020
In the wake of #BlackLivesMatter, Peloton listened to their employees and their customers to show their support and help raise awareness in a way that involved more than just updating their logo on social media. Working with Tunde Oyeneyin and Chelsea Jackson, two of their most popular instructors, they created the Speak Up series to support their fitness community and show solidary. Speak Up combined cycling and meditation to create a special series of classes which have been streamed well over 100,000 times.
And they didn't stop there. Peloton put their money where their mouth was, donating $500,00 to the NAACP Legal Defense and Educational Fund in June 2020 and following up on this activity with a new campaign in 2021 called 'Together Means All Of Us', helping them remain accountable to their customers and their community.
It's worth noting that the Speak Up series wasn't the first time Peloton has incorporated social causes into their content, and their marketing campaigns.
Every year, Peloton has released special classes for PRIDE, where Peloton members can earn special badges and awards for participating in classes that celebrate the LGBTQ+ community. This year's special classes included live DJ sessions, Cher and Dolly Parton playlists, and an ode to Broadway - whether you prefer cycling, running, yoga or bootcamps, there really was something for everyone.
Ben & Jerry's
Since 1978, ice cream brand Ben & Jerry's has been serving delicious flavour and most importantly, serving the community. The brand has always had a strong focus on making the world a better place and over the years, they've woven human rights, social support and economic justice into the way they position their products and market themselves to consumers.
How do they do it? Using their values as their guiding light, Ben & Jerry's have been creating socially themed ice cream for decades to raise awareness of causes dear to their hearts including global warning, animal welfare, LGBTQ+ rights and most importantly, supporting marginalised communities.
This began in 1987 with the Economic Crunch, a vanilla ice cream with chocolate-covered almonds, pecans and walnuts which took to Wall Street during the stock market crash in an attempt to brighten a tough day. Since then, they've released flavours such as Save Our Swirled for COP21, I Dough I Dough to celebrate love in all its forms in 2015 and One Sweet World to mark 50 years since Martin Luther King Jr's Poor People's campaign. Their founders are also not shy in supporting causes. Ben & Jerry's employees wrote a viral statement on dismantling white supremacy and they hired a corporate social activism manager.
Patagonia
We've seen some inspiring campaigns from brands, but Patagonia's approach to tackling climate change caused a serious stir earlier this year when founder Yvon Chouinard chose to give away the company. That's right, instead of selling the multi-million pound brand, he instead gave it away to two companies that will donate the $100 million of annual profits to "protect nature and biodiversity, support thriving communities and fight the environmental crisis." If you visit their social media profile, you'll see their bio simply says 'Earth is now our only shareholder'.
Hey, friends, we just gave our company to planet Earth. OK, it's more nuanced than that, but we're closed today to celebrate this new plan to save our one and only home. We'll be back online tomorrow.https://t.co/fvRFDgOzVZ

— Patagonia (@patagonia) September 14, 2022
It's clear that the Patagonia brand, and therefore it's marketing, follows clear guidelines that put their values and causes at the centre of everything they do. Back in 2017, they launched a campaign called 'The President Stole Your Land' to protest former President Trump's decision to reduce the size of two national monuments, Bears Ears and Grand Staircase Escalante. This bold statement supported the efforts of environmental campaigners and clearly demonstrated Patagonia's passion for the environment and protecting nature.
Patagonia also put their values front and centre in their online retail experience. Customers can easily navigate to the Patagonia Action Works page, which encourages people to get involved in a variety of causes including protecting rivers and wild places, supporting agriculture, and stopping the climate crisis. Their website homepage drives directly to these causes before you can even start to look at their clothes, putting people ahead of profits. This kind of messaging also feeds through seamlessly on their social media channels.
How can you put purpose at the heart of your marketing in 2023?
As we head into a brand-new year, how can you put purpose at the heart of your marketing? While there are no quick wins, these three brands have given us plenty of food for thought. Here are the key takeaways to consider.
Understand what really matters to your audience

– As a brand, you'll likely have your own values and ethics that are important to you. If you want to attract and retain lifelong customers, you need to make sure your values match up with theirs. Use tools like Audiense to dig into what really matters to your audience and create campaigns that will have maximum impact.

Focus on authenticity and transparency

– The most important part of developing a brand with purpose is ensuring your strategy is both authentic and transparent. Make sure the campaigns you run align with your brand and if your customers have feedback, be prepared to listen and respond as appropriate.

Collaborate with experts

– Nobody expects you to know everything. Social issues can be a sensitive subject and you need to make sure you approach them in the right way. Consider collaborating with non-profit, influencers, your own employees or other experts in the space that can help you shape an approach that will resonate with your audiences, just like Peloton did with their instructors for Speak Up.
Ready to take the next step for your campaigns? With tools like Audiense, conducting in-depth audience analysis and discovering actionable takeaways is possible for brands that want to approach their marketing strategy with confidence. Sign up today.