Rachel May Quin
Salud! How agencies are working with the drinks industry to reach a new generation of consumers
Is there anything better on a scorching summer day than an ice-cold beverage? Whether you like to sip something sparkling or make it Irish, the drinks industry has been busy innovating over the last few years, as consumer appetites change.
For example, you may have noticed a shift in the alcohol sector toward 0% alcoholic drinks to appeal to a wider range of people, as well as brands taking on more responsibility when it comes to encouraging moderation. So, how is the drinks industry faring in 2023? Let's take a look at the headlines.
Now we've familiarized ourselves with the consumer landscape, let's charge our glasses and get ready to toast! In this month's spotlight, we're exploring how agencies are working with the drinks industry to freshen up their offering and reach a new generation of consumers.
Where are the opportunities for the drinks industry?
With so much change in consumer consumption behaviour over the last few years, thanks to the pandemic and the economic crises in many regions, drinks brands have been forced to think differently about how they talk about their product and to their customers.
To help us understand the opportunities for the drinks industry, we created an affinity report that focuses on consumers aged between 18 (the legal drinking age in several European countries) and 65 who have shown an interest in alcohol brands or specific beverages, as well as followers of a range of alcoholic brands. You can see the full report here.
Looking at the audience as a whole, we can see that while there is interest from both men and women, men make up a slightly larger percentage of the audience (65% men vs. 35% women). We also see that many of these consumers are based in the US, accounting for 53% of our total audience! What's most interesting about this entire audience is the crossover of interests, we can see that they're more likely to be fans of sport, music and entertainment such as streaming services. The potential for this audience lies in the moments where drinks, or alcohol, fit into their lives such as social occasions or events.
While we can make general assumptions about the drink industry's potential audience, let's be clear, your audience is not a monolith. Based on the report, we identified three key segments to discuss, but there are actually six you can dig into if you want more information.
Sports fans ⚾️
This segment skews overwhelmingly male, with men accounting for 80% and young men aged between 18 and 34 making up an incredible 65% of the audience. While that's not to say there aren't female soccer fans, we're more likely to see men engaging with brands online.

In our sports fan segment, we see that they have a strong interest in basketball, baseball and football and mostly follow accounts related to the NFL. They tend to drink beer, bourbon and whisky.

There's also a secondary football segment which you can see in the wider report, who are mostly based in Europe and Mexico and have a strong interest in soccer. They tend to prefer beers, with brands including Heineken, Corona and Modelo.

Sports and food and drink go hand-in-hand. Maybe not for the players doing the hard work, but definitely for consumers. Hot dogs at baseball, beers during the Superbowl, Pimm's at Wimbledon. Watching sports is often done in social settings too, in bars or at stadiums. These are all perfect moments for brands to reach their ideal audience and explore activations.

Beyond the field, where can you reach this segment? Sports networks are the way to go. ESPN, Sports Nation, Fox Sports and NBC all appear under media affinities for this segment. They're not just watching sport, they're also listening to podcasts and radio shows about it, reading about it, and chatting about it online.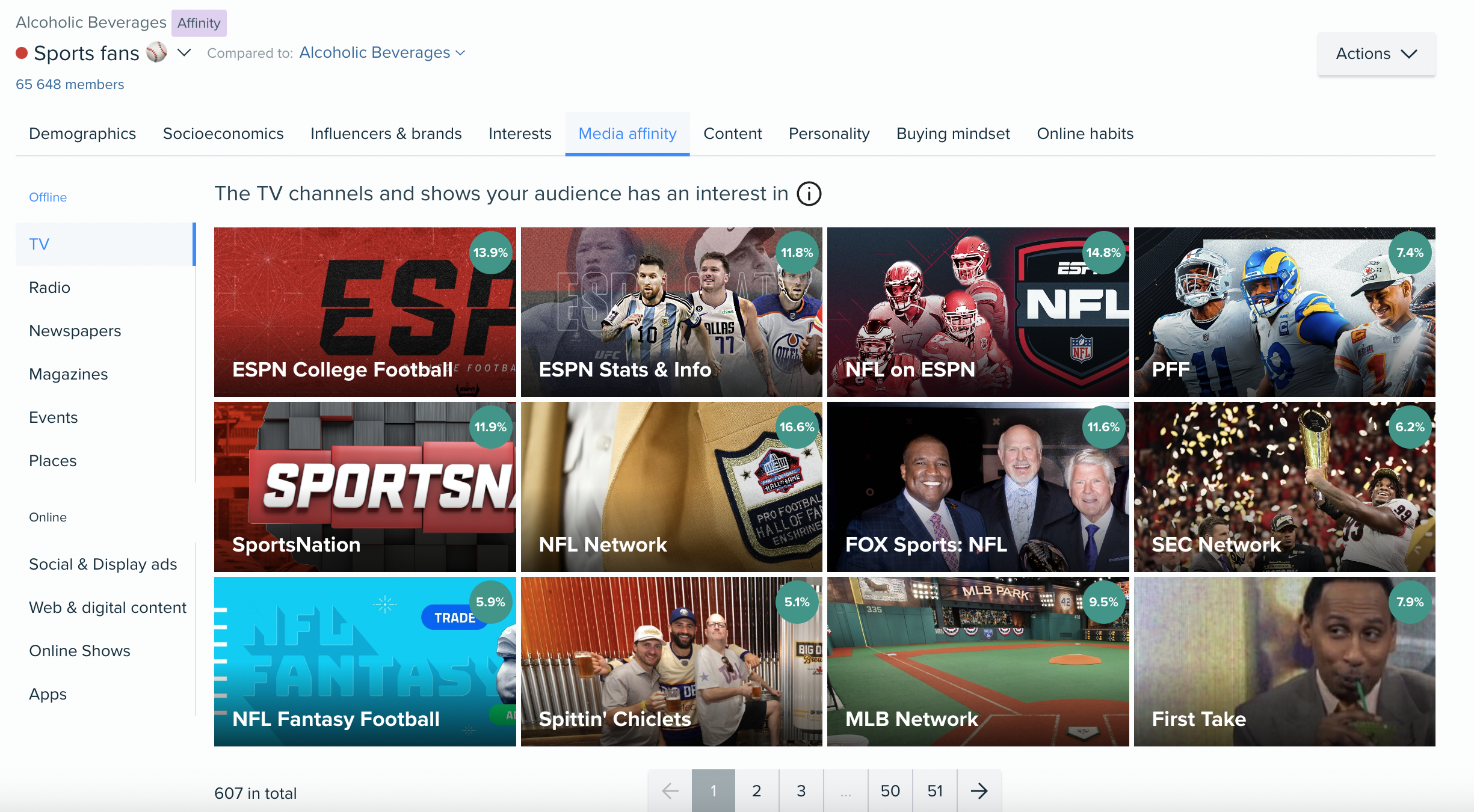 Music lovers 🎸
It's peak festival season and as music lovers know, when you're part of a bustling crowd trying to get close to the front of your favourite band, a refreshing drink is essential (even if it's just the free water handed out by security). This is a chance for the drinks industry to make their brand a key part of festivals and events!

Our music lover segment tends to skew slightly more female, though it is almost 50/50 in terms of gender split. It's also overwhelmingly younger than some of our other segments, with 13- to 34-year-olds making up about 80% of the total audience. While older generations are likely enjoying a glass of wine with their music, the younger ones are driving sales for drinks brands.

Key events for this segment include The GRAMMYs, Ultra Music Festival, Tomorrowland, Hip Hop Awards and other awards and festivals in the music space. They're also more likely to follow artists, with Drizzy, Wiz Khalifa, Nicki Minaj and other hip hop industry icons appearing prominently in their top influencers and brands on social media. How can you use this? Brands looking to reach this segment should focus their attention on sponsorship of key events or partnerships with icons.

If your marketing budget doesn't stretch that far, you can also catch them online. Top platforms for this audience include SoundCloud, Instagram, Snapchat and Spotify.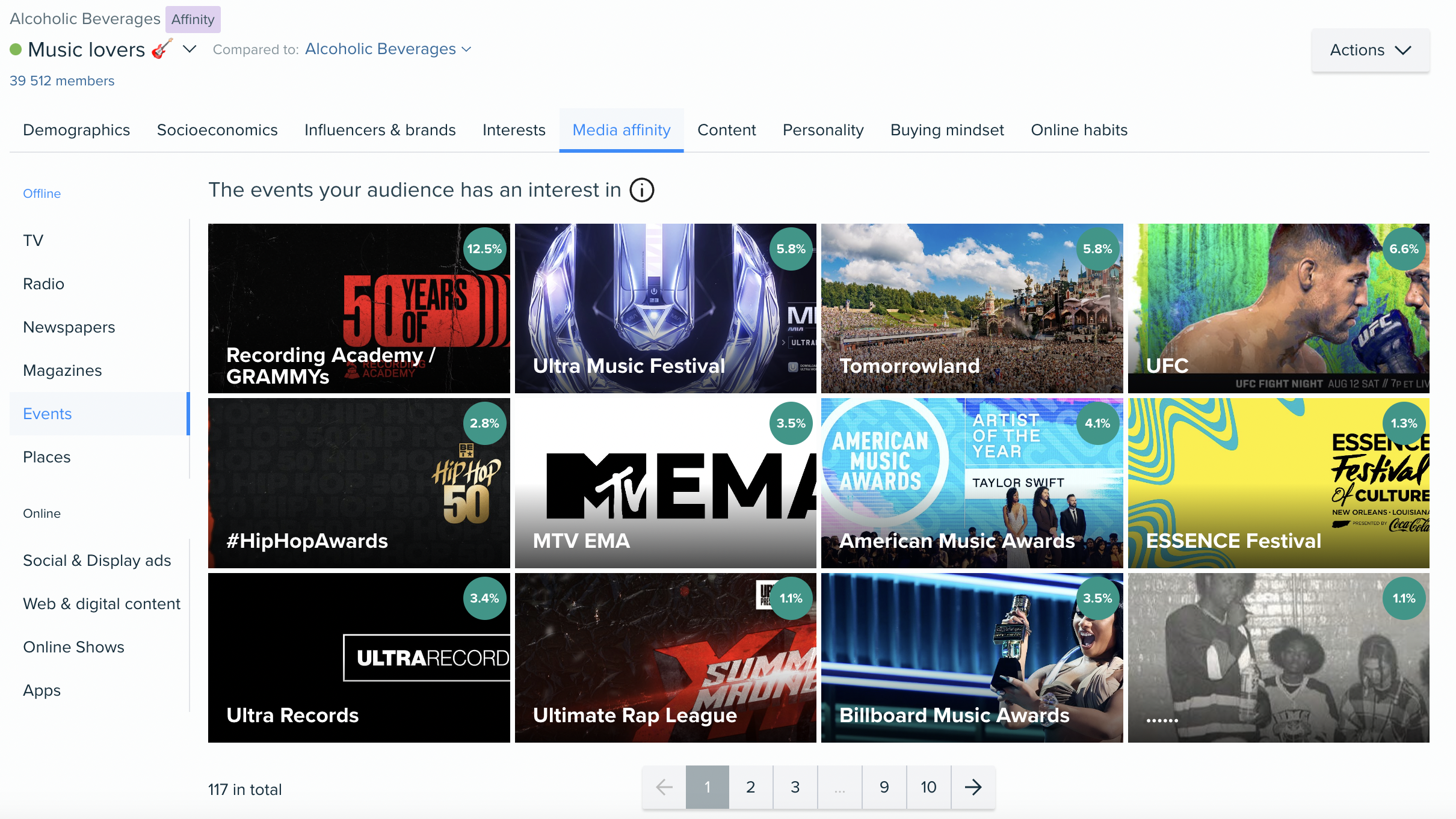 Entertainment seekers 🎬
Last but not least, our entertainment seekers. They appreciate brands that are bold and humorous in their campaigns, particularly because they're more likely to be watching TV, using streaming services, and seeking out the latest and greatest in comedy.

They're hot on trends in the entertainment space. Top media affinities include smash hit shows such as House of the Dragon, The Walking Dead and Hamilton, but they're also engaging with more cultural TV slots such as The Daily Show, SNL, Jimmy Kimmel Live and The Late Show.

About 80% of this particular segment are based in the US, but we also see engagement in the UK, Canada, Mexico and Brazil. It's very likely that this segment consumes different types of media from all over the world, which is where streaming services and online TV comes in handy to make sure they're always caught up on what everyone else is talking about.

So where are they spending time? Obviously, mostly they're at home binge watching, but they're also talking about and engaging with brands on social media. Reddit, Twitch, Medium and Discord all appear as top online platforms, which means text-based social platforms that allow for one-on-one discussion and forum chat are important for reaching this particular audience.


3 high-proof collaborations from drinks brands & agencies
Now you've got the intel you need to make strategic decisions, let's get inspired. We've selected three high-proof campaigns from the drinks industry, where brands have partnered with agencies to create something truly innovative for their consumers.
Mike's Hard Seltzer x FCB Inferno
Water, but make it alcoholic. We love this campaign from Mike's Hard Seltzer, who partnered with FCB Inferno to differentiate their product in the UK after a successful launch in the US. They noticed a shift in consumer behavior, spotting that the demand for hard seltzers were bubbling over into the UK market. So, they decided to take on the hard seltzer behemoth White Claw with a 'Refreshingly Obvious' campaign.
Working with FCB Inferno, they created a series of films direct by Mike Bernstein, whose portfolio spans the comedy sector including as Saturday Night Live, Funny or Die, and Comedy Central. This was clearly a match made in heaven if our entertainment seekers segment is anything to go by! FCB specifically sourced a director who would align with the brand's ethos of having fun and not taking themselves too seriously.
With the creative in place, FCB then set out to make Mike's the obvious summer drink. The campaign used the brand's three key pillar – Taste, Occasion and Personality – to provide a fresh take on alcoholic beverages.
They rolled out a campaign which used OOH, radio and influencers to make a splash in the UK market. Activities included OOH spots, radio and podcast slots across sports, comedy, news and politics genres, and making use of 'mike-minded' influencers to create their own fun content. The results? 100 million impressions delivered across social, a 16% growth in brand awareness and a number one hard seltzer brand in repeat rate. Ahhhhh, good work.

Seedlip x And Rising
As we said earlier, it's not always about alcohol. Seedlip, a non-alcoholic spirit brand which has Diageo as a majority stakeholder, has been hard at work growing their line of non-alcoholic mixed drinks to reach a new kind of consumer. Working with agency And Rising, they created a campaign titled 'Drink to the future'. This campaign launched during Dry January, the perfect moment to reach people as they commit to drinking a little less or making healthier choices.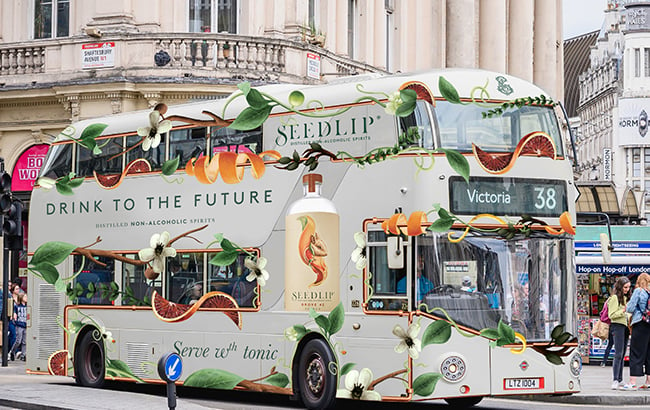 According to Emma Wykes, COO at Seedlip, "Since the launch of Seedlip four years ago, non-alcoholic drinks brands have continued to flourish as they become progressively prevalent in consumers' consciousness. We know people are looking for greater range when it comes to non-alcoholic choices and we hope that with this creative we will inspire both new and existing Seedlip consumers."
The campaign showcased the Seedlip bottle alongside the wide range of natural ingredients used by the brand, inviting consumers to join the drinking revolution and provide more choice. The campaign included a major out-of-home push, including branded buses roaming around London and Manchester. They also teamed up with Manchester's Finest and TimeOut London to give people the opportunity to enjoy a free Seedlip cocktail, in over 40 bars across both cities, throughout the month.
According to their website, "Each cocktail is unique to each bar so whether you're a seasoned Seedlipper or new to our spirits, this is a great way to get out the house, meet up with friends and try something new this month. Drink to the Future and embrace non-alcoholic drinks as a lifestyle revolution, not a New Year resolution."
Camden Town Brewery x Wieden+Kennedy London
Who says you can't have a little fun with your marketing? Camden Town Brewery have always taken a playful approach to reaching consumers, using illustration and design to convey their message. Working with Wieden+Kennedy London, they launched 'The Fresh Tasting Choice', a campaign designed to take consumers beyond their core line of Hells lager into exciting new flavours.
Of course we know from the consumer research we looked at that customers are looked to experiment and try new drinks, so this campaign appeals to more adventurous consumers. In a comprehensive above-the-line campaign, they worked with comedian Sarah Levine to take a tour of the Camden Town brewery, showcasing their full range of beers. The video ads feature Levine guided by a talking river of beer – voiced by UK grime musician Jammer.
Fred Nesbitt, head of marketing at Camden Town Brewery, said: "Illustration and design have always been at the heart of Camden, and that's why we wanted to create an illustrated beer world to let viewers experience Camden Town Brewery in a fun, friendly and playful way. Having brought fame to our Hells Lager with our previous ATL campaigns, as a craft brewery we're excited to show off our brewing creds by featuring more of our core range with our Pale Ale and IPA making their first appearances."

What the experts think
What value do marketing agencies bring to alcohol brands?
According to Senior Global Brand Manager at Zamora Company, Eva Mª Segura Arribas, agencies can support alcohol brands in many ways.
"One of them is helping us in adapting to new generations: with millennials and Gen Z favoring healthier habits, and increasing zero or low alcohol drinks consumption. Agencies can play a vital role in helping us identify current and future occasions where our products can integrate, ensuring our brands stay ahead in a rapidly evolving landscape," she says.
In her opinion, while targeting new generations is crucial, agencies should also help brands address the preferences of other targets like Gen X or Baby Boomers, which are sometimes forgotten in the advertising, but are a big part of the industry.
Key takeaways
Spoiled for choice with all of these insights? Let's take a moment to refresh ourselves on the key takeaways for marketers.
Experimentation is key: Consumers are looking for choice in their beverages – a selection of beverages, if you will. With appetites evolving from generation to generation, be prepared to experiment with your marketing and your product range. For best results, serve excitement.

Be sure to align with your values: It's important for brands to come across as authentic and trustworthy, so make sure your campaigns and your tone of voice match up with your values. For example, if your brand is all about relaxed, social occasions with close friends, you probably don't want to shift gear into making yourself the dedicated brand for night clubs.

Be ready for anything: If the last few years have taught drinks brands, and all brands, anything, it's to be ready for anything. With so many alcohol adjacent products, such as CBD drinks and other wellness tools, entering the market, consumers have a lot of choice when it comes to unwinding at the end of a long day or relaxing with friends. Future proof your brand by truly knowing your audience.
Ready to take the next step in audience intelligence for your marketing? With tools like Audiense, conducting in-depth audience analysis and discovering actionable takeaways makes creating tailored marketing strategies easier than ever. Sign up for free now!