Rachel May Quin
Movie magic: How agencies & entertainment brands are lighting up the silver screen
The box office has been booming this summer, with the Barbenheimer phenomenon driving major footfall to cinemas across the globe. Greta Gerwig's long-awaited comedy Barbie is on track to become one of the highest grossing films of all time and Christopher Nolan's Oppenheimer, released on the same day, has benefitted from the momentum as consumers attend a double bill of back-to-back cinema.
This blockbuster moment has been credited as 'saving' cinema this summer, with Barbie said to have debuted with box office sales at $162 million in the US alone. Since then, Barbie has become the highest grossing film of 2023, generating approximately $1.38 billion in the worldwide box office.
But it's not just about the money. Hollywood has been a major driver of pop culture for decades, with or without $145 million marketing budgets to launch films, and much of this comes down to how consumers consume media. Let's take a look at some of the stats around the entertainment industry.
How can the entertainment industry capitalize on the excitement? It's all about the behind-the-scenes action, as more and more entertainment brands choose to work with agencies to light up the silver screen. In this month's spotlight, we're digging deeper into some of the star-studded campaigns dreamt up by agencies and entertainment brands.
Where do the opportunities for the film industry lie?
There's a lot of discussion at the moment about what learnings future film releases can take from the Barbenheimer buzz. For us, one of the most important elements is to truly understand who your target audience is and what they want.
To help us understand the opportunities for the film industry, we created two reports. The first was an affinity report focused on passionate movie goers and supporters who are following key entertainment brands. The second was an affinity report which shows the overlap between followers of these brands. We highly recommend you look through them both!
For this spotlight, we'll focus on our passionate movie goers and supporters. Looking at the audience as a whole, we can see that demographically, the audience is split almost 50/50 for men and women (55% men vs. 45% women). A quarter of the total audience is based in the US, but it clearly has a global audience based on the location map available in the report, with the UK, Brazil, India and Mexico also appearing as top locations.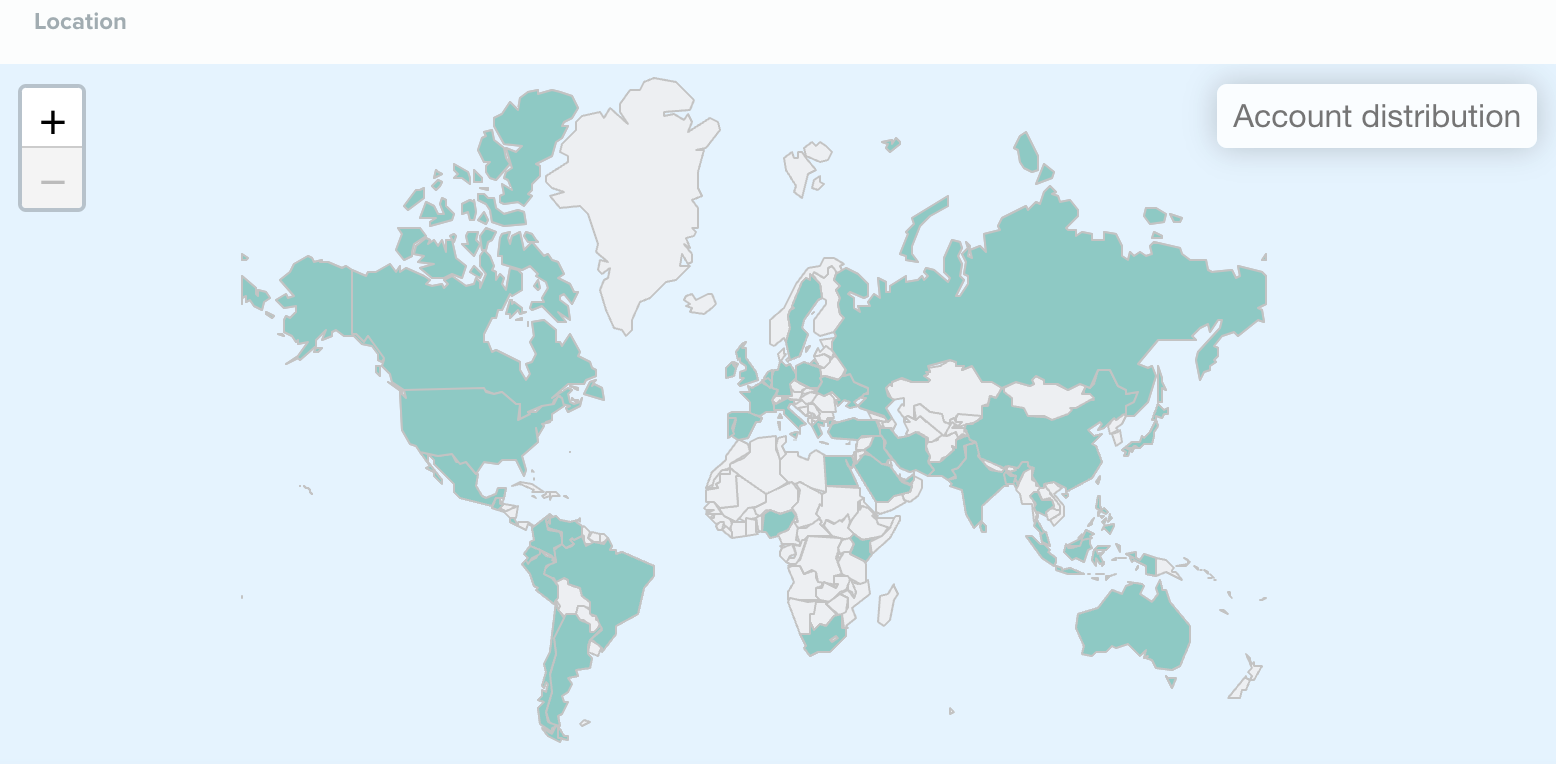 Interestingly, the total film industry audience skews very young, with the 18- to 24-year-old demographic making up 36% of the audience. But actually, if you look at the 13- to 34-year-old audience as a whole, we can see they account for 77% of the entire audience. It's also worth noting that English is the dominant language for roughly half of the audience, signaling the global reach and interest in film.
While we can make general assumptions about the entire potential audience – all together now – your audience is not a monolith. We've broken the audience down into seven key segments and selected four to discuss in more detail, but if you want to check them all out, click here.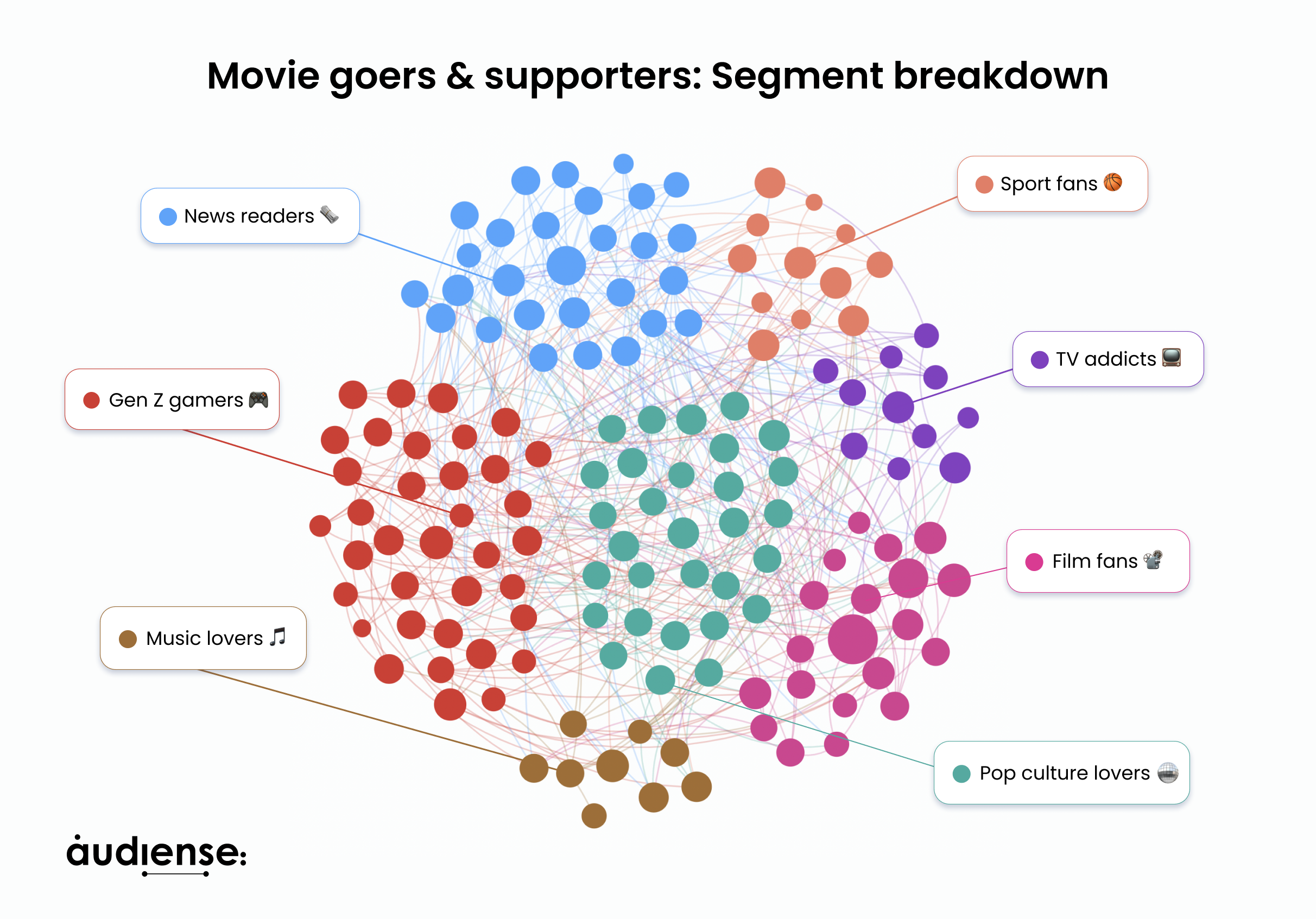 Gen Z gamers 🎮
First up is our largest segment, the gen Z gamers! Named for their overwhelming common interest in games, which 38% of the audience define as their top interest, and their distinctive affinity for brands such as Steam, Twitch and Ubisoft.

Digging a little deeper into the demographics of this segment, while 60% of the audience is male, there's a decent chunk of women making up the audience. Furthermore, while the US may be the top country for this segment, we see London ranking as the top location.

In addition to skewing younger than some of our other segments, with about 56% of the audience being aged 13 to 24 years old, only 11% of this audience are parents. This typically aligns with more leisure time and potentially, more disposable income for cinema trips and less spend on kids' films.

Looking to top influencers and brands, it's here that gaming shines through as the most popular shared interest. Top accounts this segment follows include Steam, Twitch, Ubisoft, Epic Games, Minecraft, Discord and Bethesda, plus crossover interests with anime accounts and comic books such as Crunchyroll, Spider-Man and Pokémon.

So how best to reach them? This audience is more resistant to typical advertising campaigns such as TV ads and out-of-home posters. They're likely to be spending time on Discord, YouTube, Twitch and TikTok; as well as consuming media from streaming services, ESPN and Entertainment Weekly.

Pop culture lovers 🪩
Next up, our pop culture lovers! This segment skews significantly more female, with women making up almost 70% of the overall audience, and young women (18-24) accounting for 40% of the overall audience. For this segment, it's all about appealing to teens and young adults who are driving and influencing the conversation around pop culture.

What makes this segment unique is how passionate they are about pop culture. Most common bio keywords for this audience include 'love', 'life' and 'music', highlighting their excitement and commitment to their interests.

Looking to top influencers and brands, we see that One Direction stars including Harry Styles appear prominently. We also see artists such as Demi Lovato, the Jonas brothers, Justin Bieber and Miley Cyrus. It's clear that while they are widely engaging in cultural moments, music is more important to this segment than gaming, film or TV.

Looking to media affinities, we also get a sense of how young this segment is based on the content they consume. Networks such as Nickelodeon appear prominently, alongside YA staples such as Pretty Little Liars, Victorious, Radio Disney, iCarly and Glee.

Given they're likely to have slightly less disposable income than our other consumer segments, how can you persuade them to buy? Social media is overwhelmingly one of the strongest purchase influence factors, closely followed by online advertising.
News readers 🗞️
Our news readers segment has a finger on the pulse of what's going on in the world. While they clearly have an interest in entertainment, the distinctive affinities for this segment include business, politics and travel. This segment is career-oriented, but they use their leisure time to enjoy films, TV and music.

Looking at demographics, the segment skews slightly toward men, who account for 59% of the total audience. It's also largely based in the US, but other top countries include India, UK, China and Brazil.

Looking to top influencers and brands, news outlets dominate! The Wall Street Journal comes out top, closely followed by Reuters, The Economist, BBC News, and Forbes; alongside some political accounts such as the UN and the White House.

So how can you reach them? Given this audience is so career-focused, it's unsurprising that they're 3.5 times more likely to use LinkedIn than the general population. That said, they're also spending time on Medium, Pinterest, Reddit and X (formerly Twitter), so brands do have a chance to reach them in more informal online spaces.

Their personality and buying mindset data also presents some interesting learnings. They're defined by IBM Watson as analytical, helpful and social. They're likely to carefully think through decisions before making them, but they love to explore new ideas. They're also significantly more likely to make a purchase based on a recommendation from friends or family rather than a brand name or social media.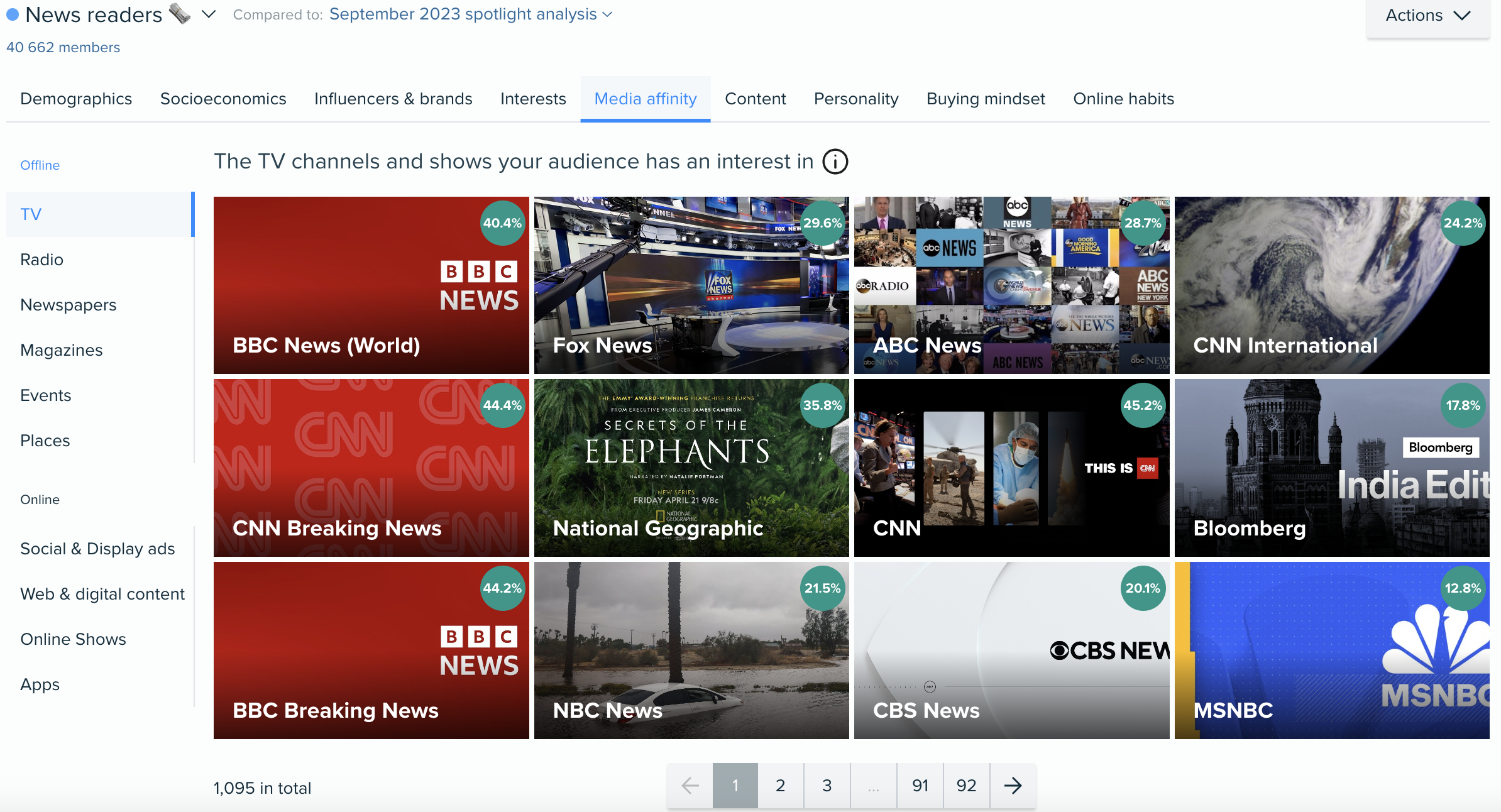 Film fans 📽️
Last but not least, our dedicated segment of core film fans. This segment aligns closely with our idea of passionate moviegoers and supporters, made up of people who are likely to support cinemas and be interested in box office debuts.

Looking at demographics, this audience is once again, young. But not quite as young as our pop culture lovers. About 60% of the total audience is aged 18 to 34 years old.

This segment actively engages with and talks about their favorite films, and this is proven by their recent activity around the #barbie, #oppenheimer and #bluebeetle hashtags! We also see them regularly engaging with sites such as Discussing Film and images from new films.

Looking at influencers and brands, all of the top 20 accounts are artists, directors or producers, including industry icons such as Mark Hamill, Samuel L. Jackson and Ian McKellen.

While film and TV are obviously of huge interest to this segment, surprisingly it's not the top interest. 72% are passionate about pets and 40% are interested in sports, presenting some interesting crossover opportunities for savvy marketers and brands looking to reach as many people as possible.

How do you reach them and what persuades them to purchase? This audience lean more toward text-based social platforms such as Reddit, Discord and Medium, but we also see them spending time on Soundcloud and Spotify. Friends and family are the most influential purchase factor, but they can also be swayed by clever online advertising and product utility.
3 agencies & entertainment brand campaigns lighting up the silver screen
Now we've explored the potential of the various kinds of movie goers and pop culture lovers, let's deep dive into how agencies and entertainment brands are working together to reach them.
The Super Mario Bros. Movie
Since bursting onto the scene in 1983, Nintendo's iconic Mario Bros. is a much-loved video game enjoyed by generations of gamers. This year, Mario made the jump to the big screen in The Super Mario Bros. Movie, a delightful technicolor offering with an all-star voice cast including Chris Pratt, Anya Taylor-Joy and Jack Black.
In this origin story of Mario and Luigi, two Italian-American brothers open their own plumbing business in Brooklyn. While on a job, they find themselves magically sucked into the Mushroom Kingdom, where they meet Princess Peach, Bowser and the rest of the iconic Mario cast. Produced by Nintendo and Illumination, this was bound to be a mega launch.
That's why we adored Illumination's next level teaser campaign, created in partnership with agency 3AM. On Super Bowl Sunday 2023, they launched a mock website promoting Super Mario Bros. plumbing services, with a microsite that highlights this family owned and operated business where 'Fixing Pipes Is Our Game!'.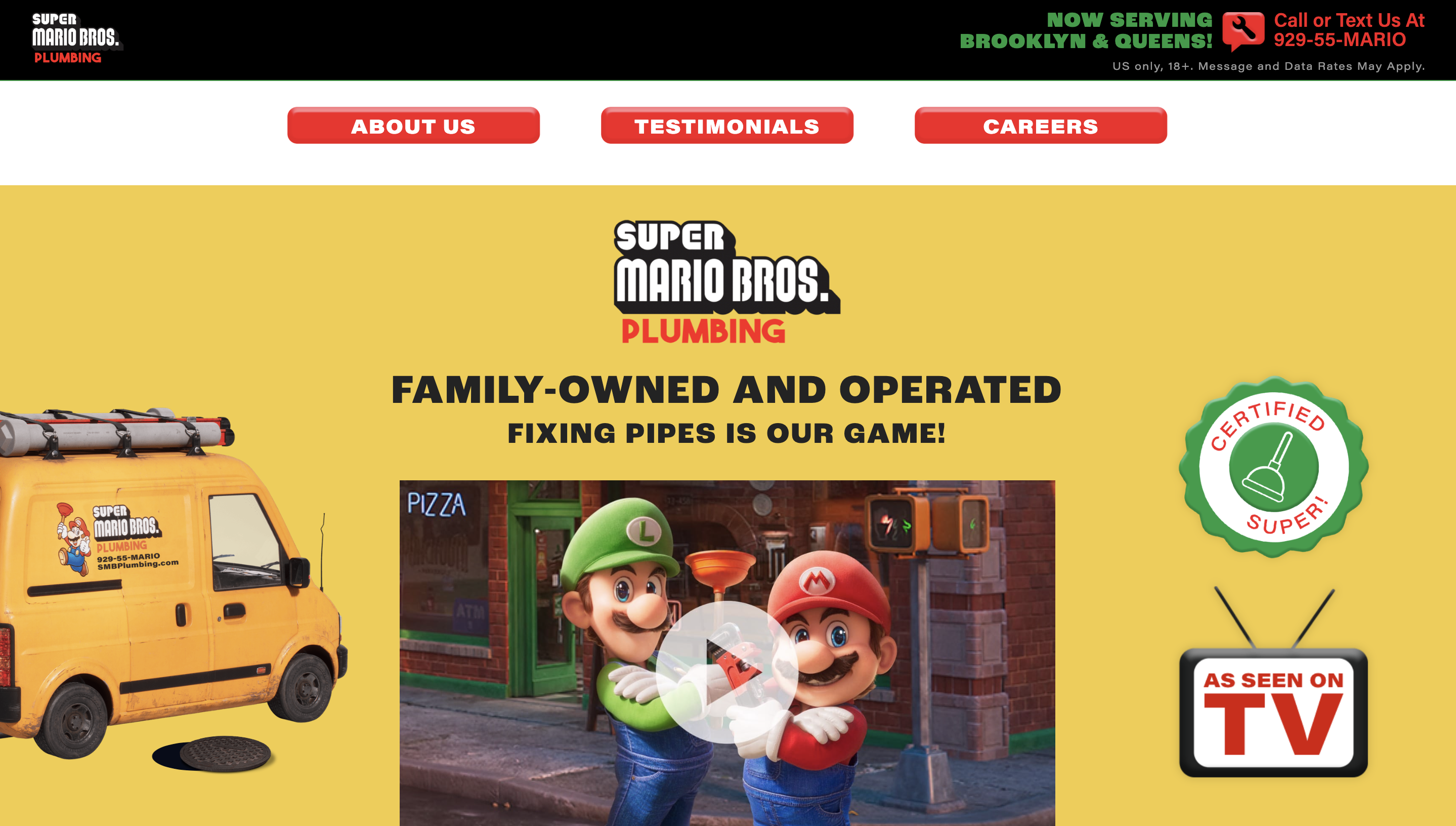 The microsite launch was accompanied by a 30-second ad spot which drove SMB plumbing to the second most watched video on YouTube, featuring a real phone number fans could call. That's right, if you called 929-55-MARIO you'd be able to listen to a voicemail message by Mario (aka Chris Pratt). You can also enjoy Easter eggs such as an Error 404 page filled with warp pipes and a careers page for those interested in a future at SMB plumbing. Must be located in Brooklyn or the Mushroom Kingdom.
Knives Out
A modern twist on the classic whodunit films of the 20th century fronted by Bond *cough* sorry, we meant Daniel Craig, Knives Out presents the story of a detective investigating the mysterious death of wealthy novelist Harlan Thrombey. Despite its killer subject matter, Knives Out is known for its top banter and dysfunctional family dynamic that bring a touch of levity to the film.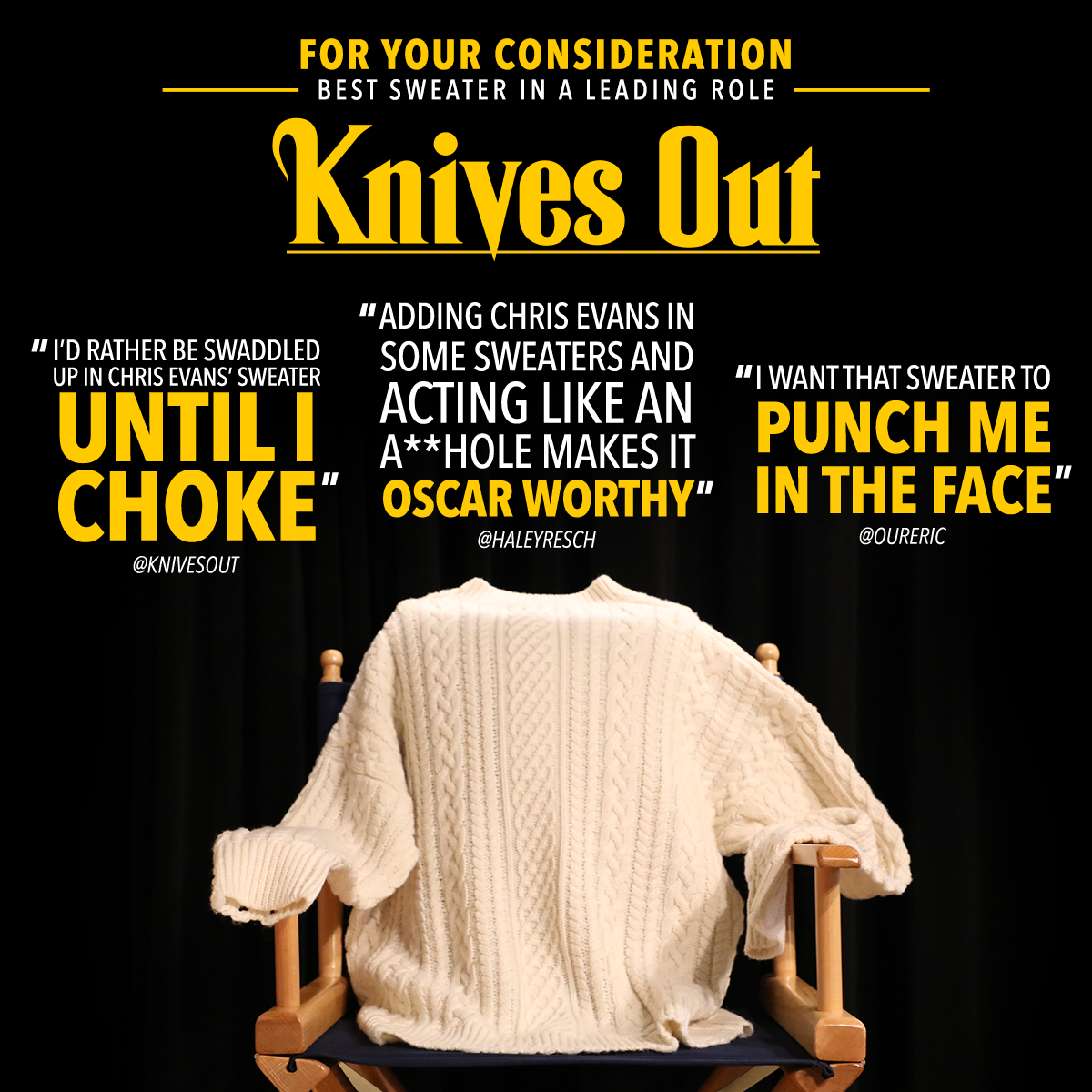 To make this shine, Lionsgate teamed up with social media agency Digital Media Management (DMM) to create a cheeky X (formerly Twitter) stunt designed to stir up the social media conversation and drive mass awareness.
Using social listening tools, DMM were able to discover the movie moments fan loved most, including Chris Evans' iconic sweater. They then fed this intelligence into the social media copy and creative, joining relevant conversations and creating the #KnivesOutChallenge, inviting fans to submit selfies of tehir own for a chance to be featured on the official Knives Out Instagram page. This activity generated 52.3 million impressions across Facebook, X (formerly Twitter) and Instagram.
Further down the line, Lionsgate also worked with AvatarLabs to create a 'gamified transmedia experience' called Get Your Cut. In this clever campaign, they invited audiences to solve 32 different mysteries hidden in the marketing campaign for a chance to win up to $250,000. An appealing proposition for the experienced social media sleuths among us.
Once Upon A Time in Hollywood
Once upon a time, Sony worked with agency Watson Design Group to create a truly unique microsite that appealed to movie goers of all ages. Using Quentin Tarantino's admiration for nostalgia and culture as the springboard, they created the Once Upon A Time in… Hollywood Magazine site, designed to give the feeling of flipping through a 1969 magazine and expand the world of the film.
Using Leonardo DiCaprio as the cover star, they used existing content from the film to create a 1960s gossip magazine complete with interviews, articles, photography and in-world advertisements that would connect Tarantino fans old and new with the extended universe of his work.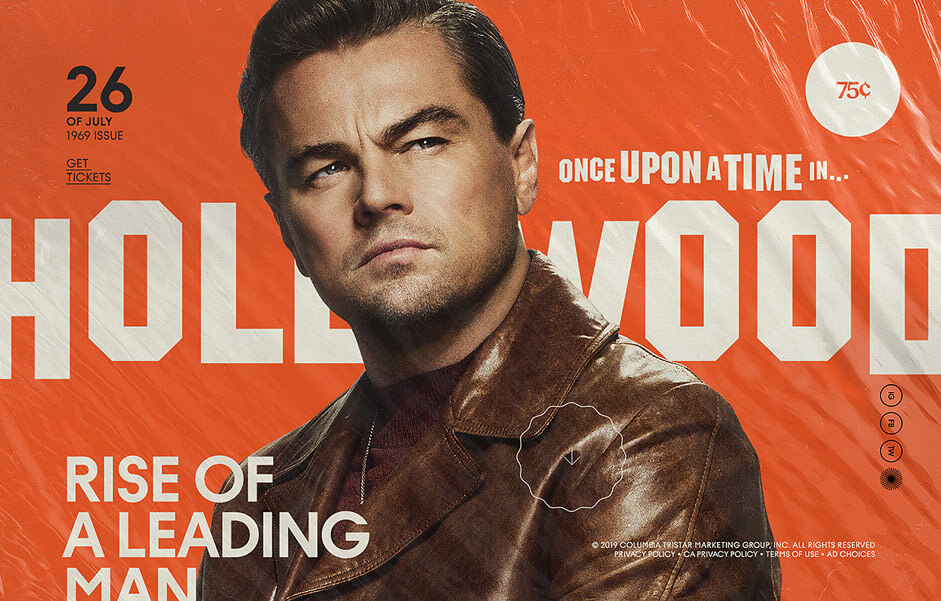 They promoted the site through custom videos and Instagram Stories content designed to drive online audiences to the site. On Instagram, they created a mini-version of the magazine featuring swipe-up prompts to each individual article, allowing fans to browse the site from within the in-app browser on the platform. Even better, they printed physical copies of the magazine as exclusive swag to be handed out at the star-studded premiere.
Key takeaways
Before you race off to your nearest cinema to grab some popcorn and enjoy some Hollywood glitz, let's take a moment to refresh ourselves on the key takeaways for marketers.
Use the story to your advantage: As movie marketers know, your greatest asset is the product itself. Make use of the story, the characters, the twists people never saw coming… but avoid the spoilers. If you don't work in movie marketing, the message still applies, tell an appealing story about your brand or product without giving too much away. The Super Mario Bros. plumbing website is an excellent example of this, using a major sporting moment to broaden their reach.

Don't be afraid to take risks: The industry has seen a significant amount of disruption over the last few years, with the pandemic and the ever-growing popularity of streaming services forcing studios to rethink a traditional launch. The learning here is to not shy away from risks, embrace them as part of your marketing and your wider strategy to keep consumers of all ages engaged. Once Upon A Time's campaign balanced this week, blending traditional out-of-home advertising with an innovative digital offering to appeal to different types of movie lovers.

Focus your energy: It's very easy for marketing teams to burn themselves (and their budget) out by trying to do everything, everywhere, all at once. Use audience intelligence to your advantage and develop your understanding of where your audience is actually spending time. This was demonstrated beautifully by the Knives Out approach to social media marketing, leveraging the plot to create genuine conversation on X (formerly Twitter).
Ready to take the next step in audience intelligence for your marketing? With tools like Audiense, conducting in-depth audience analysis and discovering actionable takeaways makes creating tailored marketing strategies easier than ever.
P.S. If you liked this spotlight, we highly recommend you read Brands, find your next Barbie movie and 4 key insights into superstar entertainment campaigns.