Rachel May Quin
Life's a beach: How marketers are bringing a breath of fresh air to the travel industry
How do you like to spend your vacation? By the beach with a cocktail or in a bustling city with new places to explore? However you like to relax and unwind, the options are limitless and tourism boards are vying for attention. Post-pandemic, the travel industry has noticed leisure travel booming, with consumers keen to explore places they've always dreamed of.
So, how are consumers approaching their vacation plans in 2023? Let's take a look at some of the key trends and statistics shaping the industry:
It's all to play for in the travel industry. Despite the cost-of-living crisis gripping some countries, consumers are not willing to compromise on how they spend their vacation days. This is reflected in industry growth, with global tourism revenues expected to exceed $8.6 trillion dollars this year.
In this month's spotlight, we'll be taking a look at how destination marketing teams are upping the ante. Whether you're in the business yourself or just looking to shake up your own strategy, we've got a little inspiration for everyone.
Who makes up the travel market in 2023?
We know there's an opportunity to reach these travel-hungry consumers, but we wanted to know two specific things: who makes up the travel market? And what destinations or priorities are top of their list for 2023 and beyond?
To help us dig deeper into these questions and analyse how brands can effectively tailor their marketing strategies to reach this audience, we ran an affinity report built on biography keywords such as 'adventure', 'travel' and 'outdoor', as well as followers of big travel brands such as airlines, hotels and travel booking sites. We applied this criteria across our wide range of available platforms, including Meta through SOPRISM our recent acquisition, and we were able to pull an audience of around 250,000 people worldwide.
Looking broadly at our travel audience, our audience is split nearly 50/50 men and women, with men making up a slightly higher proportion. While about a quarter is based in the US, we can see that travel is a universal interest, with the UK, India, Canada and Mexico all appearing in our top five countries. Interestingly, it seems that the younger demographics are leading the conversation around travel, with 18- to 24-year-olds making up 35% of our total audience – gap years? – but of course, we also see decent engagement in the 25- to 54-year-old age bracket as well.
"In the tourism sector, a correct management strategy and analysis of the presence in social media allows us not only to get to know our target audience better, but also to correctly define our insights, that is, sales opportunities or customer acquisition. We can adapt KPIs to a specific target, analyze their response to certain content and thus define, for example, the specific moment to launch a campaign, the offer of a certain resource or complementary product, or support our presence in a face-to-face sales event (for example a fair of the sector)." Mayte Vañó Sempere, communication and marketing consultant
While we can make some general assumptions about who they are based on this broad data, as our regular readers know, your audience is not a monolith. So, we've broken down this audience into five bite-size segments to help us drill down into individual interests. Let's see where they take us this time.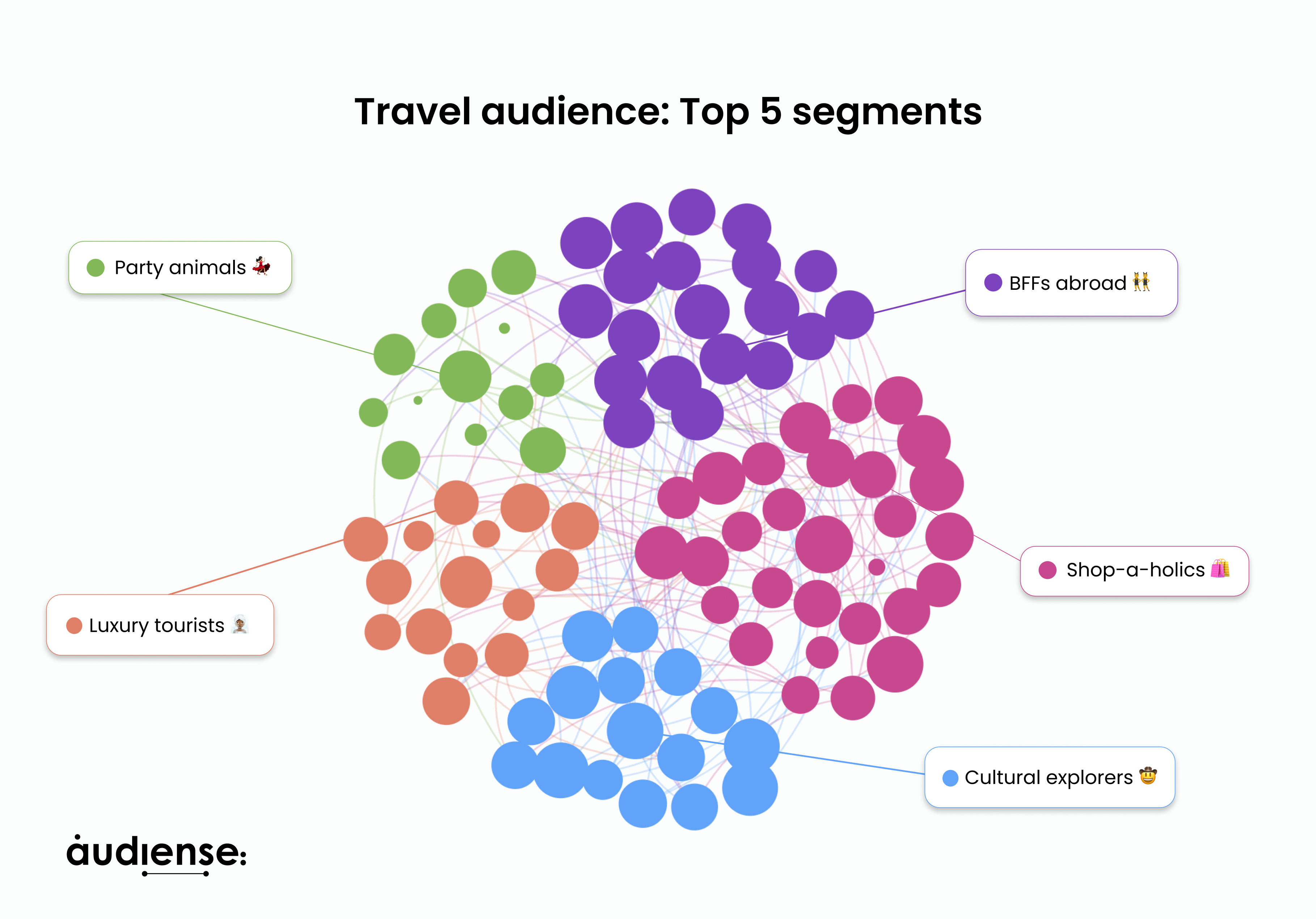 Shop-a-holics 🛍️
While our broader audience skews more male, our shop-a-holics segment is 55% women with 20% based in the US. This audience are largely city based, with London, Toronto and LA appearing as the primary cities.
Most interesting about this segment is their interest in shopping and experiences. They like to spend time on city breaks, with their purchases most strongly influenced by friends and family, and credit cards being the most prominent way of spending.
Looking at who is influencing them, their desire to know what's new and what's trending comes through clearly. Anthony Bourdain, Bon Appétit, Condé Nast Traveller and many, many influencers including Karlie Kloss, Gigi Hadid, and Chrissy Teigen all appear under the most influential brands and accounts for this segment.
Unsurprisingly, we can see that travel is by far the biggest interest for this segment. But within that, hotels are the strongest interest, significantly above destinations, specialty travel and travel guides in terms of their overall interests.
So, what can we say about this audience? They're keen to spend time and money on the finer things in life, prioritising 5-star hotels, gourmet experiences and great city connections over beach breaks and adventure travel.
BFFs abroad 👯‍♂️
Another female-dominated segment, our BFFs abroad segment LOVE getting social! Their favourite way to spend their vacation days is with close friends and family, planning exciting getaways to the hottest new destination.
This desire to be where the party is shines through in both their influential accounts and media affinities. Kim Kardashian comes in at number 1 for influencers & brands, closely followed by P!nk, Taylor Swift, Selena Gomez and other major media personalities. In media affinities, the Kardashians, Paris Hilton, MTV News and E! News all appear as top channels, it's clear this segment is tuned in to popular culture.
Looking at their buyer mindset, this audience are significantly more likely to be influenced by social media than the general population (73% vs. 43%). They're also much more likely to indulge in spur of the moment purchases, likely due to the impact of social media and the influencers they follow.
Our IBM Watson analysis of this segment clearly supports all of this information. This segment is defined as social, helpful and particular, driven by a desire for connectedness. They're extroverted and self-assured, enjoying the company of others, and likely to be more hedonistic – they feel their desires strongly and they're much easier to attempt.
Their social butterfly nature shines through in the online platforms they spend time on. TikTok, Instagram, Spotify and Snapchat are all places they spent time. In fact, they're 2.7 times more likely to be on TikTok than the general population.
Cultural explorers 🤠
Next up, we have our cultural explorer's segment. This segment is interested in the crossover between travel and their love of religion and culture. Based on their biography keywords, they're looking for adventure when they go abroad.
This segment skews slightly more male and also one of our youngest segments. The 18- to 34-year-old age bracket makes up the majority of our audience, about 60%. They're also likely to be college educated and working in administrative roles.
While we can see a global spread, we see more Middle Eastern countries appearing in our audience including Pakistan, Indonesia and Bangladesh. Top cities for members of this segment include Dhaka, Karachi, Nairobi and Hong Kong.
What's most interesting about this audience is their broad range of interests and influencers. Travel brands such as Zagat and TripAdvisor appear in their top influencers and brands, but we also see people such as Stephen Fry and Neil Patrick Harris, alongside fashion brands Chanel and Victoria's Secret.
In terms of purchase influence factors, their broad interests also impact how they like to spend money. They're most likely to purchase based on word-of-mouth from friends and family, but we also see online ads and social media popping up as influential purchase factors. Targeted ads are certainly worth testing for this segment.
But where to reach them? This segment is over 4 times more likely to use Twitch than the general population, and 3 times more likely to use Twitter.
Luxury tourists 🧖🏾‍♀️
This segment is all about indulgence. They want to spend their hard-earned vacation days unwinding and they spend a lot of their time searching for the perfect place to do that. Top influential accounts for this audience reflect this purchase consideration: New York Times Travel, Guardian Travel, Times Travel, Condé Nast Traveller, USA Today Travel. They're consulting lots of resources before they make any decisions.
Other significant purchase influencers include friends and family – Where did you go last summer? What hotel would you recommend? – and also brand names. It seems that more prominent travel brands with stellar reviews and an established customer base are more appealing than an unknown AirBnB.
It's clear that this audience is also influenced by ✨vibes✨. This segment spends a lot of their time online on social media networks like Pinterest and Instagram, likely because they're curating the ultimate vacation board and browsing their friend's profiles to see where they went recently.
Most importantly for this segment, our IBM Watson insights show that independence and achieving success guide what they do and how they behave. They're goal-driven with a strong work ethic, and this means they're always seeking opportunities to improve themselves. This makes spa breaks, wellness retreats, and culturally enriching vacations much more appealing to them than an all-inclusive 3-star resort.
Beyond social, how can brands reach them? Publicity will be key here. As well as placing great coverage in those key travel publications we discussed earlier, marketers could consider supplementing press coverage with ads or partnerships with brands such as New York Times Travel, Huffington Post, Rough Guides and National Geographic.
Party animals 💃🏻
Finally, we have our party animals! This segment loves music, dance and socialising with others. They're also distinct from our other segments, in that consumers in Mexico and Spain make up almost 60% of the total audience. This audience skews much younger, with the 18- to 24-year-old age bracket making up 36% of the segment.
Keywords such as 'música', 'viaje', and 'vida' all appear prominently in the bios of this segment. This desire for a good time is also reflected in their influencers and brands, with many musicians, media personalities and entertainment brands such as Cinemex and Cineteca Nacional appearing in the top 10 influencers.
Looking at their buying mindset, they're 82% more likely to spend on credit cards, and both friends and family and social media strongly influence their purchase decisions. However, their carefree and fun-driven approach to travel doesn't necessarily reflect their personality. They're less likely to make spur-of-the-moment purchases than the general population and their choices are driven for a desire for stability.
This segment is a little trickier to reach than our others, as they spend much of their time socialising on dark social channels such as WhatsApp and Telegram. However, their love for music means that Spotify and SoundCloud also appear highly on their most used social channels, providing a chance to reach them in their day-to-day lives.
This segment's passion for music and dance also influences WHEN they're online. This audience is more likely to be online late at night, between 6pm and 5am. Why does this matter? If you're considering running paid ads on platforms like Spotify or YouTube, you might want to consider dayparting them to reach your audience at their peak listening times.
How tourism marketers are breathing new life into the travel industry
Now we've analysed the massive potential audience for the travel industry, let's take a look at some of the most creative travel campaigns from the last few years. We've searched across the world and highlighted campaigns from Iceland, Greece, Spain, Sweden and Austria. Pack your bags and let's go!
Out-Horse Your Inbox – Visit Iceland
Nothing ruins a vacation like work. That's why we absolutely love this campaign from Visit Iceland, which brings a playful twist to standard tourism marketing. This campaign was inspired by a global survey conducted by their team, which found that 55% of people check their work emails daily while on vacation (guilty as charged).
With this campaign, Visit Iceland encourage you to say 'nay' to work emails and spend some time enjoying their beautiful scenery. All you have to do is visit their website, choose a horse to look after your inbox while you're away, and switch off. The campaign is supported by a big social push and extra video content, including how they taught the horses to reply to work emails.
This delightfully silly campaign also takes the time to highlight reasons why you should visit Iceland, i.e., things to read while horses deal with your inbox. You might recognise scenes from The Witcher and Game of Thrones from their promotional materials, which perfectly ties into the current trend for visiting countries from your favourite TV shows.
You Will Want To Stay Forever – Greek National Tourism Organisation
Since the pandemic, Greece has been focused on tempting tourists back to their gorgeous beaches and idyllic islands. This culminated in the creation of their new overarching campaign, 'All You Want is Greece'. When it first launched, it consisted of several 30-second videos which highlighted the country's myriad attractions and rich cultural heritage.
In 2022, they took things to the next level with 'You Will Want To Stay Forever'. This charming campaign puts storytelling at the heart of their campaign, with Otto, an Austrian tourist who came for a taste of Greek summertime and ended up staying forever. The dream. Even better? This campaign is based on a true story.
It also ties in beautifully with the general perception of Greece as an idyllic getaway for many tourists. The #AllYouWantIsGreece hashtag has been adopted with enthusiasm by both travellers and locals, sharing breath-taking vistas and world heritage sites.
Tourism Minister for Greece Vassilis Kikilias said: '"As Greece is one of the five strongest tourism brands in the world, with famous attractions, we chose, this year, to focus on the feelings generated by visits to our country. A true story inspired the new promotional campaign projecting Greece abroad. It tells, through narration, the story of a traveller who originally visited our country on a holiday, but, driven by the serenity, simplicity and beauty experienced, ended up staying for good, to work, have a family in Greece, and, ultimately, change his life forever."
No Joy in Life is Small – Turismo de Andalucía
Next up on our list of brilliant tourism marketing campaigns is a trip to our home country, Spain. 'No Joy in Life is Small' by Turismo de Andalucía was crowned winner of the Grand Prix at the Terres Travel Festival, the tourism and travel film competition.
The campaign centres around a musical, featuring mega-star Antonio Bandera, which tells the story of Andalusia - a region of Spain - and aims to attract travellers of all ages and walks of life. It focuses on the idea of finding joy in your life, which is particularly powerful in the wake of the pandemic when most people experienced lockdowns and the inability to spend time doing things they once loved.
By focusing on the joy of the destination, this campaign successfully puts Andalusia at the heart of the message. Combine that with Turismo de Andalucía's impressive social media presence and commitment to promoting their region, including monthly updates on what you can do in Andalusia at different times of the year, and you have an always-on campaign that celebrates the beauty of your destination on a 365-day basis.
The Way To Your Heart Is Through Your Stomach - Vienna tourism
From sun kissed beaches to exquisite cuisine, our final campaign takes us to Vienna, the capital city of Austria. This surreal campaign by the Vienna Tourism Board taps into one of the most enjoyable aspects of vacations – the opportunity to try new cuisines.
In 'The Way To Your Heart Is Through Your Stomach', Vienna uses the old cliché of a way to a person's heart is through their stomach to give tourists permission to indulge their appetites, literally and metaphorically. This allows them to put the city's culinary reputation – plus some of their most beautiful museums and landmarks – at the heart of their message.
The campaign hinges on a six-minute short film, in which a stomach leaves his gym-obsessed human to wander the streets of Vienna. He visits many iconic destinations and tries many delicious foods, including a Sacher torte in his hotel room, before finally reuniting with his human on a delightful date in a Viennese restaurant. The final message? "The most beautiful way to love yourself is to indulge".
Talking about the campaign, director Nobert Kettner said: "Real moments of indulgence are becoming increasingly scarce these days as we get lost in endlessly discussing self-love, acceptance and body-positivity. Viennese culture has been questioning body ideals for hundreds of years. We thought it was time to embrace the consequences of self-love. The belly is a heroic figure that in the end arrives at a realisation: only if you love yourself, you can truly indulge. Without shame. Without judgement."
Key takeaways
With some weird and wonderful campaigns to guide our thinking, what have we learned and how can you apply these lessons to your own marketing in 2023? Let's recap.
Think beyond the product – As marketers, we can get wrapped up in the many practical features of a product. For a travel agency, this might be things such as extra leg room or luxury transfers from the airport. Don't get lost in the detail, instead think beyond the product to the experience, how will consumers feel? For example, a luxury transfer might make them feel VIP and well-cared for. Build the feeling into your campaigns to build a real, emotional connection with your customers.
Don't be afraid to push the boundaries – As Iceland and Vienna demonstrate, sometimes it pays to get weird. Acknowledging that work can ruin your vacation might feel risky, but it's a universal experience that everyone can relate to. A walking belly may make some people squirm, but it's a reminder the vacations are a time to let go a little and experience everything the destination has to offer without guilt. Consider where you could push the boundaries and create campaigns that will truly resonate.
Aim for authenticity in your messaging – It's become increasingly obvious from dozens of consumer insight reports that authenticity is key. What's clear from the campaigns we've discussed is that authenticity shines through in all of their messaging. No fake smiles or cheesy families abroad cliches, each campaign focused on genuine stories and real landscapes that inspired excitement and delight. The most literal example of this comes from Greece, who based their campaign on a real story.
Ready to take the next step in audience intelligence this year? With tools like Audiense, conducting in-depth audience analysis and discovering actionable takeaways makes creating tailored marketing strategies easier than ever.