Rachel May Quin
How the femtech industry can break into the broader consumer market
Fitbit, Oura, Apple Watch. What do all of these things have in common? Not only are they wearable tech, but they all offer a unique perspective on the average person's health and wellbeing. From smart watches that can count your steps to a simple ring that can measure body temperature and gauge readiness for the day, consumer-facing healthcare technology has entered the mainstream over the last decade.
The wearable tech market in particular is booming, with Bloomberg estimating that it's due to hit $186 billion by 2030. As consumers become more comfortable with tracking all elements of their health, the offering continues to grow, with a wealth of new products entering the overall wellness market. Especially femtech.
But what is femtech? An abbreviation of female technology coined by Ida Tin, a Danish entrepreneur, in 2016, femtech encompasses a range of technology-enabled, consumer-centric products and solutions. This can range from wearables to apps and tools that help women manage their health through every stage of their lives. It also tends to focus on female-specific conditions including maternal health, menstrual health, pelvic and sexual health, and many other health conditions that are likely to affect women.
According to Carolina Nazareth, Associate Director of Convosphere: "Femtech has empowered women by enabling them to stay on top of their reproductive health and giving them customisable solutions for their personal and unique needs. It's like having a personal health assistant right in your pocket! In short, these apps can help women to better understand their own bodies."
Here are some of the key statistics, for brands and consumers, in the femtech space:
With so many consumers already bought into tracking their own health data, femtech brands have an eager audience ready to take the next step. This month, we've devoted our spotlight analysis to understanding the opportunity for femtech brands looking to break into new audiences.
What kind of consumers make up the potential femtech market?
We wanted to understand the growth and commercial opportunities for femtech brands. But instead of focusing on the early adopters of femtech, which most brands are probably already targeting to, we wanted to set our sights on the broader women's wellness market. This allows us to see where the future femtech consumer is spending time… and money.
To do this, we ran an affinity report based on women who follow a variety of tech and wellness brands – not exclusively femtech. We applied this criteria across our wide range of available platforms, including Meta.
What can we learn about the potential femtech market? If we look broadly at the entire audience, we can see that women aged 18 to 34 years old make up almost 60% of the online conversation. Of that massive chunk of women, almost 60% of them are based in the US, suggesting that brands looking to make a splash in the mass market should consider the US their launchpad.
Thinking about lifestyle, about 16% of this audience are parents, and 6% of the audience have adult children above the age of 18. So while the overall potential femtech market may seem to skew younger on paper, there is definitely an audience of women with an interest in products tailored to their life stage.
Which takes us to the next part of our analysis. While we can make general assumptions about the entire audience based on this, as our regular readers know, your audience is not a monolith. So, we've broken it down into four bite-size segments to show you the full potential of this audience and the different ways you might reach them.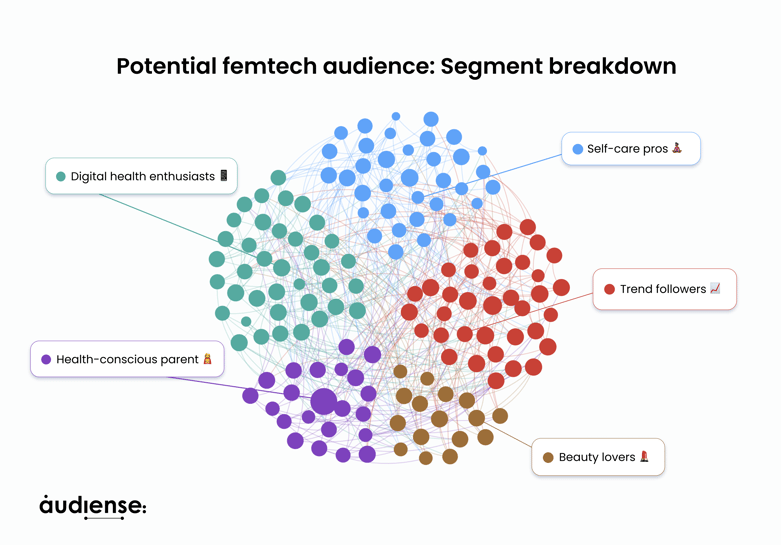 Digital health enthusiasts 📱
First up, our digital health enthusiasts. This is probably the segment that femtech brands are best acquainted with, as these people are keen followers of science and wellness trends that allow them to gain a better understanding of their health.

This segment is largely based in the US, but we also see people in the UK, Canada, India, and Australia demonstrating that an active interest in one's health is universal.

A quarter of this segment is educated to a college level and their interests span travel, science and finance. If we dig a little deeper into that science interest, medicine and engineering top their list, implying that they're more likely to stay up to date with the latest advances in healthcare, and hopefully, femtech.

Scientific journals aside, how can brands reach this segment? Popular TV channels and shows include BBC Business, Technology and Science News, alongside Bloomberg and NDTV. They're reading newspapers of a similar nature, including the Financial Times, Guardian Tech and Reuters Business.
Trend followers 📈
From digital health enthusiasts to trend followers, this segment is more likely to be influenced by the world around them. Our trend followers show a special interest in entertainment, pop culture, and celebrities; and they're much more likely to make a purchase based on what their favourite influencers are talking about.

This is reflected in their top influencers and brands. Channing Tatum, Miley Cyrus, Selena Gomez, Kylie Jenner and several Kardashians all appear in the list of accounts this segment are following. As you may know, several of these faces have their own beauty and wellness brands (more on that in next month's spotlight… 👀)

This audience definitely skews younger, with 18- to 24-year-olds and 25 to 34 years olds each accounting for 30% of the segment – totalling 60% of the entire segment. They're also largely based in the US, though London tops the list of cities they're based in, alongside Chicago, LA and Boston.

Looking to purchase influence factors, this segment is almost 20% more likely to be influenced by content they see on social media (compared to the overall potential femtech audience). They're also twice as likely to be on TikTok, Snapchat and Twitch, platforms well known for their power to drive sales.
Self-care pros 🧘🏾‍♀️
Next up, we have our self-care pros. This audience advocates for a more mindful way of living, from yoga and fitness to nutrition, and they're keen to adopt a more holistic approach to the way they think about their health. This makes them the perfect candidates for thoughtful femtech brands.

This segment skews more toward the US than our other segments, with almost 70% of the audience based there. Once again we see that they're on the younger side, with the 18- to 24-year-olds taking up the largest portion of the segment, but we still see serious spending power with the other 30% consumers in this segment.

This segment is particularly vocal and passionate about wellbeing. They are more likely to include specific keywords in their social media bios such as health, fitness, life and love, demonstrating their interest and desire to connect with like-minded people.

This audience is less likely to be swayed by a famous face, but that's not to say they don't appreciate influencers. In addition to many fitness accounts tailored to women, influences such as CarrotsNCake and RunEatRepeat appear prominently in the top influencers and accounts.

So where can you reach this segment? Pinterest is one of the most popular social media platforms for our self-care pros, alongside Instagram. They also consumer traditional media such as the Cooking Channel, NPR, HuffPost Parents and Runner's World.
Health-conscious parent 👩‍👧
It comes as no surprise, based on the label, that this segment is made up largely of parents, with 'mom' and 'wife' appearing in social media bios. It's also worth noting that this segment skews slightly older than the others, with the 25- to 34-year-old demographic making up about 30% of the overall segment.

While these consumers are definitely keen to follow the latest fitness and wellness trends, they have particular needs when it comes to femtech. From understanding fertility and sexual health, to overall holistic tracking, these women want to get to know their bodies better and manage their health on their own terms.

They also like to be informed in their decisions. Most popular social platforms for this segment include Medium and Reddit, both long-form text-based sites where people are likely to engage in discussion or share think pieces. They also tend to post their own content and share things they find widely with friends.

While they're most likely to be influenced by friends and family, they can also be influenced by well-placed digital advertising and social media.


4 femtech brands tapping into the mass market
Now that we've analysed the potential femtech audience, it's time to get inspired. Here's four femtech brands tapping into the mass market with some seriously creative campaigns.
Elvie
Described as being at the forefront of the femtech revolution, Elvie has been busy making waves. Their product range includes a virtual pelvic floor trainer and their most recent offering, a smart silent breast pump, to which they launched with a masterful campaign.
Smart Bodies, created in partnership with agency Mother, was launched on International Women's Day with the goal of celebrating just how incredible women's bodies really are. They worked with Eva Lazarus, musician and breast-feeding mother, to create a dedicated song for the campaign.
The campaign was designed to reframe the cultural conversation around women's bodies in tribute to both womanhood and motherhood. It highlighted that women's bodies are more than an object to admire, they're designed to do incredible things. The music was promoted across YouTube, Facebook, Instagram and TikTok – as well as across multiple markets – to help them reach the broadest possible range of women.
Ava
In 2018, medical technology company Ava took a star-studded approach to promoting their fertility tracker. They teamed up with actor Claire Holt – best known for The Vampire Diaries and The Originals – to promote awareness about fertility issues.
Their year-long campaign was designed to start and open up the conversation around the challenges women, and Claire herself, can face on their journey to motherhood. And of course, how the Ava fertility bracelet, app and user community are an invaluable resource. This tied in beautifully with a key milestone for the Ava app, which surpassed 16,000 user pregnancies since their launch in 2016.
Influencer marketing is a particular powerful tool in reaching new consumers. Carolina Nazareth of Convosphere said: "Femtech brands also need to take into consideration their target audience and choose the right influencer and/or social media channels for their marketing activities. For example, if they are targeting an audience of women aged 45+, then they're more likely to see positive results on Facebook than TikTok."
Clue
If you want your campaigns to reach the mass market, you can't go wrong with a strategic partnership. Established in 2012, Clue is one of the longest standing period tracking apps, founded by Ida Tin who coined the word femtech to describe her software.
Almost ten years later, Clue partnered with global beauty brand L'Oréal to promote their period-tracking software by combining it with another popular industry, beauty. Thanks to this creative partnership, Clue users can receive personalised, in-app skincare advice based on their hormone levels.
That's right. It's well-known that periods can go hand-in-hand with skin upsets, whether you're prone to breakouts or increased oiliness. Together, L'Oréal and Clue are cleverly using consumer data to create more personal content marketing.
Guive Balooch, head of L'Oréal's Technology Incubator said: "Hormones and skin are [things] that we think people don't have enough information about yet. We really want to focus more on providing more personalized information and giving people an understanding of how their skin is evolving and changing, and then alluding to some potential routines and [providing] understanding [of] how they can use their current beauty products at home."
Innovo
Femtech isn't just about fertility. Innovo, a tech brand which describes itself as a non-invasive urinary incontinence treatment, devised a multi-channel marketing campaign to smash the taboos around Stress Urinary Incontinence (also known as SUI).
Turns out despite public taboo, one in three women experience SUI at some point in their lives, and the solutions offered such as adult diapers are uncomfortable and often stigmatised. This campaign made use of TV spots to reach their desired audience of active women aged 35 plus.
Their creative focused on education. The 30-second TV spot aimed to communicate the clinically proven benefits of Innovo in a smart, sensitive manner designed to beat the stigma and encourage women who had tried other solutions to give femtech a try. Their investment paid off. According to BusinessWire, the campaign results in a 265% uplift in website visitors, a 60% increase in 'add to carts' and a 45% reduction in cost per visitor.
Key takeaways
Before we sign off on another edition of Audiense's spotlight analysis, let's take a moment to review the key learnings from femtech brands.
Put your 'why' at the heart of your marketing: A core theme running throughout all of these campaigns is purpose. Femtech brands are here to deliver solutions, and if you want to reach more consumers, you need to share your mission. Put your 'why' at the heart of your marketing campaigns to communicate authenticity and build trust.

Educate your potential audience: As Innovo and Ava demonstrate, femtech can be a driver for important conversions. Female health has historically been tied up in stigma and even shame (blue period blood on TV, anyone?). You may find that if you want to reach new consumers, you need to educate with thoughtful content and sensitive messaging.

Tailor your content accordingly: As with many things in life, there is no one-size-fits-all marketing plan for femtech brands. It's likely that your product will appeal to different women at different stages in their lives. For example, one woman may be using a period tracking app to prevent pregnancy, rather than actively trying to conceive. This means you need to consider each potential segment for your product and tailor your content and campaigns accordingly to strike the right tone.
Ready to take the next step in audience intelligence for your marketing? With tools like Audiense, conducting in-depth audience analysis and discovering actionable takeaways makes creating tailored marketing strategies easier than ever.