Josephine Durney - Product Marketer & Relationship Manager
How to use audience insights to create a winning YouTube marketing strategy
As one of the most visited sites on the internet, YouTube is incredibly popular among users. They spend an average of 50 minutes per day browsing videos, watching how-to guides, and catching up with their favorite online personalities.
One of YouTube's greatest success stories, PewDiePie has over 110 million subscribers and 4,000 uploads which earn him more than $4 million per year – and that's just from videos where he livestreams himself playing his favorite video games.
How much more could your business make if you found a way to bring your followers from other platforms into the YouTube sphere as subscribers? In addition to generating more social media buzz and increasing customer loyalty, influence, and engagement, there's also the potential for you to monetize your videos to create another source of revenue.
With a breakthrough on YouTube, you could be tapping a growing audience to ensure a powerful brand presence and distinct advantage over your competition.
It's time to take your marketing to the next level with a comprehensive YouTube channel that's built to impress. Whether you're queuing up a new client or striving to impress an investor, you'll want to take some notes on what it takes to build a killer YouTube marketing strategy using audience data.
Start by understanding your audience
The first step to a successful YouTube channel is understanding how your audience behaves online. You want to learn everything you can so that you can build flexible, data-informed marketing personas.
Who do your audiences listen to? Who do they trust? What voice does your brand currently have and how can you personify that through a YouTube channel host?
You want to learn from the best, so how about turning to Red Bull as an example of a prominent brand that's pulling out all the stops for YouTube. Once you learn their secrets, you can leverage them for your own strategy.
Red Bull channel strategy and architecture
Red Bull is a massive company with an audience that has many diverse interests. How do they break down their YouTube channel to ensure they're servicing and addressing every segment? Well, for this brand, creating breakout channels for specific interests is one key move. They have channels for many types of followers, including people interested in extreme sports, gaming, races, interviews, cartoons, and so much more.
As a user, you can subscribe to Red Bull's main channel in addition to associated influencers, brand collaborations, and specific topics that fall under their purview.
For each channel, Red Bull creates a hub with its own recognizable brand design, unique subscribers, and high-quality videos. Your audience probably isn't a monolith either, so using your YouTube architecture to address their diverse needs can keep them as subscribers, and possibly introduce them to other interests within your channel.
For example, when Red Bull approaches an audience from their motorsports segment, they consider certain behavioral elements of this audience to develop their strategy. Looking at this breakdown from Audiense, you can see some standout elements of their motorsports channel demographics:
Majority Male
Mainly Based in US or Japan
Younger Audience – Most Under 35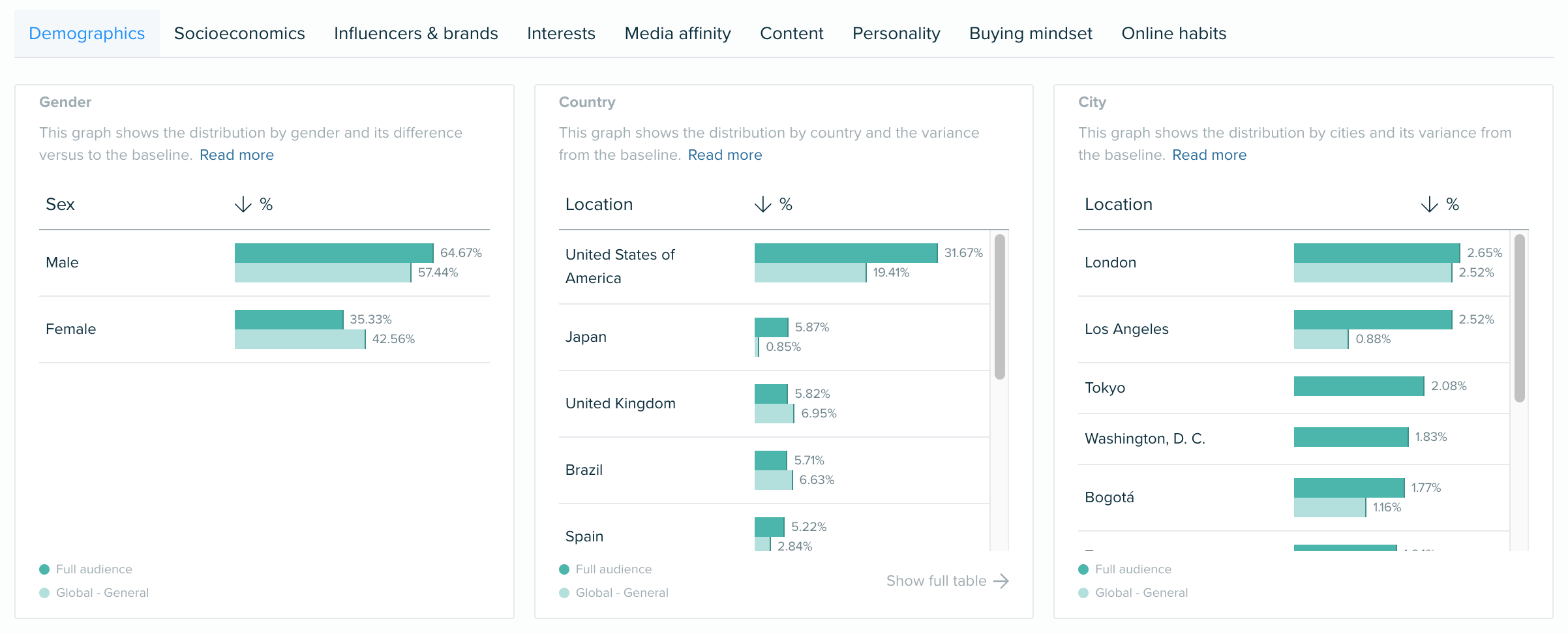 You can even explore their buying mindset and online habits to get a clearer picture of what motivates them. Red Bull's motorsports audience mainly trusts the opinions of friends and family about products. As a result, they're far more likely to respond positively to comprehensive marketing campaigns rather than impulse buys or targeted ads.

Can you imagine what your channel would do with this information?
Motorsports segmentation
Red Bull has taken their audience data to heart in the formation of the motorsports channel. Because most of their audience is US or Japan-based, you'll find their videos focus on highlights of Super Formula racing in Japan, and look at the performances of American competitors racing worldwide. They also take advantage of influencer marketing on YouTube with an inside look at the lives of popular riders, like Jett Lawrence, Aaron Colton, and even top performers at the Red Bull Rookies Cup – curating entire playlists for them.
Biking segmentation
Motorsports are just one segment of the Red Bull audience. Who else do they curate channels for? A channel with even more subscribers than the Red Bull Motorsports' 1 million is Red Bull Bikes, which boasts an audience of 1.62 million and has a completely different channel architecture.
Here, you'll find playlists that focus on different types of track formations, racing recaps, shorts from Red Bull influencers, and breakdowns of bike builds that the audience can try for themselves. A lot of these playlists highlight POV riding and adventure filmmaking that brings viewers along on the ride.
So why are these the videos that the audience connects to? Well, the data shows us that many subscribers are actually participants in biking-related sports, including mountain biking, cross country, touring, and more. While the motorsports audience is more likely to purchase tickets to an event or a subscription to a televised race, the bike audience is interested in building better bikes for their own activities.
When this audience is looking to buy, they're highly influenced by a product's utility, and friends and family. Red Bull is taking advantage of both by tying their YouTube socials and influencers to product utility in their videos.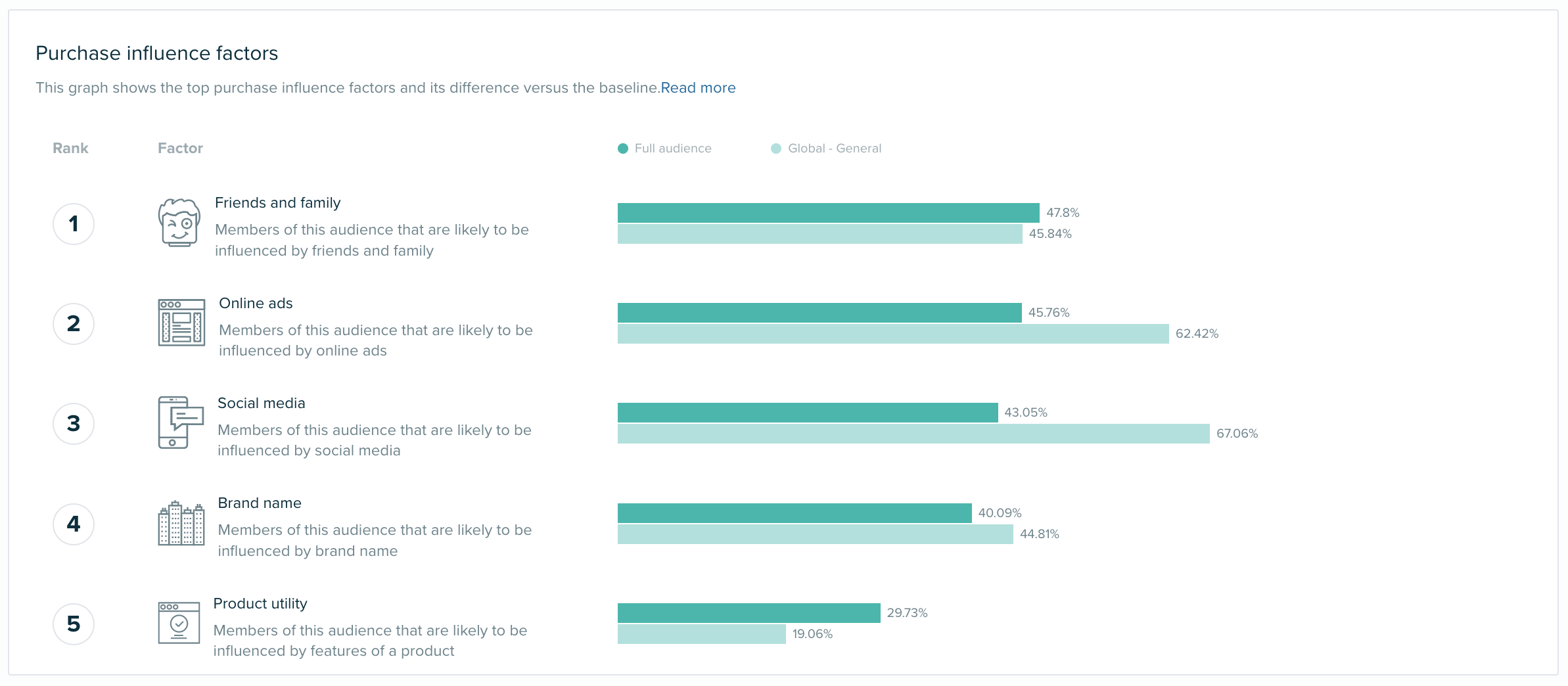 What else does Red Bull do to enhance channel engagement?
There are a few general themes you'll see throughout the Red Bull channels. Their architecture provides relevant links to bring all their social media platforms together for more engagement. Additionally, everything everywhere is branded with a focused message via the channel trailer and banner – which changes depending on what's currently going on with the brand, including movie releases, new products, and competitions.
Red Bull also provides user-centric playlists that guide subscribers through main channel content, custom video thumbnails that invite clicks, and great metadata and consistent SEO with descriptions and summaries to ensure their channel shows up in relevant search results.
Red Bull brand personality
The final piece of the YouTube marketing puzzle for Red Bull is its brand personality. From their descriptions and videos, you can see an emerging personality that's enthusiastic, high-energy and fun across their entire channel architecture. This personality type aligns with their audience's personas, who tend to challenge authority, search for adventure, and strive for creative freedom.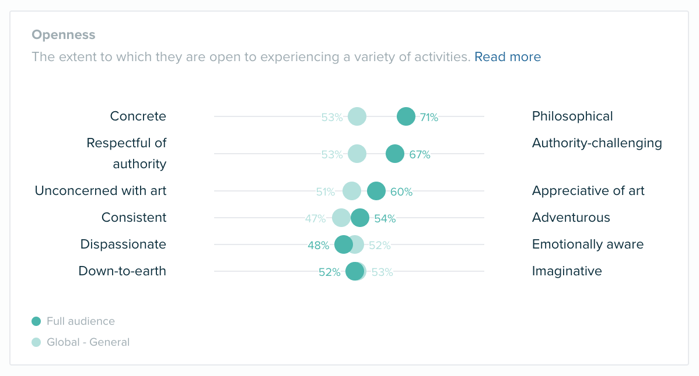 Using audience data to drive content creation
So, with a fledgling look at who your audience is and what your audience demographics look like, it's time to start considering what your content will focus on. Using this data, you can figure out who you're trying to reach and what they want to learn.
You might look to Refinery29 for guidance in data-driven content creation. Their YouTube channel is a women-focused haven for lifestyle stories, entertainment, and inspiration to pursue a more fulfilling and independent life. So who do they draw in, and how do they make sure their content resonates?
Refinery29 audience data
Refinery29's YouTube channel has been around since 2007, but they haven't stayed stagnant. As their audience has evolved over the last 15 years, so has their content. While they were originally a beauty and make-up-focused channel, as their audience expressed interest in other topics, they shifted their attention to videos about self-acceptance, identity, lifestyle, and career-driven discussions. They even have a whole playlist of mini-documentaries that cover transgender surgery, disabilities, and the adult industry.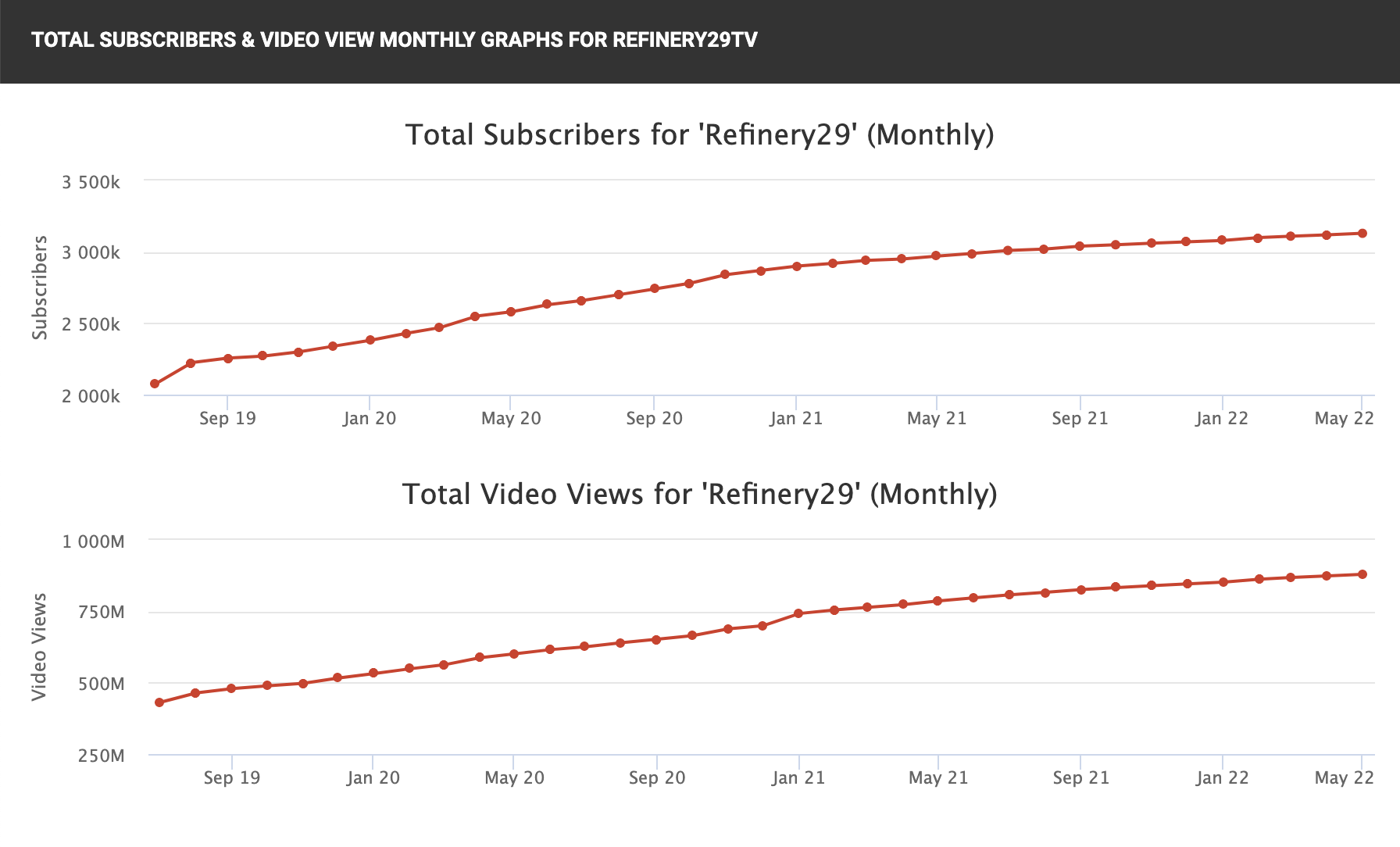 The majority of the Refinery29 audience is women between the ages of 18-34. These are socially-conscious viewers with an interest in the world around them. It makes sense that Refinery29 would strive to meet the demand for topical conversations that are relevant to the world these women live in today. So, while beauty, makeup, and hair are still prominently featured on their channel, there's been a massive shift towards radical self-acceptance.

Filling in the gaps
As you explore everything Audiense has to offer, you may notice that you can find out which media, influencers, and brands interest your audience. Using this data, you can create more targeted content on YouTube, exactly as Refinery29 did, but you can also take advantage of value opportunities where your competitors are missing out.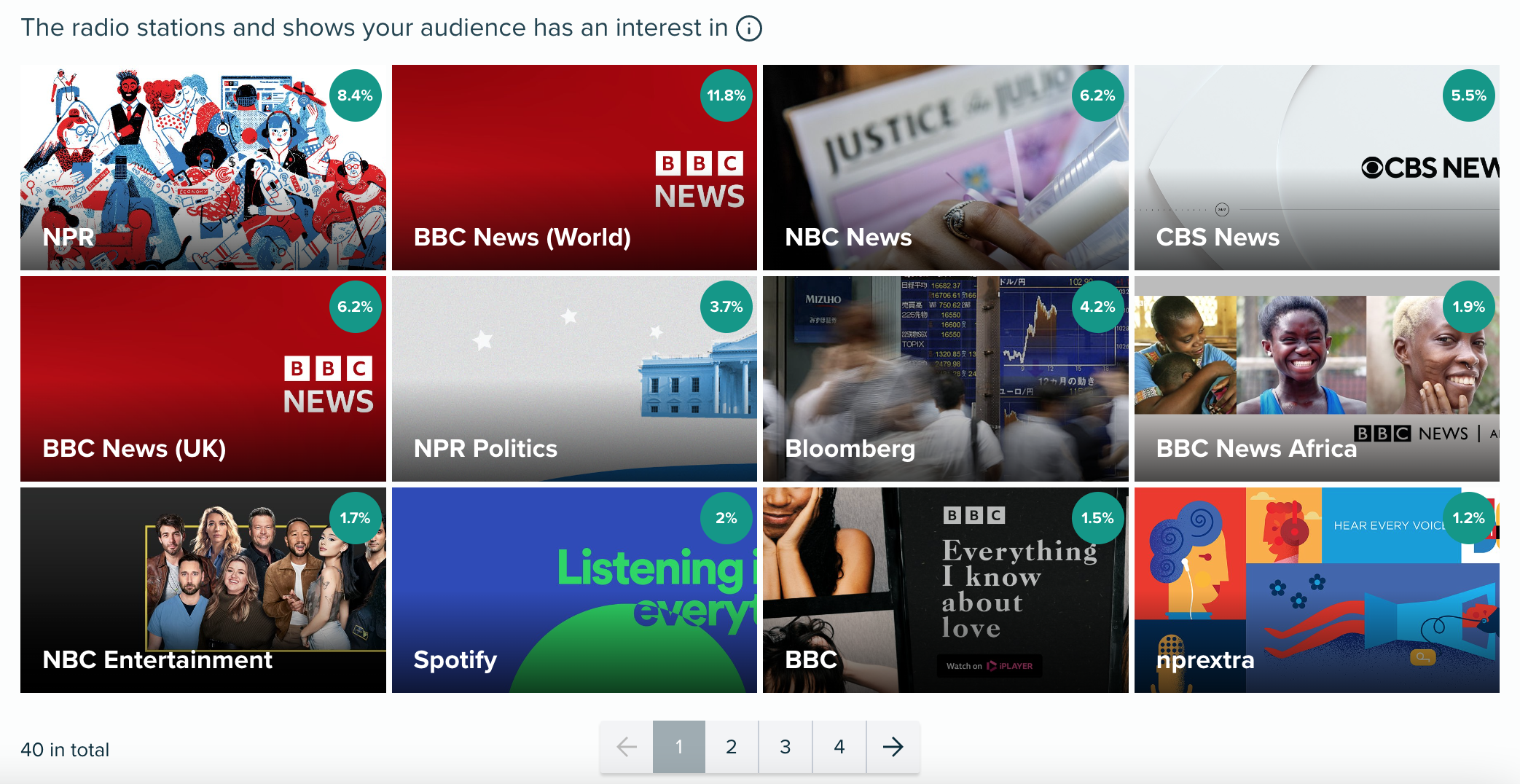 Is there a portion of your audience who consistently listen to NPR radio? What topics have they recently discussed, and how can you address them through your channel? Refinery29 chose to approach these affiliate discussions through several documentary playlists, including Get Real, a mini-documentary series that celebrates real women and their quirks, and For A Living, an overview of extraordinary women and their unusual careers. They also push clearly defined series' about topics that get constant views and engagement with playlists like Spill It (getting inside influencer's bags) and Style Out There (exploring global fashion subcultures).
These topics may not be consistent with Refinery29's roots, but they do follow viewer trends and address alternative interests within the scope of this channel's expertise.
Create a cadence for posting
There are plenty of tips and guides for posting on other social media channels, but YouTube is a little different, as it's more about long-form videos that invite discussion and engagement with the creator. Since you want to keep subscribers active at all times, you need to elevate your channel with frequent appearances, whether it's new videos, comments, or discussions in the community tab.
Having a set upload schedule allows you to easily maintain a presence on the platform and warms up your audience for when they can expect new videos. With a channel that spans 15 years, Refinery29 is a great example of frequent, regular posting. Their recent patterns show posts every day, sometimes twice a day, with clips that range across all their topics.
You might think that posting as frequently as possible is the key to growing your audience fast, but YouTube's algorithm actually limits the reach of frequent posters. Instead of frequency, post high-quality content that makes sense with your brand personality – even if it's only once a week.
Leverage the community feature to create a deeper connection with subscribers
Refinery29 and Red Bull have plenty of videos, playlists, and channels, but they also post in their community tab even more frequently, sharing new videos, topical content, and video previews to invite clicks, shares, comments, and more. Most larger brands use their community tab in this way, but smaller content creators opt to be as engaging as possible in their community feeds as they strive to turn audiences into loyal advocates. You'll see smaller channels post polls, life updates, and boost third-party posts from other influencers.
Back-up new videos with your community posts
The community feature of YouTube is a great tool to ensure you stay connected with your audience in between publishing videos, as the community is an important element in any strategy. On social media, especially, it's important to maintain a two-way relationship with your audience because your communication happens out in the open for everyone to see.
Using your community feature ensures you have a conversational outlet to connect with your audience on yet another level. Some of the things you can do with your community feature include discussing topics of interest to your audience that may not warrant a full video, testing out new topics through polls on the community feed, and providing updates on videos, business moves, and behind-the-scenes content.
All the most successful YouTube channels use their community tab to interact with followers. One of the most personal posters is Tiffany Ferg, who uses her community tab a la Facebook to post interesting stories, boost posts of people she's following, or conduct surveys on audience interests for future content.
Introducing the community tab on your channel
Access to the community tab is limited to channels that have at least 500 followers, so you won't have one when you first start. But, you should still have a plan in place to introduce the feature once it becomes available. Here are some of the steps you should plan for as your channel expands and gains popularity:
Host a q&a
Market your products
Rally your community
Promote your latest videos
Poll viewers about your videos
Share relatable gifs and memes
Offer a sneak peek of your videos
Get inspiration for your next videos
Introduce your community tab in a video
Encourage people to enable notifications
State the purpose of your community tab
Keep posts on the community tab diverse and exciting to drive audience engagement with shorter interactions than a full-length YouTube video.
Run advertising backed by audience data
When launching ad campaigns on other platforms, like Facebook, you may be faced with several pitfalls that can hamper your campaign. From vague interest targeting and premium costs per click to banner blindness, these are concerns that frustrate many businesses. In fact, the most recent iOS update has caused a massive drop in ROAS for many advertisers. Because users can opt-out of behavior tracking with the new update, you get less data about user habits, making it harder to utilize incoming data effectively.
Since targeting is 80% of the battle when it comes to your advertising strategy, a lack of information about your ideal audience is a big deal.
Within the Audiense platform, you can find a downloadable targeting pack, tailored to your specific segment or audience, with input criteria to target them on platforms such as Facebook, Instagram, YouTube, Google Ads, and, of course, Twitter.
Building your targeting strategy with audience data
There are several types of targeting strategies, some of which you may already be using, like demographic targeting, purchase/usage-based targeting, interest targeting, and intent targeting. In this case, we're interested in platform-based targeting, specifically for YouTube.
YouTube has several unique ways to run ads on videos, including skippable in-stream ads, non-skippable in-stream ads, bumper ads at the beginning of videos, and video discovery ads that appear elsewhere on YouTube other than your videos. Utilizing a combination of these ad types initially can help you determine what's most effective in capturing your audience.
You'll also want to pay attention to hashtags, keywords, phrases, and other brands your audience may already follow. Using affinity ads and YouTube's customer match targeting option, you can ensure a targeted approach that funnels audiences from other areas on YouTube to your channel and from your own channel through to your website. Hopefully, they'll even become loyal subscribers along the way!
Wrap-up
There are 2.6 billion users on YouTube. It's time to make an impact and utilize this resource for your marketing strategies. Here are the most important tips for those who want the TLDR:
Your brand persona should shape your channel architecture

Your audience should direct your content creation

Find a posting cadence that satisfies your audience and maximizes your reach via the YouTube algorithm

Interact with subscribers more frequently using the Community Tab

Choose advertising based on audience interests and needs

Focus on affinity audiences that will bring in new subscribers to your channel from other places on YouTube and the web
If you're worried that you don't have all the tools you need to succeed, we can help you learn more about audience data. Sign up for Audiense for free today to discover your audiences, explore their interests and affinities, and revamp your YouTube marketing strategy.