Rachel May Quin
A fresh face: A masterclass in beauty marketing from Fenty, ColourPop & Glossier
It has been said that beauty is in the eye of the beholder. In the modern world, this has never been truer, with the beauty industry striving to cater to all shapes, sizes, ethnicities and aesthetics.
While the beauty giants such as L'Oréal, Maybelline and Max Factor continue to dominate market share, there's space in the sector for fresh-faced beauty brands to snatch up Gen Z and millennial consumers with creative marketing.
2023 is the latest chapter in the post-pandemic story that beauty brands must navigate. As the risk of recession grows in key beauty markets, consumers are finding their budgets squeezed despite the lipstick effect, which claims that consumers are likely to treat themselves to small luxuries in the face of economic downturn.
So, what are the risks and opportunities for beauty brands? Let's take a look at the beauty industry's state-of-play and examine the face of the modern beauty consumer:
This month's spotlight is all about the fresh face of beauty. We'll get up close and personal with how newer beauty brands such as Fenty Beauty, ColourPop, and Glossier are using all the tools at their disposal (online and offline) to speak to a new generation of beauty buyers.
What does the modern beauty consumer look like?
Before we get inspired by incredible brands weaving their marketing magic, we need to get a clear picture of what the modern beauty consumer looks like. Who are they? Where are they spending time? What is likely to influence (or de-influence) them?
To answer these questions, we ran an affinity report which looked at followers of Fenty Beauty, ColourPop, and Glossier. We applied this criteria across our wide range of available platforms, including Meta.
What can we learn about the modern beauty consumer? According to our data, the audience is largely female, with women accounting for 83% of the total audience size. Online, the beauty consumer tends to skew much younger, with over 60% of the total audience being made up of people aged 18 to 34 years old. Over 50% of the beauty audience is based in the US, but we also see beauty buyers in the UK, Canada, Australia and Mexico.
While we can make general assumptions about your average beauty buyer, your audience is not a monolith. We were able to identify five potential segments for the beauty audience, but we've decided to shine a spotlight on the three largest: make-up enthusiasts, music lovers and social media stans. You can view the full report here.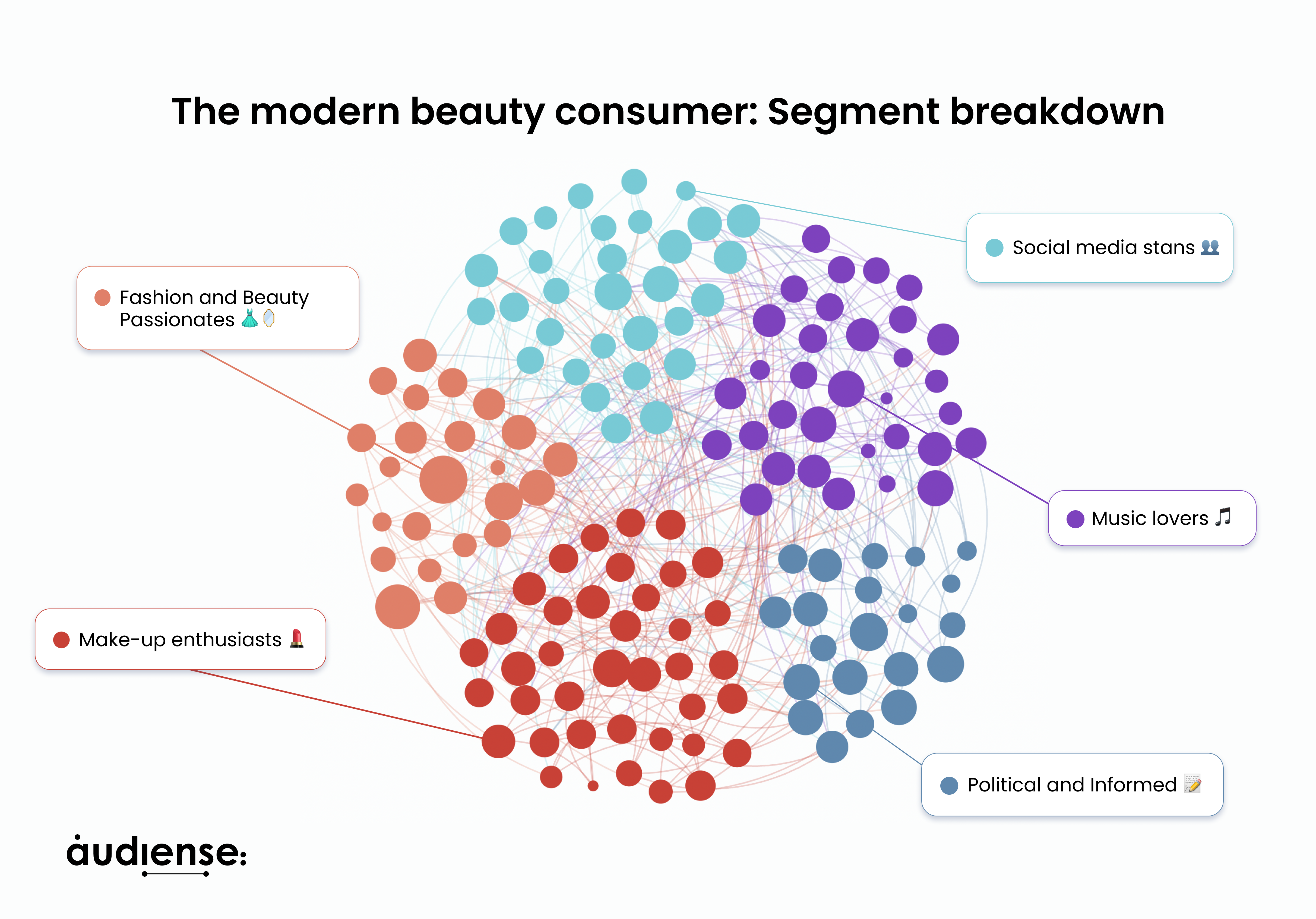 Make-up enthusiasts 💄
Our largest and most passionate segment is, of course, make-up enthusiasts. These consumers are up to date on all the latest and greatest brands with ColourPop, Morphe, Anastasia Beverly Hills, Tarte Cosmetics, NYX Pro and Urban Decay all appearing prominently in their biggest influencers and brands.

This segment are the trendsetters among the wider beauty audience and talk about beauty almost constantly, with many of their bios including the keywords 'make-up', 'beauty' and 'artist'. They're also significantly more likely to work within the industry.

Compared to our global database, make-up enthusiasts are 18 times more likely to be using TikTok than your average consumer. They're also almost ten times more likely to be on Snapchat and seven times more likely to be on Pinterest.

So, how do you reach this passionate segment of make-up lovers? According to our buying mindset data, it's all about social media. This segment is significantly more likely to be influenced by social media and what their peers are using, whereas the actual product utility ranks very poorly as a purchase influencer.

This segment is also very engaged with popular culture and has a wide range of interests beyond make-up including skincare and fashion, and they're consuming media on Netflix, E! News, MTV and Food Network.
Music lovers 🎵
One of our most interesting segments (which will make perfect sense when you see our brand examples), music lovers have their finger completely on the pulse of what's hot. These consumers are talking about the Met Gala, Beyonce's Renaissance tour, and the new Little Mermaid live action film… alongside the newest beauty brands.

This segment is more urban than some of our others, with top locations being Chicago, LA, Atlanta and Houston. They're also largely based in the US, though we do see some of our music lovers are based in the UK, Canada and Brazil.

Music and beauty go hand-in-hand, thanks to the rise of new brands fronted by pop icons. Rihanna, Selena Gomez, Jennifer Lopez, Ariana and even Lady Gaga have all launched their own beauty brands in recent years. From the stage to a beauty empire! For this reason, this segment's top influencers include SZA, Ciara, and Nicki Minaj.

Much like the make-up enthusiasts, this segment is very online. Astonishingly, this segment is almost 38 times more likely to be on TikTok and 23 times more likely to be on Spotify, as well as frequenting Snapchat, Soundcloud and Reddit.

So, what drives them to buy? According to our IBM Watson insights, their choices are driven by a desire for connection. They want to be a part of the next big thing, whether that's music or beauty trends, and they want to be part of a wider community.
Social media stans 👥
Next up, the social media stans. As the name implies, this particular segment of beauty consumers is significantly more likely to be on social media, following and supporting their favourite brands, celebrities and influencers.

This broad range of interests on social media is reflected by the diverse range of social accounts they follow. ColourPop comes out at number one, but we also see musician Harry Styles, actors Cole Sprouse and Zendaya, make-up artist Jeffree Star and of course,

Taylor Swift

ranking highly on the most influential accounts.

Beyond social media, where can you reach them? They're tuned into streaming services such as Netflix and Disney+, they're listening to Spotify and traditional radio stations such as iHeart and BBC Radio 1, and they're reading publications such as Buzzfeed and The New York Times.

Which social media platforms do they prefer? Much like our other beauty segments, they're significantly more likely to be on TikTok than your average consumer. We also see Snapchat, Spotify and Discord all appearing highly. Not a Meta channel in sight, which says a lot about where you should consider running digital advertising…

That said, they are receptive to digital advertising if you can catch them in the right place at the right time. Social media and online ads appear as the two most influential purchase factors, above brand name and product utility.
Now we've explored three of the biggest consumer segments, let's discuss how Fenty, ColourPop and Glossier are bringing a fresh face to beauty marketing.
A closer look at Fenty Beauty, ColourPop & Glossier's marketing
Fenty Beauty
Launched in 2017 and spear-headed by global superstar Rihanna, Fenty Beauty has been credited with transforming the beauty industry. The brand's mission is focused on inclusivity, from its ground-breaking foundation which caters for 50 different skin shades and tones, to truly diverse marketing which focuses on breaking the standard beauty mould with the mantra of 'Beauty For All'. According to Think With Google, Fenty Beauty racked up 132 million views on its YouTube channel during the first month, helping them drive a reported $500 million in sales during the first year of trading.
Fenty's inclusive approach to marketing is all about showing, not telling. When Fenty launched, it christened itself as 'the new generation of beauty', casting a broad range of models in their first campaign video including plus-size model Paloma Elsesser, Duckie Thot, Slick Woods, and Halima Aden. This sparked a wave of reactions online, with beauty lovers across the world delighted to see themselves reflecting in Fenty's marketing.
Since then, Fenty has gone from strength-to-strength. After seven years of no live performances, Rihanna's 2023 Super Bowl performance was marketing gold. With a 113 million strong audience watching, RiRi paused to plug her Invisimatte blotting powder, which drove an 833% increase in searches for Fenty and generating an estimated £4.6 million in media impact value. It also led to her core beauty products being sold out for literally weeks, and helped drive momentum around Fenty for her Sephora UK launch.
But most of all, Fenty has never lost sight of its core brand values. Inclusion remains at the heart of their marketing, but it takes on clever new forms. Last year, the Fenty marketing team tapped into the massive opportunity presented by TikTok by launching the Fenty face contest to help them find fresh new talent to promote the line.
In the press release launching the competition, Rihanna said: ""I made Fenty Beauty for everyone. You don't even understand how happy it makes me when I hear stories from the past five years about people finally finding their perfect shade match and seeing how much fun they are having expressing themselves with color. I'm so excited to give our Fenty Fam the chance to be in a campaign — I want to see those Fenty Faces."
@fentybeauty 🗣 CALLIN ALL OUR BOOS!!! We're searching for the next #FENTYFACE to model in an upcoming 2023 campaign, pull up to 2 major brand events (✈️+🏨 included!), get swagged out in a YEAR supply of errythanggg Fenty, and join our PR list with ya bestie 🤩📸 To enter, Follow us + Post a video that shows us a look that brings out ya BAD BISH ENERGY + Tag us and #TheNextFentyFace ♬ original sound - Fenty Beauty
ColourPop
So, what if you don't have a beloved music icon at the helm? Collaboration becomes your new best friend. Whether that takes the form of influencers or brands, partnering up with the right people can be a game-changer for up-and-coming beauty brands looking to carve out market share.
Indie beauty brand ColourPop, founded in 2014, is popular for their affordable but quality beauty products. Since launch, they've relied on the power of social media to spread the word about their product lines and help them reach their ideal customer. They know that their target demographic is those social media stans we talked about earlier, so they make sure their marketing and product strategy has social woven through it.
ColourPop use social media in two ways. The first, to identify potential brands to work with. The second, high-impact influencers.
Let's start with the brands. Kicking off in 2018, ColourPop has tapped into the pop culture lovers among their target audience by releasing several collections in partnership with Disney. From Disney Princesses to Hocus Pocus, Star Wars and even Aristocats, ColourPop has an entire section of their website dedicated to their gorgeous range of Disney make-up. And it paid off. According to Common Thread Collective, ColourPop's Disney collaborations have led to a 15 times return on advertising spend.
And over to the influencers. It's been noted over the years that ColourPop have frequently collaborated with YouTube influencers to help build their fanbase. More recently, they also boarded the TikTok hype train by partnering with TikTok influencer Jasmine Chiswell, known for her vintage style and old Hollywood inspired make-up.
They're not just interested in vintage glamour. ColourPop attracts a diverse range of customers by working with people like Snitchery, a TikTok influencer dubbed the Queen of Cosplay. This particular collaboration catered to make-up enthusiasts who love dramatic looks and were ready to enter their 'villain era', featuring true black lipsticks, holographic lip-glosses and rich, chromatic eyeshadows.
Glossier
Described as the 'poster child for organic growth' by Adweek, Glossier was valued at $1.8 billion and is quickly becoming a household name. Glossier spear-headed the rise of Instagram influencer marketing in 2014 and has made dewy, glossy skin #goals after years of matte skin tyranny.
A big part of Glossier's success comes from its clean, minimal approach to beauty. Your skin, but better. CEO Emily Weiss has previously been quoted as saying that it's the regular women who help promote the Glossier brand that make it so special and it's true, Glossier have a cult like following that has borne millions of feathery boy brows.
Glossier continue to stick to their core values, in most respects. Their 'Feeling Like' campaign of 2020 recruited several Glossier community members and brand ambassadors to create 30-second films that showed real people in candid situations.
These short videos were then used across social media and in Glosser's first TV advertising debut. Talking about the campaign, Glossier ambassador Paloma said: "I'm really big on loyalty and I feel like, on a foundational level, Glossier was one of the first brands to believe in me for who I was. Just like, 'Oh you're beautiful. You're cool. You're smart. You're rad. You're in our community,' and feeling nurtured in that has been really beautiful." Leaning into genuine, original, authentic content helps Glossier stand out in a competitive crowd.
That said, there's still space in Glossier's marketing strategy for well-placed celebrity endorsements. In 2022, Glossier enjoyed another first, in the form of their first-ever celebrity partnership with singer Olivia Rodrigo. They released a limited-edition collection of Rodrigo's favourite products, packaged in a cute, customised make-up bag in the singer's signature lavender hue. Enter, the music lovers. This clever collaboration took Glossier beyond their core millennial demographic to the Gen Z beauty consumers. Rodrigo's audiences include 32 million Instagram followers and 15 million TikTok followers, which goes far beyond Glossier's own reach.
Key takeaways
After a whirlwind tour of the beauty industry and some stunningly creative marketing campaigns, what can we learn from Fenty, ColourPop and Glossier? Here's three key takeaways to apply to your own strategy.
Get to know your customers: As our audience analysis proved, beauty buyers aren't necessarily interested in utility. They want to buy products that speak to who they are, what they believe in, and even products that tie-in to their other interests – whether that's that cosplay or nostalgia for their favourite cartoon characters. Get to know your customers to create authentic campaigns that will drive engagement.

Embrace the power of community: Beauty lovers are a passionate bunch. They're chatting about their favourite products online, browsing social media channels or brands and influencers to find the latest looks, and trying to figure out how to contour, bake and god knows how many other things. Embrace the community spirit by nurturing your customer base and giving them a chance to connect with each other.

Be open to clever collaboration: Collaboration is the key to success in the beauty industry. Glossier and ColourPop opted for celebrities and influencers, but sometimes collaboration can take the form of two high-profile brands coming together, such as

Victoria Beckham and biomedical scientist Augustinus Bader

creating the perfect priming moisturiser. Think outside the box with your collaborations to create something unique that will appeal directly to your target audience.
Ready to take the next step in audience intelligence for your marketing? With tools like Audiense, conducting in-depth audience analysis and discovering actionable takeaways makes creating tailored marketing strategies easier than ever.