Rachel May Quin
What are protected tweets on Twitter and how do they work?
When you create a Twitter account, your profile is public by default. Your Tweets have the potential to be seen by up to 271 million active users. This can be a little overwhelming if you're a private user. If you want to use Twitter to chat with family and friends, or as a micro-blog, having so many eyes on your content might not be your thing. What can be done? Well, you could protect your Tweets. Here's how, why, and what it means to have protected Tweets on Twitter.
Protected Tweets on Twitter gives you privacy and the ability to control your information, similar to how a private Facebook profile can restrict everyone but your friends from seeing your status updates. With Twitter's user base rapidly growing and brands, family, and friends creating accounts, sometimes you just want to create an account to communicate with them privately. This is where using protected Tweets and a private account is perfect.
What happens when I protect my Tweets?
When you protect your Tweets and make your Twitter account private, only your current followers will be able to see your Tweets.
Accounts with protected Tweets require each user to request to follow. You are able to manually approve and select who is able to see your Tweets.
The retweet function is disabled on Tweets you post, so anything you post remains entirely within your account. Your followers are NOT able to share your content, they can only favorite it. You are still able to retweet other public users though.
Protected Tweets do not appear in search engines like Google and third party sites, like Favstar, are not able to archive them. Protected Tweets are only searchable by you, the owner of the Twitter account, and your followers. Previously posted public Tweets will still be searchable in Google.
Unless the user in question follows you too, mentions (i.e. @KatyPerry I love you!!!) will not be seen by the user in question because they do not have permission to see your Tweets.
How do I protect my Tweets?
Glad you asked. To make your Tweets protected, follow these simple steps.
1. On your home page, click the gear icon to see your Settings.

2. On your Settings page, go to Security and Privacy to view a wide range of options available. To enable protected Tweets and make your account private, tick Protect My Tweets.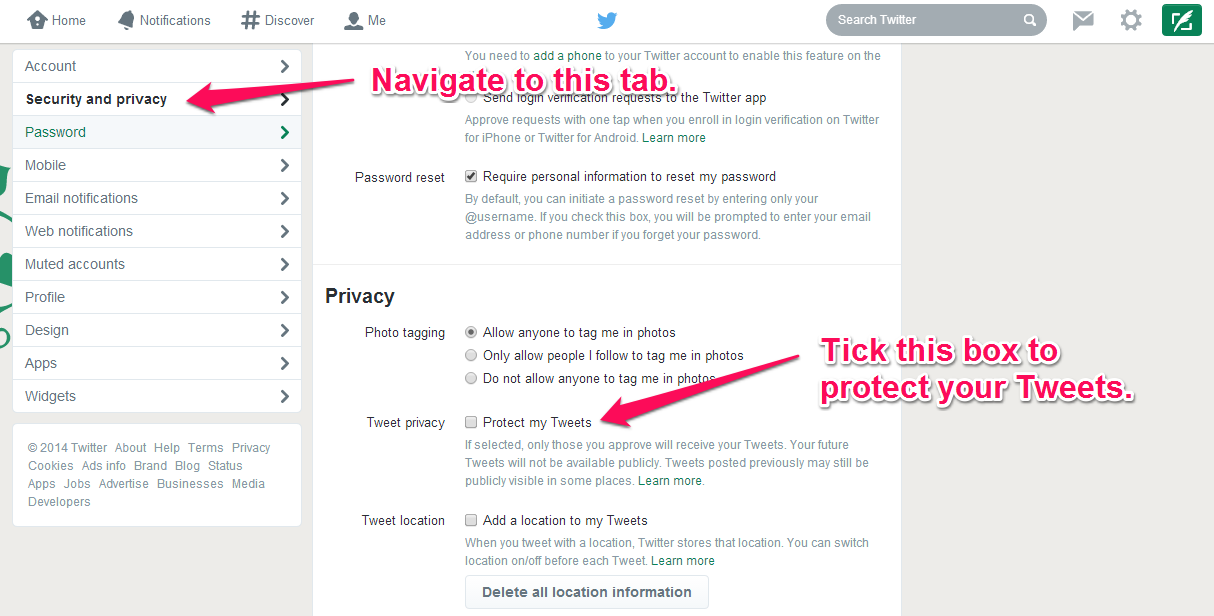 3. You'll be asked to enter your Twitter password, just to double-check it's definitely you making your account private, or public, if you're unticking.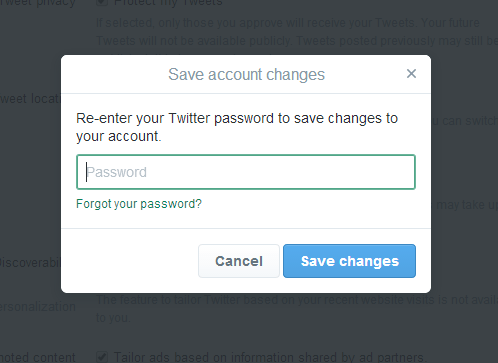 4. Check if your Tweets are now protected by navigating to your profile page. You should be able to see a little padlock icon next to your Twitter username, like so.

It's as easy as that!
Want to learn more about your Twitter account or how to use Twitter functions? Check out some of our other useful posts like how to make a list on Twitter, how to craft the perfect retweetable Tweet or how to use Twitter search tools.