Rachel May Quin
Ready, Player One? How brands are transforming the metaverse into a playground
Whether you like to race cars, grow flowers or crush candy, video games are not just for kids. More adults are playing games than ever before, says the ESA 2021 industry report. Of the 227 million gamers recorded in the US, 80% are over 18 and the average age is around 31 years old. That's a lot of purchasing power ready to be tapped into. So, what does this mean for brands hoping to make a move on the metaverse?
Well first of all, let's pause and understand what the metaverse is, for those of you who keep hearing this term thrown around but are still not quite sure what it means (you're not alone). According to Deloitte, the metaverse is really just the internet but in 3D, "it's a form of digital interaction where connected, virtual experiences can either simulate the real world or imagine worlds beyond it." A bit sci-fi, but nothing you don't know already.
Of course, the driving force behind many metaverse experiences are augmented reality (AR) and virtual reality (VR) headsets, which will allow consumers to strap in and play. Here are some of the stats you should be paying attention to around gaming and the metaverse:
But of course, we can't just call gamers 'gamers'. This is a hugely diverse audience, split almost entirely 50/50 by men and women, and they all have different needs, wants, and styles of play.
In this blog, we're diving deep into the brands partnering with leading gaming platforms in this space, to understand how they're using these virtual audiences to transform the metaverse into their very own consumer playground. Are you ready, Player One?
Which brands and influencers are resonating with gaming audiences?
To answer this question, we identified the games that offer the most opportunities for brands: Fortnite, Horizon, Decentraland and Animal Crossing. We looked at each audience individually, before combining them into one mega report and analysing the segments within. We wanted to understand the make-up of the audiences engaging with these games and platforms, the people and brands they were influenced by, where they spend their time and most importantly, if there was any crossover between the audiences of each.
Our data shows us that these gamers are skewing young, with 18- to 34-year-olds accounting for an incredible 66% of the total audience. While they have a worldwide presence, the USA, UK, Canada, France and Mexico appear as the top countries for the audiences and cities such as London, LA, Chicago and Hong Kong all rank as the top cities. English is the most widely spoken, accounting for nearly 60% of the audience, closely followed by Spanish, French and Japanese.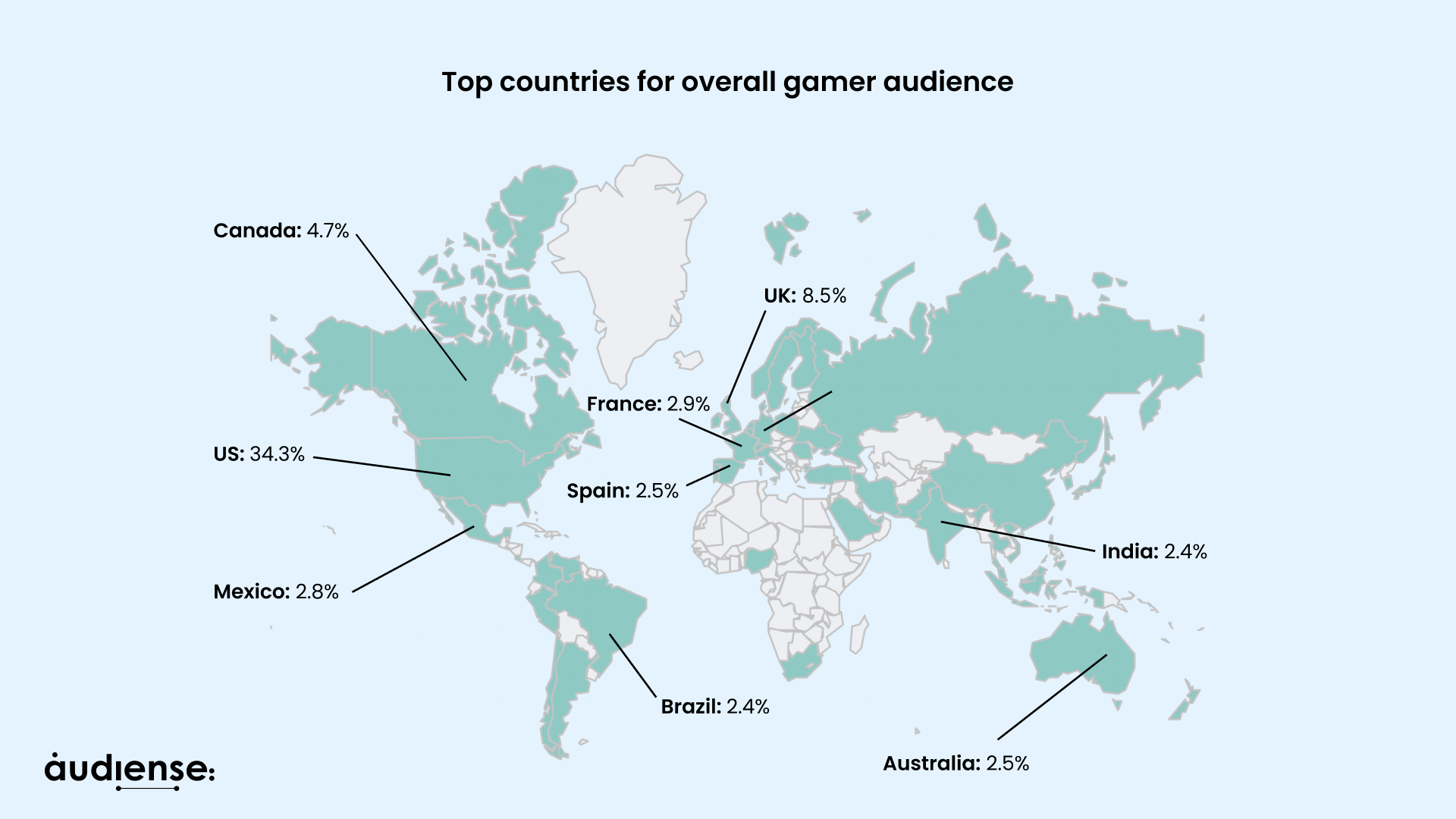 If you've read our previous sector spotlight pieces, you know that your audience is not a monolith. That's why we've taken the time to identify the biggest segments in these audiences that brands can play with.FYI, our reports can produce up to twenty segments, but for this analysis we'll be focusing on the top three, and we have removed the other segments from our view.
Streamers & Fortnite gamers 📸
Streamers take the top spot in our gaming segments, accounting for just under 20% of the total audience and consisting largely of Fortnite players.

Men take the biggest slide of this audience (68% vs. 32% women) and about half of the audience are based in the US, particularly in LA, Chicago and New York.

Top bio keywords on profiles of this audience include 'love', 'fortnite', 'gamer', and 'twitch', which means it's not a total surprise to see TikTok, Twitch, YouTube and Discord ranking highly in their top networks – video and discussion platforms are the perfect place for streamers to share content and chat with other gamers

In terms of influencers, TV personality and chef Gordon Ramsey ranks highly for this audience, ahead of fast-food outlets such as Burger King, Taco Bell, and KFC. He's so popular in fact that fans begged for a Gordon Ramsey skin to be made available to purchase! This kind of collab is powerful and influential, with the star of Hell's Kitchen himself deciding to stream his own Fortnite games. Who's next?

Looking at brands that are likely to influence this audience we can see Travis Scott, Epic Games Store, Wendy's, Nike, Tesla and Hyundai feature prominently; this demonstrates the lasting impact of brands using Fortnite in their campaigns, as we'll see shortly.

Interestingly for marketers, this segment is much more likely to indulge in impulse purchases and are strongly influenced by social media and online ads. Do with that what you will…
Early adopters & Nintendo stans 🕹️
Next up, we've got the Nintendo stans! This audience are highly engaged with the Japanese video game company, who tend to have exclusive brands and games associated with their consoles including Mario, Zelda, Pokemon and Animal Crossing.

This segment is a front runner VR, with virtual worlds coming to represent a part of themselves and a way to express creativity. This is particularly true of Animal Crossing players, a passionate and vocal fanbase who frequently declare their love for the game in the form of sharing content and even using their Animal Crossing avatar as a profile picture across social media networks.

Top brands and influencers include Nintendo of America and former President and COO of the company Reggie Fils-Aime, alongside gaming franchises such as Pokemon, Sonic the Hedgehog (by SEGA, Nintendo's biggest competitor), Animal Crossing and Undertale.

It's also worth noting influential streamers and fun accounts including Game Grumps, Out Of Context Pokemon and Can You Pet the Dog? – a Twitter account devoted to catalogue which animals you can pet in video games. This points to a light-hearted, fun-seeking audience that are open to humour and memes.

This fun-seeking behaviour is also reflected in their media consumption: Cartoon Network, Disney, Comic Con, Marvel and E3 all appear in their interests.

This segment over indexes their household income, suggesting they're likely to have the most disposable income. Plus, they have a strong affinity for streamers who are likely to be selling merch, artists and musicians. That said, product utility is a driving purchase factor for this segment, so intangible products like NFTs could be a hard sell unless it's highly relevant to their favourite game franchises.
Where can you find them? Discord, Reddit and Soundcloud all rank highly in their social media networks and they're much more likely to be influenced by ads than they are word-of-mouth recommendation from friends and family.
Crypto enthusiasts 🪙
Finally, we have our crypto enthusiasts, who are engaged with games across the board but are particularly prominent in Decentraland players.
Decentraland is notable for its holdings in the crypto sphere, so it makes sense that Binance and Coinbase appear as top brands and bio keywords such as 'crypto', 'nft', and 'bitcoin' all appear for this segment.
Considering that 40% of the audience is 18-24, it really shows the impact of gaining an influence among younger audiences for finance brands. This audience belongs to the generation that have grown up with microtransactions and in-game currencies within their virtual leisure spaces, making them more open to virtual investments.
Brand name is important for this segment, so having reputable artists will remain an important factor when it comes to choosing which NFTs they will be purchasing next. Likewise, this will impact which brands they're keen to engage with in the metaverse. Tesla, Samsung, Dior, Gucci and Nike all appear in their top brands.
Interestingly, this segment over indexes travel and hotels, suggesting that travel and leisure are top of mind. This could be a useful insight for travel brands interested in tapping into a young audience with disposable income – a chance to create a unique in-game experience showcasing luxury destinations or recreate 5-star hotels in the virtual world? Everyone loves to try before they buy.
Finally, where to reach them? Decentraland is the obvious place, but they're also four times more likely to use Telegram than your average consumer, plus they're spending time on LinkedIn, Medium, Reddit and WhatsApp.
Which platforms are helping brands navigate the metaverse?
It's clear that there's more to marketing in the metaverse than putting out a post and hoping for the best. If you want to grab the attention of these different segments, metaverse campaigns need to be immersive, exciting and most of all, they need to truly understand what these consumers are looking for. It's time to get creative. Here's how brands are working with popular gaming platforms to navigate the metaverse.
Fortnite
After bursting onto the gaming scene in 2017, Fortnite has been a global sensation with its Battle Royale style gaming. Consistently ranked as one of the top online games worldwide, Fortnite offers a VR experience and an event destination, packaged as an addictive game. As its power grew, brands and artists flocked to claim a part of this highly influential game as their own, through selling skins, dances, and events as micro-transactions in-platform.
One of the first forays into Fortnite as a virtual events platform came from Travis Scott, which racked up 22.7 million live views (around 110 times more than Glastonbury). Since then, brands have continued to innovate.
Wendy's, everyone's favourite cheeky fast-food brand, are always hot on the heels of the latest youth trends and are keen followers of the gaming space. For example, they created a dedicated Mii of their mascot, they've made an Animal Crossing avatar and in Fortnite, they made an upcoming in-platform event their own.
When Fortnite introduced a food-fight event between Team Pizza and Team Burger, they took the opportunity to create their own in-game avatar. They went on a mission to destroy frozen beef, cleverly promoting their commitment to using only fresh ingredients in their burgers. This was accompanied by a 9-hour live-stream on Twitch, in which Wendy went ham on burger freezers, clocking up over 250,000 live viewers and bringing top gamers on board by promoting their mission on Twitter.
From the perfect event hi-jack to high-end fashion, Balenciaga has also taken steps into the metaverse. Last year, they decided to create digital outfits, inspired by real-life designs, in Fornite's virtual boutique. While most of the items could be purchased directly, they also appealed to the gamer grind, by making some items unlockable only, such as their Triple S Sneakers.
Live for just one week, players were able to hang out, try on outfits and add to their inventories. The brand also cleverly linked the metaverse with the real world, releasing the Fortnite range in select Balenciaga stores and their website. Plus, fans who bought the real-life counterparts could also unlock them in Fortnite. They topped it all off with further out-of-home activations, creating 3D billboard experiences in key cities including London, New York, and Tokyo.
Decentraland
Known within the gaming industry as one of the first companies to take the creation of the Metaverse into their own hands, Decentraland is a 3D VR platform that allows users to buy virtual real estate using a cryptocurrency which uses the Ethereum blockchain.
It has had many firsts in terms of lucrative VR events based on prestigious real-world counterparts, including Sotheby's first metaverse auction and the first Metaverse Fashion Week in 2022.
They made the catwalk globally accessible with a four-day event in which over 60 fashion brands showed their latest lines, including Selfridges, Estée Lauder, Tommy Hilfiger, and Dolce & Gabbana. Viewers were able to buy NFTs from the fashion brands involved, alongside exclusive digital events and VIP meet-and-greets with the designers.
Since launching in 2020, it's become the virtual home of many major brands including Samsung, Adidas and PWC. In early 2022, Samsung launched Samsung 837x, modelled after its real-life counterpart at 837 Washington Street, New York City.
Samsung have also been busy tweaking their offering to suit user wants and needs, creating more immersive experiences, including the opportunity to build their own adventures, hang out with other in-game characters, and complete missions. Since launch, the Samsung Decentraland store has welcomed over 120,000 customers.
Animal Crossing
How would you like to get away to your very own tropical island? In 2020, that was a distant dream, when pandemic lockdowns caused the tourism industry to rethink their approach. Around the same time, 38 million people escaped with Animal Crossing New Horizons, the latest title in the much-loved Animal Crossing franchise.
Sentosa, a premium island resort getaway in Singapore, jumped on the excitement by creating their own virtual Sentosa Island. They invited players to visit and enjoy the resort's amenities, creating their very own bespoke getaway in a virtual environment, offering a glimpse of what their real-world resort could be like.
They also allowed gamers to take home freebies, purchase official Sentosa merchandise, and participate in parties and yoga classes. With just 36 slots available each day, players could escape for 30 glorious minutes. They even created playlists and tours to get people in the mood!
It's not just tourism that has set sail for New Horizons. Given this audience are highly likely to have more disposable income, we've also seen fashion brands bringing their designs to the game. Animal Crossing's focus on crafting and creativity means that players can create their own custom designs in game, to use across furniture, decoration and even clothing. Brands such as Marc Jacobs and Valentino have all used this as an opportunity to create virtual pop-ups and digital product drops, using Animal Crossing's code functionality.
The best part about Animal Crossing is that even Nintendo makes use of it to cross-promote their exclusive franchises. Paying close attention to what their fans love, Nintendo released a free update in February 2021, roughly a year after launch, allowing fans to bring their passion for Mario to their own islands. The drop featured clothes, decorations and exciting new functionality to allow players to take their islands to the next level… and conveniently promote the latest Super Mario game.
How can brands find their feet in the metaverse?
So, what are the takeaways from brands venturing into the metaverse alongside their gaming partners? Whether you're ready to take the plunge or thinking about dipping a toe into the water, bear these key points in mind.
Immerse yourself and your brand in the platform – If you want to create campaigns that truly resonate with consumers, you have to understand the space you're entering. Make sure that you're listening and understanding your audiences before you begin activity, to make sure your campaigns are authentic and engaging.

They don't care about brands, they care about experiences – The truth hurts and the truth is, most consumers in the metaverse do not care about your brand. Gaming is a form of escapism and they're there to have fun, consumers won't take kindly to intrusive and disruptive marketing that doesn't blend with their expectations of the platform. Focus on providing fun and entertaining experiences which fit naturally into the game's mechanics or existing events, instead of reinventing the wheel.

Amplify what already exists – Following on from the above point, it's about amplifying what already exists. To do this, you need to get comfortable with releasing some control over your branding. Rachel Stones, business development manager at Fortnite,

said

in an interview: "There's a kind of generic marketing that happens in the real world that I don't think would be looked kindly upon by our audience. The brands that have done it well have created a true value exchange: if you're going to spend time with me, I'm going to give you a really good reason for doing so."
If you want to uncover opportunities to work with influencers and reach new audiences, the data is out there. It's just a matter of taking a deep dive. With tools like Audiense, conducting in-depth audience analysis and discovering actionable takeaways is possible for brands that want to approach their marketing strategy with confidence.