Rachel May Quin
The magical world of Disney - A masterclass in tourism marketing
After the uncertainty of the last few years, the travel industry is back and better than ever. As consumers start to think about their 2023 getaway, there's never been a better moment to take a fresh look at your marketing strategy.
What does the industry have in store for brands and consumers this year? Here's some of the key trends for travel marketers to consider:
When it comes to the Happiest Place On Earth, providing exceptional experiences is all in a day's work. Disney is the epitome of marketing excellence. With resorts in Paris, California, Orlando, Hong Kong, Tokyo and Shanghai, Disney is a masterclass in tourism marketing. They're also experiencing a strong comeback post pandemic, reporting a breath-taking $28.7 billion in revenue last year from the parks alone – a 73% increase year-on-year.
2023 is a landmark year for Disney as a brand, celebrating 100 years since the company was founded this October alongside their current Walt Disney World 50th Anniversary celebrations with experiential activities taking place in the parks. They're also busy nurturing fans old and new, with the launch of the Disney+ streaming service, continuing investment in much loved franchises, and even the launch of their videogame Dreamlight Valley at the end of last year.
So, how can you be more Disney in 2023? Grab a cup of coffee and get stuck into our first spotlight analysis of the year, unpacking the magic of Disney Parks & Experiences.
What does a Disney fan look like?
Before we explore how you can bring a sprinkle of Disney magic to your marketing, let's spend a little time getting to know their audience.
To help us understand who makes up Disney's loyal fanbase, we ran an interconnectivity report which analysed followers of @disneyparks, @disney, @waltdisneyworld and @disneyland. This gave us a total audience of just under 600,000 people.
Looking broadly at our Disney audience, the audience split is nearly 50/50 for men and women, with women being slightly more engaged in the conversation. The audience is largely US based, but we can see on our location map that conversation about Disney is happening all over the world! Key cities include LA, London, Orlando, Chicago and Miami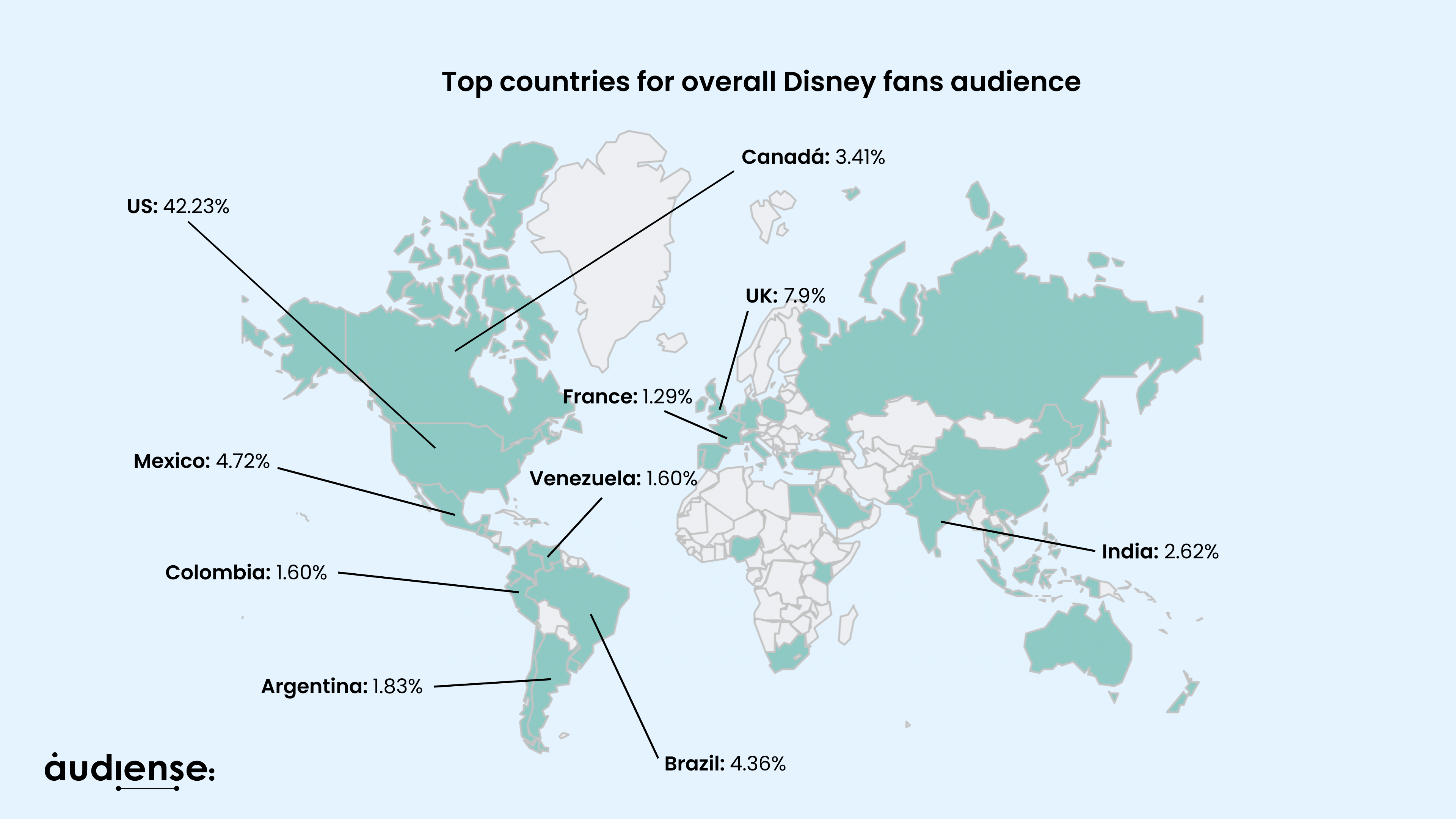 As a family friendly brand, we'd expect to see a younger age demographic engaging with the brand. But what about Disney adults? 18- to 24-year-olds make up the majority of our audience at 33%, but we can also see that about a quarter of the global audience is aged 24 to 34 years old – which is 6% higher than the 13- to 17-year-old audience.
We see that the keywords love, Disney, life and fan all appear prominently in their social media bios. Top accounts influencing this massive audience include, of course, Disney Parks, Walt Disney World, Walt Disney Studios, and a plethora of Disney brands and franchises. But they're not just Disney fans, they're also interested in sports, pets, education and shopping.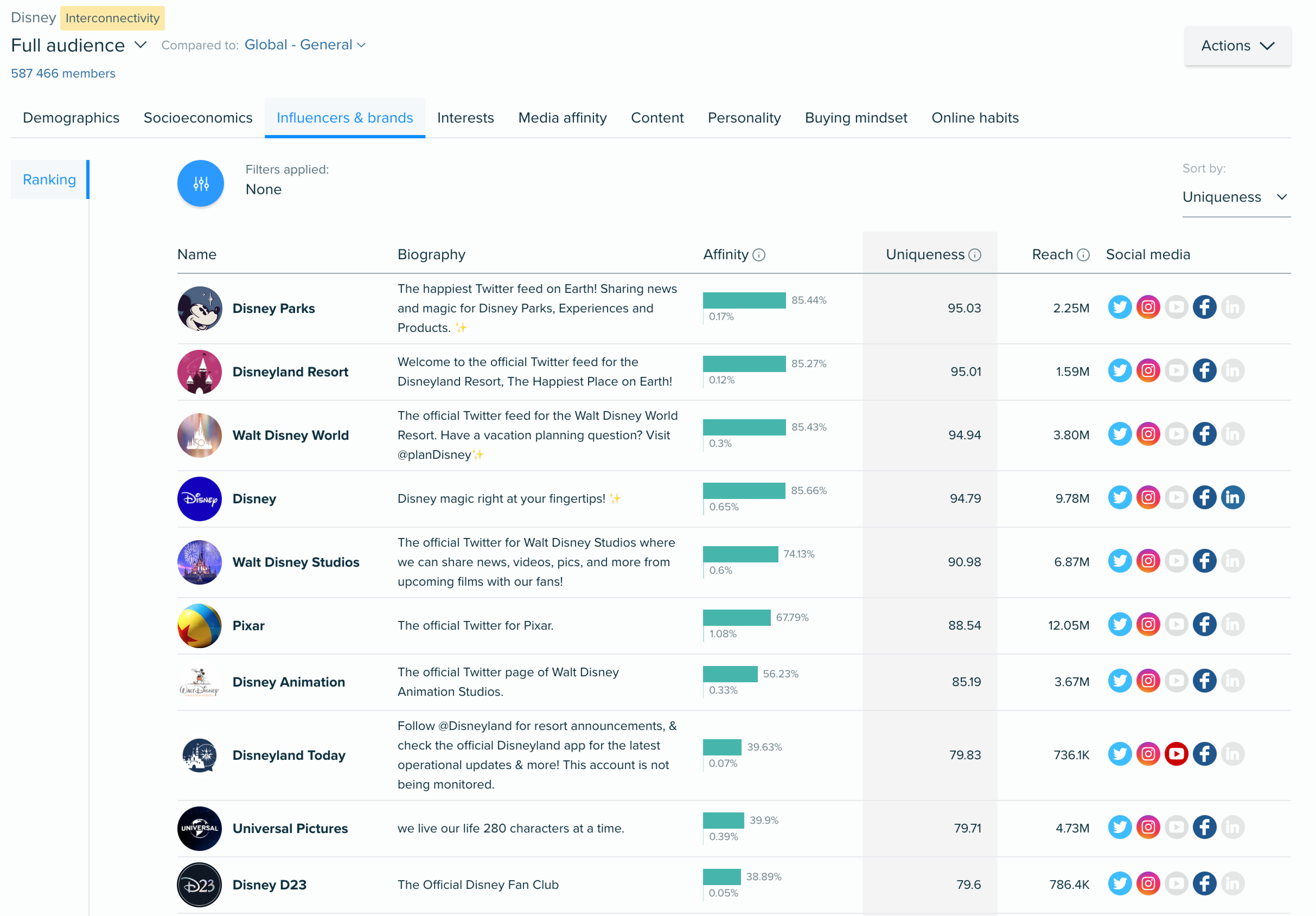 What does this actually tell us about Disney fans? While we can make some general assumptions about who they are based on this broad data, as our regular readers know, your audience is not a monolith. So, we've broken down this audience into five bite-size segments to help us drill down into individual interests. Here's all the juicy details.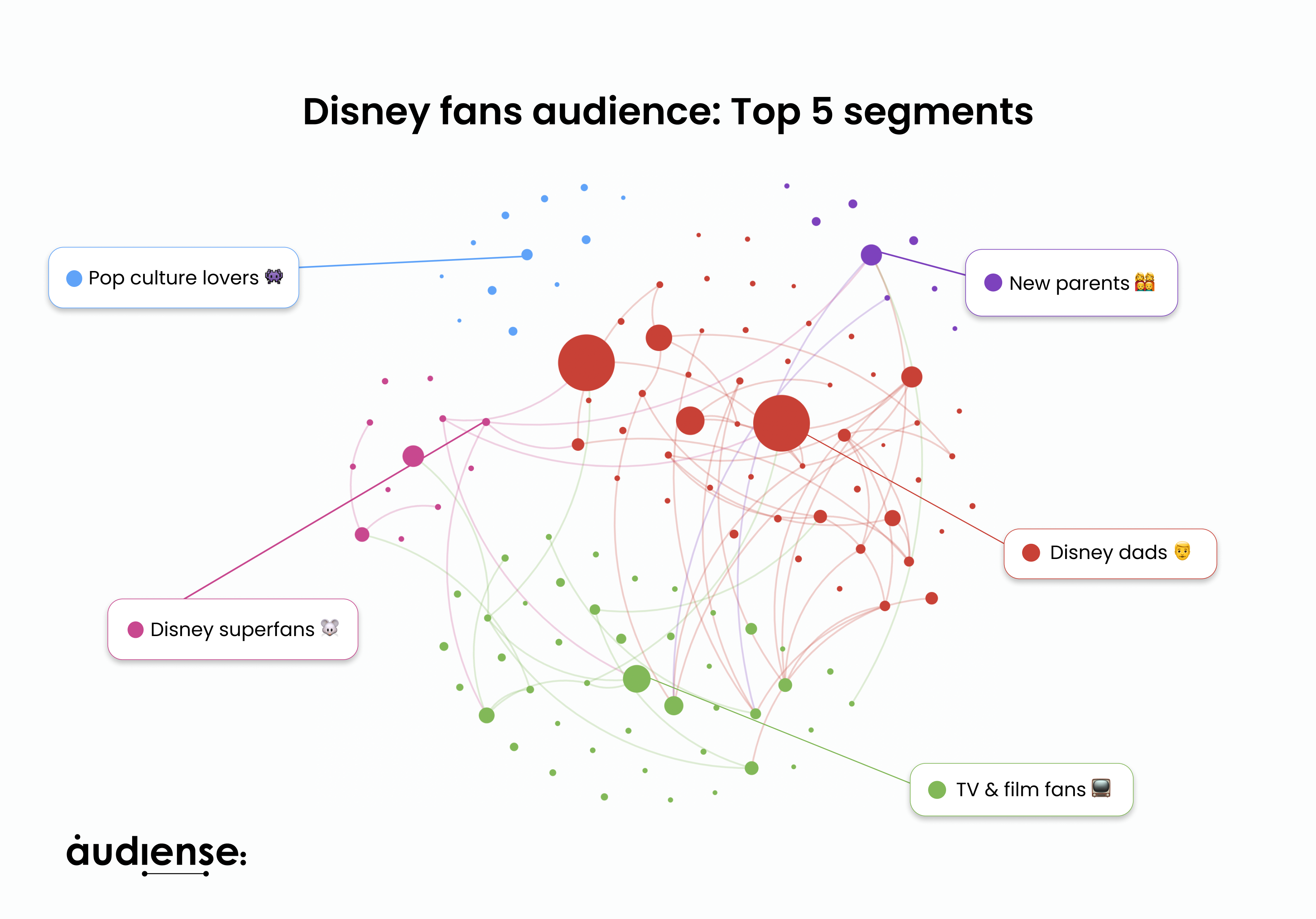 Disney dads 👨
While our overall Disney audience leans more toward women, our Disney dads' segment has a higher proportion of men. Approximately 20% of this audience are married and about 15% are parents of older kids (10 years and upward), only a small proportion have young children at home.
This segment is interesting because while they do have children, their kids are less likely to be enchanted by Encanto and belting out Frozen tunes, but they still enjoy engaging with Disney and taking their older kids for nostalgic trips.
Being parents of older children means they're less likely to spend time watching cartoons. Instead, their media interests show programmes like 60 Minutes, CNN Politics, The Daily Show and publications such as Politico, The Times and WSJ Business News.
Given that this segment is likely to have the final say in booking family vacations, what influences their purchases? Friends and family appear highly influential, closely followed by social media and online ads. They're also more likely to make big ticket purchases on credit cards.
TV & film fans 📺
It comes as no surprise that within the Disney audience, there's a large chunk of TV and film fans who adore consuming Disney content. This segment is majority female and skews young, with 18- to 34-year-olds representing over 60% of the total segment.
Disney adults are a major part of Disney's overarching strategy and this audience falls perfectly under that category, with serious spending power in their household. They're less likely to have children but the average income for US members of their audience is over $75,000 – perfect for spending on their dream vacation to Disney World.
Looking at this segment's media interests shows that they're all about classic Disney Channel shows. iCarly, Victorious, Sam and Cat, Glee and Teen Wolf are all popular. Interestingly, Disney Weddings also appears prominently, suggesting this segment is moving toward adult milestones but still wants to include Disney in these special moments.
Personality insights also show some interesting trends for this segment. TV & film fans of Disney are more likely to be genial and excitable, and their choices are driven by a desire to belong. They consider kindness and helping others an integral part of who they are and what they do, which aligns with Disney's values of community and taking care of people.
Pop culture lovers 👾
Related to our TV & film fans, we have a segment which is all about pop culture. From gaming and Netflix to pets and social media, this particular segment consumes a lot of content. They skew quite young, featuring a sizable chunk of 13- to 17-year-olds. They're based all over the world, but the majority of them (almost 40%) are based in the US.
While Disney social media accounts such as Walt Disney World Today and Disneyland Legacy Passholders do appear in the top five influential accounts for our pop culture lovers, we also see accounts such as WeRateDogs and streamers such as MrBeast appearing. Similarly, we see a more gaming skew for this segment, with Steam, Twitch, Gamespot and Pokémon all appearing highly.
It's also worth looking at their interests beyond Disney to what kind of content might resonate. Pets – especially zoo animals, dogs and cats – appear as a main interest, alongside sports and education. In terms of media consumption, Stranger Things, Game of Thrones and YouTube all appear highly for this segment.
When it comes to purchase influence factors, this segment is more likely to be influenced by social media than the general Disney audience. They're also spending time on more gaming-focused and streaming platforms such as Twitch, Discord and YouTube – savvy brands wanting to reach this segment may wish to focus their digital efforts on creating communities here.
Disney superfans 🐭
While all of our segments are Disney fans to some extent, given the nature of our interconnectivity report, this segment can be defined as the superfans, the ride-or-dies, the absolute GOAT. 56% of this segment are based in the US, and nearly 15% are based in either Orlando or LA, meaning it's likely they're spending a lot of their leisure time in the Disney Parks.
Keywords such as 'disney', 'love', 'fan' and 'travel' all appear prominently in this segment's social media profiles, making it easier to connect with fellow Disney superfans. The word 'Disney' also appears highly as the most common name for this audience, suggesting they love Disney so much they also use it in their social handles or as a prefix to their own real name.
Our Disney superfans are OBSESSED with all things Disney and Disney Parks. Top influential social media accounts include Attractions Magazine, Imagineering Disney, and several Disney insider blogs and news channels which provide unofficial – but still really interesting – intel into park life. Disney author and WDW podcast host Lou Mongello also appears in influential accounts.
What makes our Disney superfans tick? IBM Watson insights show that this segment are sentimental, particular and analytical, and their choices are driven by a desire for connectedness. They're also impulsive and hedonistic, they feel their desires strongly and are easily tempted by them. This means they're much more likely to splurge on that exclusive Disney pin…
New parents 👩‍👩‍👦‍👦
First came the Disney dads, now come the new parents. This segment is pretty evenly split in terms of gender (55% women and 45% men) but the thing that connects them is their commitment to parenthood. This audience is more likely to mention 'mom' and 'family' in their social bios and are also likely to have kids below the age of 10.
Looking at influencers and brands, parenting blogs rule the roost for this segment. Today's Parent, Huffpost Parents, Parenting.com and Toys'R'Us all appear prominently, alongside accounts aimed at young parents including Sesame Street, Baby Center and Babies'R'Us.
While most of the media they consume is centred around kid's TV and various parenting publications, it's also worth noting what actually drives their purchases. Social media and ads appear prominently as the most influential purchase factors, with this segment being slightly more influenced by digital ads than the wider Disney segments. Given they're so engaged with parenting blogs, websites and publications, this makes targeting them via social media much easier.
What about online habits? This audience is more likely to spend time on more traditional social networks such as Twitter and YouTube, but they're also consuming content on Medium and they're also likely to spend time on Pinterest.
How can you be more Disney in 2023?
1. Know each of your segments inside out
We talked earlier about the importance of breaking down your customers into bite-size segments and as far as we can tell, Disney does not believe in a one-size-fit-all approach to marketing. With a global audience and a brand that spans generations, from the classic Mickey Mouse lovers to Elsa enthusiasts and Winnie the Pooh collectors, Disney makes tailoring their campaigns look effortless.
Love to get fit in a friendly environment? Sign up for a #runDisney event and start collecting exclusive medals to celebrate your next personal best.
Are you a magpie that loves to collect shiny things and celebrate special memories? Treat yourself to exclusive pins and merchandise, only available in the Disney parks.
An amazing example of this is also the annual Epcot Flower and Garden Festival. While gardening may not spring to mind as a 10-year old's favourite past-time, this particular event is all about the older demographic. They cleverly tailor their marketing to the appropriate channel, choosing Facebook as the place to reach parents and grandparents with a passion for plants. Commit to your brand across every touchpoint
2. Commit to your brand across every touchpoint
One of the most incredible things about Disney's marketing strategy is that they're capable of taking a clear and distinctive brand, rooted in bringing happiness to the masses, and successfully rolling it out across locations, language barriers, and platforms.
To enable this, they literally have a Marketing Centre of Excellence, responsible for promoting resorts, experiences, signature vacations and consumer products. If creating your very own centre for marketing excellence isn't in your budget, then start small. How does your brand translate across touchpoints?
A large part of Disney's branding success comes down to expertly executing a multi-channel approach to their digital marketing. In addition to maintaining multiple websites, Disney Parks has a social presence across Twitter, Instagram, TikTok, YouTube, Facebook… you name it. Each account is tailored to the intended demographic and features content most likely to appeal to them.
But while their TikTok videos may look and feel very different to their Twitter feed, one thing remains consistent. Content is full of emotion, nostalgia and storytelling, all key elements of the wider Disney brand. And if you can't make it to a Disney Park in the near future? The Disney World website cleverly points customers to their next destination so they can enjoy Disney from the comfort of their own home.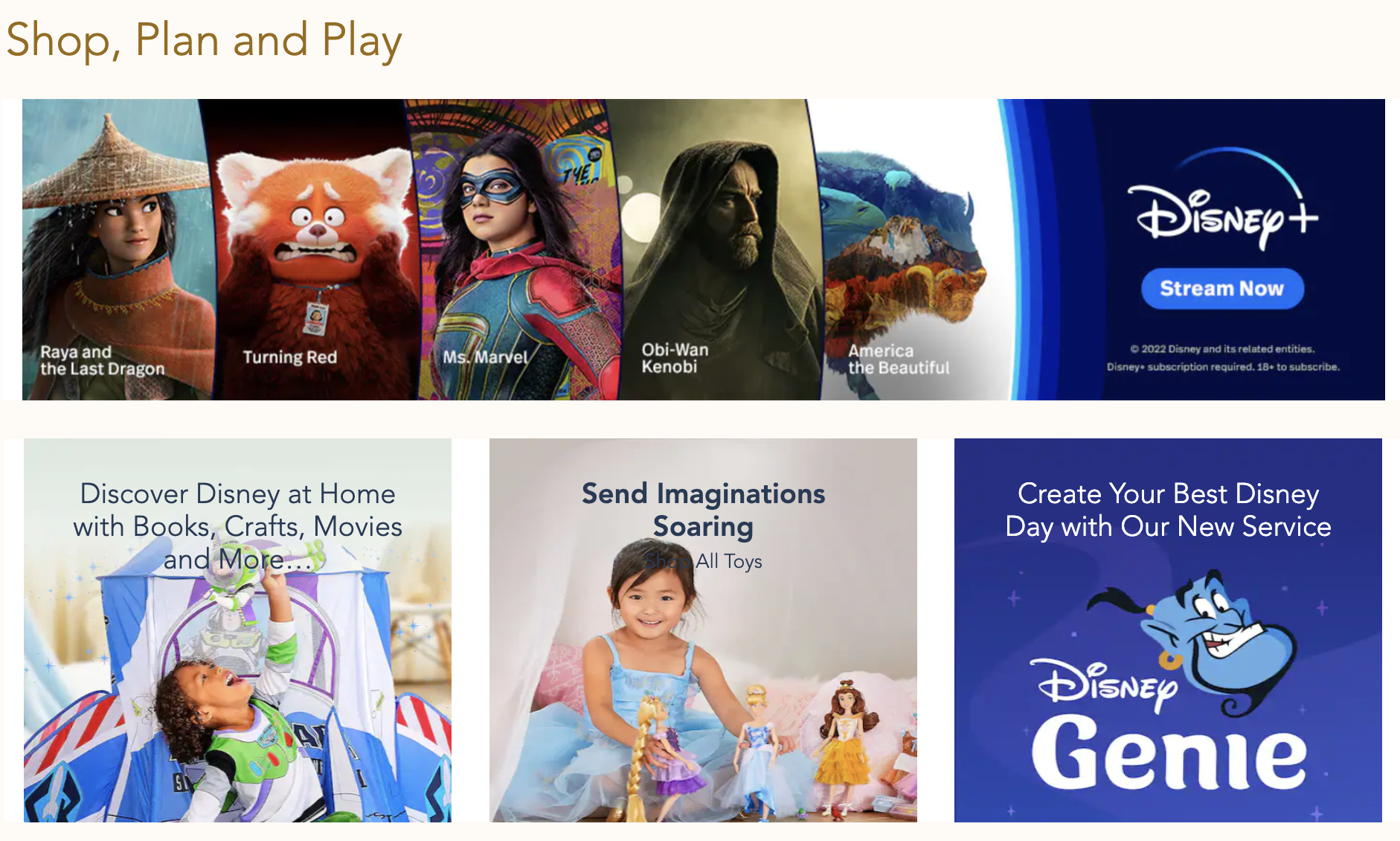 3. Put the experience at the heart of your marketing
Have you ever seen one of those TikTok's where a parent tells their toddler they're going to Disneyland? Most kids either can't stop squealing with joy or they burst into tears. The chance to meet the big mouse himself is just too darn exciting.
Disney have done a spectacular job of turning their parks into a sacred space that their customers make the pilgrimage to as often as possible. This is entirely due to the time, energy and creativity the brand put into making every guest's experience as memorable as possible. From themed restaurants and menus to seasonal shows and activities, Disney are constantly changing things up and making sure they're on top of what's trending.
Experiences don't just have to be in-person. Disney seamlessly connects their physical attractions with digital magic, closing the loop between offline and online, and increasing dwell times in the park.
For example, the Cinderella Castle Mural of Memories, located in their Orlando resort, uses augmented reality created in collaboration with Snap to bring Disney fans together. By using the dedicated My Disney Experience app, visitors can point their camera at the iconic Cinderella Castle attraction and access a mural of memories created by park guests, as well as adding their own photos from their trip.
4. Make your customers a part of your story
As an iconic brand loved by people all over the world, it's no surprise that people love to share photos of their trips to Disney World or Disneyland on social media. This presents an opportunity for every visitor that walks through those magical gates to become a micro-influencer and a brand advocate.
While it's nice to have a glitzy celebrity taking photos at key attractions, micro-influencers are a key component in Disney's marketing strategy. According to research, 61% of consumers trust influencer recommendations and 40% of people have made a purchase based on them. Even better, when a visitor truly enjoys the experience, they're probably posting for free.
It would be easy for Disney's marketing team to rest on their laurels and consider the job done. Instead, their team are constantly dreaming up new ways to engage people visiting the parks and capitalise on user-generated content to keep the cogs of the online word-of-mouth machine turning.
Nostalgia is one of the most powerful tools in Disney's marketing kit. By embracing nostalgia and encouraging their audience to engage with their favourite characters – and probably childhood memories – Disney are able to inspire long-term loyalty and real engagement.
A truly magical example of this comes from their 50th anniversary celebrations and the Disney Fab 50 Character Collections. For a limited time, Disney fans are able to explore the parks and search for the 50 golden sculptures, featuring much loved characters including Mickey and Minnie Mouse, Donald Duck, Goofy, Pluto and more! Fans can snap and share pics, plus you can collect commemorative coins and medallions in 50 unique designs to celebrate the moment.
Key takeaways
Oh boy, that was a lot to take in! Let's recap how you can capture some of the Disney magic in your 2023 marketing plans, whether you work in the travel industry or not.
Know each of your segments inside out

to strategically tailor your marketing approach and reach each of your target demographics effectively. With audience insights at your fingertips, you can make better marketing decisions and optimise your time and resources.

Commit to your brand across every touchpoint

. While you don't need to be across every single social media channel, you do need to make sure that your branding is consistent and appropriate for each platform.

Put the experience at the heart of your marketing

, whether you're selling sandy beaches or spa breaks, think about how you want your customers to feel. Use the experience as the central point for all your messaging, creative, and your overarching marketing plan.

Make customers a part of your story

. Brand advocates can make your marketing go further without stretching your budget to breaking point. Think of creative ways to generate more content from your customers and incorporate it into your wider marketing strategy.
Ready to take the next step in audience intelligence this year? With tools like Audiense, conducting in-depth audience analysis and discovering actionable takeaways makes creating tailored marketing strategies easier than ever.