Carlos Serra - COO
How a Netflix Docuseries Set Off a Rise in F1 Popularity
Averaging 946,000 viewers per race, the 2021 Formula 1, also known as F1, viewership was up a phenomenal 41% compared to the 2019 racing season and 56% compared to 2020.
In fact, the final race in the 2021 Grand Prix achieved the 7th largest cable audience on record in the US. It seems the US is ready to get fast and furious. You might be wondering, what exactly is driving this interest? Well, we'd chalk it up to the Netflix effect.
Drive to Survive, the Netflix docuseries, has played a significant role in F1's meteoric rise, bringing their audience behind the scenes of the racing world. Bringing the high-octane action from the race track and beyond direct to the US audiences' TV screens, tablets and smartphones has built an intimate connection between world-famous brands and their drivers.
In fact, we'd argue that the main steer of their success comes from audience intelligence. A deep understanding of their target audience helped Drive to Survive and F1 curate more engaging behind-the-scenes content across all the right platforms.
Audience intelligence lays the foundation for marketing success, by fuelling the ability to segment and target individual audiences more effectively. Let's dive into how leveraging audience data can drive massive growth, as demonstrated by Netflix and F1.
P.S. Don't forget to bookmark this for later and share it around with your marketing friends, there's plenty to learn.
How Drive to Survive fuelled F1 viewership in the US
In case you didn't know, F1 is an international sporting event that involves racing cars. Since the 1950s, the championship has increased in popularity worldwide, especially in Europe and the United Kingdom. But it never quite managed to break the US… until now.
This is surprising, considering the popularity enjoyed by Indycar and NASCAR. So, what exactly was going on with F1? While it's hard to say for sure, it's possible that a lack of promotion in the market alongside heavy saturation of existing racing tournaments in the US, made it difficult for F1 to achieve the cut through they needed to race to the top.
But times have changed. With the launch of Drive to Survive in 2019, F1 has experienced a huge increase in viewership. Drive to Survive was developed as part of Liberty Media's - the parent company of F1 - strategy to expand F1 into new markets.
When you take a deep dive into ratings and their online audience segments, it's plain to see they got exactly what they wanted. Raceday ticket sales for the first US Grand Prix held after Drive to Survive debuted rose 15 percent. When the show's third season released in 2021, it only took a few days for it to become the most-watched show, racing ahead of powerhouses like Ginny & Georgia and medical drama New Amsterdam.

Looking at ratings data, in 2018 F1 viewership was around 547,000. After the docuseries launch, it jumped by 18% to 672,000. By 2021, that had escalated to 934,000 - an incredible 54% increase!
This acceleration in audience numbers directly correlated with conversation online. The latest season of F1 also got viewers hyped for Drive to Survive season 4 after the Hamilton and Verstappen feud for the Driver Championship 2021 season, which saw Verstappen win amid HUGE controversy.
Who is driving the conversation around F1?
In early 2019, motorsport series' global research director said in a Reddit AMA that F1 was struggling to attract a younger audience, with under 25s making up just 14% of their audience. But in the 2021 Global F1 Fan Survey, President of Motorsport Network James Allen said:
It was no secret that F1 had been struggling for years to attract younger fans and females especially and this survey speaks volumes about how the new F1 management team's digital first approach and the funnel effect of projects like Netflix Drive to Survive are engaging a new generation of passionate F1 fans. And the racing on track is delivering too."
The 2021 survey had over 160,000 responses and its highest female participation ever, accounting for 18% of respondents, compared to just 10% four years ago. According to Audiense data, things have definitely changed dramatically since 2019.
The online conversation around F1 is now largely driven by the 18-24 demographic, accounting for almost 40% of mentions in the US. This is closely followed by 25-35, who make up an additional 25% of the audience. This is a serious shift for F1. It's also roughly in line with their established territories. In the UK, the 18-24 segment is about the same and the 25-34 segment comes in at just over 20%.
The increased representation of women noted in the official F1 survey is also apparent. While the demographic data does skew toward men, nearly 20% of the online conversation involves women and we'd be willing to bet this will continue to grow.
There's a broad spread of newly minted fans across the US, with Chicago, Los Angeles, Austin, Miami and Dallas leading the way. It's particularly interesting to see that geo-driven segment in Texas (Austin and Dallas, specifically) given these audiences consist of hardcore Nascar fans. So what? Well, these are also the people that are likely to be the most influential in driving that F1 popularity to a broader audience.
Demographics are all well and good, but if you want to reach them effectively, you need to break them down into distinct segments. A data-driven campaign would focus on influencers, partnerships, and the online habits of their audience to build a multi-faceted marketing strategy.
We've taken this massive monolith and separated them into four main audience segments for F1 to tap into, and they've produced some interesting findings.
Business-led Dads 💼
They're likely to live in cities such as Los Angeles, Chicago, Seattle and New York
They're on top of current affairs, tuning into CNN, PBS, and The Associated Press
They're not just avid news readers, they also have a high affinity for the reporters, presenters, investigating journalists, as well as entrepreneurs and founders
They often describe themselves in relation to their families - as mothers, fathers, and with a partner - they're also educated and engaged as alumni of their colleges
You're more likely to find this audience on LinkedIn and Medium, they also enjoy basketball and baseball, and might appear as the 'average' or 'casual' fan of F1
Call of Duty leagues 🎮
On the surface, and going by their bio-keywords, they look like 'gamers', but a closer look at the data shows they're interested in one particular game: Call of Duty
Many of these influencers are part of the OpTic league and they spend a lot of time on Twitch and Reddit, in fact they're 22 times more likely to spend time on Twitch than your average US citizen
Looking at their media consumption, they have a strong interest in Top Gear, Rick and Morty, Game of Thrones, Pokemon and IGN magazine
If F1 ever wanted to consider a new route for a 'gaming' audience, this audience is a core base to develop
Car enthusiasts 🧑🏿‍🔧
You could mistake this audience for car brand lovers, their influencers & brands are filled with the likes of Porsche, Jaguar, Lamborghini, but level pegging are motor magazines such as Car and Driver, Motortrend, Road & Track, and Autoblog
They love TV shows that go round a garage, and look under the hood, coupled with their interests over-indexing for Physics and Engineering
It's also interesting to see that this audience skews younger, with 65% of the segment falling into the 18-34 category, suggesting a budding segment of lifetime F1 fans
They want to expand their knowledge, learn more, and engage in content that resonates with their passion for cars as machines!
It's probably no surprise that they're 8 times more likely to be on Reddit, likely consuming car-related content and looking for advice in subreddits, but they're also 18 times more likely to be using WhatsApp, presenting an opportunity for a clever chatbot campaign to get them talking about their favourite F1 cars?
IndyCar fans 🏎
These fans are dedicated to the IndyCar series, the only segment to feature members from Indianapolis (home of IndyCar, and their own Motor Speedway)
These fans are here for the drivers which make up most of the influential affinities
They're significantly more likely to be married with children, which means more commercial media affinities such as SiriusXM and NBC entertainment feature in this demographic, alongside specialist media outlets and ProFootball channels
Most of their hashtags centre around the IndyCar and F1 topic, and the content they engage with continues to put the drivers at the forefront
This is the type of audience that would love behind-the-scenes content from races, and interviews with the drivers, with YouTube being a popular channel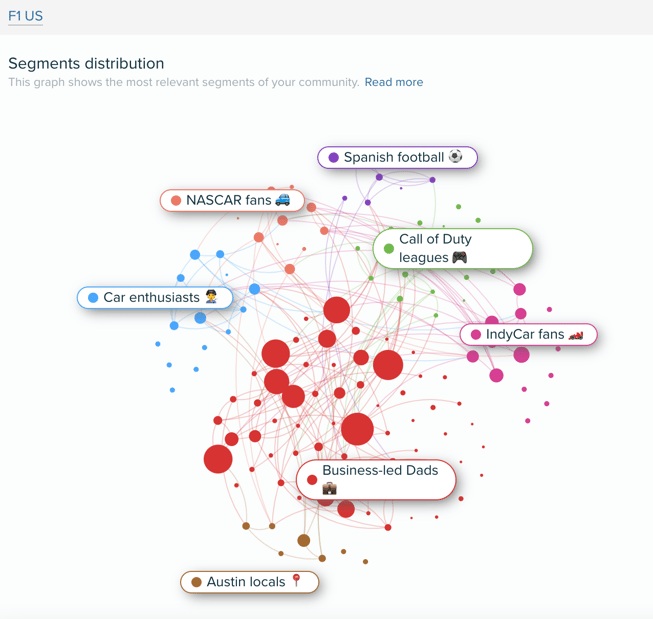 Who they're influenced by
Let's take a look at the top 15 brands and influencers. Realistically, F1 is probably not going to be able to get POTUS to tweet about motorsport. But it's fascinating to see a crossover between motorsport fans and space enthusiasts following Elon Musk, NASA and SpaceX.
It also proves the value of using every asset available to you. Tapping into Lewis Hamilton, Daniel Ricciardo and the various brands that participate in F1 - for example, with behind-the-scenes content - is likely to engage and persuade fans old and new to keep watching.
What media they're consuming
Media buys are hugely important for brands looking to expand their reach and our data shows that F1 fans in the US are most likely to be engaging with:
ESPN
SportsCenter
CNN
Netflix
NPR
Bloomberg
The New York Times
The Wall Street Journal
Forbes
TIME
Where are they spending time online?
Where are motorsport enthusiasts in the US spending their time? Data shows they're active every day of the week but they're an audience of night owls, spending most of their time online between the hours of 6pm and 5am.
Unlike the general population, they're significantly more likely to be using a desktop computer or laptop versus a mobile device. This is reflected in the platforms where they spend most of their time, with Reddit, Medium and Twitch all appearing as the top networks for F1 fans in the US.
The main highlights here are F1 fans in the US are 3 times more likely to use Medium and Reddit. They also spend time on TikTok, SoundCloud and YouTube, suggesting they're likely to consume audio content as well as video. This breadth of platform usage and media formats provides loads of new ways for F1 to diversify and re-purpose existing content to keep reaching new audiences, beyond the standard motorsport superfan.
How F1 are steering the conversation in the US
We know who they are, what they're watching, and where they're spending time. Now we want to know how exactly F1 and Drive to Survive used this insight to expand their reach into US audiences.
Social media
They've taken to social media to share latest news and sneak peeks of behind-the-scenes content. In 2020, F1 created a TikTok account that has since amassed over 3.5 million followers.
This was smart, not just because TikTok is an up-and-coming platform for reaching younger audiences, but it's the perfect place to showcase their vast bank of video content from drivers and car brands, as well as sharing behind-the-scenes content in the form of interviews with drivers and the teams behind them.
They also had a shift change internally, allowing drivers to post more about the F1 world to engage fans. This is revolutionary for the brand, as the former CEO didn't allow filming inside the paddock unless you were a TV broadcaster.
In days gone by, F1 fans wouldn't see their favourite drivers unless they were in a helmet. Thanks to Drive to Survive, they're getting more insight into theirfavourite drivers' lives and personalities than ever before. The behind-the-scenes elements of the docuseries give insight into the driver's emotions, creating a human connection that is more likely to create superfans that are invested in F1, as a sport and as a way of connecting with their heroes.
Influencers
Organic content aside, F1 has also been collaborating with huge influencers such as Khaby Lame, who has over 131 million followers on TikTok - easily one of the largest audiences on the platform.
F1 also seems to be paying attention to that gamer audience crossover identified in the audience segments. Lando Norris, an F1 driver who recently announced a new contract with McLaren, has been breaking records over on Twitch, thanks to the growing F1 and Drive to Survive audience. Lando went from averaging 2,000 views to hitting over 70K views on a single broadcast.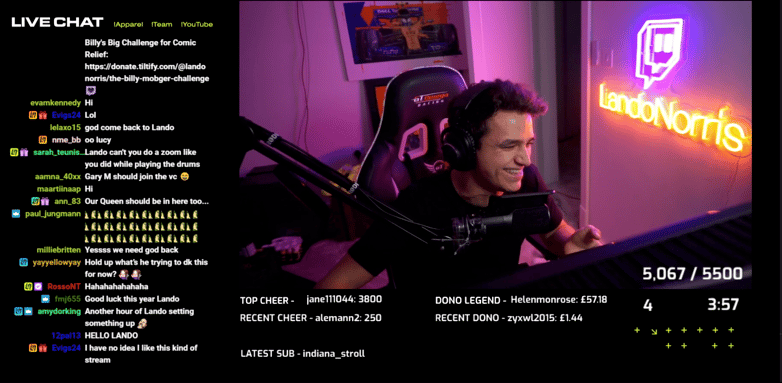 Sponsorships & partners
With social media and influencers ticked off, another area of focus for F1 is sponsorships and potential partners.
It stands to reason that when you have so many famous car manufacturers such as Mercedes, Ferrari and Aston Martin participating, you want to make sure you're tapping into those audiences. It also helps that F1's audience are highly motivated by brand names. Logos are prominently displayed at F1 events, reinforcing that connection.
It could be argued that this is especially important for the car lovers segment we identified. This type of audience is heavily influenced by brands such as Porsche, Audi, Lamborghini, Maserati. But it's not just the super-powered James Bond cars they're interested in, household names and family favourites appear, such as Ford, Honda and BMW.
Going deeper into segments like this also creates food for thought for continuing to grow F1's audience. Between the brands and luxury cars, media outlets such as Car and Driver, Motor Trend and Autoblog rank highly. This suggests they're not just interested in F1, this consumer segment is hungry to read, learn, and talk about cars as much as possible, massively amplifying F1 and Drive to Survive beyond F1 superfans into petrol heads and people interested in how stuff works, not just the fancy logos.
Key takeaways
Everything considered, how could F1 go the extra mile in the 2022 season and continue to build their brand in the US market?
Here's some key takeaways for delivering audience-focused campaigns that are likely to drive brand growth.
Build insight into platforms used, media channels consumed, and even how audiences are browsing to build Facebook, Twitter and Instagram advertising campaigns that can reach your audiences more effectively without breaking the bank
Use affinities and influencers to go where you haven't before! For example, the insight into car fans also following NASA and other space-related industries could result in interest-based ad targeting looking for engineering enthusiasts, or they could tap into Call of Duty gamers to reach a broader audience
Pay attention to the content that really resonates with your audiences, for example, F1 focused on humanizing their brand by sharing driver-focused and behind-the-scenes content which generated much more engagement than just tweeting out race results
Consider innovative new marketing approaches that will reach audiences in their native environment! We saw Twitch, Reddit, Medium and WhatsApp appearing as popular channels, presenting opportunities for F1 to repurpose their existing asset bank and engage fans old and new in creative new ways
While traditional out-of-home advertising can easily max out your budget, savvy teams can look to place publicity hits with key publications that are likely to influence your target audiences in a more authentic way
If you want to uncover opportunities and assess whether or not you're giving your audience what they want, the data is definitely out there to clue you in.
It's just a matter of taking a deep dive. With tools like Audiense, conducting in-depth analysis and discovering actionable takeaways is possible for brands that want to approach their marketing strategy with confidence.