Rachel May Quin
Video killed the Instagram star? The rise of TikTok influencers for brands
If you work in marketing (and we're betting you do), it seems there's always a war between the members of our marketing mix. Content is king, but blogging is so last year. Facebook is dead, except for your relative's constant check-ins at random locations. Instagram is dead, which to be fair, might not be totally incorrect if Kylie Jenner's boycott gains traction.
So, what does this mean for influencers? Well, let's take a moment to refresh ourselves on what an influencer is. Nielsen defines an influencer as a social media user with over 1,000 followers or subscribers who exercises influence, on digital platforms, over digital users and audiences.
Influencer marketing is one of the most striking marketing innovations of the last five years, as brands flock to make the most of viral word-of-mouth. And the love of influencers is backed up by real profits. Here's a selection of stats you need to know about, about influencers and the space in which they operate.
Clearly there's a lot to be said for influencer marketing, but where does TikTok fit into all of this and what does it mean for Instagram? It seems short-form snackable video content is the perfect remedy to our short attention spans. After it rebranded in 2018 from Music.ly to everyone's favourite clock app, the platform has seen a major boom.
While 72% of influencers are currently using Instagram as their primary content channel, savvy content creators develop a presence across several digital platforms. Almost 80% of TikTok's top influencers are aged 18 to 34 years old and over the last 12 months, the platform saw a 481% increase in engagements.
Of course, none of us have been able to escape the impact of #TikTokMadeMeBuyIt, the popular hashtag that has had over 7 billion views to date and is responsible for the massive shift in consumer products, from books to coffee. A quick search of the hashtag on Amazon will bring up a wealth of products and recent bestselling books, proving the value of this platform as a purchase influencer.
In this blog, we'll be exploring the rise of the TikTok influencer and brands getting influencer marketing oh-so-right. Plus, we'll be diving into our usual breakdown of what the TikTok (and importantly, the #TikTokMadeMeBuyIt) audience is actually made of. Let's go.
Who is spending time on TikTok and what makes them tick?
To answer this question, we ran an affinity report based on people who identify as TikTok users online to understand who makes up the online TikTok audience and ideally, what influences them.
Our overall audience data confirms what we already know, that the TikTok audience skews young with 18–24-year-olds making up almost 40% of the audience. It also shows the gender split is almost 50/50, with men making up slightly more of the audience than women. Many of these users are highly interested in society, education, movies and TV, and music, and as a whole, social media is the number one purchase influence.
TikTok is exceptional in that it is a truly global platform, thanks to its origins in China, which shows in location data. Top ten countries for TikTok users include the US, the UK, France, Indonesia, Philippines, Brazil, Mexico, Canada, Spain and Australia. While 50% of users are English speakers, Spanish, French and Japanese all appear, suggesting that brands with an international presence have the potential to run highly targeted local campaigns on TikTok.
If you've read our previous sector spotlight pieces, you know that your audience is not a monolith. That's why we're all about breaking chunky audiences down into snackable segments. Our reports can produce up to twenty segments but today, we've removed a whole bunch of them to focus on the top four most interesting segments.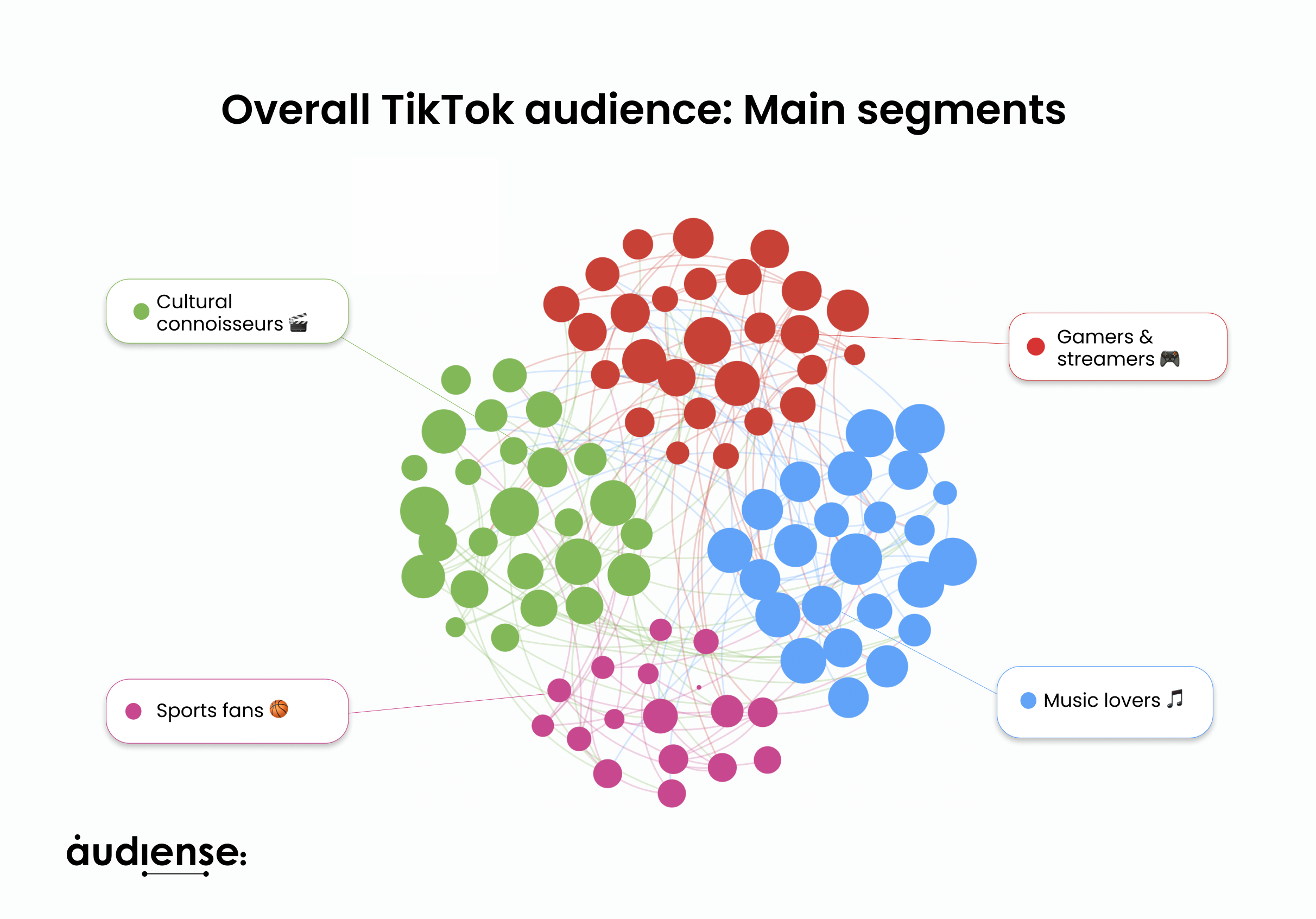 Gamers & streamers 🎮
Given the demographics of TikTok's audience, it's no surprise to see gamers and streamers taking the top spot in our segments, comprising of 80% men aged 18-24

Many of the people in this segment have identified themselves as prominent TikTok users by adding the words 'TikTok', 'Twitch', and 'creator' to their social bios, proving that it's a popular move for multi-channel creators to boost their followers across platforms and expand their own reach – good for creators, good for brands!

Looking at their online habits, Twitch, YouTube, Discord and Reddit all appear highly, with these people 4x more likely to use Twitch; this shows they're hungry for content related to their interests and seek out communities to discuss and share

Thinking about purchase influence factors, brand name ranks highly in what triggers a purchase and recommendations from friends and family rank lowest – this segment is much less likely to be influenced IRL than your average consumer
Cultural connoisseurs 🎬
Next up, our cultural connoisseurs, named as such because society ranks highly in their online habits and interests. But wait, what does that actually mean? They're engaged with tech entrepreneurs, politicians and media including Elon Musk, Joe Biden, The New York Times, and Marvel

Because of this engagement with society and culture, this segment is plugged in to the latest cultural trends in movies, TV and music – Stranger Things, Disney and Netflix all appear prominently in their media affinities and recent popular hashtags include #strangerthings, #loveisland and #thorloveandthunder

This audience is paying close attention to what's new and hot, making them primed to be influenced by #TikTokMadeMeBuyIt, and this correlates with their buying mindset which shows that 56% of this segment are likely to be influenced by social media when making purchases and a further 54% respond to online ads

Where can you reach them? This audience is 5x more likely to be on LinkedIn (young professionals?), as well as spending time on Medium, Reddit and Telegram. Dark social rules the roost, but they're easy to find if you know where to look.
Music lovers 🎵
Given that TikTok started its life as Music.ly, a dedicated platform for dance challenges and lip syncing, it's no surprise that music lovers and influencers in the space appear as a prominent segment!

This is our only segment in which women appear more prominently, accounting for 62% of the audience, and expressing interest in their favourite musicians

Movers and shakers in this space include Rihanna (musician and CEO of Fenty Beauty, who have been making waves on TikTok), Ariana Grande, Katy Perry, Justin Bieber, Taylor Swift and Lady Gaga

Over the last 12 months, many artists have flocked to the platform under the guise that 'management made me do it' (*cough* Halsey, FKA Twigs, Florence Welch); TikTok is built around trending sound clips, meaning that many artists have launched their careers or seen huge revival on TikTok, including Doja Cat and Kate Bush

Similar to our cultural connoisseurs' segment, they're primarily influenced by social media when making purchases and you can find them on SoundCloud, Snapchat and Instagram when they're not scrolling TikTok
Sports fans 🏀
Last but not least, we have two segments blended into one, as our TikTok audience showed prominent segments for sports and football AND sports and basketball

Both audiences are largely male aged 18-24, but they differ slightly in terms of geography, with our football fans being based mostly in Europe and basketball being based in the US

These two segments are influenced by sports brand and media such as UEFA Champions League, Premier League, NBA, NFL and big sports personalities such as Cristiano Ronaldo and LeBron James – this suggests this audience are more likely to be swayed by the star factor when it comes to making purchase decisions

In terms of social channels, WhatsApp, Twitch, Twitter and Telegram all rank highly, suggesting they are using social platforms to connect with other sports fans and their favourite teams and players

This segment is one in which brands should tread lightly, as our personality insights show that this audience is less open and less agreeable than the general TikTok audience! For both segments, brand name and social media are important purchase factors, although social media is more effective for football fans and brand name is more important for basketball fans!
Which brands are successfully tapping into TikTok influencers?
We've seen the data, we've explored the origins and impact of TikTok, now it's time to examine the brands who are absolutely killing it on the platform using influencer marketing. Here's a selection of the best brands we've seen using influencers to amplify their campaigns and reach new audiences.
e.l.f. Cosmetics & #EyesLipsFace
Hailed as one of the most viral campaigns ever on TikTok, Elf Cosmetic's #EyesLipsFace challenge went truly viral thanks to unprompted interactions from celebs such as Ellen DeGeneres, Lizzo and Reese Witherspoon.
They commissioned a song specifically for TikTok, based on Kash Doll's 2018 hit 'Ice Me Out'. The brand clearly understood the TikTok's audiences' passion for earworm sounds and dance challenges, capitalising on the music lover segment to create an innovative campaign that spread organically. They were also able to link the campaign to a key brand pillar: 'e.l.f. is for every eye, lip and face'.
Once they had their song in the bag, e.l.f. hand-picked a small number of influencers to start seeding the campaign on TikTok. As awareness grew, so did user-generated content and excitement. The hashtag clocked up 7 billion views and over 5 million user-generated videos… and celebrities started to join in the fun. It became so big in fact, that the brand collaborated with a record label to create an official music video.
It didn't end there either. According to agency Movers+Shakers, who worked on the campaign alongside e.l.f., the buzz around the challenge led to 1.5 billion of earned media impressions, the song took the number four slot in Spotify's Global Viral charts and it was the first-ever brand ad to hold the number one trend spot on TikTok.
Dunkin' & Charli D'Amelio
Speaking of ground-breaking TikTok activity, in September 2020 American coffee and baked goods chain Dunkin' became one of the first brands to tap into influencer marketing on the platform by working with rising star Charli D'Amelio. At the time, Charli was the most followed TikTok influencer on the app, famous for her dance moves.
Dunkin' worked with Charli to launch their new menu items, including her go-to order of whole milk and caramel swirl, which they named 'The Charli'. As an extra incentive for Dunkin' and Charli fans, they also gave bonus loyalty points to customers who used their app to order The Charli.
This influencer marketing campaign was a huge success for Dunkin', causing a 57% spike in app downloads and a 20% sales boost across all their cold brew coffees. They also made the campaign go further for Charli stans, offering digital opportunities to capture exclusive Charli content in the form of a special AR Instagram filter, stickers, and a dance challenge linked to an original song they created.
Fortnite & #EmoteRoyaleContest
Fortnite used their entry into TikTok with a fan-focused challenge to help them boost awareness and an awesome prize – the chance to have your original dance move immortalised in-game as an emote! If that wasn't enough, they sweetened the pot with 25,000 in-game currency and a Fortnite VIP package.
To kick off the challenge, they enlisted Fortnite community creators Jordan Fisher and Pokimane, capturing content with them and adding their emotes to the Fortnite Item Shop ahead of the launch. From there, excitement snowballed pretty quickly.
To date, the hashtag has been used over 250 million times. The brand also made the most of the wealth of user-generated content at their fingertips, using videos to create paid advertising compilations and further spread the reach of the campaign.
Gymshark & #GymShark66
After making waves on Instagram with innovative influencer marketing over the last few years growing their value to £100 million, Gymshark approached TikTok with the same level of motivation. In just three years, they've been able to rapidly grow their audience to 3.7 million followers by tapping into the passionate fitness community.
They did this with the #GymShark66 challenge, which they've been running since 2019 and still gets huge engagement to date. This particular TikTok challenge is centred around the idea that it takes 66 days to form a habit, asking people of all fitness levels and abilities to make a change for 66 days and document it using the hashtag.
For the 2019 iteration, they partnered with six fitness influencers on TikTok to help them reach as many people as possible. The campaign hashtag had over 45 million views in the campaign period and helped inspire many more people to make a positive change. For the brand, they also got to enjoy some incredible outfit transitions and made themselves the face of gym clothing on TikTok.
How can brands use TikTok to amplify their influencer marketing?
So, what are the key takeaways for brands hoping to expand their reach into the world of TikTok? Here are our top tips for influencer marketing on the platform and how to make sure your videos are getting in front of your ideal audience.
Find ways to bring users on-board – If the brands we've seen have taught us anything, it's that encouraging user participation is the key to unlocking the ripple effect of brand awareness and visibility. Identify the right influencers to spread your message and pay attention to how you can use them to create even more

UGC

.

Pay attention to the current TikTok climate – It's all well and good planning the perfect influencer marketing campaign, but if you're not paying attention to the current trends, it's not going to get you far. Research what topics are trending, what sounds are popular, the latest TikTok dance, and consider how your brand could create something similar or feed into a proven concept.

Consider selecting multi-platform creators – TikTok is booming, but Instagram and other social media platforms are very much alive and kicking. A strong influencer marketing campaign will cover all the relevant bases, so look for creators who also have a presence on Twitter, Instagram, YouTube and wherever else your audience are spending their time. Psst, we can help you figure that out.

Focus on relevance over massive reach – Marketing budgets big and small can succeed on TikTok, it's all about creating authentic connections with influencers and choosing ones that align with your brand instead of shooting for millions of followers. Micro-influencers are small but mighty, use them wisely.

Don't be afraid to be playful! – TikTok is all about creativity and this makes it a safe testing ground for your brand to have some fun. Experiment, see what works, and show a different side to your brand in this snappy, short-form media space.
If you want to uncover opportunities to work with influencers and reach new audiences, the data is out there. It's just a matter of taking a deep dive. With tools like Audiense, conducting in-depth audience analysis and discovering actionable takeaways is possible for brands that want to approach their marketing strategy with confidence.