Rachel May Quin
Green card: How brands can connect with consumers in a changing climate
With the 2022 FIFA World Cup about to kick off, we wanted to take a closer look at how brands can use major sporting events to connect with consumers in a changing climate – both economically and ecologically.
While the pandemic disrupted the way people consume content, the emergence of new marketing channels has made audiences more accessible than ever. But that doesn't mean more traditional activity such as sponsorship is becoming less effective.
Let's take a look at the current state of play for sustainability, brands and consumers:
It's clear that with the right message and the right partner – be that an event, a team, or an influential athlete – sponsorship can help you connect with your desired audiences. But amid accusations of 'sports-washing' last year, sports properties have been under pressure to end their deals with high-carbon polluters. Consumers want to see their favourite teams, and brands that collaborate with them, walking the walk and committing to their public pledges around sustainability and the climate crisis.
So how can brands achieve this? In this blog, we'll be tackling how brands can connect with consumers in a changing climate, with examples from Adidas, Disney, and Hyundai. P.S. Don't forget to share with your marketing friends!
How are sports fans engaging with sustainability?
Creating successful sponsorships and campaigns around major events is all about understanding your audience.
To explore how sport fans are engaging with sustainability, and the brands they find influential, we created an affinity report which searched for conversation around the following terms: @FIFAWorldCup, #FIFAWorldCup, @FIFAcom, "FIFA World Cup" and "green card" (the name of FIFA's ongoing sustainability pledge). You can check it out here.
Looking broadly at this audience of football fans, we can see that that it's largely made up of men who account for around 80% of the total audience. We can also see that this audience skews fairly young, with the 18- to 24-year-old audience accounting for almost 40% of the total conversation. English is the most commonly spoken language accounting for about half of the audience, but we also see Spanish, French, Arabic and Portuguese appearing in languages spoken.
Perhaps most interestingly, this audience is extremely vocal about their passion for football, with 'fan', 'football' and their favourite team names (i.e., 'chelsea') appearing in biography keywords. We also see many Premier League teams, players and pundits appearing in influencers and brands, as demonstrated below.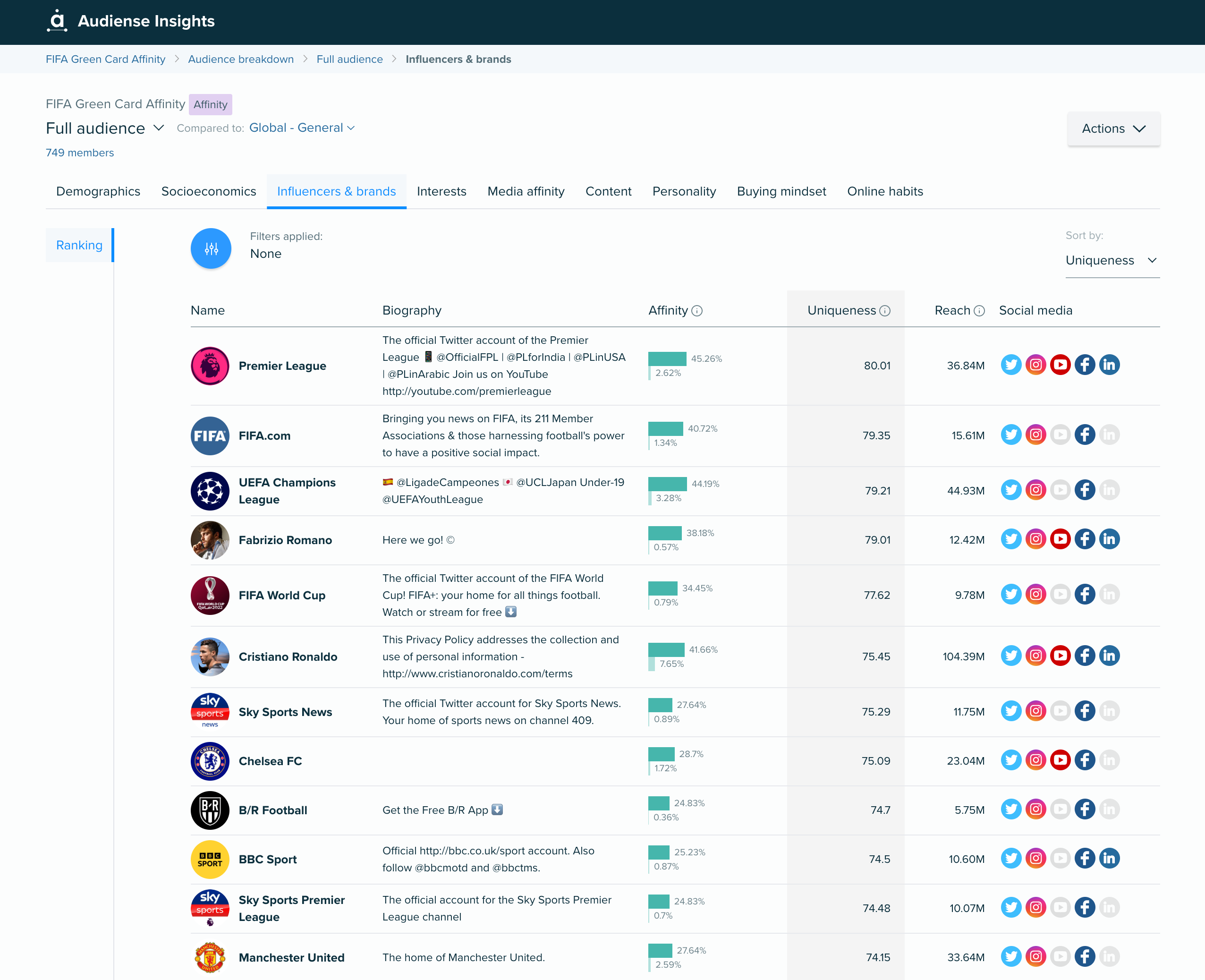 As our regular readers know, your audience is not a monolith. Our football audience breaks up beautifully into four distinct segments, so let's get boots on the ground and figure out the score.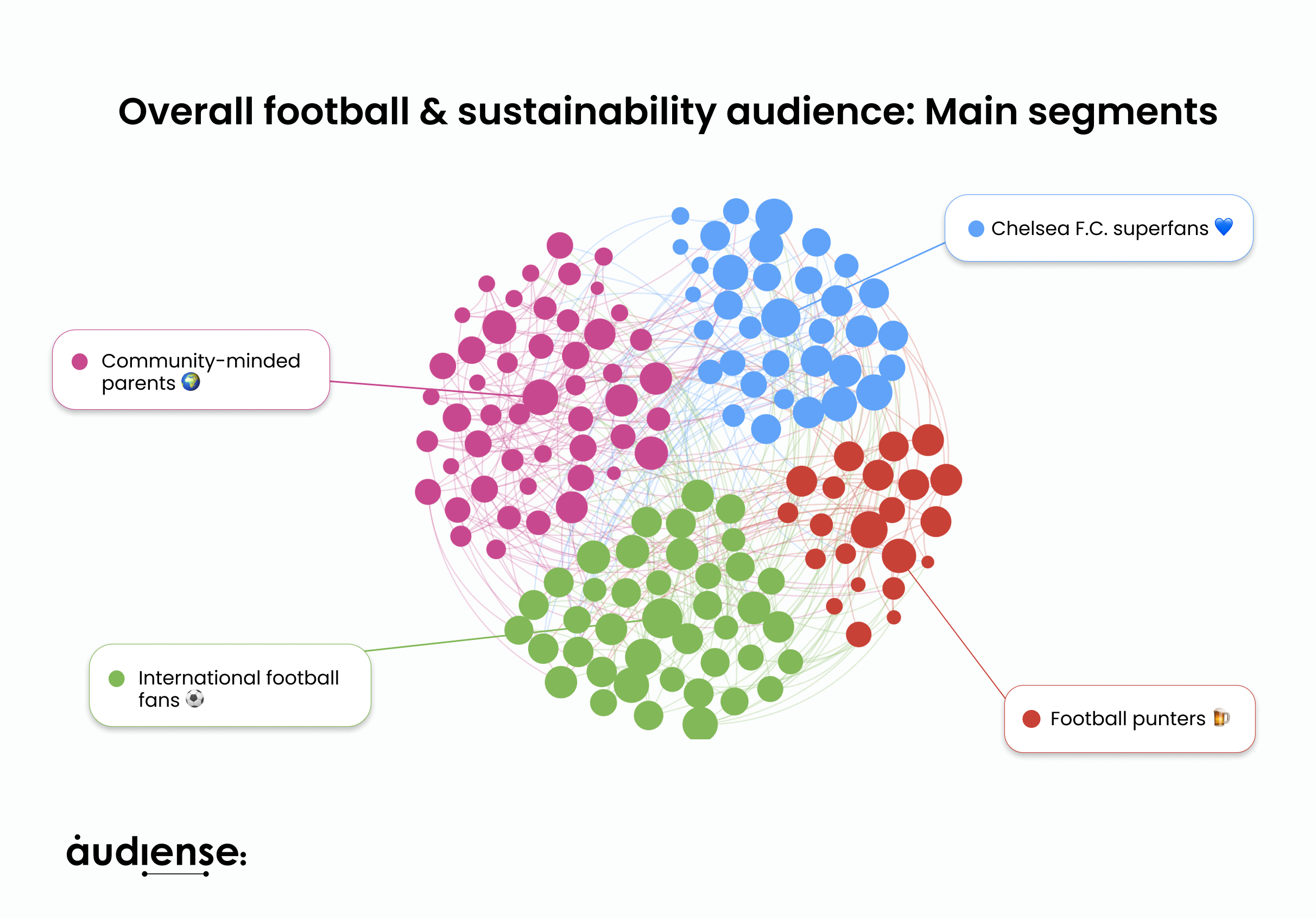 Community-minded parents 🌍
The largest segment of our overall audience, the community-minded parents regionally diverse audience based in Paris, London, Quito, Montreal and Zurich!

They're also quite diverse in terms of age, with the 18- to 24-year-old audience making up 32% of the segment and a 45- to 54-year-old audience close behind accounting for 25%. This suggests a cross-generational interest in both sport and sustainability, with parents and grandparents getting involved.

Speaking of parents, around 11% of this segment have children. This means their media consumption habits do feature channels and brands targeted at young people, including Walt Disney Studios, Harry Potter app and Pokémon. This opens up opportunities for children's brands to reach parents too.

We can also see that this segment is influenced by both societal and global issues, with the World Economic Forum, TED Talks, European Parliament and Scientific American all appearing prominently in top influencers and brands – alongside several political figures and news channels.

So, what encourages them to buy? Friends and family are by far the most influential factor on their purchase decisions, which also correlates with how they choose to communicate online, spending time on discussion forums like Reddit and Discord as well as private messaging channels such as Telegram.
International football fans ⚽️
Next up, our international football fans who hail from all over the world including Senegal, Ecuador, Switzerland and Mexico. As you can see from the account distribution map, these footfall fans can be found in a variety of places.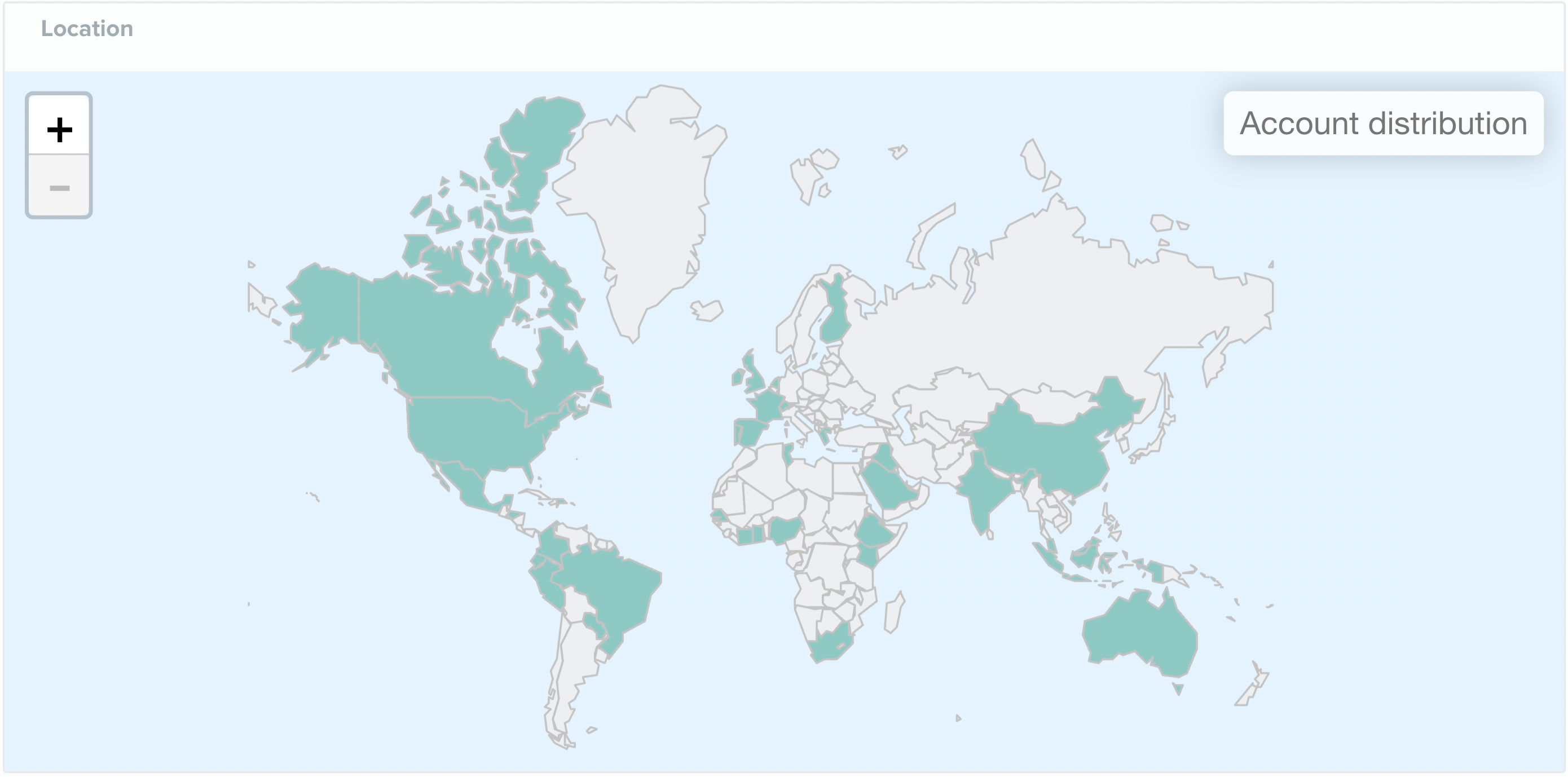 The influential brands and people in this segment are very football focused, with several teams appearing but also plenty of athletes including Arturo Vidal, Keylor Navas, Lucas Vázquez and even the Director of Institutional Relations of Real Madrid and former player Roberto Carlos. Based on the research we saw earlier, brands interested in reaching this segment should definitely seek out player partnerships!

Unsurprisingly, 90% of this audience claim to be interested in football and 85% claim to be interested in soccer (or football) specifically. This is also reflected in media consumption habits. SportsCenter Brasil, ESPN Futbol Club, ESPN Deportes and BBC Sport all appear in top TV and radio channels.

While friends and family do help drive purchase decisions for this segment, we can also see that brand name and social media are almost equally as likely to influence buying decisions!
Chelsea F.C. superfans 💙
There are many famous football clubs that inspire devotion around the world, but among this audience, Chelsea F.C. – an English club based in West London – rise to the top. While nearly 80% of this audience are English speaking and 8% are UK-based, over 40% of people in this segment are based in Nigeria, 8% in Ghana and a further 8% in Kenya.

Chelsea superfans are not afraid to tell the world, with the words 'chelsea', 'chelseafc', 'fan' and 'love', alongside the blue heart emoji, all appearing prominently in the social media profiles of this audience. Clearly they use these keywords to help them find and connect with other fans of the club.

When we look to influencers and brands, seven of the top ten accounts either play for Chelsea or used to play for Chelsea.

They're not just watching football either, they're actively seeking out football related news and entertainment. Popular media channels include Sky Sports Premier League, talkSPORT, Football Daily podcast, and football websites including LiveScore, West Ham United, England and Tottenham Hotspur.
Football punters 🍺
Last but not least, our football punters segment. A slightly more casual audience of football fan made up mostly of men based in the UK, our football punters follow the Premier League and chat about the footie every weekend.

What gives this segment the 'punter' nickname – a British slang word meaning a person who gambles or places a bet – is their media affinities. Paddy Power, an Irish gambling company that offers sports betting, appears prominently.

We can also see that this segment has slightly wider entertainment interests. Comedy shows, Game of Thrones, and satirical news sources such as The Onion all appear in their media consumption habits!

So, where are they spending their time online? Interestingly, about 73% of this audience browse on desktop devices and they're likely to be spending time on more formal social media platforms such as LinkedIn, as well as music and news sources such as Reddit, Medium and Spotify.
How are brands building sustainability into their marketing?
So, we've gotten to know our sports and sustainability audience a little better. Many of them are switched on about climate change and interested in societal and global issues. With the World Cup just around the corner, we wanted to know how three of the main sponsors – Adidas, Disney and Hyundai – are building sustainability and diversity into their campaigns.
Adidas
One of the World Cup's biggest sponsors Adidas has been leading the charge on sustainability in sport for several years now. Responding to the growing consumer demand for sustainably sourced materials, Adidas has taken major steps toward low-carbon practices, including footwear made from recycled ocean waste, and leather created from mushrooms.
To promote awareness of their efforts and talk directly to their intended consumers, Adidas launched 'It's Not Easy Being Green' last year. This campaign featured a 60-second ad spot promoted on TV and social media which featured beloved icon Kermit the frog talking about how overwhelming it can feel to tackle challenges like climate change with Adidas ambassador and tennis legend Stan Smith. And to top it all off, they put Kermit on his very own shoe.
This campaign marked a major moment for the brand, as they revamped their signature shoe – the Stan Smith – to feature Primegreen materials, Adidas' new exclusive recycled materials. In addition to bringing Kermit on-board, Adidas also tapped into their influencer connections to roll out other green icons on their sneaks including The Hulk, Groot and Monsters Inc. Given that our audience research has shown young people feel strongly about sustainability and are likely to be more engaged with the conversion around it, Adidas' move to combine sustainability with beloved characters from comics and screen holds huge appeal and social media potential.
Disney
Speaking of beloved characters, you might be surprised to learn that Disney is one of the lead sponsors of the England team for this year's FIFA World Cup. But the US-based entertainment giant has a long and storied history of working with the Football Association (FA) to encourage women and young girls to participate in sport.
In 2017, Disney launched their #DreamBigPrincess campaign in collaboration with the FA, which centred around the England women's team. Members of the football team appearing in promotional videos to share their stories and talk about challenging what it means to be a modern-day princess. The campaign sought to inspire young women to embody values such as confidence, determination, and fearlessness in pursuit of their sporting dreams.
This campaign was part of a wider global initiative, in which Disney invited 19 female creatives from around the world to capture images of strong female role models. This included women from STEM, athletes, authors, and Olympians, to shine a spotlight on a diverse range of empowering stories and encourage girls to dream big.
As we saw from our segments, encouraging diversity in sport is a key concern for many football fans. And given that our community-minded parents are likely to be watching the big game with their children, Disney's ongoing efforts with the FA and other sporting partners to bring women into football successfully smashes stereotypes.
Hyundai
Turning our attention back to the 2022 World Cup, automotive company Hyundai are on a mission to launch the 'Goal of the Century' this winter. This campaign connects with the consumer desire to see brands tackling climate change, with an overarching mission to "build a sustainable and united world", supported by multiple engagement programmes that will run throughout the event.
The main crux of the campaign is a consumer-facing social message. Hyundai are asking people to join the #GoalOfTheCentury online by submitting a pledge to perform a sustainable action if their favourite team scores a goal at the FIFA World Cup. Clearly, the brand has decided to go big or go home, as they've recruited no less than K-Pop boyband sensations BTS to help spread the message.
In collaboration with Hyundai, BTS have released a new version of their popular song called Yet to Come, announced with a music video on the Hyundai Instagram account. The new version features lyrics which promote sustainability, and football fans are being encouraged to sing it at upcoming games. Plus, Hyundai have launched a TikTok challenge around the hashtag #TeamCentury12, asking fans to post their own dances.
What can you learn from World Cup sponsors?
As Adidas, Disney and Hyundai have all demonstrated, there's a lot more to sponsorship than paying the fee and plastering your logo on everything. Brands need to focus on creating holistic campaigns with authentic messages that will connect with audiences online and offline. Here are some of the key takeaways:
Work with the right partners to spread the message – Whether you're a brand looking to secure sponsorship opportunities or a marketer trying to build awareness at the right event, it's all about finding the right partner who can spread and amplify your message. For Disney, that involved challenging the princess stereotypes and approaching female role models to share stories that inspire and promote wellbeing.

Take a holistic approach to sponsorship – If you're ready to take the plunge and invest in sponsorship, supplement this activity with a multi-channel approach that will add multiple touchpoints to the customer journey and give your campaign a longer shelf-life. For Hyundai, this involved expanding on their World Cup sponsorship with influencers, social media, and even composing a new song.

Inspire action (and really mean it) – It's easy to make promises, but if you want to truly connect with consumers, you have to follow through. Develop campaigns that embody your brand values and demonstrate your commitment to sustainability, as Adidas have done with recreating an iconic shoe in sustainable materials.
If you want to uncover opportunities to work with influencers and reach new audiences, the data is out there. It's just a matter of taking a deep dive. With tools like Audiense, conducting in-depth audience analysis and discovering actionable takeaways is possible for brands that want to approach their marketing strategy with confidence.